Update from our Farm!
Sorry we haven't posted for a few weeks, but spring is one of our busiest times as we prepare for another year.   Also, we launched a new website where we are continuing to add more content and information.   We are excited about the many features this has to keep you better informed!  Each of our newsletters can be found here, along with "breaking news" for when we need to get news out right away (like, sorry we are sold out of asparagus!)  You can visit this at coreylakeorchards.com, and we will be adding more content over the next month.
We plan to open on Saturday, May 1st.  Our hours will remain 9 am to 6 pm, everyday (including holidays) except for Tuesdays when we are closed.
While all of us wish the pandemic was under control, sadly our state has a long way to go.  Therefore we will continue to follow all CDC protocols as they apply to our business.  You can find more detail here regarding our Covid 19 policy.
Spring is here!
So, with those days of "summer" behind us, it looks like a "Pure Michigan" spring is back.  We'll take the sun, we'd love a little more rain, but really, could this wind go away?!!  The summer-like days we had in early April brought all of our orchards into bloom about two weeks earlier than normal.  If you are out in this area, check out the blossoms, they are spectacular this year.  We are grateful to have had a mild winter and so far our fruit has not been damaged by any of the recent cold snaps.  Let's keep our fingers crossed that there will not be any more dangerous wintry conditions.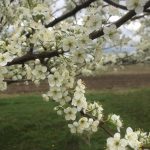 Plum Blossoms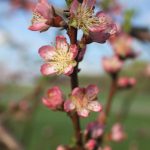 Peach Blossoms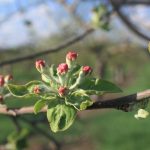 Apple blossoms showing off their "pink"
Produce Update
The most frequently asked question we are receiving is - "when will asparagus be ready?"  We are all anxious for that first spring vegetable, especially when it is asparagus!  So the summer-like days pushed some through the ground, but these days of cooler weather have stopped its growth.  So, patience please!  We are hoping that we will have it for our opening weekend of May 1st, but it will depend on the weather.  Get used to hearing this phrase a lot!  Fresh rhubarb should be ready at the same time as asparagus.
Bankson Lake Farms in Lawton, who supplied us this past Fall, will be partnering with us again this year to provide us with some additional produce.  Mushrooms, salad and specialty greens, carrots, swiss chard and green onions should be ready when we open.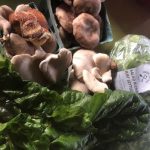 Mushrooms, swiss chard and lettuce from Bankson Lake Farms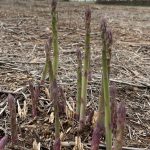 Some asparagus pushing through the ground.
Greenhouse Update
The many days of sun in the past month have been exactly what every greenhouse loves!  The greenhouse is so full that anything that can take the cold has moved outdoors to "harden up" for transplanting.  The tomatoes are thriving and delightfully full of green tomatoes.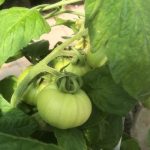 Just need these to size up and turn red!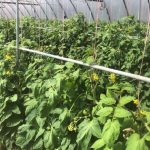 So many tomato plants, so many blossoms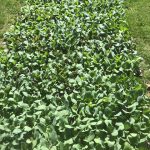 Cauliflower plants hardening up and ready to go to the field
Plants, Plants and more Plants
Planning a garden this year?  Looking for ways to beautify your lawn area?  Once again, we will be offering a large selection of plants.  You can purchase just a few plants or by the flat.  Some of the plants are grown in our own greenhouse, and some are coming from Schram's Greenhouse | Facebook a family business in Portage that has grown plants for us for over 30 years.  Getting a healthy, quality plant is the best way to get your growing off to a good start.
Vegetable plants
Tomato plants
Herbs
Hanging baskets
Patio plants
Annual flower flats
Perennial flower flats
Strawberry plants
So be thinking about what you want!  Last year, we did pre-orders only for all plant sales due to the uncertainty of the pandemic.   This year we will be returning to offering them at the market where you can look at them, make your selections, and get help from our knowledgeable staff.   Most of our plants will be available for purchase when we open; however, it may be too soon for you to plant them due to the weather!
For more information on the types of plants we will have, please check our our page on Plants in our website.  We will continue to update this over the next few weeks with more information.
Hanging Baskets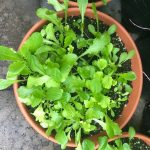 Lettuce Bowls growing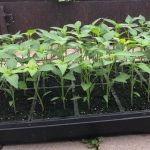 Pepper plants growing in our greenhouse
Bakery Update
Last year we were not able to physically open our bakery space to the public due to Covid-19.  You may remember we baked for Friday, Saturday and Sunday and sold these items to the market.  This change worked in some way, but not in others.  As we open, we will have limited items.  We will have our signature fruit pies for sale each day as "take and bake" from our freezer.  In addition, we will be making donuts on Fridays, Saturdays, and Sundays only.  We knew that due to the popularity of our pies and donuts, that these would be MUST haves!  We are continuing to evaluate how we can increase our offerings and will keep you posted as we make these decisions.  Thank you for your understanding as we ponder how to best use our resources and serve you.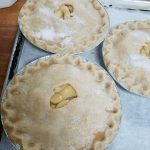 Pies being made in our bakery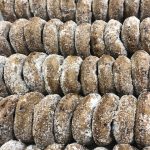 Donuts, yes!
Alcohol products
As we open, we will have our traditional alcohol products available of hard ciders, fruit brandy and wines.  We're excited about some of the new ciders, wines and spirits we will be producing this year, so stay tuned.  You can find our current offerings here Spirits, Wine, & Hard Cider.
Gifts, Grocery and such!
This year we have asked two of our staff members to manage our product lines of Gifts  (Peggy) and Grocery Items (Caryn).  Through their focus, we will be able to provide the best selection of quality, local items for your needs.  They are both busy ordering and getting everything ready.  Expect to see your usual favorites plus some new products and gifts.  We will have a list of our initial offerings before we open.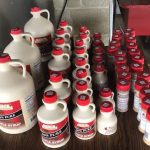 Maple Row Sugar House products will be back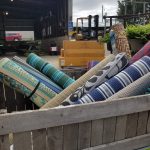 Mad Mats will return!
Thank you for supporting our business!
Thank you for shopping local!  We truly look forward to another season with you.
Everyone at Corey Lake Orchards