Corey Lake Orchards began in 1959 when Dayton and Allene Hubbard purchased Fabius Farms, primarily a commercial apple orchard.  By 1961, the concept of a farm market began by selling limited summer produce and apples from the bed of a truck parked in the current driveway.  Soon after, the "porch" addition was built onto the existing barn and the Corey Lake Orchards farm market as we know it today began and still operates in these same buildings.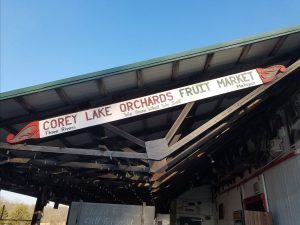 There were many changes in the subsequent years including more barns, cold storage, cider press, greenhouse, distillery, tractors and farm implements, and more crop diversification.  About 100 acres of grapes were planted; 50 acres of these are in production today.  Cider is still squeezed on the original cider press that is one of the few remaining rack and cloth type in Michigan.  Brandy began in 1989 using a still imported from Germany.
Though Dayton and Allene Hubbard are no longer with us, the farm continues and is owned by two of their daughters – Beth and Brenda.  Through their efforts CLO now has a bakery, hard cider, more crop diversification, and several u-pick opportunities.  Though things have changed quite a bit since 1961, the same standards of quality and care are given to everything we do.  You can count on fresh, safe, quality produce when you visit Corey Lake Orchards.