The farm market features a variety of Michigan-made and locally produced products including honey, maple syrup, eggs, meat, yogurt, cheese, chips, and jams and jellies.  We are working with a number of local suppliers and understand that quality, locally-produced, and convenience are important!
Cheese
We have a selection of chunk cheeses and packaged cheeses for snacking or salads.
Cheese – Goat
A creamy treat from Mattawan Artisan Creamery that is a notch above the rest, just like their yogurt.  It also freezes well.
Eggs 
We carry fresh, locally sourced, large brown eggs through our spring and summer seasons.  Check on availability during late Fall.  Make farm fresh scrambled eggs using our vegetables and cheese products!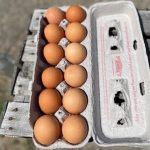 Granola
We carry plant-based granola and granola bites from Teffola.  This granola is made with ancient grains - teff and buckwheat – which are regeneratively grown on a 7th generation Michigan family farm.  This high-quality granola has been intentionally crafted to fuel your body.
Loose Granola: Original, Berry Burst, and Chocolate Charm
Granola Bites: Original and Triple Chocolate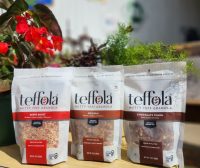 Honey
Try some of our delicious honey from Babcock's Apiary located just several miles away.  The honey is available in 1- and 2-pound bottles as well as 12-ounce plastic bear bottles.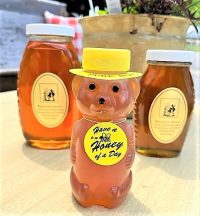 Ice Cream
We carry pure, vanilla ice cream from Plainwell Ice Cream Company.  It goes great with our fruits and berries, strawberry shortcakes, apple crisp, or just by itself!  This third generation, family-owned business creates exceptional ice cream, all by hand.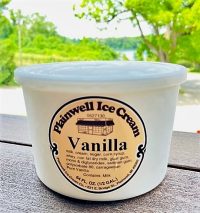 Jams and Jellies 
Variety of Amish-made fruit-based jams, jellies, and salsas from Scherger's Kettle Jams and Jellies in Shipshewana.  They start with good fruit, attention to detail, and use basic ingredients to create wonderful flavors.
Maple Syrup  
Local maple syrup from Maple Row Sugarhouse, a family-owned farm located several miles away.  It is available in a range of sizes from half pints to quarts to gallons.  We also carry maple seasonings, maple pancake mix, and other maple products that are great for gift giving also.  We use their maple syrup to make our Maple hard cider!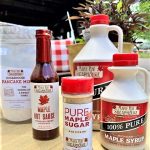 Mustards  
This specialty food brand, Terrapin Ridge Farms, features 84 great selling products including savory jams, garnishing aioli squeezes, mustards, dips, dressings, sauces, and now grill and wing sauces.  The Terrapin team is made up of passionate foodies with the goal to deliver on creating a memorable and positive experience that can be shared with loved ones, turning simple into unforgettable.  We carry several of their mustards and have been pleased with their taste.  They can be used in many ways and make a positive difference to an otherwise ordinary sandwich.
Meats

Looking for a wholesome farm-to-table experience?  Compliment our seasonal fruits and vegetables with locally-raised pork products, frozen fresh, from Jake's Country Meats in Cassopolis.
We are also a Meat Drop location for Jake's.  Through this partnership, you can order direct from Jake's and pick up your order at our market.  This is ideal if you are interested in larger quantities or a wider range of meat products.  See our Meat Drop webpage for more details on this easy process.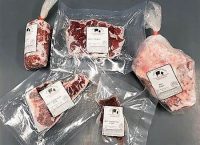 Milk
Fresh, pure milk from Amish Country Diary that is completely natural.  Shake it up as it has the cream on top!  It is easily consumed by those individuals who are lactose intolerant.  We carry gallons and half gallons in plain white milk and 16 ounce bottles in chocolate, coffee, caramel, and strawberry flavors.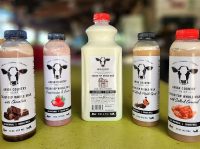 Potato Chips

Kettle cooked, skin on, potato chips in several flavors and sizes.  All made in Michigan using Michigan potatoes by Great Lakes Potato Chip Company.
Tortilla Chips

Michigan made tortilla chips from Garden Fresh Gourmet, perfecting for dipping with our salsas! Available in Original and Blue Corn flavors.  Made with high quality ingredients in small batches.
Yogurt

An all-natural, creamy, Greek style yogurt from Mattawan Artisan Creamery, just south of Kalamazoo.  Goes perfectly with our strawberries, blueberries, and other fruits plus our granolas.