The CLO farm market features a variety of Michigan made and locally crafted gifts such as: greeting cards, pottery, bags, candles, magnets,  crocheted items, dog treats and more.  Our merchandise is high-quality; many items are locally- or Michigan-made.  You're sure to find that perfect gift and we will gladly assist you in combining a selection of items to create a unique gift.
Amber's Cards
Amber, a granddaughter of our founder and daughter of Brenda, enjoys photography and has a line of greeting cards featuring the beauty of nature with many shots captured right here on the farm.
Barb's Bowls
Our staffer, Barb, loves to create pottery and greeting cards.  Her pottery is both beautiful and functional and available at various price points for your gift giving and personal enjoyment.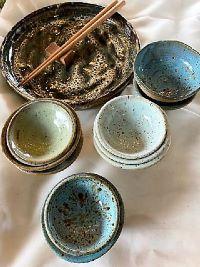 Books by Tom Springer
Tom Springer, local author and related to the Hubbard family, has written two collections of essays, "Looking for Hickories" and "A Star in the Sycamore".  These engaging essays are perfect reads while soaking up the sun or indoors on a cold rainy day.  You will come away more in love with this corner of the world and wishing for just one more story.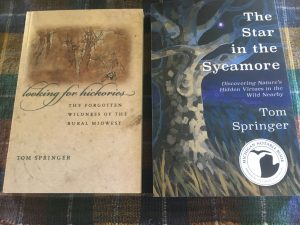 Carruth Sculptures
George Carruth's original stone sculptures are cast in the same concrete used to build bridges so they are built to last.  We feature designs from the Veggie Collection and each sculpture comes with a gift box.  Pictured is a small Carruth sculpture in its classic gift box.  A gift in itself or as an addition to a gift basket.  Please note that our selection on-hand will vary depending on availability and current inventory.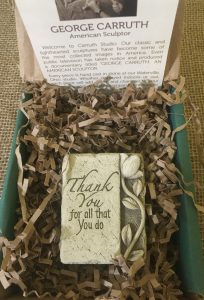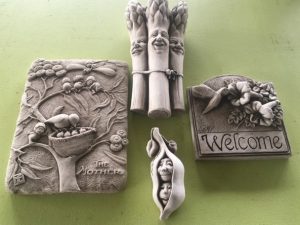 Caryn's Crocheted Collegiate Caps
Our staffer, Caryn, loves to crochet in her spare time from working at the market and has created a line of wine bottle caps and scarves in the colors of local universities.  These are the perfect way to personalize a bottle of wine as a gift or to decorate your 'game day' table!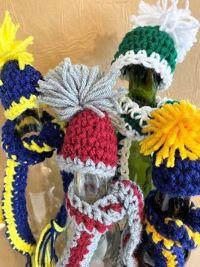 CLO Logo Merchandise
Pick up an insulated shopping tote that is perfect for frozen pies, ice cold hard cider and more.
Flowerfield Candle Company
Flowerfield Candle Company is a small family business located in Three Rivers, MI.  They make garden inspired candles from sustainable soy wax.  The candles are hand poured in small batches and are adorned with dried florals from their farm.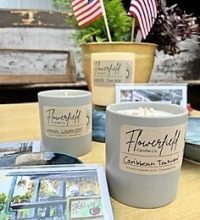 Kathy's Bags
Kathy's bags are some of our favorite bags and are ready to be filled with items from our market!   These bags are made of 95% post-consumer product and can be used over and over again.  The design here is representative of what is available at the market.  Please note that our selection on-hand will vary depending on availability and current inventory.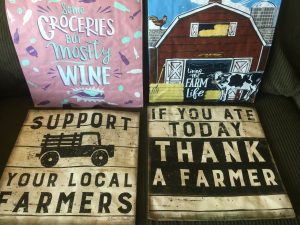 Mad Mats
The ever-popular Mad Mats are available right by the entrance into the market.  They are constructed from recycled plastic which make them extremely durable for indoor and outdoor use.  As always you are welcome to unroll them to thoroughly check them out including turning them over as many have a different pattern on the "wrong" side that may be exactly right for your space.  If there is a special design or size you want, just let us know.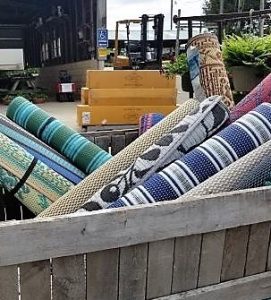 Patti's Pretties
Crocheted dish cloths, scrubbies, and trivets for your kitchen made by our staffer, Patti. They will brighten anyone's kitchen and are easy to add to a special gift.
Riker's Dog Treats
These hand baked dog treats are additive free.  All treats have seven or less ingredients and are wheat, corn, and soy free, and have no preservatives, artificial coloring or flavoring.  We stock several flavors that we know your dog will love!