We love our treasured vendors and their products! Our goal is to share with you their quality produce, products, and gifts that have become our favorites. We have over 30 vendors and nearly all are local or Michigan-based. Please keep in mind that some of these are seasonal and their offerings may vary. Through our giftware vendors and artists, we offer quality, unique, and home-crafted items we know you will enjoy.
We carry produce and grocery items that were grown or supplied by other farms or vendors to:
Supplement our crops when our fields do not produce enough to meet demand.
Provide you with a wider variety of produce since we simply cannot grow everything!
Provide you with top quality grocery items and gifts.
Bankson Lake Farm, LLC
https://banksonlakefarm.com

We have been blessed having Bankson Lake Farm as one of our produce partners.  This small farm located in Lawton, Mich. is owned and operated by Dan Owen.  He has a passion for growing high quality, fresh produce which he sells at his own market, our market, and several farm markets in his area.
This farm grows a variety of vegetables, mushrooms, salad greens, and herbs grown using non-GMO seeds and plants, using only all-natural growing practices without the use of chemical pesticides and herbicides.  Dan supplies us with seasonal vegetables that we do not grow such as turnips, garlic, garlic scapes, carrots, radishes, celery, microgreens, Arugula, kale, spinach, and various types of mushrooms.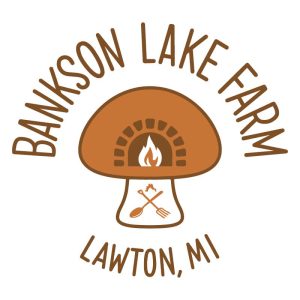 He works year-round and has expanded his business into growing plants, raising bees for honey, bottling maple syrup, and making pizza and ice cream as well as restoring vintage vehicles in his spare time.
Look for his produce while shopping with us!  It is amazing!
Amish Country Dairy
www.amishcountrydiary.com
Enjoy fresh, pure milk from Amish Country Dairy located in Shipshewana, Indiana.  It has a cream top so shake it up before using.  It is pasteurized at a lower temperature, but not homogenized, and is easily consumed by those individuals who are lactose intolerant.
Babcock's Apiary
This delicious honey comes from the bees at nearby Coon Hollow Road, here in Fabius Township.  Local honey is known to build immunity to allergies, and of course, buying local is always best!
Barb's Bowls and Cards
"Handmade greeting cards and functional pottery" reads our staffer, Barb's business card.  Her background in nursing shines through with the care given in producing her pottery and creating beautiful greeting cards for a variety of occasions. All pottery is made with non-toxic clay and glaze. Not only are items dishwasher and microwave safe, but most importantly food and pet safe.
Brookside Farms
www.brooksidefarmsmi.com
A fifth-generation family farm based in Paw Paw with 350 acres of blueberries. Brookside has supplied CLO with blueberries for many years and we recommend them to our customers wanting to pick their own blueberries in bulk.
Carruth Studio
carruthstudio.com
Located in Waterville, Ohio, George Carruth's original sculptures "breathe life into your home and garden".  George's original stone sculptures are cast in the same concrete used to build bridges so they are built to last.  We feature designs from the Veggie Collection and each sculpture comes with a gift box.
Evergreen Creations
evergreencreationsllc.com
This company provides "edutainment" products like the ever-popular Spookley books and plush toys in the fall.  This company works with farms to promote a variety of agricultural themed items for the enjoyment of families and the support of American agriculture.
Faith in Flora
Located west of Three Rivers, this farm sustainably grows and sell gorgeous seasonal cut flowers.  Check out their bouquets on the market, and in the fall, their succulent pumpkin flowerpots.
Gluten Free Sensations
https://glutenfreesensations.com
This family business located in Three Rivers specializes in freshly baked, frozen desserts including their famous cinnamon rolls for those needing a gluten free alternative.
Jake's Country Meats
www.jakescountrymeats.com
This family farm in Cassopolis has been producing pasture raised pork, beef and poultry for seven generations.  Local and sustainable practices result in better tasting and more nutritious products, including bacon, bratwurst, and many varieties of sausage.
Kathy's Primitives
primitivesbykathy.com
This company produces reusable shopping bags constructed from post-consumer waste.  
Maple Row Sugarhouse
https://www.maplerowsugarhouse.com
This family owned and operated business, located in nearby Jones, has quickly grown to be the largest pure maple syrup producer in southwest Michigan   Products include maple syrup in various sizes, BBQ sauce, seasonings, and pancake mix.
Mariachi Imports, Inc.
madmats.com
This premier mat company produces the popular "Mad Mat" line constructed from recycled plastic under fair trade conditions.  You will see Mad Mats in use around the market because they are the perfect indoor/outdoor mats to brighten up and define any space.
Mattawan Artisan Creamery
This all-natural Greek style yogurt is made with milk from grass-fed dairy cows at the local Moonique Dairy located in Mattawan.
Michigan Egg Exchange
www.Michiganegg.com
This independent, family-owned foodservice distributor located in Kalamazoo, provides us with locally sourced, XL brown eggs.
Moe's Stromboli
Our staffer, Maureen Dvorak aka "Moe", has been making and selling Stromboli's in the Chicago area for over 20 years and is now making them at the farm.  She has a line of pizza type Strombolis and a line of breakfast Molies, in assorted popular flavors.  The Stromboli's are hand made with only the best ingredients, partially cooked, and then flash frozen.  Put them in your oven and enjoy!
Plainwell Ice Cream
www.plainwellicecreamco.com
This third-generation family business produces SW Michigan's finest ice cream.  If you are looking for homemade, high quality, traditional ice cream to top with our fruit, look no further!
Riker's Dog Treats
rikersdogtreats.com
A Michigan based company that started when the founders' dog, Riker had issues with additives in commercial dog treats.  All treats have seven or less ingredients and are wheat, corn, and soy free, and have no preservatives, artificial coloring or flavoring.
Sherger's Kettle Jams and Jellies
www.shipshewanajams.com
The motto of this Shipshewana, Indiana based family-owned business is "Taste the Fruit."  Using more fruit per jar than standard jams and jellies, the distinctive fruit flavor shines through.  Products are all made by Amish farm ladies with years of experience.
Three Rivers Artists Guild
threeriversartistsguild.com
The local guild was formed by artists in 2009 to promote art in the Three Rivers area.  Some of their creations grace our market and other pieces are available at the annual festivals and holiday market held on-site.
Yoder's Country Market in Centreville
https://www.yodersofcentreville.com
Yoder's is a family-friendly market with quality products.  We have known the Yoder family for many years and they are our go-to vendor for delicious Amish fried pies.