Welcome Back!
May 1 is upon us, and it is time to officially kick off our 2021 season!  The planting and growing season has already begun, but now we start the production, harvest, and retail cycles of our business.
We welcome back all our customers!  We are looking forward to seeing our "regulars" again as well as our first-time visitors.  We have been working hard this past month to get the market ready for our opening weekend – much cleaning, organizing, ordering gift and grocery items, stocking produce, plants, and alcohol, and baking pies.  However, give us a few more weeks to have everything around the market in place like outdoor seating, play area items, and our many flowers planted, as cold weather has prevented us from getting the final welcoming touches together.
In honor of our 60th Anniversary this year, our 60th customer this season will receive a free pie.
Happenings on the Farm
It has been a week of extreme weather.  We have run the heat and the air conditioning within a 72-hour period and used sunglasses and umbrellas!  Even our plants don't know whether to shiver or sweat!
Some of you have asked how we did with the recent freeze.  We had several nights with temperatures in the mid-20s.  And with much of our fruit in bloom, there was damage.  We are still assessing the extent but know the peaches, plums, cherries, early apples, early strawberries, asparagus, and white grapes were the most susceptible to cold at that time.
Plants, Plants, and More Plants
The plants for your gardens, patios, and special beds have arrived!  We have some from Schramm's Nursery in Portage as well as those we grew in our own greenhouse.  These are the same varieties that we plant in our fields.  It is so important to start with a high-quality plant.  Any of our staff can help you pick out what you need, just ask!
Our staff is busy unloading flats of plants to get ready for our opening this weekend.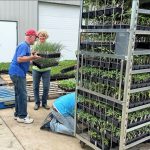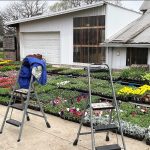 You can buy a 4-pack (all same type) or mix and match 4-packs to make a flat of 48 plants.  Herbs, specialty vegetables, and succulents are sold in individual pots.
Please keep in mind that many of these plants are "tender".  Due to the cold weather expected on Saturday morning, we will not have some of these out yet.  Please be careful to protect your plants against the upcoming cold weather.
Cold Crops – cabbage, kale, Brussel sprouts, various lettuce varieties, broccoli, swiss chard, cauliflower, and spinach
Heat Loving Vegetables – peppers, cucumbers, melons, squash, and eggplant
Tomato plants – large selection of tomatoes (all the ones that we grow here in our own fields); mini tomatoes like grape and cherry; large potted tomatoes for patios and porches
Strawberry plants –early, mid-season, and late varieties
Flowers – bedding plants like marigolds, zinnias, petunias, cosmos, impatiens, pansies, ornamental cabbage, begonias, snap dragons, too many to list! We have both annuals and perennials.
Herbs – cooking essentials: sage, mint, lemon grass, basil, cilantro, dill, chives, rosemary, thyme, tarragon, lavender
Lettuce Bowls – already made, just let grow, cut, and they grow back
Hanging flower baskets
On the Market
Asparagus – The cold weather took its toll on our early pickings so we will have a limited supply until the plants push up new growth.  We will be selling it in 1- and 2-lb packages only as we begin the season in order that everyone can get their first taste of the year.  You may want to call to see if asparagus is available as we may not be able to pick until Saturday.  You may want to call before you come out in general as we could sell out early.
We are also taking orders for larger quantities and will call you when available.  Bear with us!  Soon we will have enough for larger quantities and freezing / pickling.  Call us at 269-244-5690.
Rhubarb – Same situation as asparagus.  We will have a limited supply until the plants produce more.  We are also taking orders for larger quantities and will call you when available.
Bankson Lake Farms Produce – Dan will be bringing us fresh lettuce mix, mushrooms, green onions, carrots, radishes, swiss chard, and celery.
Floral Bouquets – Faye is bringing bouquets of fresh cut flower bouquets in two sizes – smaller are $12 and larger are $25.  We are also taking pre-orders for Mother's Day.
Bakery
We have had to continue "pausing" access to our physical bakery because of the size of the space and COVID physical distance requirements.  This has caused us for now to scale back our baked good offerings.  We appreciate how much everyone has loved our baked goods and know this is disappointing to many of you.   However, we will continue to have our signature fruit pies and donuts.
Pies are frozen "take and bake" and available each day the market is open.
Donuts are made on Fridays, Saturdays, and Sundays only. The current flavors are Buttermilk, Cherry, and Blueberry.  Stop by this weekend and get some while they are still hot!
Spirits, Wine, and Hard Ciders
We have a nice selection of alcohol produced on the farm.
Fruit brandy in 375ml and 750ml sizes
2 sweet wines – Double Cherry and Peach and Honey. Look for several drier wines coming soon!
Hard cider in 12-ounce bottles. You can purchase them individually or mix and match them in a discounted 4- or 6-pack.  We are currently making rhubarb hard cider – it will be worth the wait!
Mother's Day Gifts
Corey Lake Orchards is your one-stop shop for Mother's Day!  We offer a nice assortment of items and a destressing shopping atmosphere with helpful staff.
General gift items include:
Produce – asparagus, rhubarb, fresh greens, mushrooms, and more
Fresh cut floral bouquets
Greeting cards
Jams, jellies, and salsas
Hard cider, wine, brandy
Honey
Maple syrup, maple seasonings
Yogurt
Assorted cheeses
Pies and donuts freshly made
Plants – vegetables, flowers, herbs
Mad Mats – give her a gift she might not buy for herself
Shopping bags
Magnets
Life is Good tee-shirts
Carruth sculptures – packaged in a gift box, vegetables and florals
Mollie's ceramics – wall hangings in a gift bag
Women's gardening gloves
Gardening soap and hand balm
Candles with springtime scents
Patti's Pretties – crocheted items for the kitchen
Books – by Tom Springer
Gift bags and gift certificates:
Make a gift bag. We have bags and many items to go in them.
Let our staff make you a gift bag. Just give us an idea of the recipient's preferences and your price point.
Gift certificates – Not sure what to give? You can get a CLO gift certificate in any amount.
COVID Guidelines
We are following operational guidance from the CDC as well as State and local health rules.  We are an open-air market and masks are optional though we encourage you to wear them.  Our staff will be wearing masks when working with you.  We also follow food safety rules that regulate how produce is harvested and packaged.
Everyone at Corey Lake Orchards is looking forward to seeing you soon!  We thank you for shopping local.