When we are Open
Reminder on our days and hours:  Open 9 am to 6pm every day, including holidays.  Closed Tuesdays.  To call us with an order or a question:  269-244-5690.
Happenings on the Farm
This past week was extremely challenging for us again with many sleepless nights monitoring the frost and freeze temperatures.  We did everything we could to protect plants and our fruit crop, but we did sustain more damage.  Fortunately, our asparagus did not get frosted off, but grew slowly with the cool night and days.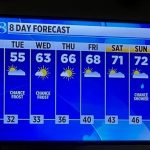 We have moved our hanging baskets and plants so many times now they have motion sickness!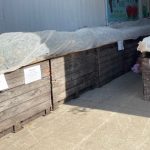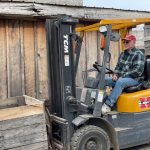 Market Improvements
The market has a new look and thankfully, protection from the wind, sun, rain, and snow!  We worked with Mark Bidelman, owner of Sun and Shade Awning, who designed these panels, which can be taken in and out as we need them.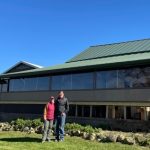 He was careful to preserve the view that our open-air market is known for.  If you have ever been here during a cold, rainy/snowy day with a strong wind from the North, you can appreciate how much these will help!  He has more work to finish it all, but we hope you like them as much as we do so far!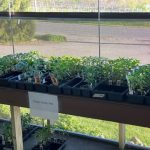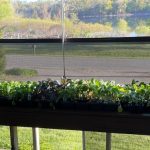 Finally, We Can Start Planting!
We have lots of plants for your gardens, patios, and special beds grown by Schramm's Nursery in Portage as well as those we grew in our own greenhouse.  With the warmer weather, we are now able to get them all out for sale.  There is still a great selection of all types left.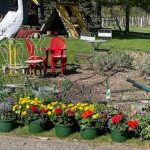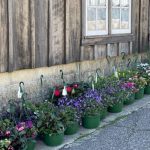 You can buy a 4-pack (all same type) or mix and match 4-packs to make a flat of 48 plants.  Herbs, specialty vegetables, and succulents are sold in individual pots.
Cole Crops – cabbage, kale, Brussel sprouts, various lettuce varieties, broccoli, swiss chard, cauliflower, and spinach
Heat Loving Vegetables – peppers, cucumbers, melons, squash, and eggplant
Tomato plants – large selection of tomatoes, mini tomatoes like grape and cherry; large potted tomatoes for patios and porches
Strawberry plants –early, mid-season, and late varieties – not here yet, but coming, see below
Flowers – bedding plants like marigolds, zinnias, petunias, cosmos, impatiens, pansies, ornamental cabbage, begonias, snap dragons, too many to list! We have both annuals and perennials.
Herbs – cooking essentials: sage, mint, lemon grass, basil, cilantro, dill, chives, rosemary, thyme, tarragon, lavender
Lettuce Bowls – already made, just let grow, cut, and new leaves grow back
Hanging flower baskets
Need help with selecting plants?  Especially long-range planning and bed ideas on perennials?  Our staffer, Sue, loves flower gardening and is a member of the Three Rivers Club of Little Gardens.  She will be available to assist you on Saturday (9am-2pm) and Sunday (10am-2pm).   We also have plant guides with pictures and descriptions and a knowledgeable staff to help you with your selection.
Strawberry Plants.  We expect our shipment of strawberry plants for our own field to arrive around May 19th.  These are nice, high-end nursery stock, and are the same varieties as those we grow.  The best time to plant strawberries is closer to the end of May and early June.  These plants will produce berries for 5-7 years if taken care of properly.  We will provide planting directions with your purchase.  See list of varieties and guide on our website.
We will have 7 varieties available and are taking preorders.  We have a limited number of plants on four varieties so place your order now (269-244-5690) to make sure that you get what you want.  We will call you when they are ready to be picked up.
On the Market
Asparagus.  With the warm days coming, we are able to pick daily again and have plenty of asparagus.  It helps us to get it ready for you if you call ahead for larger quantities (10 lbs. or more).  Call us at 269-244-5690 to place an order.
Rhubarb.  Rhubarb is plentiful now also.  We are also taking orders for larger quantities (10 lbs. or more).
Bankson Lake Farms Produce.  Dan will be bringing us fresh lettuce mix, lettuce heads, mushrooms, green onions, carrots, and radishes this weekend.
Grocery Items.  Assortment of local cheese, yogurt, eggs, jam, jelly, salsa, maple syrup, honey, and more.
Greenhouse tomatoes.  They are finally starting to turn red!  We hope to have them in about 10-14 days.  Patience please as we all wait for our first BLT of the season!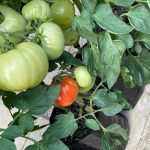 Bakery
Just a reminder.  Our physical bakery space is still closed to the public and our baked goods are limited to our signature fruit pies and donuts for now.  We appreciate how much everyone has loved our baked goods and know this is disappointing to many of you.
Donuts.  We are making donuts on Saturdays and Sundays only at this time.  The current flavors are Vanilla, Cherry, and Blueberry.  Stop by this weekend and get fresh donuts while they are still hot.
Fruit Pies.  This year our pies are frozen "take and bake" only; we no longer offer "ready to eat" pies.  Having them frozen allows us to offer a full variety of pies every day the market is open, not just on weekends.  If you are driving far, bring a cooler or insulated freezer bag.  The pies are simple to bake, ready to bake when you need them, and give your house a mouthwatering aroma!  So far customers are liking this better.  The pies are hot right out of your oven, plus extra pies can be tucked in the freezer for that time when you need a dessert!  Baking directions are included on each pie.
Slushies.  The slushies are back!  Enjoy a Strawberry, Mango, Strawberry-Mango mix, or Cider.
Spirits, Wine, and Hard Ciders
We have a nice selection of alcohol produced on the farm.
Fruit brandy in 375ml and 750ml sizes
2 sweet wines – Double Cherry and Peach and Honey. Look for several drier wines coming soon!
Hard cider in 12-ounce bottles. You can purchase them individually or mix and match them in a discounted 4- or 6-pack.
Rhubarb Hard Cider.  We just finished making our rhubarb hard cider and it is available in 16.9-ounce bottles.  This is a tart cider that many of you enjoy!  It is a seasonal offering so be sure to get yours before it disappears.  Beth had one for Mother's Day, it was outstanding!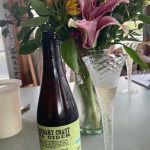 COVID Guidelines
We are following operational guidance from the CDC as well as State and local health rules.  We are an open-air market and masks are optional though we encourage you to wear them.  Our staff will be wearing masks when working with you.  We also follow food safety rules that regulate how produce is harvested and packaged.