When we are open
Open 9 am to 6 pm every day, including holidays.  Closed Tuesdays.  To call us with an order or a question:  269-244-5690.
Happenings on the Farm
This week we continued our push to finish our vegetable and tomato planting in the field.  This is the latest we have gotten things in the ground with the hot/cold spring weather.
We also worked on the flower beds around the market and farmhouse areas.  Below Sue is selecting flower plants for the market beds.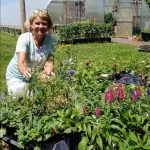 We planted a new strawberry field for 2022.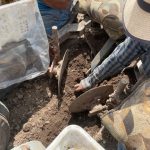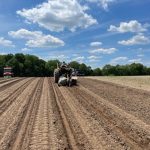 We also planted our first sunflower field which should be blooming in early August.  Below we are preparing the field for planting.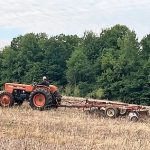 Plants for Your Garden
This is the last weekend for plants!  All plants are now buy one, get one free.  Now is the time to tuck in a few more veggies and flowers … or replace ones that got hit by the frost or eaten by a critter.  (Note:  Greens bowls and basil plants are the only ones that are not B1G1).
On the Market
Asparagus.  Asparagus season is nearly over so stock up now if you want some to can, pickle, or freeze.  It helps us to get it ready for you if you call ahead for larger quantities (10 lbs. or more).  We have finished picking our field for the year and are now getting it from Riverland for a few more days.  So sad to see this spring favorite go away for another year!  Call us at 269-244-5690 to place an order.
Rhubarb.  Rhubarb is also coming to an end.  Everything has been picked for the year and is in our cooler.  If you want some for the weekend, we recommend you call and order.
Bankson Lake Farms Produce.  Dan will be bringing us fresh lettuce mix, lettuce heads, mushrooms, green onions, spinach, radishes, turnips, garlic scapes, peas, and some kale this weekend.
Grocery Items.  Assortment of local cheese, yogurt, eggs, jam, jelly, salsa, maple syrup, honey, and more.
Greenhouse tomatoes and cucumbers.  We are picking a limited amount each day and they taste delicious!
Herbs.  Our chives and lavender are gorgeous right now!  There are some herbs which can now be picked in the herb garden, see the list on our blackboard.  (Chives, some cilantro, some basil, tarragon, sage and lavender.)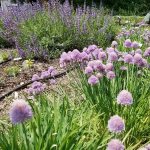 Strawberry Update
We are still waiting for our strawberries to ripen and they are about a week away.  Based on the days of heat coming, we may pick a few early ones this weekend to sell by the quart only.  We will have both already picked and u-pick available.  We are taking preorders now for flats and will call you when they are available.
The berries still have a long way to go before they are ripe.  And these are the early variety.
Already Picked Pricing:  $5 a quart; $36 a flat
U-Pick Pricing:  $3.50 a quart; $3 a quart for 8 quarts or more
The berries we had last week came from Yoder's Country Market in Centreville, and it is day-to-day as to whether or not we are able to get any from them.  You may want to call and see if they have any at their market to purchase.  269-467-4856.
Bakery
Donuts.  We make fresh donuts on Saturday and Sunday – the current flavors are Buttermilk, Cherry, and Blueberry.  Stop by and give yourself a donut treat this weekend while they are still hot!
Fruit Pies.  This year our pies are frozen "take and bake" only; we no longer offer "ready to eat" pies.  Having them frozen allows us to offer a full variety of pies every day the market is open, not just on weekends.  If you are driving far, bring a cooler or insulated freezer bag.  The pies are simple to bake, take about an hour, ready to bake when you need them, and give your house a mouthwatering aroma!  So far customers are liking this better.  The pies are hot right out of your oven, plus extra pies can be tucked in the freezer for that time when you need a dessert!  Baking directions are included on each pie.
Varieties available:  Apple, Dutch Apple, Blueberry, Cherry, Cherry Berry, Peach, Rhubarb, and Strawberry-Rhubarb.
This Wednesday is National Strawberry-Rhubarb Pie Day!  Pick one up and celebrate the goodness of this flavorful pie!  Strawberry-Rhubarb pies are our best seller and will be $1 off this Wednesday only.  We also carry strawberry-rhubarb jam and strawberry-rhubarb Amish fried pies.
Slushies.  Enjoy a Strawberry, Mango, Strawberry-Mango mix, or Cider.
Our current bakery plans if you missed it in an earlier email can be found on our website:
Baked Goods – Corey Lake Orchards – Three Rivers, Michigan
Baked Good from Yoder's
We are offering additional baked goods on Fridays, Saturdays, and Sundays from Yoder's Country Store.  We will try to have cookies every day that the market is open.
Amish Fry Pies (pocket-sized, half circle pie): Apple, Black Raspberry, Blueberry, Cherry, Lemon, Peach, Red Raspberry, Strawberry-Rhubarb
Breads (pre-sliced, ready to use!): Dill, English Muffin, Italian Cheese, Jalapeno Cheddar, Multigrain, Raisin Cinnamon, and Sourdough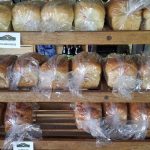 Cinnamon Rolls with vanilla icing
Cookies: Chocolate Chip, No Bake Chocolate/Peanut Butter/Oatmeal, Molasses, Oatmeal Raisin, Peanut Butter, Sugar Cookies, and Whoopi Pies
Spirits, Wine, and Hard Ciders
We have a nice selection of alcohol produced on the farm.
Fruit brandy in 375ml and 750ml sizes
2 sweet wines – Double Cherry and Peach and Honey. Look for several drier wines coming soon!
Hard cider in 12-ounce bottles. You can purchase them individually or mix and match them in a discounted 4- or 6-pack.
If you would like to try some of our alcohol products, we will be setting up a sampling station this Saturday afternoon in the market breezeway.
Rhubarb Hard Cider.  Our rhubarb hard cider is available in 16.9-ounce bottles.  This is a tart cider that many of you enjoy!  It is a seasonal offering so be sure to get yours before it disappears.
Teacher Appreciation Gifts
As the school year ends, it is time to remember the teachers who have done extraordinary work during this pandemic.  Consider giving a gift of appreciation, and we hope that you will support our local business.  Stop by and peruse our gift table to purchase or to be inspired.  Allow our staff to assist you and make note of your desires so we can arrange to have your teacher appreciation packages together in a timely fashion.
Products for gifts include local honey, maple syrup, soy candles, herb plants, jams, jellies, and salsas.  Additionally, we have loads of hanging baskets, bedding plants, meat sticks, cheeses, artwork, bags, cards, and more for you to customize your token of appreciation.  And as always, we have gift certificates in any amount.
Visit us at local Farmer's Markets
We participate in two local farmer's markets.  Please stop by and check out our items.  See schedule, times, and addresses for both locations. https://coreylakeorchards.com/farmers-markets/ 
This Saturday starts the Huss Project Farmer's Market in Three Rivers from 9am to 1 pm.
This past Tuesday was the first Texas Township Farmer's Market this season.  We will be there each Tuesday from 4 to 7 p.m. with some of our produce and market items.  Below Brenda and Barb are ready to sell!
COVID Guidelines
We are following operational guidance from the CDC as well as State and local health rules.  We are an open-air market and masks are optional though we encourage you to wear them if you have not been vaccinated.  Our staff has been vaccinated and are not required to wear masks.  Please note that we also follow food safety rules that regulate how produce is harvested and packaged.
We look forward to seeing you soon.  Thank you for shopping local.
From everyone at Corey Lake Orchards