When We are Open
Reminder on our days and hours:  Open 9 am to 6 pm every day, including holidays.  Closed Tuesdays.  To call us with an order or a question:  269-244-5690.
Happenings on the Farm
Strawberry fields forever…..the famous Beatles song plays in our head as we began the work this week on taking out our old fields and maintaining our new ones.  So when you drive by the strawberry field where you have picked berries for years and see it gone, no worries, we have a beautiful new field planted that will be ready for 2022!
Rain and Mud.  We got our "15 minutes of rain" on Wednesday afternoon, measuring one inch by the time it stopped thundering on our tin roofs and blowing wildly about.  Everything needed that drink of water.  Mother Nature, maybe just not so fast next time?  If you are coming to pick blueberries, expect some mud.  And when you see our muddy boot prints as we bring in our harvest for the day, help us thank our pickers for trudging through the water soaked fields to pick daily so everything is fresh.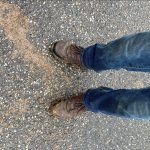 Orchard Transformation.  We also started transforming the fields behind the market.  See a description of our new development in progress below.
On The Market
The market is well stocked with a variety of summer vegetables!  This is one of our favorite looks of summer as our market is so colorful with all of the summer produce from orange carrots, to purple cauliflower to blueberries to yellow summer squash to green zucchini and more ….
Blueberries
Broccoli
Carrots
Cauliflower
Cukes
Fresh Cut Flower bouquets
Garlic Scapes
Green Onions
Herbs
Kale
Kohlrabi
Lettuce
Mushrooms
Potatoes
Radishes
Swiss Chard
Tomatoes – regular and mini
Yellow Squash
Zucchini
Grocery Items.  Assortment of local meat, cheese, yogurt, eggs, jam, jelly, salsa, maple syrup, honey, chips, tortilla chips, ice cream and more.
Gift Items.  Assorted greeting cards, pottery, artwork, sculptures, Mad Mats, and more.
We started picking our green onions today!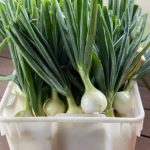 We picked our first four green beans this morning from the field!  Give us 3 to 4 nice warm days and will have fresh green beans on the market.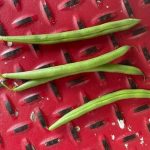 And a few early sunflowers are in bloom!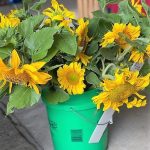 For our science buffs who want a deeper dive into the shapes of cauliflower, read "Cauliflower and Chaos, Fractals in Every Floret" from the NY Times.
https://www.nytimes.com/2021/07/08/science/cauliflower-fractals.html
Mini Tomatoes
Last year we could not keep up with mini tomato supply so this year we doubled our production to try to make sure you can get these colorful, sweet grape and cherry tomatoes that you have come to love.  This year we added some new ones.  Here's the list of all the varieties, and if you see a green one in your box, that's one of the colors we grow and it is ripe, (and one of my favorites!).
Round cherry tomatoes:
New color: Purple bumble bee
Mixed colors: Indigo Kumquat (yellow and purple all on one cherry tomato), Indigo Cherry drops (blueish)
Red cherry tomatoes:  Cherry bomb, Matt's Wild Cherry
Orange cherry:  SunGold and Citrine
Green tomatoes:  Green Bee and Sun Green
Pink:  Sun Peach
Grape: long, grape-shaped tomatoes in red, dark red, and yellow
Walls of mini tomato growing in our hoop house.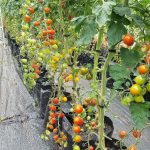 Expect to find a colorful assortment in your box.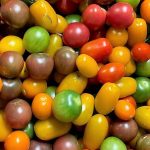 Blueberries
U-Pick.  Our small field is open for picking and we provide containers.  This is the peak of the season and we have lifted the 5-pound per family/group limit while they are plentiful.  The field is open starting at 9am.  See our Blueberry U-Pick page on our website for prices, hours, and more details.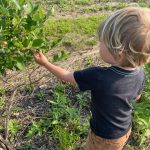 If you want to pick larger quantities, check with Brookside Farms in Paw Paw. They have a delightful farm for you to visit and pick at – 269-657-3500 or check their website:  https://brooksidefarmsmi.com/
Already Picked.  We have blueberries already picked in the market ranging from pints and 18-ounce containers to 5- and 10-pound boxes.  Brookside Farms has been our blueberry supplier for a number of years.
Sweet Corn Update
We are sorry that our sweet corn is late this year as most of you know it has been a difficult weather year. But the same varieties that we have every year are coming along nicely and we expect to have sweet corn in about a week to 10 days, depending on the weather.  It will be worth the wait!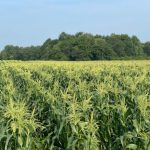 Bakery
Donuts.  We make fresh Buttermilk, Cherry, and Blueberry donuts on Saturday and Sunday. 
Fruit Pies.  This year our pies are frozen "take and bake" only; we no longer offer "ready to eat" pies.  Having them frozen allows us to offer a full variety of pies every day the market is open, not just on weekends.  If you are driving far, bring a cooler or insulated freezer bag.  The pies are simple to bake, take about an hour, ready to bake when you need them, and give your house a mouthwatering aroma!  So far customers are liking this better.  The pies are hot right out of your oven, plus extra pies can be tucked in the freezer for that time when you need a dessert!  Baking directions are included on each pie.
Pie Varieties:  Apple, Dutch Apple, Blueberry, Cherry, Cherry Berry, Peach, and Strawberry-Rhubarb.
Slushies.  With the heat of summer already here, enjoy a nice cold slushie!  We have Strawberry, Mango, Strawberry-Mango mix, or Cider.
Baked Goods from Yoder's
We are offering additional homemade baked goods from Yoder's Country Store.
Each day the market is open – cookies and breads.
Fridays, Saturdays, and Sundays only – Amish fry pies and cinnamon rolls
Amish Fry Pies (pocket-sized, half circle pie): Apple, Black Raspberry, Blueberry, Cherry, Lemon, Peach, Red Raspberry, Strawberry-Rhubarb
Breads (pre-sliced, ready to use!): Dill, English Muffin, Italian Cheese, Jalapeno Cheddar, Multigrain, Oatmeal, Raisin Cinnamon, and Sourdough
Cinnamon Rolls with cream cheese icing
Cookies: Chocolate Chip, Molasses, Oatmeal Raisin, Oatmeal Sandwich, Peanut Butter, Sugar Cookies, and Whoopi Pies
Spirits, Wine, and Hard Ciders
Our Happy Hours are back!  Please stop by and enjoy a hard cider or wine.  We will also offer informal tastings of alcohol products earlier in the day.
Happy Hour – Saturday, 3 to 5 pm at the breezeway by the market
We have a nice selection of alcohol produced on the farm.
Fruit brandy in 375ml and 750ml sizes
2 sweet wines – Double Cherry and Peach and Honey.  Look for several drier wines coming soon!
Hard cider in 12-ounce bottles.  You can purchase them individually or mix and match them in a discounted 4- or 6-pack.
Many of our customers love our Double Cherry Wine!  It is a true fruit wine made from fresh Michigan grown cherries.  The fruit aroma of ripe cherries and the crisp tartness of the natural fruit is captured in this lightly sweet bright red wine.  We have many repeat customers for this wine.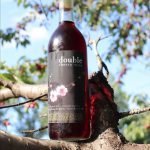 Transforming an Old Orchard
What's all the activity at the hill behind our parking lot where we took out the tart cherry orchard in the spring?  We are undertaking a large project of making this space something we hope you will come to love full of fruit, flowers, and tranquility.  Over the next week we will be planting:
Fruit:  Tart Cherry bush trees, Black and Red raspberries, Blackberries, Gooseberries, Currants, Longaberries, Goji berries, Elderberries, and Haskaps
Flowers:  Many flowering shrub varieties which will bloom from spring until fall: hydrangeas, lilacs, spirea, butterfly bushes and many more, along with plantings of perennial flowers and our favorite annuals.  These will be to simply enjoy, but also to cut for flower arrangements.
Yes, we got a bit worried about the scope of the project when a semi came to deliver all the various bushes and shrubs!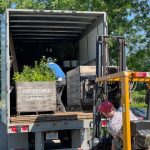 Bushes and trees in the "staging" area for planting.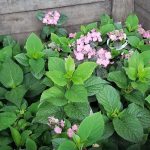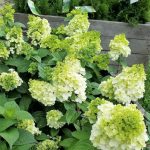 Here's the field as it was prepared for planting. The second picture is installing an irrigation line so that we can use drip line to keep everything watered.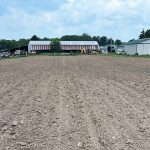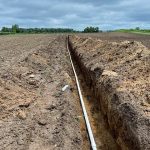 This project will also include an area for you!  We are creating space where you can sit and enjoy the farm, and the spectacular view of vineyards and the lake.
We will let you know when this area is open for you to look at, but meanwhile, give us some time to get everything planted and growing.  This will be a several year process as everything grows to maturity.  Stay tuned for more updates.
Visit us at local Farmer's Markets
We participate in two local farmer's markets.  Please stop by and check out our items.  See schedules and addresses for both locations. \https://coreylakeorchards.com/farmers-markets/ 
COVID-19 Guidelines
We are following operational guidance from the CDC as well as State and local health rules.  We are an open-air market and masks are optional though we encourage you to wear them if you have not been vaccinated.  Our staff has been vaccinated and are not required to wear masks.  Please note that we also follow food safety rules that regulate how produce is harvested and packaged.
We look forward to seeing you soon.  Thank you for shopping local.
From everyone at Corey Lake Orchards