When We are Open
Reminder on our days and hours:  Open 9 am to 6 pm every day, including holidays.  Closed Tuesdays.  To call us with an order or a question:  269-244-5690.
The 3rd Sunday in July is National Ice Cream Day.  If you like real ice cream that tastes unbelievably good, you must try the homemade, Plainwell ice cream!  It is made fresh by a small family business in Plainwell.  Enjoy it with our pies or blueberries or just by itself.
Happenings on the Farm
Emptying the rain gage and measuring the amount has been a frequent task kept up by Beth.  We are appreciative of the rain and not needing to irrigate.  But, it increases our work of trying to keep our vegetable and tomato plants, the fruit trees, and grapevines free from disease.  These coolish, extended wetting periods cause issues with mold, mildew, and rot which impacts the fruit and vegetable quality.  We do our very best to sort everything out, but you may sometimes find a "flaw' in your produce caused by the rain.  We expect you home gardeners are having the same problems.  These are the weeks we wish we had a push button ceiling over the farm that we could open and close!
Below are photos of water standing in the field today, causing us to not even be able to walk in and pick easily.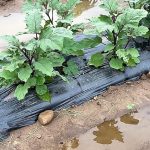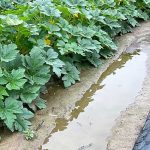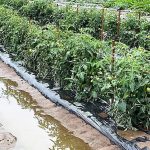 On The Market
The market is well stocked with a variety of summer vegetables!  This is one of our favorite looks of summer as our market is so colorful with all the summer produce.
Blueberries
Broccoli
Brussel sprouts – new
Cabbage
Carrots
Cauliflower
Cucumbers
Fresh Cut Flower bouquets
Garlic Bulbs – new
Garlic Scapes
Green Beans
Green Onions
Herbs
Kale
Kohlrabi
Lettuce
Mushrooms
Onions
Peppers
Radishes
Swiss Chard
Tomatoes – regular and mini
Yellow Squash
Zucchini
Green Beans.  They are starting to come in and we are selling them by the pound.  If you are interested in larger quantities for canning or freezing, let the market know (269-244-5690) and we will take your information and call you later when they are available.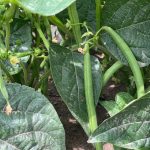 The plants are really producing lots of yellow squash, zucchini, and broccoli.  Please plan these into your menus this week.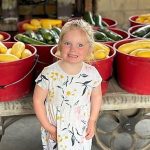 Florals and Plants.  Faye is bringing her fresh floral bouquets this weekend along with some plants.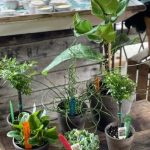 Grocery Items.  Assortment of local meat, cheese, yogurt, eggs, jam, jelly, salsa, maple syrup, honey, chips, tortilla chips, ice cream, cherry products and more.
Gift Items.  Assorted greeting cards, pottery, artwork, sculptures, Mad Mats, and more.
Blueberries
U-Pick.  Our small field is open for picking and we provide containers.  The Dukes that are on our shorter bushes are coming to an end.  The Jerseys on our taller bushes are about a week away from being ready.
It would be best if you can wait a week to let the berries ripen or consider going to Brookside Farms in Paw Paw, especially if you want larger quantities.  They have a delightful farm for you to visit and pick at – 269-657-3500 or check their website:  https://brooksidefarmsmi.com/
Please call first (269-244-5690) before you come to pick to make sure the field is open.  We may close for ripening if needed.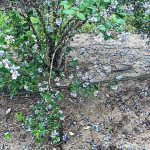 Please keep in mind that we have a five-pound limit per group/family.  The field opens at 9 am and you must be out of the field by 5 pm.  See our Blueberry U-Pick page on our website for prices, hours, and more details.
Already Picked.  We have blueberries already picked in the market ranging from pints and 18-ounce containers to 5- and 10-pound boxes.  Brookside Farms has been our blueberry supplier for a number of years.  However, with the almost daily rain and labor shortages, they may not be able to provide us with a regular supply of berries.  If looking for 5- and 10-pound boxes, call first to make sure we have some on hand before you drive out.
Sweet Corn Update
We are sorry that our sweet corn is still a week to 10 days out from ripening.  We need more sunny days to get it to maturity.  It is late this year, and it has been a difficult weather year.  But the same varieties that we have every year are coming along nicely and it will be worth the wait!
Bakery
Donuts.  We make fresh Buttermilk, Cherry, and Blueberry donuts on Saturday and Sunday. 
Fruit Pies.  This year our pies are frozen "take and bake" only; we no longer offer "ready to eat" pies.  Having them frozen allows us to offer a full variety of pies every day the market is open, not just on weekends.  If you are driving far, bring a cooler or insulated freezer bag.  The pies are simple to bake, take about an hour, ready to bake when you need them, and give your house a mouthwatering aroma!  So far customers are liking this better.  The pies are hot right out of your oven, plus extra pies can be tucked in the freezer for that time when you need a dessert!  Baking directions are included on each pie.
Pie Varieties:  Apple, Dutch Apple, Blueberry, Cherry, Cherry Berry, Peach, and Strawberry-Rhubarb.  Below, we are making Cherry-Berry pies for the weekend – a delightful blend of blueberries, cherries, and cranberries.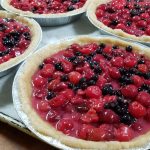 Slushies.  With the heat of summer already here, enjoy a nice cold slushie!  We have Strawberry, Mango, Strawberry-Mango mix, or Cider.
Baked Goods from Yoder's
We are offering additional homemade baked goods from Yoder's Country Store.
Each day the market is open – cookies and breads.
Fridays, Saturdays, and Sundays only – Amish fry pies and cinnamon rolls
Amish Fry Pies (pocket-sized, half circle pie): Apple, Black Raspberry, Blueberry, Cherry, Lemon, Peach, Red Raspberry, Strawberry-Rhubarb
Breads (pre-sliced, ready to use!): Dill, English Muffin, Italian Cheese, Jalapeno Cheddar, Multigrain, Oatmeal, Raisin Cinnamon, and Sourdough
Cinnamon Rolls with cream cheese icing
Cookies: Chocolate Chip, Molasses, Oatmeal Raisin, Oatmeal Sandwich, Peanut Butter, Sugar Cookies, and Whoopi Pies
Amish Fry Pies
Fry Pies are as common as Horse and Buggies, especially in Amish Country.  What is the difference between a good ole' fashioned slice of pie and a fry pie?  1) You don't need to eat it with a fork.  2)  The Fry Pie is wrapped in a delicious thin homemade crust with your favorite filling, and then sealed with a sweet vanilla-flavored glaze!
We are carrying fry pies made by Yoder's Bakery in Centreville and their popularity is increasing with everyone who tries one.  They are perfect to pack for lunches, a treat to take on the boat, or with your morning coffee.  Beth usually gets a black or red raspberry to have with coffee after the farm wakes up and everyone is in motion.  She cuts it in half to share with Brenda but usually she circles back and eats the second half before Brenda even knew it was there!
If you know you want at least 6 or more, we are accepting preorders for standing/ recurring weekly orders and one-time orders.  You can call ahead or sign-up next time you are here.  Ordering ahead makes sure that you can get your favorite kinds and we will have them ready for you.  Orders must be received by 6pm Sunday and can be picked up anytime after Noon on Thursday.
Flavors Available: Apple, Black Raspberry, Blueberry, Cherry, Lemon, Peach, Red Raspberry, and Strawberry-Rhubarb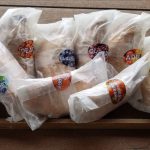 Spirits, Wine, and Hard Ciders
Our Happy Hours are back!  Please stop by and enjoy a hard cider or wine.  We will also offer informal tastings of alcohol products earlier in the day.
Happy Hour – Saturday, 3 to 5 pm at the breezeway by the market
We have a nice selection of alcohol produced on the farm.
Fruit brandy in 375ml and 750ml sizes
2 sweet wines – Double Cherry and Peach and Honey.  Look for several drier wines coming soon!
Hard cider in 12-ounce bottles.  You can purchase them individually or mix and match them in a discounted 4- or 6-pack.
Many of our customers love our Double Cherry Wine!  It is a true fruit wine made from fresh Michigan grown cherries.  The fruit aroma of ripe cherries and the crisp tartness of the natural fruit is captured in this lightly sweet bright red wine.  We have many repeat customers for this wine.
Visit us at local Farmer's Markets
We participate in two local farmer's markets.  Please stop by and check out our items.  See schedules and addresses for both locations. \https://coreylakeorchards.com/farmers-markets/ 
COVID-19 Guidelines
We are following operational guidance from the CDC as well as State and local health rules.  We are an open-air market and masks are optional though we encourage you to wear them if you have not been vaccinated.  Our staff has been vaccinated and are not required to wear masks.  Please note that we also follow food safety rules that regulate how produce is harvested and packaged.
We look forward to seeing you soon.  Thank you for shopping local.
From everyone at Corey Lake Orchards