When We are Open
Reminder on our days and hours:  Open 9 am to 6 pm every day, including holidays.  Closed Tuesdays.  To call us with an order or a question:  269-244-5690.
Happenings on the Farm
Our memory of those July beautiful rains is long gone as irrigation is back on around the clock.
While we have all enjoyed those cooler mornings, the heat is coming the next few days which is why these have historically been called the dog days of August.  The ancient Romans called the hottest, most humid days of summer "diēs caniculārēs" or "dog days."  The name came about because they associated the hottest days of summer with the star Sirius. Sirius was known as the "Dog Star" because it was the brightest star in the constellation Canis Major.
August begins our heavy harvesting month, which of course means heavy lifting.  Bushels of corn, large buckets of tomatoes, squash, cabbage, and cucumbers get us in our best shape for the upcoming fall apple season!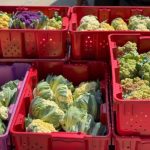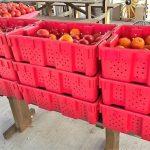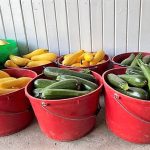 We also worked to prepare our sunflower field for opening!  Below we are positioning antique farm vehicles and tractors.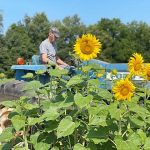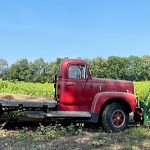 This Sunday is our "All Things Local" Festival!  We have been busy getting the farm ready for your visit with nonstop cleaning, organizing, and weeding.  And just like we all do in our own homes as we prepare for company, don't open a barn door or something might topple out as we put things away to make room for all of you.
Join us for the 4th Annual "All Things Local" Festival – Sunday, August 8
Plan to stop by on Sunday, August 8 between 11 am and 3 pm for our 4th Annual All Things Local "Downtown to Down Home" Festival.  This is an entirely outdoor festival and a perfect day for an outing!
Come and Eat – Food and drinks from Maple Row Sugarhouse and Happy Landings Restaurant; Happy Hour and Alcohol Tastings by Corey Lake Orchards (Noon to 3p), slushies, baked goods, grocery items, and produce.
Come and Listen – Music by Slim Jim and the Window Breakers, book readings by Tom Springer
Come and Shop – A wide variety of awesome artwork, jewelry, crafts, cards, photos, and fiber arts from 10 Three Rivers Artists Guild members along with Faith in Flora, Bob's Birds, Tiptoe Candle Co., Barb's Bowls, Laughing Horse Artisan, Triple Creek Pottery, and giftware at the CLO market
Come and Learn – More about the local area through the Three Rivers Downtown Development Authority, St. Joseph/Cass County Conservation Districts, Watershed Voice
Come for Fun – Get your face painted by the Constantine High School Art Club, stroll through the CLO Sunflower field, win a door prize
See the flyer for more information.
Sunflower Field Opening
Our first sunflower field will open starting this Saturday.  The blooms will last 10 to 14 days depending on the weather.  We planted three fields to try to have a continuous sunflower experience for you through Labor Day weekend.  However, we are at the mercy of the weather and the sunflowers so call ahead or check our website if you are driving in from a distance.
Hours.  Field opens at 9 am and you must leave the field by 5 pm.  Closed Tuesdays.
Admission Fees and Pricing.  Check in at the market first for an admission ticket and directions.
$6 ages 11 years and older
$3 for accompanied children 37 inches to age 11
No charge for those under 36 inches on our Sunflower measuring stick
$20 season pass (unlimited visits)
Additional blooms $2 each, 6 or more for $5
What's Included.
Stroll through the pathways cut through the field and walk the perimeter.
Each admission includes a complimentary sunflower (with bag and water) to take home
Photo opportunities with the flowers, props, and antique farm vehicles
Places to relax – picnic tables, hay bales
General educational agricultural information
Photographers.  Please contact Brenda@coreylakeorchards.com for information, fees, and evening hours.
Sunflower Gifts and Consumables
While sunflowers certainly are a pleasure to behold, they also provide seeds for a variety of edible products including sunflower oil. We do not grow sunflowers for production, but we do carry a variety of sunflower themed products and gifts in the market.  We have a selection of consumable souvenirs, including oil, seeds, snacks, and granola.  What better way to educate the next generation about where their food comes from than to tour the field and then see the resulting products?
In addition to consumables, you will find sunflower emblazoned souvenirs from apparel to accessories to home and yard decor to stationary items and more.  Many items were sourced from small manufacturers or artists with whom we are pleased to partner.  There are products at various price points to allow children to spend a couple dollars as well as inspire gifts for special occasions.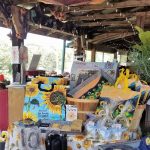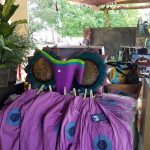 EXTRA BONUS gift table at the Local Festival this Sunday!  Corey Lake Orchard will have a table set up near our pollinator garden loaded with products festooned with butterflies, moths, and bees.  Check out the garden, take a picture of family members sitting on the butterfly bench, write a note of what you observed in our notebook and peruse the gift items.  And in the weeks ahead look for the monarch chrysalis in the market and follow its progress.
On The Market
The market countertops are overflowing with a variety of summer vegetables!  This is an easy time to eat more veggies!
Apples – Jersey Mac and Lodi
Blueberries
Brussel sprouts
Cabbage
Cauliflower
Cucumbers
Eggplant
Fresh Cut Flower bouquets
Green Beans
Herbs
Kale
Lettuce – regular and spicy
Mushrooms
Onions
Peppers – many varieties, hot and sweet!
Shallots
Sweet Corn
Swiss Chard
Tomatoes – regular, mini, and green tomatoes
Yellow Squash
Zucchini
Here is a zucchini recipe worth considering for dinner this week!  Try Ina Garten's 5-Star Zucchini Recipe
We just harvested our entire crop of shallots and have them braided, ready to go home with you.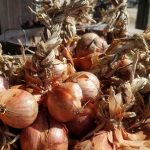 Bulk Produce for Canning and Freezing.  We have started our "lists" for bulk quantities of sweet corn, tomatoes (first and second quality), peppers and green beans.  If you are interested in any of these items, give us your name and phone number along with the approximate amount.  When we have them available, we will give you a call.  (269-244-5690).  We have started making calls on sweet corn and green beans.
Peaches:  We have a few early peaches and are selling them in quarts for fresh eating.  They tend to "cling" so let them get fully ripe and then cut them off with a knife  Due to losing most of our peach crop with the May frosts and freezes, we are bringing in peaches as we can get them from another local farm by Kalamazoo.  If you are looking for them by the bushel, you can get on our order list and we will try to get them for you, but no guarantees.  Sorry we are at the mercy of other farms to supply us when they can.
Bartlett Pears.  This crop got particularly hurt by the May frost/freeze, but as the summer has gone on, we feel there will be a small picking of them.  Therefore, we are taking orders for pears and will supply them as we are able to those who ordered first.
Grocery Items.  Assortment of local meat, cheese, yogurt, eggs, jam, jelly, salsa, maple syrup, honey, chips, tortilla chips, ice cream, and more.
Gift Items.  Assorted greeting cards, pottery, artwork, sculptures, Mad Mats, and more.
Blueberries
U-Pick.  Our small field is open for picking and we provide containers.  Our current variety is Jersey, which is a small, but sweet berry.  The berry size does make it take longer to pick!  The field opens at 9 am and you must be out by 5 pm.  See our Blueberry U-Pick page on our website for prices, hours, and more details.
If you want larger quantities consider going to Brookside Farms in Paw Paw.  They have a delightful farm for you to visit and pick at – 269-657-3500 or check their website:  https://brooksidefarmsmi.com/
Already Picked.  We have blueberries already picked in the market ranging from pints and 18-ounce containers to 5- and 10-pound boxes.  Brookside Farms has been our blueberry supplier for a number of years.  However, with the almost daily rain and labor shortages, they may not be able to provide us with a regular supply of berries.  If looking for 5- and 10-pound boxes, call first to make sure we have some on hand before you drive out.
Bakery
Donuts.  Just a reminder that we only make donuts on Saturdays and Sundays.   We make fresh Buttermilk, Cherry, and Blueberry donuts, plain and sugared.
Fruit Pies.  This year our pies are frozen "take and bake" only; we no longer offer "ready to eat" pies.  Having them frozen allows us to offer a full variety of pies every day the market is open, not just on weekends.  If you are driving far, bring a cooler or insulated freezer bag.  The pies are simple to bake, take about an hour, ready to bake when you need them, and give your house a mouthwatering aroma!  So far customers are liking this better.  The pies are hot right out of your oven, plus extra pies can be tucked in the freezer for that time when you need a dessert!  Baking directions are included on each pie.
Pie Varieties:  Apple, Dutch Apple, Blueberry, Cherry, Cherry Berry, Peach, and Strawberry-Rhubarb.
Slushies.  With the heat of summer already here, enjoy a nice cold slushie!  We have Strawberry, Mango, Strawberry-Mango mix, or Cider.
Baked Goods from Yoder's
We are offering additional homemade baked goods from Yoder's Country Store.
Each day the market is open – cookies and breads.
Fridays, Saturdays, and Sundays only – Amish fry pies and cinnamon rolls
Amish Fry Pies (pocket-sized, half circle pie): Apple, Black Raspberry, Blueberry, Cherry, Lemon, Peach, Red Raspberry, Strawberry-Rhubarb
Breads (pre-sliced, ready to use!): English Muffin, Italian Cheese, Jalapeno Cheddar, Multigrain, Oatmeal, Raisin Cinnamon, and Sourdough
Cinnamon Rolls with cream cheese icing
Cookies: Chocolate Chip, Molasses, Oatmeal Raisin, Oatmeal Sandwich, Peanut Butter, Sugar Cookies, and Whoopi Pies
Order Ahead!  You can always call the market and order you favorite baked goods to ensure that we will have them.
Spirits, Wine, and Hard Ciders
On Saturdays, we offer informal tastings of alcohol products for you to try before you purchase!  You are welcome to purchase glasses of hard cider or wine and sit and enjoy it around the various tables we have around the market when our sampling station is open.
Join us for Happy Hour this Sunday in the "Onion Barn" from Noon to 3 pm!
We have a nice selection of alcohol produced on the farm.
Fruit brandy in 375ml and 750ml sizes
Wine – an assortment of sweet and dry
Hard cider in 12-ounce bottles.  You can purchase them individually or mix and match them in a discounted 4- or 6-pack.
Introducing our Newest Wines
We have added three new wines to our lineup that will give us a range from sweet to dry, white and red – something for everyone!  Stop by and try them this Saturday during our informal tastings at the market.
Corey Lake Crisp.  A dry, white blend bottled for Corey Lake Orchards with a finish not unlike biting into a perfectly crisp apple.
Hubbard's Red.  A dry, red blend bottled for Corey Lake Orchards, dry like our wit and fruity like our farm.
Market Red.  A semi-dry, red bottled for Corey Lake Orchards, best served chilled while chilling with your friends and family.
Yoga at the Orchard – August 14
We are very excited to announce that we will soon be offering Yoga classes on select Saturday mornings!  In addition to getting a good workout led by our certified Yoga instructor Cynthia, you will have a chance to immerse yourself in nature in several areas of the farm.
The first class is scheduled for Saturday, August 14 starting at 9 am at the Sunflower field.  Mark your calendar now and stay tuned for more details!
Visit us at local Farmer's Markets
We participate in two local farmer's markets.  Please stop by and check out our items.  See schedules and addresses for both locations. \https://coreylakeorchards.com/farmers-markets/ 
COVID-19 Guidelines
We are following operational guidance from the CDC as well as State and local health rules.  We are an open-air market and masks are optional though we encourage you to wear them if you have not been vaccinated.  Our staff has been vaccinated and are not required to wear masks.  Please note that we also follow food safety rules that regulate how produce is harvested and packaged.
We look forward to seeing you soon.  Thank you for shopping local.
From everyone at Corey Lake Orchards