When We are Open
Reminder on our days and hours:  Open 9 am to 6 pm every day, including holidays.  Closed Tuesdays.  To call us with an order or a question:  269-244-5690.
August is truly the "tastiest" month of the year, though seasonal holiday dishes are a close second.  August's staples of sweet corn, tomatoes, green beans, blueberries, and peaches along with a wide variety of summer vegetables make it a delightful time to eat.  And eat healthy! Take advantage of all the colors, textures, and tastes, and take time to make those summer-inspired favorite dishes.  It may not seem like it, but Fall is a little more than a month away.
Happenings on the Farm
Phone Lines.  We apologize but our phones have been out of order for several days now.  They are finally working again (until the next storm!)
Greenhouse.  We spent time this week "dismantling" our greenhouse for the year.  Our field tomatoes are coming in strong, and the greenhouse tomato season had come to an end.  We will start again planting our tomato seeds in December, to aim for those Mother Day's BLT sandwiches in 2022!
Rain and More Rain.  This past week we emptied the rain gauge, worried as storms ripped through the area, and when the storms were done, we did a lot of head shaking and said "Oh, my goodness."
Since Friday night (8-6) we have gotten almost 6 plus inches of rain.  On Friday night we got almost 3 inches in one hour, along with hail and destructive winds.  The storms continued this week as well.  The rain combined with the wind and hail was too much for our sweet corn field to remain standing.  The hail damaged the fruit and tomato crops, the extent of it we are still assessing.
Meanwhile, we need your understanding as everything is coming in from the field with just a bit of mud on it, especially the corn as we try to salvage it.  As all of you know who are in the area, the heat this week has been oppressive, making it difficult to harvest and keep things from spoiling.  A huge thank you is to all of our team members for enduring this heat and the field conditions this week.  We are also grateful that so many of you endured the heat, rain, and storms to come out this week!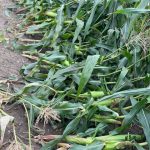 Eating Healthy
We encourage you to get your kids eating our wonderful vegetables at an early age. There are several you pick opportunities right here in our play yard where they can pick a mini tomato or a mini sweet pepper.  These two boys came over with their mom just to get purple cauliflower which they love to eat.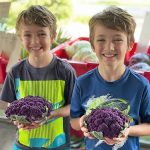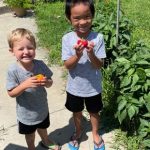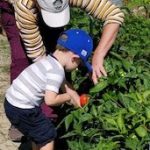 Yoga at the Orchard
Take advantage of this Saturday's anticipated nice weather and join us for Yoga!  We are excited to offer Yoga on select Saturday mornings from now through Fall.  For our inaugural Yoga class, we are giving all paid attendees a free admission to the Sunflower Field ($6 value).
Classes are being taught by Cynthia Hoss, ERYT 500 instructor, and are open to all ages and yoga abilities.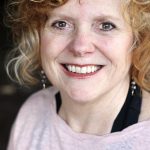 Time.  Class begins at 9 am, check in starts at 8:45 am at the market.
Location.  The Terrace Garden east of the market
Cost:  $10 per person
What to Bring.  Bottled water, beach size towel, and yoga mat.  Sunscreen and insect repellant if desired.
Where to Park.  Please park in our overflow lot, the cherry orchard directly across the street from the market.
Check our website for weather cancellations or other changes of schedule.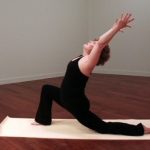 Sunflower Field Opening
Our first sunflower field is still in bloom with two more fields yet to come.  We hope to have a continuous sunflower experience for you through Labor Day weekend.  However, we are at the mercy of the weather and the sunflowers so call ahead (especially if you are driving from a distance) or check the "breaking news" area of our website for updates.
Hours.  Field opens at 9 am and you must leave the field by 5 pm.  Closed Tuesdays.
Admission Fee and Pricing.  Check in at the market first for an admission ticket and directions.
$6 ages 11 years and older
$3 for accompanied children 37 inches to age 11
No charge for those under 36 inches on our Sunflower measuring stick
$20 season pass (unlimited visits)
Additional blooms $2 each, 6 for more are $1.50 each
What's Included.
Stroll through the pathways cut through the field and walk the perimeter.
Each admission includes a complimentary sunflower (with bag and water) to take home
Photo opportunities with the flowers, props, and antique farm vehicles
Places to relax – picnic tables, hay bales
General educational agricultural information
Photographers.  Please contact Brenda@coreylakeorchards.com for information, fees, and evening hours.
Sunflower Gifts and Consumables
While sunflowers certainly are a pleasure to behold, they also provide seeds for a variety of edible products including sunflower oil. We do not grow sunflowers for production, but we do carry a variety of sunflower themed products and gifts in the market.  We have a selection of consumable souvenirs, including oil, seeds, snacks, and granola.  What better way to educate the next generation about where their food comes from than to tour the field and then see the resulting products?
In addition to consumables, you will find sunflower emblazoned souvenirs from apparel to accessories to home and yard decor to stationary items and more.  Many items were sourced from small manufacturers or artists with whom we are pleased to partner.  There are products at various price points to allow children to spend a couple dollars as well as inspire gifts for special occasions.
On The Market
The market countertops are overflowing with a variety of summer vegetables!  This is an easy time to eat more veggies!
Apples – Earli-Blaze – new
Blueberries
Brussel sprouts
Carrots
Cabbage
Cauliflower
Cucumbers
Eggplant
Fresh Cut Flower bouquets
Green Beans
Herbs
Kale
Lettuce – regular, spicy, arugula
Melons – new
Mushrooms
Onions
Peaches
Peppers – many varieties, hot and sweet
Shallots
Sweet Corn
Swiss Chard
Tomatoes – regular, mini, and green tomatoes
Yellow Squash
Zucchini
Below are the mini tomatoes growing in our hoop house.  The plants are so tall, we pick them on a ladder!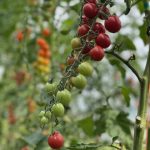 Bulk Produce for Canning and Freezing.  We have started making calls to those who preordered bulk quantities of sweet corn, tomatoes (first and second quality), and green beans.  We are also trying to keep extra corn on hand for those that want a bushel or two.  If you are interested in sweet corn, tomatoes, or peppers in bulk, please give us your name, phone number, and approximate amount.  When we have them available, we will give you a call.  (269-244-5690).  We are no longer taking orders for green beans.
Peaches:  We currently have a variety of freestone peaches from our own orchard and some we are getting from another local farm by Kalamazoo.  At this time, we are not taking any more orders for bushels of Red Haven peaches as they demand was high this week.  There will be some very good, later varieties coming in.  Contact us if you would like to leave a request should we have them available by the bushel.
Bartlett Pears.  This crop got particularly hurt by the May frost/freeze, but as the summer has gone on, we feel there will be a small picking of them.  Therefore, we are taking orders for pears and will supply them as we are able to those who ordered first.
Blueberries.  Brookside hopes to continue to supply us with blueberries until the end of August.  Our U-pick blueberries are done for the year.
Grocery Items.  Assortment of local meat, cheese, yogurt, eggs, jam, jelly, salsa, maple syrup, honey, chips, tortilla chips, ice cream, and more.
Gift Items.  Assorted greeting cards, pottery, artwork, sculptures, Mad Mats, and more.
Bakery
Donuts.  Just a reminder that we only make donuts on Saturdays and Sundays.   We make fresh Buttermilk, Cherry, and Blueberry donuts, plain and sugared.
Fruit Pies.  This year our pies are frozen "take and bake" only; we no longer offer "ready to eat" pies.  Having them frozen allows us to offer a full variety of pies every day the market is open, not just on weekends.  If you are driving far, bring a cooler or insulated freezer bag.  The pies are simple to bake, take about an hour, ready to bake when you need them, and give your house a mouthwatering aroma!  So far customers are liking this better.  The pies are hot right out of your oven, plus extra pies can be tucked in the freezer for that time when you need a dessert!  Baking directions are included on each pie.
Pie Varieties:  Apple, Dutch Apple, Blueberry, Cherry, Cherry Berry, Peach, and Strawberry-Rhubarb.
Slushies.  With the heat of summer already here, enjoy a nice cold slushie!  We have Strawberry, Mango, Strawberry-Mango mix, or Cider.
Baked Goods from Yoder's
We are offering additional homemade baked goods from Yoder's Country Store.
Each day the market is open – cookies and breads.
Fridays, Saturdays, and Sundays only – Amish fry pies and cinnamon rolls
Amish Fry Pies (pocket-sized, half circle pie): Apple, Black Raspberry, Blueberry, Cherry, Lemon, Peach, Red Raspberry, Strawberry-Rhubarb
Breads (pre-sliced, ready to use!): English Muffin, Italian Cheese, Jalapeno Cheddar, Multigrain, Oatmeal, Raisin Cinnamon, and Sourdough
Cinnamon Rolls with cream cheese icing
Cookies: Chocolate Chip, Molasses, Oatmeal Raisin, Oatmeal Sandwich, Peanut Butter, Sugar Cookies, and Whoopi Pies
Order Ahead!  You can always call the market and order you favorite baked goods to ensure that we will have them.
Spirits, Wine, and Hard Ciders
We have a nice selection of alcohol produced on the farm.
Fruit brandy in 375ml and 750ml sizes
Wine – an assortment of sweet and dry
Hard cider in 12-ounce bottles.  You can purchase them individually or mix and match them in a discounted 4- or 6-pack.
Thank You for Attending the 4th Annual "All Things Local" Festival
Last Sunday was our 4th Annual All Things Local "Downtown to Down Home" Festival.  Many of you braved the heat and stopped by to enjoy the various activities.  Our local artisan community was well represented and displayed a variety of quality artwork.  We also had informational booths, face painting, toe-tapping music, sunflower strolls, happy hour, CLO market, and more.  The food vendors did a great job keeping us fed with tasty sandwiches and roasted corn.  Thanks to the Three Rivers Downtown Development Authority for their support and sharing information about the Three Rivers area.  We will have a similar festival on Sunday, October 10, as part of the Three Rivers Chamber of Commerce's Fall Color Tour.  Mark your calendar!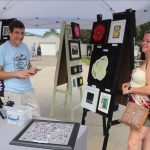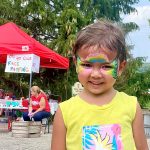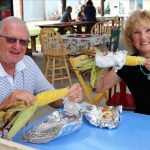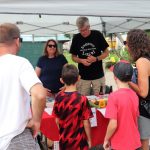 COVID-19 Guidelines
We are following operational guidance from the CDC as well as State and local health rules.  We are an open-air market and masks are optional though we encourage you to wear them if you have not been vaccinated.  Our staff has been vaccinated and are not required to wear masks.  Please note that we also follow food safety rules that regulate how produce is harvested and packaged.
We look forward to seeing you soon.  Thank you for shopping local.
From everyone at Corey Lake Orchards