When We are Open
Reminder on our days and hours:  Open 9 am to 6 pm every day, including holidays.  Closed Tuesdays.  To call us with an order or a question:  269-244-5690.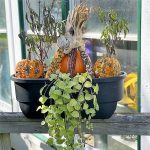 Happenings on the Farm
And so, another summer is behind us as we all "fall into fall."  Sweetcorn, peaches, sunflowers are gone for another year!  We have shifted to picking hard winter squash instead of summer squash and zucchini.  Our picking RTV's come in loaded with pumpkins and gourds instead of cantaloupe and watermelon.  And we are all grateful for the cooler fall temperatures and breezes!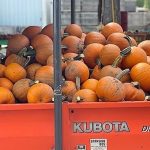 Apple picking is now underway in a major way.  We have finished harvesting the Gala, Jonamac, Jonagold, McIntosh, and Molly's Delicious for the year and they are now available at the market.
Jonamacs below followed by Molly's Delicious.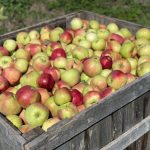 Caterpillar Escapee.  Somehow one of our monarch caterpillars escaped from their display jar and made a cocoon on the outside of the jar!  Though not ideal, it does give us a closeup view, and gives the emerging butterfly a quick escape into the wilds!  We also have a swallowtail cocoon inside the jar to monitor.
Yoga at the Orchard
Cancelled this Saturday – please join us for our next class on Saturday, September 18.
Apple U-Pick this Weekend
The U-Pick apple orchard will be open this Saturday and Sunday.  Due to the heat, we have adjusted the hours to 9:30 am start with the last reservation at 1:30 pm, Eastern time. 
Reminder – We are using a reservation system this year to schedule a day and time to come pick.  We are doing this to avoid crowds, lines to get into the orchard, and to be sure there are apples available when you come.
When you make a reservation, you will receive a confirmation email with all the information you need to know like where to go to check in (you will be driving directly to the orchard) and other important information.  If you end up coming to the market first to get directions, know that we are sending you directly to the orchard to keep you on your scheduled appointment time so there is no need to get everyone out of the car – just send one person to get the details!  (Excited young apple pickers don't like having to get right back in the car!!)This weekend we are moving to a new orchard that was planted back in 2012 with smaller trees.  We think you will like it!  While you can reach most of the apples from the ground, bringing a stepstool or kitchen ladder is encouraged to get those beautiful apples that are out of reach!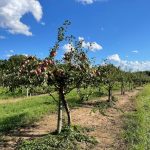 This weekend there will be 5 varieties of apples to pick:
 JonaMac:  A good cooking or eating apple.  It has the best qualities of a Jonathon and a McIntosh apple.  It is a favorite for apple sauce.
Macintosh:  aromatic, juicy, sweet, and tangy tart.  The tender white flesh of the McIntosh makes it an old time favorite.
Molly's Delicious: a large, sweet eating apple, not a cooking apple
Cortland: A hint of tartness makes this a great baking variety, a descendent of the McIntosh.  This variety is a bit sweeter than its ancestor and juices really well.
Jonathan: Pretty and popular, used for fresh eating and cooking, a favorite for apple butter and taffy apples.
See our U-Pick Apple page to get more information on making a reservation, times we are open and pricing.
Grape  Update
If you have stopped by lately, you probably noticed the sweet scent of ripening grapes in the air!  They are getting closer but are not quite ready yet.
We anticipate the Niagara and Concord will start sometime the last two weeks of September but there is no starting date yet.  This hot/cool weather extremes are not allowing the grapes to ripen consistently, and we want them to be ripe when you come to pick.
Reservation System.  New this year we will be using a reservation system and you will need to schedule a specific date and time.  The system is online, accessible from our website home page, and will be posted closer to the start of the season.  If you are unable to utilize the reservation system or have any problems, please contact the market at 269-244-5690 and we will be happy to make the reservation for you.
Minimum Picking Amount.  The vineyard will only be open to those who are picking at least 10 pounds.
Winter Squash
We grow quite a few varieties of winter squash.  We would encourage you to try some new ones.  You will find descriptions of the squash located in the squash area or ask any of our staff.  This time of year, one of our favorites is the versatile Delicata squash.  This is a squash that can be cut in half, put in the microwave until tender, add butter, salt, and pepper, and you can eat the skin!!   Delicious, healthy, and easy to prepare!
Most of these squash can be used as decorations until you decide to eat them!
Canning Tomatoes – Last Call
We will have canning tomatoes for about another week.  They are second quality as the several weeks of excessive heat and heavy rains have taken a toll on the crop.  They are $16 a bushel.  Please call the market at (269) 244-5690 to place an order.
Current Apple Availability
Apple Estimate Chart.  Check our annual "Apple Estimate" chart so you can tell when your favorite variety is expected to be ready and how many we will have.  You can pick one up at our market or find it here.
Apples on the market this weekend
Gala: a great eating and cooking apple.  It has a crisp snappy bite over a mellow sweetness
Honeycrisp: This seems to be many people's favorite.  It is crisp with an excellent sweet flavor and a "bite" to it.  Great for eating fresh or using in salads.
JonaGold: Superbly crisp and juicy with shades of tart and sweet in each apple, very large and aromatic.  Cross between a Jonathan and Golden Delicious.
Mollie's Delicious: a large, sweet eating apple, not a cooking apple
Jon-A-Mac: This is a good cooking or eating apple.  It combines the best qualities of a Jonathan and a MacIntosh.  A favorite for apple sauce.
MacIntosh:  aromatic, juicy, sweet, and tangy tart.  The tender white flesh of the McIntosh makes it an old time favorite.
Apple pricing for the year:  $30 a bushel, $16 a half-bushel, $11 a peck (1/4 of a bushel), $6.50 a half-peck, and $3.75 a 1/4 peck.
Apple Cider.  We are getting close to making our first apple cider of the year.  We expect to have it in about a week.
On The Market
Here is what we will have this week.
Apples – Added this week: Jonagold, Macintosh, Honey Crisp, JonaMac
Brussel sprouts
Cabbage – almost done for the year
Eggplant
Fall ornamentals – gourds, colored corn, mums
Fresh Cut Flower bouquets
Grapes – Early Fredonia (blue)
Herbs
Lettuce – regular, spicy
Melons /Cantaloupe –almost done for the year
Mushrooms
Onions
Peppers – many varieties, hot and sweet
Plums—almost done for the year
Shallots
Squash, hard winter:  Acorn, Delicata, Spaghetti, Butternut, Buttercup, Mashed Potato, Baked Potato, Carnival
Tomatoes – regular, mini, and green tomatoes
Watermelon – (seeded)—almost done for the year
Zucchini – almost done for the year
Bartlett Pears.  We have picked our limited crop of Bartlett pears for the year and still have a few available.
Grocery Items.  Assortment of local meat, cheese, yogurt, eggs, jam, jelly, salsa, maple syrup, honey, chips, tortilla chips, ice cream, and more.
Gift Items.  Assorted greeting cards, pottery, artwork, sculptures, Mad Mats, and more.
Our insulated totes celebrating our 60 years have arrived!  We have a practical bag to help keep your produce, hard ciders, chilled wine, and frozen pies cool a bit longer.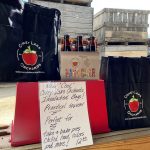 Bakery
Donuts.  Just a reminder that we only make donuts on Saturdays and Sundays.   We are now into our fall flavors – Buttermilk, Apple Cider, and Pumpkin donuts, plain and sugared.
Fruit Pies.  This year our pies are frozen "take and bake" only; we no longer offer "ready to eat" pies.  Having them frozen allows us to offer a full variety of pies every day the market is open, not just on weekends.  If you are driving far, bring a cooler or insulated freezer bag.  The pies are simple to bake, take about an hour, ready to bake when you need them, and give your house a mouthwatering aroma!  So far customers are liking this better.  The pies are hot right out of your oven, plus extra pies can be tucked in the freezer for that time when you need a dessert!  Baking directions are included on each pie.
Pie Varieties:  Apple, Dutch Apple, Blueberry, Cherry, Cherry Berry, Peach, and Strawberry-Rhubarb.
Slushies.  With the continued heat of summer, enjoy a nice cold slushie!  We have Strawberry, Mango, Strawberry-Mango mix, or Cider.
Baked Goods from Yoder's
We are offering additional homemade baked goods from Yoder's Country Store.
Each day the market is open – cookies and breads.
Fridays, Saturdays, and Sundays only – Amish fry pies and cinnamon rolls
Amish Fry Pies (pocket-sized, half circle pie): Apple, Black Raspberry, Blueberry, Cherry, Lemon, Peach, Red Raspberry, Strawberry-Rhubarb
Breads (pre-sliced, ready to use!): English Muffin, Italian Cheese, Jalapeno Cheddar, Multigrain, Oatmeal, Raisin Cinnamon, and Sourdough
Cinnamon Rolls with cream cheese icing
Cookies: Chocolate Chip, Molasses, Oatmeal Raisin, Oatmeal Sandwich, Peanut Butter, Sugar Cookies, and Whoopi Pies
Order Ahead!  You can always call the market and order you favorite baked goods to ensure that we will have them.
Spirits, Wine, and Hard Ciders
We have a nice selection of alcohol produced on the farm.
Fruit brandy in 375ml and 750ml sizes
Wine – an assortment of sweet and dry
Hard cider in 12-ounce bottles.  You can purchase them individually or mix and match them in a discounted 4- or 6-pack.
COVID-19 Guidelines
We are following operational guidance from the CDC as well as State and local health rules.  We are an open-air market and masks are optional though we encourage you to wear them if you have not been vaccinated.  Our staff has been vaccinated and are not required to wear masks.  Please note that we also follow food safety rules that regulate how produce is harvested and packaged.
We look forward to seeing you soon.  Thank you for shopping local.
From everyone at Corey Lake Orchards