It is hard to believe that the Autumnal Equinox is next Wednesday.  Tell that to our grapes and apples who think we are in an extended summer.  They would like crisp days and cool nights to normalize their growth and enhance coloring.  In the meantime, the heat wave continues ….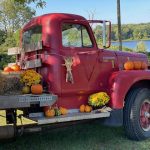 Due to the heat, we want to protect your apples and will be keeping our stock in the cold storage.  Still come and shop even though some of our counters will be bare.  Just know that we will be getting your apple bags directly out of cold storage for you.  Please find a way to keep them cool when you take them home also.
When We are Open
Reminder on our days and hours:  Open 9 am to 6 pm every day, including holidays.  Closed Tuesdays.  To call us with an order or a question:  269-244-5690.
Yoga at the Orchard
This Saturday is our last Yoga session of the year.  Please plan to come!  The class starts at 9 am and is being led by Cynthia Hoss, ERYT 500 instructor.  The fee is $10 per person.  Check in at the market and we will direct you to the location.
Below are members from our last class in the sunflower field!  The sunflowers sadly are no longer in bloom so this class will be in another location.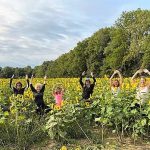 Bring bottled water, beach size towel, and yoga mat.  Sunscreen and insect repellant as necessary.
Check our website for weather cancellations or other changes of schedule.
Apple U-Pick this Weekend
The U-Pick apple orchard will be open this Saturday and Sunday.  Reminder – We are using a reservation system this year to schedule a day and time to come pick.  We are doing this to avoid crowds, lines to get into the orchard, and to be sure there are apples available when you come.
When you make a reservation, you will receive a confirmation email with all the information you need to know like where to go to check in (you will be driving directly to the orchard) and other important information.  If you end up coming to the market first to get directions, just send one person in to get the information as you will be driving to the market.
We will be picking in a new orchard that was planted back in 2012 with smaller trees.  We think you will like it!  While you can reach most of the apples from the ground, bringing a stepstool or kitchen ladder is encouraged to get those beautiful apples that are out of reach!
This weekend there will be 7 varieties of apples to pick:
Cortland: A tart great baking apple for desserts, pies, and applesauce.  It is a descendent of the McIntosh, but a bit sweeter.  Known for its white flesh and excellent flavor.  Juices well.
Crimson Gala:  This is a newer apple from the Gala family.  It has beautiful coloring, crsp snappy bite over mellow sweetness.  Great for eating, salads, juicing.
Jonamac:  Medium to large fruit with 90% red color over a greenish background. Firm, crisp flesh with flavor similar to a Macintosh.  Superior eating quality, also can be used for baking.
Jonathan:  A medium sized fruit with bright red color.  A sweet-tart flavor with a crisp texture which makes it great for baking, old fashioned caramel apples, and adds complexity to cider.
McIntosh:  A medium to large sized fruit with red color.  A sweet yet sharp flavor which makes it good for fresh eating, cooking, and drying.
Spartan: This has crisp white flesh, is aromatic and exceptionally juicy with a balanced sweet-tart flavor.  Keeps well in the refrigerator.
Zestar: This is a sweet-tart tangy apple with hints of brown sugar.  Great flavor and keeps well when refrigerated.  Eating or cooking, it is one of the parents of the new Sweetango apple that has hit the market in the last few years.
See our U-Pick Apple page to get more information on making a reservation, times we are open and pricing.
Below are some of our apple pickers from last weekend!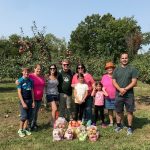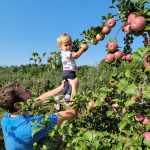 U-Pick Grapes
Thank you for your continued patience as we wait for them to ripen!  The weather patterns have not been good for grape coloring, and we want to make sure they are ripe and sweet before you come to pick them.  We will start the Niagara (white) this Saturday.
We anticipate trying to open the Concords (blue) by the end of September – please check back.  The Concords are still ripening; the Niagara are always a week or so earlier than the Concords.
If you are wishing to pick both white Niagara and blue Concord, you can wait until the Concords ripen and pick them together.
U-Pick Reservation times (hours and times may vary during the season):
Weekdays (Monday, Wednesday, Thursday, Friday) are 9 am to 4:20 pm; everyone must be out by 5:30 pm.
Weekends (Saturday and Sunday) are 9 am to 4:20 pm; everyone must be out by 5:30 pm.
Evenings (Wednesday) are from 4:30 to 5:40 pm; everyone must be out by the official sunset time that day.
Closed Tuesdays
All times are Eastern time
Reservation System.  New this year we will be using a reservation system and you will need to schedule a specific date and time.  The system is online, accessible from our website home page, and will be posted closer to the start of the season.  If you are unable to utilize the reservation system, please contact the market at 269-244-5690.
To Make a Reservation.  Click the reservations link below to make a reservation online.  There is no fee but there you must pick a minimum of 10 pounds.
https://www.signupgenius.com/go/10c0c44aaa82fa0fdce9-grape
U-Pick Pricing.  You must pick a minimum quantity of 10 pounds (about a peck which is a quarter of a bushel).
10 pounds or less: $1 a pound or $10 flat fee
20 pounds (1 bucket): 75 cents a pound or $15
2 to 4 buckets: 63 cents a pound or $12.50 a bucket
100 pounds or more (5 or more buckets): 32.5 cents a pound or $6.50 a bucket
We sell them by the pound and consider a five-gallon bucket (filled level) or a half bushel basket to be 20 pounds
Already Picked Grapes.  We are currently taking orders for already picked Niagara (white) and Concord (blue).  The price is $32 a bushel, $17 a half bushel.
Winter Squash
We grow quite a few varieties of winter squash.  We would encourage you to try some new ones.  You will find descriptions of the squash located in the squash area or ask any of our staff.  Most of these squash can be used as decorations until you decide to eat them!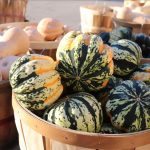 Current Apple Availability
Apple Estimate Chart.  Check our annual "Apple Estimate" chart so you can tell when your favorite variety is expected to be ready and how many we will have.  You can pick one up at our market or find it here.
Apples on the market this weekend
Gala: a great eating and cooking apple.  It has a crisp snappy bite over a mellow sweetness
Honeycrisp: This seems to be many people's favorite.  It is crisp with an excellent sweet flavor and a "bite" to it.  Great for eating fresh or using in salads.
Cortland: A hint of tartness makes this a great baking variety, a descendent of the McIntosh.  This variety is a bit sweeter than its ancestor and juices really well.  (Will be picking early next week).
JonaGold: Superbly crisp and juicy with shades of tart and sweet in each apple, very large and aromatic.  Cross between a Jonathan and Golden Delicious.
Jon-A-Mac: This is a good cooking or eating apple.  It combines the best qualities of a Jonathan and a MacIntosh.  A favorite for apple sauce.
McIntosh:  aromatic, juicy, sweet, and tangy tart.  The tender white flesh of the McIntosh makes it an old time favorite.
Nu-Red: A crisp, tart, hard, crunchy apple.  An improved version of a Red Rome.
Apple pricing for the year:  $30 a bushel, $16 a half-bushel, $11 a peck (1/4 of a bushel), $6.50 a half-peck, and $3.75 a 1/4 peck.
Apple Cider
We made our first batch of apple cider today and will have it available starting this weekend – a refreshing cold drink for a hot day!  As the weeks go on and we pick more different types of apples, the blend will only improve.
Below our first tank of freshly pressed cider enroute to the cold storage!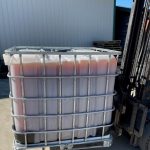 On The Market
Here is what we will have this week.
Apples – many varieties
Brussel sprouts
Eggplant
Fall ornamentals – gourds, colored corn, mums, pie pumpkins, decorative but edible squash
Fresh Cut Flower bouquets
Grapes – Early Fredonia (blue)
Herbs
Lettuce – regular, spicy
Mushrooms
Onions
Pears – almost gone for the year
Peppers – many varieties, hot and sweet
Shallots
Squash, hard winter:  an assortment of traditional types and some newer ones
Tomatoes – regular, mini, and green tomatoes
Watermelon – (seeded)—almost done for the year
Grocery Items.  Assortment of local meat, cheese, yogurt, eggs, jam, jelly, salsa, maple syrup, honey, chips, tortilla chips, ice cream, and more.
Gift Items.  Assorted greeting cards, pottery, artwork, sculptures, Mad Mats, and more.
Bakery
Donuts.  Just a reminder that we only make donuts on Saturdays and Sundays.   We are now into our fall flavors – Buttermilk, Apple Cider, and Pumpkin donuts, plain and sugared.
Fruit Pies.  This year our pies are frozen "take and bake" only; we no longer offer "ready to eat" pies.  Having them frozen allows us to offer a full variety of pies every day the market is open, not just on weekends.  If you are driving far, bring a cooler or insulated freezer bag.  The pies are simple to bake, take about an hour, ready to bake when you need them, and give your house a mouthwatering aroma!  So far customers are liking this better.  The pies are hot right out of your oven, plus extra pies can be tucked in the freezer for that time when you need a dessert!  Baking directions are included on each pie.
Pie Varieties:  Apple, Dutch Apple, Blueberry, Cherry, Cherry Berry, Peach, and Strawberry-Rhubarb.
Slushies.  With the continued heat of summer, enjoy a nice cold slushie!  We have Strawberry, Mango, Strawberry-Mango mix, or Cider.
Baked Goods from Yoder's
We are offering additional homemade baked goods from Yoder's Country Store.
Each day the market is open – cookies and breads.
Fridays, Saturdays, and Sundays only – Amish fry pies and cinnamon rolls
Amish Fry Pies (pocket-sized, half circle pie): Apple, Black Raspberry, Blueberry, Cherry, Lemon, Peach, Red Raspberry, Strawberry-Rhubarb
Breads (pre-sliced, ready to use!): English Muffin, Italian Cheese, Jalapeno Cheddar, Multigrain, Oatmeal, Raisin Cinnamon, and Sourdough
Cinnamon Rolls with cream cheese icing
Pumpkin Rolls
Cookies:  Chocolate Chip, Molasses, Oatmeal Raisin, Peanut Butter, Sugar Cookies, and Whoopie Pies—both chocolate and pumpkin!
Order Ahead!  You can always call the market and order you favorite baked goods to ensure that we will have them.
Spirits, Wine, and Hard Ciders
We have a nice selection of alcohol produced on the farm.
Fruit brandy in 375ml and 750ml sizes
Wine – an assortment of sweet and dry
Hard cider in 12-ounce bottles.  You can purchase them individually or mix and match them in a discounted 4- or 6-pack.
Below is Corey Lake Crisp, one of our newer white wines – a dry white blend bottled for Corey Lake Orchards with a finish not unlike biting into a perfectly crisp apple.
Last evening, we enjoyed meeting members of the Meeks Mill Garden Club in Constantine who held a brandy tasting event and meeting with our brandy maker, Sean.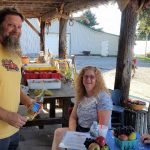 COVID-19 Guidelines
We are following operational guidance from the CDC as well as State and local health rules.  We are an open-air market and masks are optional though we encourage you to wear them if you have not been vaccinated.  Our staff has been vaccinated and are not required to wear masks.  Please note that we also follow food safety rules that regulate how produce is harvested and packaged.
We look forward to seeing you soon.  Thank you for shopping local.
From everyone at Corey Lake Orchards