When We are Open
Reminder on our days and hours:  Open 9 am to 6 pm every day, including holidays.  Closed Tuesdays.  To call us with an order or a question:  269-244-5690.
This weekend, we will have our holiday pie order information available for you to pre-order pies for Thanksgiving or December holidays (see holiday pie information below).
Schedule for November and December:
Sunday, Oct. 31 – open 9 to 6 (our last regular day of business)
Saturday, Nov. 6 – open 9 to 3
Saturday, Nov. 13 – open 9 to 3
Saturday, Nov. 20 – open 9 to 3 (also pickup day for holiday pie orders)
Saturday, Nov. 27 – open 9 to 3
Saturday, Dec. 4 – open 9 to 3
Saturday, Dec. 11 – open 9 to 3
Saturday, Dec. 18 – open 9 to 3 (also pickup day for holiday pie orders)
Watch for the opening of our Holiday Market and Visits with Santa!
October 21 is World Apple Day
National Apple Day falls on October 21 and is a day dedicated entirely to celebrating all things apple.  Pick out your favorite variety and celebrate with apple lovers across the world.  This holiday reminds us to appreciate the apple in its myriad forms.
"An apple a day keeps the doctor away" so the saying goes.  When you step onto our market, you will undoubtedly notice the rich smell of the many varieties of apples we grow.  To celebrate World Apple Day, get some to munch and crunch on, try a new apple recipe, drink some freshly pressed cider, kick back with a hard cider, and just smell the aromas of apples baking or cooking in your kitchen.
Stop by this Thursday and Friday as we celebrate World Apple Day.
$1 off an Apple pie from our bakery – bake and smell one that night and tuck one away for the holidays)
$1 off each peck or each half bushel bag of apples – a great time to stock up on apples for the upcoming winter months

Apple Gleaning
Apple Gleaning will open on Friday, October 22nd in select orchards (we are still harvesting the late fall apples).  "Gleaning" is where you can pick what is left off the ground or off the tree at the end of the harvest season for a reduced price.  This is an economical way to get apples for processing large amounts of applesauce or juice, or animal apples.  The available apples are mostly Golden and Red Delicious.  We will close the orchard as soon as they are gone so it is best to call ahead to check on availability.
Please check in at the market and you will be directed to the orchards that are open for gleaning.  The price is $8 a bushel, the only quantity you can pick.  For example, if you pick a half or quarter bushel, you will still pay for a bushel.
The apples left are mostly on the ground or in the tops of the trees.  Bringing a kitchen stepstool is helpful.  Also bring your own containers to put them in.  We can loan you bushel baskets to pick in for measuring.  If you don't have containers, we have half bushel liner bags which can be purchased for 50 cents each.
Happenings on the Farm
Our apple harvest is almost over except for waiting for the Red Rome and Pink Ladys to color and ripen.  Whew, it feels good to see the finish line for our staff members who have done the heavy lifting to pick, sort, pack and sell.
Our grapes our now gone for the season, an abrupt ending caused by the unusual amount of rain and warm temperatures we had which caused the grapes to deteriorate on the vines.  We appreciate everyone who came out again this year to pick grapes.  We hope your larders are full of grape juice and grape jelly for another year.
Pumpkin picking:  This has been a difficult pumpkin year across the U.S. and you have probably seen headlines for pumpkin shortages.  We had a good crop going into October, but the rain and heat caused at least half of them to spoil before they could be harvested. 
Despite the shortage of pumpkins, we wanted to continue our annual tradition of getting as many pumpkins as possible into the hands of those who needed them.  We truly appreciate the Triple River CrossFit group sliding in the mud and getting their morning workout as they picked pumpkins for this good cause last Saturday.  We are working with about 10 non-profit organizations to get pumpkins and apples to families in our community.
And a workout it was!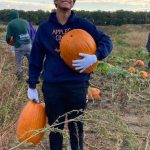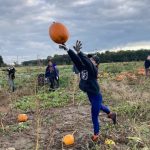 Younger members of Triple River CrossFit are finished and headed for cider and donuts!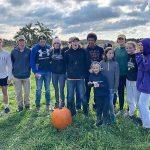 Mission accomplished! Many boxes of pumpkins were gathered!  And look at the mud!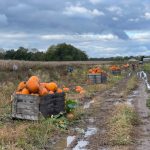 Beth Hubbard and Brock from Triple River CrossFit are pleased with another year of partnership to pick pumpkins!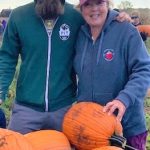 Apple Update
Apples on the market this weekend
Cameo:  Firm, crisp and sweet, tart. Great for snacking or baking. Keeps well in your refrigerator.
Cortland: A hint of tartness makes this a great baking variety, a descendent of the McIntosh.  This variety is a bit sweeter than its ancestor and juices really well.   (only a few left for the year)
Fuji: (Limited supply) Has a fantastic sweet and tart flavor, with a low acid content.  An incredibly good keeper, it says crisp for weeks without even being refrigerated.  We had a small crop of these so there are only a few left for the year.
Golden Delicious:  A gingery-smooth, sweet taste under a thin skin.  It is the most popular yellow apple, good eaten fresh, baked or cut in salads.  Makes a nice apple sauce and many people use for canning pie filling.
Honeycrisp: This seems to be many people's favorite.  It is crisp with an excellent sweet flavor and a "bite" to it.  Great for eating fresh or using in salads.
Ida Red:  Suits your every use!  Eat fresh or for cooking.  Taste is both tangy and tart.  Flesh is white, crisp and juicy.  Favored for sauces, pies and desserts.  Texture holds up well when baked.  (only a few left for the year)
Jon-A-Mac: (Only a few left).  This is a good cooking or eating apple.  It combines the best qualities of a Jonathan and a MacIntosh.  A favorite for apple sauce.
Northern Spy: The professional baker's dream, cooks up well in applesauce, pie and other dishes.  Stores well, easy to remember by saying "Spies for pies".
Red Delicious: America's most popular apple, known for the "five little bumps" on the bottom.  Best for fresh eating and snacks.  Full-flavored sweet taste, yellowish flesh, and crisp texture
Apple pricing for the year:  $30 a bushel, $16 a half-bushel, $11 a peck (1/4 of a bushel), $6.50 a half-peck, and $3.75 a 1/4 peck.
60th Anniversary Special.  To help celebrate our 60th year in business, we are having a special on Red Delicious.  These apples were one of the original ones on our farm and a "core" part of our apple crop years ago.
Stop by the market and bag your own straight out of the bin from the orchard.  The special pricing is: $19.61 a bushel, $10 a half-bushel, $6 a peck (1/4 of a bushel), and $4 a half-peck
Winter Squash and Fall Ornamentals
We have a few varieties of winter squash left:  Butternut, Acorn and Buttercup.
If you are looking for squash to store for the winter, please know that our squash is not keeping well this year.  Any squash you buy will need to be used soon after purchase.
Don't forget to pick up some pie pumpkins!  You can easily roast and freeze them to make your holiday pies later.
Jack O' Lanterns.  We have a limited supply of pumpkins for carving this year, so we suggest you get them sooner than later.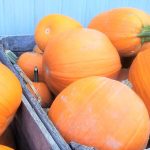 Apple Cider
We are making fresh apple cider and you can pick it up in the cider cooler at the market.  Our cider is now at its peak flavor, which means this is a good time to freeze cider to have until next fall.  Simply take about a cup out of a gallon jug to leave room for expansion, put it in your freezer, defrost, shake well, and enjoy!
Please note that it is not pasteurized and requires refrigeration.  If you want 10 or more gallons, please call the market at 269-244-5690 to preorder.
On The Market
Apples
Cider
Fall ornamentals – gourds, colored corn, mums, mini pumpkins, decorative but edible squash
Garlic
Herbs to pick
Kale
Kohlrabi
Lettuce
Onions – sweet and green
Pie Pumpkins
Pumpkins
Spinach
Squash
Grocery Items.  Assortment of local meat, cheese, eggs, jam, jelly, salsa, maple syrup, honey, chips, tortilla chips, and more.
Gift Items.  Assorted greeting cards, pottery, artwork, sculptures, Mad Mats, and more.
Bakery
Donuts.  Just a reminder that we only make donuts on Saturdays and Sundays.   We are now into our fall flavors – Buttermilk, Apple Cider, and Pumpkin donuts, plain and sugared.
Fruit Pies.  This year our pies are frozen "take and bake" only; we no longer offer "ready to eat" pies.  Having them frozen allows us to offer a full variety of pies every day the market is open, not just on weekends.  If you are driving far, bring a cooler or insulated freezer bag.  Baking directions are included on each pie.
Pie Varieties:  Apple, Dutch Apple, Blueberry, Cherry, Cherry Berry, Peach, and Strawberry-Rhubarb.
Slushies.  With the summer-like weather, enjoy a nice cold slushie!  We have Grape, Mango, and Cider.
'Take and Bake' Holiday Pies
It's that time again, time to order "take and bake" pies for the holidays or keep frozen for use anytime!  All pies are 9-inch, frozen, and ready to bake.  We have expanded our offerings for the holiday season.
All fruit pies are $13 each, and pecan pies are $15.  Stop by the market or call us at (269) 244-5690 to place your order.  Pick up weekends are November 20-21 and December 18-19.
Pies available for pre-order:
Apple – 2 crust; Apple – Dutch; Blueberry; Cherry; Cherry Berry; Peach; Pecan; Pumpkin; Rhubarb; Strawberry; Strawberry Rhubarb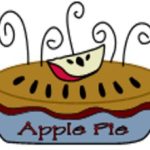 Baked Goods from Yoder's
We are offering additional homemade baked goods from Yoder's Country Store.
Each day the market is open – cookies and breads.
Fridays, Saturdays, and Sundays only – Amish fry pies and cinnamon rolls
Amish Fry Pies (pocket-sized, half circle pie): Apple, Black Raspberry, Blueberry, Cherry, Lemon, Peach, Red Raspberry, Strawberry-Rhubarb
Breads (pre-sliced, ready to use!) for Fall: English Muffin, Multigrain, Raisin Cinnamon, and Sourdough
Cinnamon Rolls
Cookies:  Chocolate Chip, Molasses, Oatmeal Raisin, and Whoopie Pies—both chocolate and pumpkin
Pumpkin Rolls (in the refrigerator section)
Order Ahead!  You can always call the market and order you favorite baked goods to ensure that we will have them.
Spirits, Wine, and Hard Ciders
We have a nice selection of alcohol produced on the farm.
Fruit brandy in 375ml and 750ml sizes
Wine – an assortment of sweet and dry
Hard cider in 12-ounce bottles.  You can purchase them individually or mix and match them in a discounted 4- or 6-pack.
Stop by the market this Saturday and taste a sample of our hard ciders and wines!  This is a great opportunity to try them and see which one(s) will pair well with your holiday meals.
Our Recent Events
Thank you to everyone who stopped by last Sunday afternoon to meet our two lovely princesses!
We sincerely appreciate the community support during the Three Rivers Chamber of Commerce's Fall Color Tour two weeks ago!  Thank you for stopping by to enjoy the activities, shop with our local arts, crafts, and food vendors, hear some music, and grab a bite to eat.
COVID-19 Guidelines
We are following operational guidance from the CDC as well as State and local health rules.  We are an open-air market and masks are optional though we encourage you to wear them if you have not been vaccinated.  Please note that we also follow food safety rules that regulate how produce is harvested and packaged.
We look forward to seeing you soon.  Thank you for shopping local.
From everyone at Corey Lake Orchards