When We are Open
Reminder on our days and hours:  This is our final week.  We will be open 9 am to 6 pm every day through Halloween Sunday.  To call us with an order or a question:  269-244-5690.
We will be celebrating Halloween on both Saturday and Sunday with trick or treat stations for kids to enjoy on the market.  So, here's one more opportunity for your kids to wear their costumes!
What will Beth be wearing?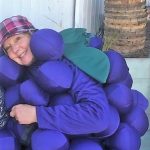 Schedule for November and December:
Starting November, we will be open on Saturdays only (unless by appointment) with the following schedule:
Saturday, Nov. 6 – open 9 to 3
Saturday, Nov. 13 – open 9 to 3
'Tis the Season' Holiday Market opens
Last day to order Holiday Pies for November pickup
Saturday, Nov. 20 – open 9 to 3
'Tis the Season' Holiday Market open
Holiday pie order pickup
Visits with Santa 10 am to 2 pm (by reservation)
Saturday, Nov. 27 – open 9 to 3
'Tis the Season' Holiday Market open
Visits with Santa 10 am to 1 pm (by reservation)
Saturday, Dec. 4 – open 9 to 3
'Tis the Season' Holiday Market open
Visits with Santa 10 am to 2 pm (by reservation)
Saturday, Dec. 11 – open 9 to 3
'Tis the Season' Holiday Market open
Last day to order Holiday Pies for December pickup
Visits with Santa 10 am to 2 pm (by reservation)
Saturday, Dec. 18 – open 9 to 3 –  Last day – then closing for the season
'Tis the Season' Holiday Market open
Holiday pie order pickup
Happenings on the Farm
We spent more time than we wanted emptying the rain gauge; we have certainly had a wet October!
Finally, we are picking the Red Rome and Pink Lady apples on Wednesday, and they will be available on the market starting Thursday, October 28.  Whew, it feels good to cross the finish line for our staff members who have done the heavy lifting to pick, sort, pack, and sell.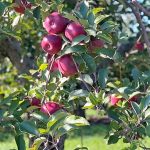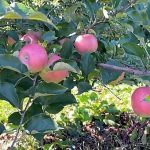 We are working daily to get the remaining apples bagged from our cold storage so we can get them into your pie, applesauce bowl, or lunch bag!  A few weeks ago there was no room in the cold storage for one more thing but now we can finally see the walls again.  This caused us to realize we had our own little "supply chain" problem going on where 4 bins of Jonathan got hidden behind many boxes of Golden Delicious.  So, the good news is Jonathan is now back for those of you who were not able to get some earlier!  Jonathan is often called the school children's apple, it's the right size and flavor if you are looking for something for sports practice, trick or treat giveaways, or for school lunch boxes.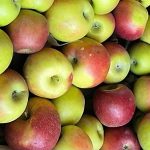 While we were bagging apples today, we put together some lovely mixed bags of Red and Golden Delicious.  These make great gifts or just to have for fresh eating.  They are available in pecks and half pecks.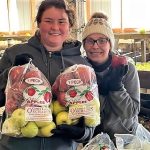 Apple Gleaning
Apple Gleaning in select orchards is still available.  "Gleaning" is where you can pick what is left off the ground or off the tree at the end of the harvest season for a reduced price.  This is an economical way to get apples for processing large amounts of applesauce or juice, or animal apples.  The available apples are mostly Golden and Red Delicious and there is still a lot left.  We will close the orchard as soon as they are gone so it is best to call ahead to check on availability.
Please check in at the market and you will be directed to the orchards that are open for gleaning.  The price is $8 a bushel, the only quantity you can pick.  For example, if you pick a half or quarter bushel, you will still pay for a bushel.
The apples left are mostly on the ground or in the tops of the trees.  Bringing a kitchen stepstool is helpful.  Also bring your own containers to put them in.  We can loan you bushel baskets to pick in for measuring.  If you don't have containers, we have half bushel liner bags which can be purchased for 50 cents each.
Apple Update
Apples still in good supply and should have available for Saturdays in November:
Cameo:  Firm, crisp and sweet, tart. Great for snacking or baking. Keeps well in your refrigerator.
Cortland: A hint of tartness makes this a great baking variety, a descendent of the McIntosh.  This variety is a bit sweeter than its ancestor and juices really well.   (only a few left for the year)
Golden Delicious:  A gingery-smooth, sweet taste under a thin skin.  It is the most popular yellow apple, good eaten fresh, baked or cut in salads.  Makes a nice apple sauce and many people use for canning pie filling.
Jonathan: Both pretty and popular! Used for fresh eating and cooking. Juicy flavor has a spicy tang that blends well with other apples. Michigan's cooler climate produces superb Jonathans. A favorite for making apple butter and taffy apples.
Pink Lady:  If you don't know a Pink lady, you need to meet her!  It is a cross between a Lady William and Golden Delicious apple. It has bright white flesh that resists browning when cut. Pink Lady apples are very firm and dense, with a tart flavor and effervescent finish.  Very unique apple!
Red Delicious: America's most popular apple, known for the "five little bumps" on the bottom.  Best for fresh eating and snacks.  Full-flavored sweet taste, yellowish flesh, and crisp texture.
Rome: A big, round apple right out of storybooks! Rome's have a mild, sweet flavor. Most popular for baking because it holds flavor and shape well.
Apples with limited supply, should get these ASAP  
Braeburns: Sweet with a hint of tart, and a firmness that stores well.  These traits plus the fact that they bake well have made them a very versatile apple.
Fuji:  Has a fantastic sweet and tart flavor, with a low acid content.  An incredibly good keeper, it says crisp for weeks without even being refrigerated.  We had a small crop of these so there are just a few left for the year.
Honeycrisp: This seems to be many people's favorite.  It is crisp with an excellent sweet flavor and a "bite" to it.  Great for eating fresh or using in salads.
Ida Red): Suits your every use!  Eat fresh or for cooking.  Taste is both tangy and tart.  Flesh is white, crisp and juicy.  Favored for sauces, pies and desserts.  Texture holds up well when baked.
Northern Spy: The professional baker's dream, cooks up well in applesauce, pie and other dishes.  Stores well, easy to remember by saying "Spies for pies".
New apples (for us) will be on the market this weekend in small quantities.  These are the late apples we planted in our new orchard.  Come try the various varieties:  Goldrush, Granny Smith, Winecrisp, Arkansas Black and others.
Apple pricing for the year:  $30 a bushel, $16 a half-bushel, $11 a peck (1/4 of a bushel), $6.50 a half-peck, and $3.75 a 1/4 peck.
60th Anniversary Special.  To help celebrate our 60th year in business, we are having a special on Red Delicious.  These apples were one of the original ones on our farm and a "core" part of our apple crop years ago.
Stop by the market and bag your own straight out of the bin from the orchard.  The special pricing is: $19.61 a bushel, $10 a half-bushel, $6 a peck (1/4 of a bushel), and $4 a half-peck.
Winter Squash, Fall Ornamentals, and Pumpkins
We have a few varieties of winter squash left:  Butternut, Acorn and Buttercup.
If you are looking for squash to store for the winter, please know that our squash is not keeping well this year.  Any squash you buy will need to be used soon after purchase.
We are almost out of pie pumpkins and Jack O'Lantern pumpkins, so come quick.  We still have a good supply of decorative pumpkins.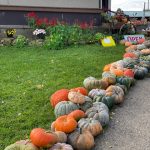 Apple Cider
This week we will press our last batch of fresh sweet cider.  Our cider is now at its peak flavor, which means this is a good time to freeze cider to have until next fall.  Simply take about a cup out of a gallon jug to leave room for expansion, put it in your freezer, defrost, shake well, and enjoy!
We have stocked some in the freezer for purchase on the remaining Saturday's we are open.
Please note that it is not pasteurized and requires refrigeration.  If you want 10 or more gallons, please call the market at 269-244-5690 to preorder.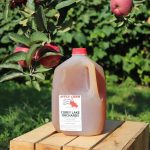 On The Market
Apples
Cider
Fall ornamentals – gourds, colored corn, mums, mini pumpkins, decorative but edible squash
Garlic
Herbs to pick
Kale
Kohlrabi
Lettuce
Onions – sweet and green
Pie Pumpkins
Pumpkins
Spinach
Squash
Grocery Items.  Assortment of local meat, cheese, eggs, jam, jelly, salsa, maple syrup, honey, chips, tortilla chips, and more.  Some items have a limited supply since we are wrapping up for the year.
Gift Items.  Assorted greeting cards, pottery, artwork, sculptures, Mad Mats, and more.
Bakery
Donuts.  This will be our last Saturday and Sunday that we are making donuts for the year:.  Buttermilk, Apple Cider, and Pumpkin donuts, plain and sugared.
Fruit Pies.  This year our pies are frozen "take and bake" only; we no longer offer "ready to eat" pies.  Having them frozen allows us to offer a full variety of pies every day the market is open, not just on weekends.  If you are driving far, bring a cooler or insulated freezer bag.  Baking directions are included on each pie.
Pie Varieties:  Apple, Dutch Apple, Blueberry, Cherry, Cherry Berry, Peach, Pumpkin, and Strawberry-Rhubarb.
'Take and Bake' Holiday Pies
It's that time again, time to order "take and bake" pies for the holidays or keep frozen for use anytime!  All pies are 9-inch, frozen, and ready to bake.  We have expanded our offerings for the holiday season.
Fruit pies are $13 each; pecan pies are $15.  Stop by the market or call us at (269) 244-5690 to place your order.  Pick up Saturdays are November 20 and December 18.
Pies available for pre-order:
Apple – 2 crust; Apple – Dutch; Blueberry; Cherry; Cherry Berry; Peach; Pecan; Pumpkin; Rhubarb; Strawberry; Strawberry Rhubarb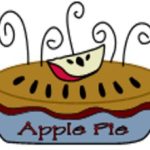 Baked Goods from Yoder's
This is the last week we will have baked goods from Yoder's.  We will have a limited supply left of breads and cookies.
Spirits, Wine, and Hard Ciders
We have a nice selection of alcohol produced on the farm.
Fruit brandy in 375ml and 750ml sizes
Wine – an assortment of sweet and dry
Hard cider in 12-ounce bottles.  You can purchase them individually or mix and match them in a discounted 4- or 6-pack.
Stop by the market this Saturday and taste a sample of our hard ciders and wines!  This is a great opportunity to try them and see which one(s) will pair well with your holiday meals.
COVID-19 Guidelines
We are following operational guidance from the CDC as well as State and local health rules.  We are an open-air market and masks are optional though we encourage you to wear them if you have not been vaccinated.  Please note that we also follow food safety rules that regulate how produce is harvested and packaged.
We look forward to seeing you soon.  Thank you for shopping local.
From everyone at Corey Lake Orchards