An Old-Fashioned Visit with Santa and Mrs. Claus
Santa and Mrs. Claus are back at Corey Lake Orchards for only three more Saturdays!  Take time now to schedule a visit for your children or grandchildren before Santa disappears to the North Pole to prepare for his very important Christmas Eve deliveries!
Dates:  Saturdays – November 27, December 4, 11
Hours:  10 am to 2 pm (only until 1 pm on Nov. 27)
Reservations Recommended
Cost:  $20 per family
Make your reservation online at https://www.signupgenius.com/go/10c0c44aaa82fa0fdce9-anoldfashioned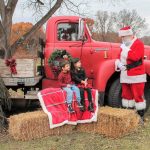 What makes Santa's visit to Corey Lake Orchards different from his other stops? 
He brings Mrs. Claus who also engages in conversation with your child, assists with photo taking, and looks great in photos also.
He has firsthand knowledge of your children and their holiday wishes (thanks to your help of course!)  This only strengthens the magical mystique.
Our tastefully decorated setting is a throwback to yesteryear and simpler times.
We have more photo opportunities.  In addition to the immediate area by Santa and Mrs. Claus, we have several photo spots with vintage and farm-type decorations that you won't find anywhere else.  Areas include our red antique fire truck, antique tractors, horse trough snowman, garland decorated apple bin, large tire wreath, John Deere tractors under the tree, a vintage sleigh, and more unique spots.
Our location is quieter (little noise from other shoppers and families), and Santa is quieter (not loud and scary) – a much better setting for children who are already intimidated by the overall Santa experience or have special needs or sensory issues.
Family dogs are welcome, too!  Undoubtedly, they will be on their best behavior!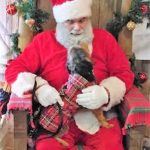 Conversation with Santa – When you make your reservation online, you will be asked information (optional) on your children like names, ages, city of residence, and gift wish list to help guide Santa's conversation.  And for the little ones who are not sure about these people dressed up in red, they can simply enjoy the space around them where they can sit on an antique toy tractor, find a doll to hug under the Christmas tree, or sit with their parents in the sleigh.
Dress in your warm holiday attire as this is primarily an outside event though we have added some heat by Santa and some photo areas.
Address
Corey Lake Orchards, 12147 Corey Lake Road, Three Rivers, MI 49093
(269) 244-5690
Changes to Reservations
Should we have to reschedule you in case of inclement weather or other unforeseen situation, we will contact you by phone (using the cell phone number you provided} to discuss other scheduling options.
Contact us by email Brenda@coreylakeorchards.com or by phone (269) 244-5690 should anything change on your end.  If you cannot reach anyone at the market, please call (517) 898-9774.
For more details visit our Santa Experience page on the website.
Thank you to photographer Ashlee Lawson for sharing family photos.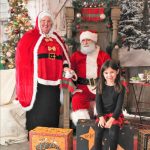 COVID-19 Guidelines
We are following operational guidance from the CDC as well as State and local health rules.  We are an open-air market and masks are optional though we encourage you to wear them if you have not been vaccinated.  Please note that we also follow food safety rules that regulate how produce is harvested and packaged.
We look forward to seeing you soon.  Thank you for shopping local.
From everyone at Corey Lake Orchards