When We are Open
Reminder on our days and hours:  We are currently in our holiday seasonal schedule.  We will be open 9 am to 3 pm on Saturdays through December 18.  You can also shop by appointment – just call: 269-244-5690.  Thank you for supporting us last week during Small Business Saturday!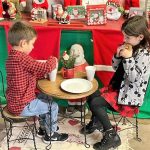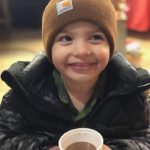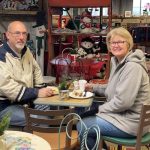 We have a special holiday treat for you – come step inside our barn!  The interior of the 100-year-old barn has been transformed from a fruit and vegetable work area into a wonderland that would rival the workshop at the North Pole.  Stepping into the decorated space is like stepping back into yesteryear complete with vintage holiday decorations and displays.  Pull up a table and chair, with a cup of hot cocoa or cider, and enjoy the vintage decorations adorning our old barn.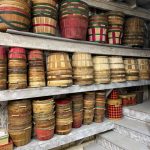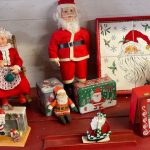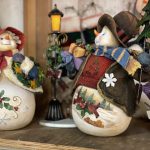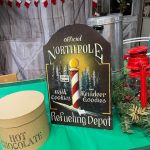 Schedule for November and December:
Saturday, Dec. 4 – open 9 to 3
'Tis the Season' Holiday Market open
Hot Cocoa/ Mulled Hot Cider/ Sweet treats
Visits with Santa and Mrs. Claus from 10 am to 2 pm (by reservation)
Saturday, Dec. 11 – open 9 to 3
'Tis the Season' Holiday Market open
Hot Cocoa/ Mulled Hot Cider/ Sweet treats
Visits with Santa and Mrs. Claus from 10 am to 2 pm (by reservation)
Saturday, Dec. 18 – open 9 to 3 –  Last day – then closing for the season
'Tis the Season' Holiday Market open
Alcohol sampling/ Hot Cocoa/ Mulled Hot Cider/ Sweet treats
An Old-Fashioned Visit with Santa – Two Saturdays Left!
Santa and Mrs. Claus are back at Corey Lake Orchards for only two more Saturdays!  Take time now to schedule a visit for your children or grandchildren before Santa disappears to the North Pole to prepare for his very important Christmas Eve deliveries!
Dates:  Saturdays – December 4 (only a few slots left), December 11
Hours:  10 am to 2 pm
Reservations Recommended
Cost:  $20 per family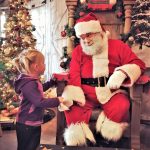 What makes Santa's visit to Corey Lake Orchards different from his other stops?
He brings Mrs. Claus who also engages in conversation with your child, assists with photo taking, and looks great in photos also.
He has firsthand knowledge of your children and their holiday wishes (thanks to your help of course!)  This only strengthens the magical mystique.
Our tastefully decorated setting is a throwback to yesteryear and simpler times.
We have more photo opportunities.  In addition to the immediate area by Santa and Mrs. Claus, we have several photo spots with vintage and farm-type decorations that you won't find anywhere else.  Areas include our red antique fire truck, antique tractors, horse trough snowman, garland decorated apple bin, large tire wreath, John Deere tractors under the tree, a vintage sleigh, and more unique spots.
Our location is quieter (little noise from other shoppers and families), and Santa is pleasant (not loud and scary) – a much better setting for children who are already intimidated by the overall Santa experience or have special needs or sensory issues.
Family dogs are welcome, too!  Undoubtedly, they will be on their best behavior!
Below Samson, a therapy dog that goes to work each day greeting patients, takes time out to visit with Santa.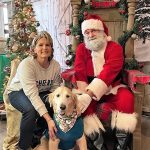 Make your reservation online at https://www.signupgenius.com/go/10c0c44aaa82fa0fdce9-anoldfashioned
When you make your reservation online, you will be asked information (optional) on your children like names, ages, city of residence, and gift wish list to help guide Santa's conversation.  And for the little ones who are not sure about these people dressed up in red, they can simply enjoy the space around them where they can sit on an antique toy tractor, find a doll to hug under the Christmas tree, or sit with their parents in the sleigh.
Dress in your warm holiday attire as this is primarily an outside event though we have added some heat by Santa and some photo areas.  Walk-ins are welcome (there may be a short wait) as we realize this is a hectic time of year and pre-planning may be challenging.  See our webpage for more details regarding the event that will help make this a memorable experience.
Below a guest sitting in our vintage sleight chats with Santa and Mrs. Claus.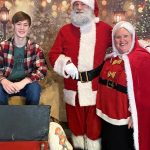 Shop our Holiday Market
Did we mention the shopping?  Our holiday market is open on Saturdays from 9 am to 3 pm with seasonal produce, alcohol products, grocery items, and an expanded gift selection just in time for the holidays.
Our Holiday Market is a Feast for the Imagination!  
We have apples of course – perfect on its own as a gift or with a gift basket.  Don't forget the Apple pie, our line of hard ciders, and our apple brandy!
Bags, buckets, baskets, and boxes await you to fill with Michigan edibles including honey, maple syrup products, meat sticks, chocolates, chips and more!
We have hand-crafted products by our staff such as Caryn's crocheted collegiate items, Barb's ceramic bowls, Patti's crocheted items, Amber's photo cards, and Mary's glycerin soaps.
We carry offerings from the Three Rivers Artist's Guild offerings including jewelry, apparel, cards, glass work, paintings, tree cookie designs, photography and more.
And we have Holiday Wreaths!  Some are decorated and ready to go, and some are made to decorate on your own.  We also have holiday floral arrangements.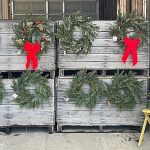 Totally stumped on gift giving?  We offer our 'one size fits all' Corey Lake Orchards gift certificate.
Tis the Season to celebrate all that the seasons have gifted us!  Come celebrate with us!  We have photo opportunities set up around the farm for those holiday cards and social media posts including visits with Santa himself.
Order your Holiday Arrangement
We are now taking orders for holiday arrangements that are perfect for decorating your home or holiday table, or to give as a gift!  Each arrangement, custom made for you by Faith in Flora, is $40.  Choose between a festive birchwood box, or a wooden box in whitewash or driftwood color.  All arrangements will have fresh flowers (added at the end) and wrapped in a bow.  Pickup your order on Dec. 11 or Dec. 18.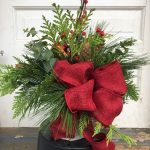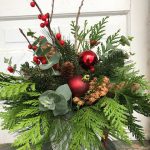 Apples on the Market
Cameo:  Firm, crisp and sweet, tart. Great for snacking or baking. Keeps well in your refrigerator.
Cortland: A hint of tartness makes this a great baking variety, a descendent of the McIntosh.  This variety is a bit sweeter than its ancestor and juices really well. (Only a few left for the year)
Golden Delicious:  A gingery-smooth, sweet taste under a thin skin.  It is the most popular yellow apple, good eaten fresh, baked or cut in salads.  Makes a nice apple sauce and many people use for canning pie filling.
Jonathan: Both pretty and popular! Used for fresh eating and cooking. Juicy flavor has a spicy tang that blends well with other apples. Michigan's cooler climate produces superb Jonathans. A favorite for making apple butter and taffy apples.
Pink Lady:  If you don't know a Pink lady, you need to meet her!  It is a cross between a Lady William and Golden Delicious apple. It has bright white flesh that resists browning when cut. Pink Lady apples are very firm and dense, with a tart flavor and effervescent finish.  Very unique apple!
Red Delicious: America's most popular apple, known for the "five little bumps" on the bottom.  Best for fresh eating and snacks.  Full-flavored sweet taste, yellowish flesh, and crisp texture. Come bag your own at special 60th anniversary pricing: $19.61 a bushel, $10 a half-bushel, $6 a peck (1/4 of a bushel), and $4 a half-peck
Rome: A big, round apple right out of storybooks! Rome's have a mild, sweet flavor. Most popular for baking because it holds flavor and shape well.
Apples with limited supply, should get these ASAP  
Braeburns: Sweet with a hint of tart, and a firmness that stores well.  These traits plus the fact that they bake well have made them a very versatile apple.
Northern Spy: The professional baker's dream, cooks up well in applesauce, pie and other dishes.  Stores well, easy to remember by saying "Spies for pies".
New apples (for us) are available in small quantities
These are the late apples we planted in our new orchard.  Come try: Goldrush or Granny Smith.  These are for someone who likes a hard, juicy, apple with a great flavor.
Apple pricing for the year:  $30 a bushel, $16 a half-bushel, $11 a peck (1/4 of a bushel), $6.50 a half-peck, and $3.75 a 1/4 peck.
Apple Special:  Buy any two bags of the same size, any type of apple (can mix or match), and get a third bag free.
Animal apples are available – bag your own half bushel for $4.50.
Apple Cider
We are no longer making cider but have some frozen cider from this Fall stocked in the freezer for purchase.  Please note that our cider is not pasteurized and requires refrigeration.
Fresh Produce On The Market from Bankson Lake Farms
Celery
Garlic
Herbs
Kohlrabi
Lettuce
Mushrooms
Radishes
Spinach
Take and Bake' Pies for the Holidays
All fruit pies are $13 each.  Stop by the market or call us at (269) 244-5690 to place your order, or just come by and get them direct from our freezer by Dec. 18.
Pies available:
Apple – 2 crust; Apple – Dutch; Blueberry; Cherry; Cherry Berry; Peach; Pumpkin; Rhubarb; Strawberry; Strawberry Rhubarb
CLO Made Cookies for the Holidays
We are once again making our own cookies for the holidays.  Choose between:
Sugar "cut out" cookies decorated for the holidays
Monster cookies
Our Christmas tree dough is now cut out and decorated!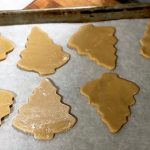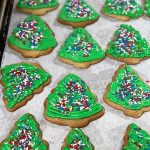 Spirits, Wine, and Hard Ciders
We have a nice selection of alcohol produced on the farm.
Fruit brandy in 375ml and 750ml sizes
Wine – an assortment of sweet and dry
Hard cider in 12-ounce bottles.  You can purchase them individually or mix and match them in a discounted 4- or 6-pack.
COVID-19 Guidelines
We are following operational guidance from the CDC as well as State and local health rules.  We are an open-air market and masks are optional though we encourage you to wear them if you have not been vaccinated.  Please note that we also follow food safety rules that regulate how produce is harvested and packaged.
We look forward to seeing you soon.  Thank you for shopping local.
From everyone at Corey Lake Orchards