How is it already February?  The New Year and Groundhog Day have passed, and Valentine's Day is almost here!!!
Winter Happenings on the Farm
Sorry we have been out of touch, but as many of you saw firsthand, it was a busy and truthfully, exhausting season last year.  Just when we learned to live with the surprises that 2020 handed us, we were equally surprised with 2021!  Who knew that we would go weeks without Styrofoam cups, then no lids, and wondering if our supply of donut containers would last until the next shipment?  Seeing the arrival of our friendly UPS driver became the highlight of our day!
After a busy Santa experience and holiday market, we needed some long overdue R&R.  The slower and quieter pace of winter is always welcomed as we close out our annual season.  We have been chipping away at getting the holiday decorations put away for another year, enjoying an extra coffee by the fireplace, reading a good book, and as of last week, watching it snow!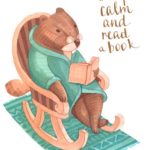 Winter Pruning
These last few sunny days have been beautiful here at the farm.  Though walking through the snow makes it is harder to do our winter work, we manage as we know how important the snowpack is to our perennial orchards, vineyards, and berries:  it provides natural insulation from the extremes of the cold and when it melts, it gives a head start on the water requirement they need to flourish successfully. Below are several beautiful sunrises over the snow!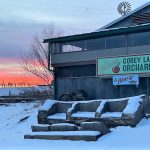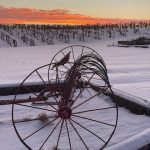 So even if we've been out of touch, rest assured that the farm is engaged in its winter work.  The apple orchards are almost finished with pruning, and we have taken on the arduous task of grape pruning.  So much work and all done by hand!  We are indebted to our crew who cut away the dead vines and pull the best ones into place for this coming year from the tangled mess.  All of this in Pure Michigan's ever-changing weather – some days mud, some days too much snow to walk through, and some days truly too cold!
Below is a before and after picture showing the grape trimming.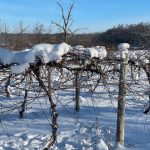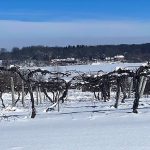 Fresh Food Initiatives
Many of you asked in December what happens to all the apples?  Good news on two fronts:  1) We still have a few apples left to sell, and 2) We were able to donate generously to the community.  Our amazing staff members donated their time to pack apples and deliver to the Fresh Food Initiatives that took place in January to Three Rivers, Colon, Mendon, White Pigeon, Sturgis, and Constantine.  12 Baskets from Portage has picked up apples weekly for their community distributions and we also supplied apples for the Lion's Club holiday baskets.
Sue, Jeff, Barb, Jon, Gary and Linda are some of the crew who gave of their time to make these donations possible.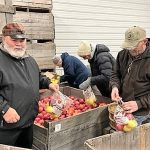 Below is the food pickup area at the Huss School FFI and a truck headed to the Lion's Club.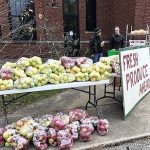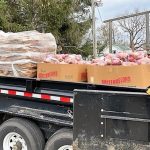 Need Apples or Pies?
Call us for your winter needs!  Leave us a message at 259-244-5690 and we will contact you to arrange a day and time for you to stop by.  We still have:
Cooking or eating apples
Animal apples
Frozen fruit pies
Frozen Monster cookies
Wines, hard cider and brandies
An assortment of locally made jams and jellies, maple syrup and honey
Three Rivers Commercial News People's Choice Award 
Love is in the air!  We truly love all of you – our loyal customers, wholesalers, suppliers, and other service providers.  Thanks to you, we were voted "People's Choice for Best Farmers Market".  We are grateful for your support of our family farm and we thank you very much.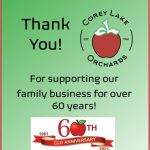 Happy Valentine's Day to all of you from all of us at Corey Lake Orchards!