Spring Will Come Someday
March is the month of wild weather swings!  One day it can be sunny and warm, and the next day can bring a blizzard and freezing temperatures.  Our colorful crocus blooms are peeking in and out of melting snow.  And with March comes some of the gustiest winds of the season, which makes us keep looking to make sure the greenhouse plastic has not blown off!!
However, Winter will eventually pass, and Spring is right around the corner.  Someday soon we will be enjoying fresh cukes and tomatoes from the greenhouse, and asparagus from the field.  But for now, it is winter work and basketball!
Spring has already sprung in Florida.  Brenda attended the Florida Strawberry Festival last week to check out all the strawberry foods, strawberry crafts, agricultural displays, strawberry contests, and more!  Florida produces 15% of the nation's strawberries, and most of those are from the area right outside Tampa.
Below is a "make your own" strawberry shortcake she enjoyed, fresh picked quarts, and one of several walls of strawberry flats.  Of course, she took a flat home for her Florida freezer and to make pies!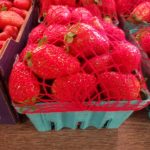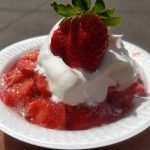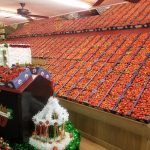 Winter Happenings on the Farm
The Tomato plants are thriving in the greenhouse, especially with all the sun and heat they had this past weekend of summer-like weather.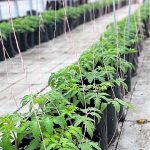 Where did the Peach trees go?  Those of you who have traveled down Corey Lake Road may have noticed the missing peach trees.  The peach orchard produced well in the years of milder Michigan winters, but many of the trees were damaged by the Polar Vortex of 2019 and have been struggling ever since.  We know that summer is not complete without a fresh Michigan peach and will be partnering with area farms to have peaches on the market for all of us!
Winter gives us a chance to get caught up on Hard Cider Production.  In the past several weeks, we have made and bottled two of our most popular ones – Blueberry and Peach Pear!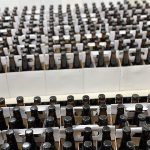 Need Apples, Alcohol, or Pies?
Call us for your winter needs!  Leave us a message at 259-244-5690 and we will contact you to arrange a day and time for you to stop by.  We still have:
Animal apples
Frozen fruit pies
Frozen Monster cookies
Wines, hard cider and brandies
An assortment of locally made jams and jellies, maple syrup and honey
Governor Whitmer Proclaims March as Michigan Food and Agriculture Month  
Governor Gretchen Whitmer has 
proclaimed March as Michigan Food and Agriculture Month
, to honor and celebrate Michigan's farmers, the diversity of products grown and processed in our state, and the partnerships that keep our food and agriculture industry thriving.  Corey Lake Orchards is proud to be a producer of Michigan fruits and vegetables and part of the Michigan agricultural industry.
Michigan's Premiere Maple Syrup Festival   
Our maple syrup partner, Maple Row Sugarhouse, is hosting their annual maple syrup festival this month.  This family friendly event has food and activities for all ages!  We encourage you to attend their fun event and support their family farm!
March 19-20 and 26-27, 2002
Saturdays 9 to 4
Sundays 10 to 3
Maple Row Sugarhouse, 12646 Born Street, Jones, MI 49061
A festival celebrating everything great about maple syrup! 
Complete with tours, demonstrations, children's activities, contests, wide assortment of maple foods, beverages, & goodies, pancake breakfast (purchase tickets in advance), and more!For complete schedule and more information go to 
https://www.michiganmaplefestival.com/
Warm Wishes from all of us at Corey Lake Orchards!