Spring is Here
How did it get to be April already?  Seems like just yesterday was April Fools and now taxes are due!!
Spring is an exceptionally busy time at the farm and we moved into a higher gear as the snow began to melt.  Look towards the end of this update to see what has been happening on the farm.
Changes for 2022
The Winter months provide us with time to pause, reflect, analyze data, and develop short- and long-term business strategies for the farm, the business, and ourselves!  This year looks to be a most challenging year.  We have made several decisions that border on "survival" in these economic times.  Because we have developed a relationship with so many of you over the years, we want to share the ups and the downs as we are all in this together and we only exist because of you.
Labor.  This continues to be our biggest challenge.  The Hispanic couple that has been part of our farm family for 25 years will not be able to return this year.  He was in a serious accident and will be recovering from his injuries for months.  This is a huge loss to us as he knew every inch of our farm and the daily "know how" that is so important on a large and diverse farm.  His wife Teresa, was also a key employee as she planted, harvested, and nurtured our fruit and vegetable plantings.  Other employees have left for new opportunities so we find ourselves hiring and training new staff.  We are pleased that so many of our staff continue to stay and work here year after year.  We are also excited that our new staff are bringing valuable experiences and different perspectives!
Rising Costs and Supply Issues.  We have, along with you, are seeing the rising cost of literally everything.  As we order what we need to run our farm, we find some of the higher costs are daunting, but it is even more serious when we are not able to get what we need due to supplier shortages.  Daily we are forced to make decisions on what we can and cannot do and what can be substituted effectively.  We promise to do our best to provide great produce, great products, and the great farm experience that you have come to know.
Closing Wednesdays.  As you know we are closed on Tuesdays.  Going forward we will also be closed on Wednesdays.  This was a hard but necessary business decision due primarily to staffing.  We know you just got used to remembering that we are closed on Tuesdays, now you need to add Wednesday to your memory bank!
Tuesdays and Wednesdays
Simplifying.  You may also notice that we will be simplifying what makes sense to reduce costs, labor, and known shortages.  For example, you will have fewer pepper varieties to choose from (this year there were no orange pepper seeds available) and we will have fewer colors of mini tomatoes (we had close to 22 last year).
As always, we ask for your support and understanding.  If there is anything we have learned from the past couple of years, it is that there are people who nurture our souls no matter the circumstances.  The caring and kindness from our family, our customers, and employees sustains us.
Market Reopening 
We anticipate opening the market towards the end of April.  We may not open the bakery until sometime in May.  Watch our website and Facebook page for an official announcement and more details.
When we do open, we expect to have:
Fresh produce from Bankson Lake farm
Frozen 'take and bake' pies
Special gifts for Mother's Day
Bedding and Garden plants (more coming in May)
Maybe some fresh asparagus and rhubarb if the weather cooperates
Our line of alcohol products:  brandies, wine, and hard ciders
Asparagus and Rhubarb Update   
We are close to seeing this year's crop of asparagus start to emerge from its winter sleep.  But before it pushes through the ground to make its appearance, we mow down last year's "asparagus ferns" and prepare the ground.  We can tell from the number of calls we are getting that everyone is anxious for this first spring vegetable, but it will take a while for the soil temperatures to get consistently warm enough for us to harvest any to sell.  Rhubarb tends to follow the same timeline as asparagus.  We'll let you know when they are ready.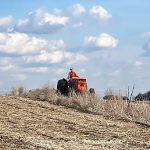 Greenhouse Update    
Pollinating
The tomato plants in the greenhouse are blooming and producing little green tomatoes.  Something you may not realize is that we pollinate them every day by hand.  We don't have a greenhouse full of bees or wind going through to do the job, so our greenhouse staff pollinates them using a vibrating wand.  With around 800 plants, this takes a while!  But working in a sunny and warm place on some of these wintry days is a nice place to be!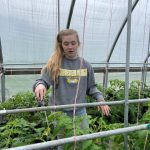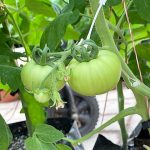 Onions
For all the lovers of our sweet onions – we have 25,000 of them planted in the greenhouse.  They will grow and eventually get transplanted to the field where we can enjoy them this spring as green onions and year round once they are harvested and cured.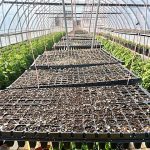 Seeding
Our staff has been busy planting each of those onion seeds by hand into their growing trays.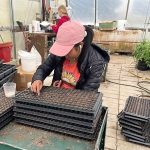 Greenhouse Plants
Our plants are coming along nicely!  Many of the specialty crops that we grow are started by seed in our own greenhouse.  This includes special flowers, peppers, mini tomatoes, cucumbers, and squash.  It's a lot to keep track of!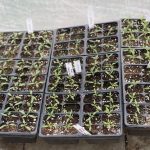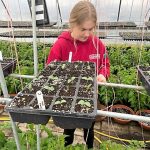 Happenings on the Farm     
Grape Pruning
We have been busy pruning our grapes as there are 50-plus acres to do!  With labor in short supply, we recruited a retired couple from Indiana who enjoy picking fruit at our farm to help, then we pruned some with a mechanical pruner for the first time.  We will monitor as the season goes on to see if it differs much from our traditional hand pruning.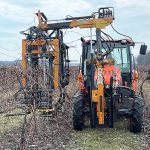 Thank you to Jim and Barb for raising their "handheld pruners" to help!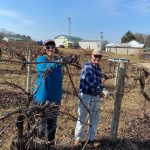 Training
Training is an essential element to the success of our farm operations.  All staff is trained each year on a variety of technical and nontechnical topics such as food safety, operational safety, general 'how to' procedures, administrative tasks, agricultural methods, and much, much more.  Below two of our newer employees, Cassandra and Sierra, are taking a food safety course virtually with other growers.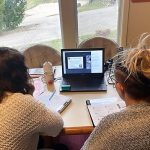 Lipari Show
Beth and Sierra recently attended the Lipari Deli and Specialty Food Trade Show in Detroit, a large national show of food vendors from around the world. Their goal was to find new products to offer our market customers.  Needless to say, they checked out EVERYTHING and enjoyed their day of tasting!  We hope you will like their selections.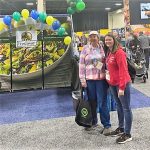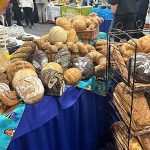 Spreading Straw
With Spring upon us, its time to spread straw in this year's strawberry field.  It took us longer than usual as we tried to get the right weather conditions.  The straw provides an important mulch for the berries, keeps the berries from laying directly on the ground so they are clean, and provides a better picking experience for those who like to get right down on the straw to pick!  We have a new strawberry field this year and we are excited to see it produce for the first time.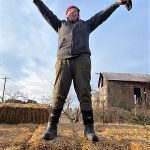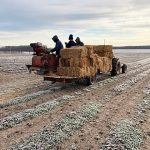 Wishing all of you a joyous Easter and Passover from all of us at Corey Lake Orchards!