Reminder, our hours this year are 9 am to 6 pm daily, including holidays, closed on Tuesdays and Wednesdays.
Mother's Day
Mother's Day is this Sunday, and it looks like we will have a nice, sunny weekend to celebrate the special day!  After a cool and rainy week, we are all in the mood for nice spring weather.
On this special weekend, take the time to honor your mother and anyone special who has provided love and motherly support to you.  Let them know how much you care and appreciate the sacrifices they have made on your behalf to help you become the person you are today.  As a farm owned by mothers, we are indebted to the role our mother played in our own development to help prepare us for maintaining her legacy.  And we strive to not disappoint.
Stop by the market this week and check out the many gift ideas we have for that special person.  We have gifts, fresh produce, donuts, pies, baked goods and alcoholic items (see more below).
Gift Suggestions for Mother's Day
Start the day by making her Brunch with:
Fresh donuts, hot from our bakery
An omelet made with our Michigan brown eggs, cheese, and Bankson Lake Farms green onions and mushrooms
Pancakes with Maplerow Sugarhouse maple syrup and pancake mix, grab Jakes Bacon or sausage links from our freezer
Bagels, muffins, breads, with assorted Amish jams or jellies or Babcock's honey
Serve with Brunch hard cider (maple-vanilla) or our other hard cider varieties.  It's just like a mimosa!
Decorate the table with special bowl from Barb's Bowls, light a soy candle from Tiptoe candles, and add a bouquet of flowers from Faith in Flora
Choose a blank greeting card from our collections to write your heartfelt thoughts and irreverent teasing's for mom to read and reread.
Give her a hanging basket of colorful flowers or plants for her porch or garden
Need dessert?  How about one of our "take and bake" fruit pies?
Artwork from one of the Three Rivers Artist Guild members is sure to please.
Grab an edible lettuce bowl paired with one of our new dressings for her to make her own fresh-picked salads for weeks to come.
Not sure?  A gift certificate from Corey Lake Orchards is always a winner.
As always, peruse our gift displays (most made by local artists) for inspiration and feel free to ask our knowledgeable staff for ideas.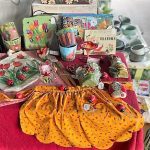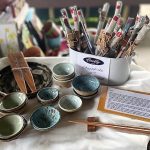 Mother's Day Photo Opportunity
From now through close of business on Sunday, stop by the market for photos together.  Our antique red truck is decorated for Mother's Day with flowers and more.  Use the backdrop to capture a special moment with your mother, aunt, or other maternal figure in your life.  There is no charge, and we'd love it if you would share your photos.  Post on our Facebook page, post at #coreylakeorchards, or email to coreylakeorchards@gmail.com.  Below Beth is with her niece Amber, (who she is claiming for her daughter for the weekend with her mother Brenda still in Florida.)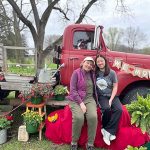 What is Available on the Market this Weekend    
Fresh produce from Bankson Lake Farms
Mushrooms
Lettuce heads and blends
Arugula
Spinach
Fresh cilantro
Fresh rosemary
Green onions
Kale
Swiss chard
Local grocery items – honey, maple syrup products, jams and jellies, eggs, and Jake's meats
Our alcohol products – wine, hard ciders, and brandy
Baked Goods
Fresh hot donuts from our bakery, made Saturday and Sunday
Our frozen 'take and bake' pies
Muffins: Chocolate Chip, Cinnamon Chip, Blueberry, Banana. Pistachio, and Cherry
Bagels: Sesame, Blueberry, and Everything
Cookies:  Monster, Chaos, and Red Velvet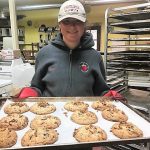 Specialty Food Items.  Check out some of the new and unique specialty food items we discovered from suppliers over the winter to have at the market!  Here are a few that will be out this weekend with more to come.
Crispy handmade tortilla chips that you break up made by the Rose Sisters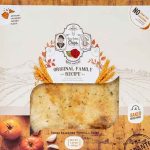 Phyllo Crisps–indulge as a light dessert snack or with your favorite soft cheese.  In 3 flavors:  Apple Cinnamon, Apricot Honey, and Cranberry Oat.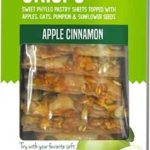 Cake in a jar!  Find these in the refrigerator section: Chocolate peanut butter, Red Velvet, Cookie Dough, and Chocolate Lovers.  (Yes, these were all sampled and selected by chocolate lover Beth if you couldn't tell!)  What you don't finish, just put the lid back on and put away…..great to take on picnics, soccer and baseball kids sports watching, or on the boat!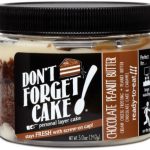 Mother's Day Fresh Flower Bouquets.  Faith in Flora will have fresh flower bouquets on the market.  Stop by and grab a bunch to celebrate spring finally coming.
 Asparagus and Rhubarb Update
We are hoping to have some the week of May 9th as it looks like it will finally get warm enough.  This is the latest asparagus has ever been, and it's really testing everyone's patience!  Check with us before you come over by calling 269-244-5690, or by checking the home page of our website (coreylakeorchards.com) for updates on availability.  (The "update" section on our home page is where we post breaking news on many things.)  Asparagus being ready will certainly be breaking and welcome news!
Plant Update
We have our usual bedding plants this year of annual flowers and cold tolerant vegetables, herbs, succulents, perennial flowers, and hanging baskets.  We will not stock heat loving plants, like tender herbs, tomatoes, peppers, vine crops (cantaloupe, watermelon, cucumbers, squash) until later in May due to the weather.  Check for those the week of May 15th.
Below, Linda is unloading plants followed by photos of some of our plants for sale.  Come soon while selection is at its best!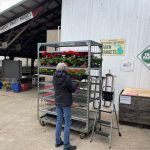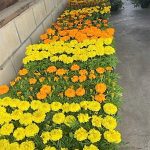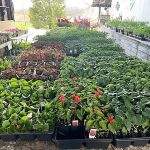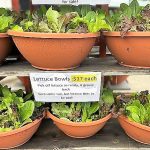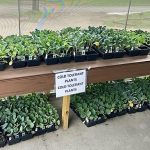 Update on our Bakery
Warmth and great smells are coming out of the bakery again!  For 2022 we will continue to make our signature items – fruit pies (frozen, to take and bake), cake donuts, shortcakes for strawberries and slushies.  This year we will be making breads, muffins, bagels, cookies, and other goodies, while working through labor and supply issues.  It was great to see everything coming out of the ovens and even better that we were forced to taste test everything!
We are evaluating other ways to use our baking and food processing space like being able to offer other prepared or semi-prepared foods.  Some of you have let us know you would like the convenience, and an excuse to get out of the kitchen on a hot summer day!  These and other ideas are currently under consideration.  Please be patient as we work towards offering you an expanded product line.  Feel free to tell us what you would like to see!
Due to their popularity, we will continue to bring in Yoder's Fry Pies (pocket-sized, half circle pie) in Apple, Black Raspberry, Blueberry, Cherry, Peach, Red Raspberry, and Strawberry-Rhubarb.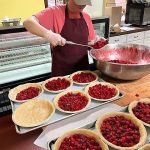 Happenings on the Farm    
It's been another week of layering up to be outside and emptying the rain gauge.  We have plants ready to go into the field and are trying to slow their growth (not an easy task) while we wait for the fields to be dry enough to prepare the ground for planting.  Below are squash growing too quickly for their small containers!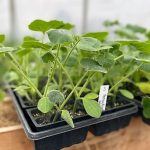 Pruning.  We finally finished our apple pruning and not a minute too soon as they are getting ready to blossom.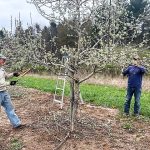 Transplanting tomatoes to our cooler high tunnel:  It took lots of hands to get around 600 tomato plants transplanted into 5-gallon bags.  These are the colorful, sweet, mini tomatoes that we have all come to love.  As soon as they get a little bigger, we will have some for sale on the market.  They are great to have on your own patio/yard along with regular-size tomatoes.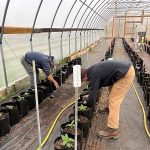 Planting our Flowerboxes.  Rain, snow, or shine, we work around the clock to make our farm beautiful for you.  Thanks Sue, for planting in the cold rain!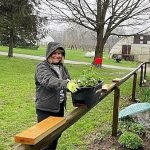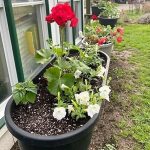 Blossom Update
Our apples have been stuck in this horticulture stage called "pink" for about a week now.  With a little bit more warm weather they will burst into blossom.  Please contact Brenda@coreylakeorchards.com if you are interested in scheduling blossom photography.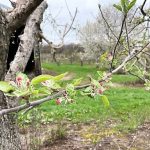 Thank you for your support and buying local.  Wishing all our mothers a Happy Mother's Day from all of us at Corey Lake Orchards!