May is the month when Springtime is at its best, Nature seems to come alive in full glory!  For us, the southerly winds blew in warmer, if not hot, temperatures this past week.  We were warmer than Florida most days and the farm came alive!  The asparagus shot up rapidly, and the apple blossoms popped out in the orchard and were gone in three days.  We hope any winter-like weather is out of Mother Nature's system, and we can continue to bask in sunny days.
Reminder, our hours this year are 9 am to 6 pm daily, including holidays, closed on Tuesdays and Wednesdays.
We appreciate how many of you have told us you are now planning your visits for Monday and Thursdays to stock up on fresh produce, remembering that we are closed on Tuesdays and Wednesdays.  We still see an occasional car drive through on the days we are closed.  We are sorry you made the trip and hope you can return when we are open.
 Garden and Bedding Plants
We are nearing the end of May and the weather is finally allowing everyone to plant their fields and gardens.  All our plants are now on the market, so don't delay much longer.  We still have a good selection of bedding plants: annual flowers, cold tolerant vegetables, herbs, succulents, perennial flowers, and hanging baskets.  Our heat loving plants have arrived and we have more herbs, tomatoes, peppers, and vine crops (cantaloupe, watermelon, cucumbers, squash).
However, keep tuned into the weather as the forecast shows a 40-degree morning on Sunday.  Vine plants are the most sensitive at these temperatures.  If you have planted, (we are holding off), cover them.  Also, on some of these hot days, keep a close eye out for insects.  The cucumber beetle has made its appearance and is especially fond of munching on young vine crops.
Plant Specials
We went a little overboard with planting lettuce and tomatoes in our greenhouse this winter.  So, we are offering a really great deal right now on our lettuce bowls and patio tomato plants.
Lettuce bowls – you can pick the larger leaves for your salad; the leaves will then grow back.  Keep the lettuce bowl watered, and out of direct hot sun.  Now $13 each or 2 for $25.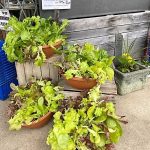 Tomatoes – We have both large regular tomatoes and mini tomatoes in black plastic, 5-gallon bags.  We recommend you use a tomato wire cage to go around them to hold them as they grow.
For those of you who love the mini, colored tomatoes with the great flavor that we have on the market in the summer, these are the same plants!  There are several kinds to choose from, and we have a chart on how to select them.
The 5 gallon tomato pots are now $8 each or 2 for $15.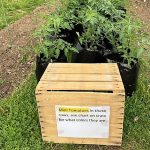 What about Strawberries?
The most frequently asked question these days is "when will strawberries be ready?"  And we are only a week or so into asparagus!  The strawberries are in bloom and starting to form little green berries.  Check back with us around June 1 for an update.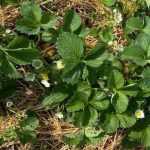 Asparagus and Rhubarb Update
Asparagus and rhubarb are in full season now and we have plenty of it.  It helps us if you call ahead for bulk orders like 20 pounds or more of asparagus and 5 or more pounds of rhubarb so we can get it weighed and ready for you.  We love seeing so many of you who come almost daily to get fresh asparagus, as the season always seems too short.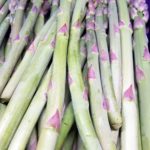 Some Asparagus Trivia
Asparagus was an ancient vegetable. The ancient Greeks and Romans used it as offerings dating back to 3000 BC.  They used the Persian word 'asparag,' which meant a shoot or sprout.  The term 'sperage' became popular for many years and, in the 16th century, we find the term 'sparagus' used in English-speaking countries.  Peasants called it 'sparrow grass.'
Asparagus was brought to North America by European settlers as early as 1655.  Currently, asparagus production in the United States is mainly in three states: California, Michigan, and Washington.  The first national asparagus festival was held in Hart, MI in 1973.
Asparagus can take three years to go from seed to harvest, but the plants will produce spears for decades, making it a great crop.  However, it is quite labor-intensive to harvest, as farmworkers handpick each spear.
Fun Facts.  Did you know there is an Asparagus Museum, located in Bavaria, Germany?  And that asparagus is a good hangover cure?  The minerals and amino acids it contains protect the liver from toxins, and the enzymes help break down the alcohol and alleviate hangovers.
What is Available on the Market this Week    
Fresh produce from Bankson Lake Farms
Mushrooms
Lettuce blends
Arugula
Spinach
Fresh cilantro
Green onions
Kale
Radishes
Local grocery items – honey, maple syrup products, jams and jellies, eggs, and Jake's meats
Wednesday is National Wine Day!     
Another good day for celebration!  If you haven't tried the three new wines we added last fall, stop by and get some!  Corey Lake Crisp is a dry white, Hubbard's Red is a dry red, and Market Red is a red, semi-sweet table wine.  We recently secured an additional liquor license and are now able to sell alcohol products on Sunday morning as well for your convenience.
Our alcohol products are wine, hard ciders, and brandy.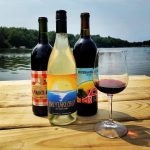 Baked Goods
We are continuing to ramp up our bakery production with both products and talented staff who are passionate about baking!  Starting this weekend, more customer favorites return!
Below are our homemade lemon cookies, freshly iced and drying so we can package them for you.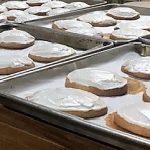 Our beloved, homemade cinnamon rolls are returning!
Yeast donut rings, with either vanilla or chocolate frosting, and googly eyes for the kids will be back.  (We have heard from many children, and parents, who really missed these!)
Muffins, more flavors added this week: Pistachio, Cherry Almond, Chocolate Chip, Lemon Poppyseed, Double Dutch, Banana Nut, and Blueberry
Cookies, our famous homemade lemon cookies are returning, along with Monster, Chaos, and Red Velvet
For now, we are partnering with other bakeries for bread and bagels.  Both of these companies were selected based on the quality and taste of their products.

Breads come to us from LaBrea, and we finish baking them here
Bagels, we are partnering with Original Bagel as we have in the past
And of course, our bakery crew will be making donuts on Saturdays and Sundays.  We are currently in our summer flavors of Buttermilk, Blueberry and Cherry, either plain or sugared!
We'd love your feedback as we continue to bring on more products.
Below cinnamon rolls are being made with lots of love and ready to go in the oven!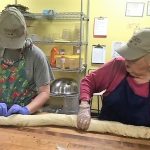 Happenings on the Farm    
Planting, Planting, and More Planting!
We finally started planting vegetables in the field for this season, delayed one month due to weather issues.  We will be working long days to get everything planted into the 38 rows of black plastic mulch you see along AL Jones Road.  In addition to planting, we have to keep up with picking asparagus that is growing faster than we can keep up on these hot days.
Below we are busy planting 25,000 onions!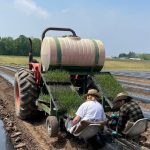 And Shallots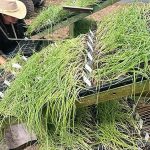 Who is the Cutest?
Baby Macintosh apples, baby Concord grapes, baby plums, or baby sweet corn?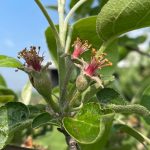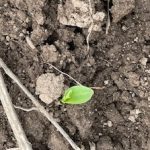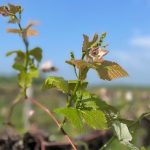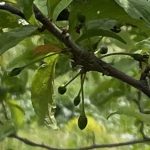 Thank you for your support and buying local.  Wishing you the best from all of us at Corey Lake Orchards!