Memorial Day is a day of remembrance of the men and women who have died for our country.  It is an enduring memory of a life that could have been; of graduations and weddings and the birth of children missed; and of lives lost preserving all the things Americans love and that we all too often take for granted.  We salute all our active and veteran service members.  Because of their willingness to serve, we can enjoy our freedoms.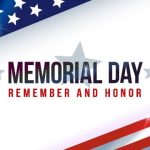 Reminder, our hours this year are 9 am to 6 pm daily, including holidays, closed on Tuesdays and Wednesdays.
We are looking forward to seeing our "lake customers".  Welcome back to the area!  While your family is here, grab a photo of everyone in front of our red antique firetruck decorated for the holiday weekend.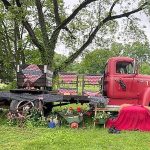 It's Time to Grill!
Memorial Day weekend is the kickoff to summer and the perfect time to fire up the grill!  And we have the produce, baked goods, and beverages for the perfect meal and weekend fare!
Meats from Jake's
Grilled asparagus
A 'take and bake' fruit pie
Fry pies or our homemade cookies for the rest of the weekend
Chips and salsas in several varieties
Donuts, muffins, or cinnamon rolls for breakfast
Omelets with asparagus, mushrooms, and cheese, and local eggs of course
Sandwiches from our artisan breads
Assorted hard ciders and wine, or try our new refreshing sodas
Garden and Bedding Plants
We still have bedding plants available, both cold tolerant and heat loving vegetables, tomatoes, and perennial and annual flowers.  Now is the time to plant!  Stop by before those you want for your garden sell out – what you see on the market is what we have available now for the year.
Some plants didn't make it in their first seeding and are just now coming out.  For those looking for mini snacking peppers or mini sugar cube watermelon, we now have those.  We are short on cucumber plants but more have been seeded and they are coming.
Specials on Tomato Plants
We have both large regular tomatoes and mini tomatoes in black plastic, 5-gallon bags.  We recommend you use a tomato wire cage to go around them to hold them as they grow.
For those of you who love the mini, colored tomatoes with the great flavor that we have on the market in the summer, these are the same plants!  There are several kinds to choose from, and we have a chart on how to select them.
The 5 gallon tomato pots are now $8 each or 2 for $15.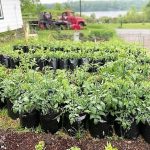 Asparagus and Rhubarb Update
Both are in full production now and should be available for a few more weeks depending on the weather.
Time to Freeze.  Now is the time to freeze asparagus for the season or make canned pickled asparagus.  For bulk orders of 20 pounds or more of asparagus and 5 or more pounds or more of rhubarb, please call ahead so we can get it weighed and ready for you.  If you enjoy strawberry rhubarb pies, crisp, or muffins, you will want to freeze some rhubarb to have ready when the strawberries ripen.  Just remember it is a short season for both of these springtime favorites.  Below is a load coming in from the field.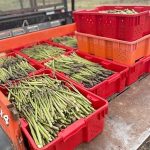 Pizza.  Wanting to get great local asparagus pizza?  We have a small town, little known secret for you!  The Riviera Theatre in Three Rivers makes incredible gourmet pizzas, to enjoy there or to-go.  Their asparagus pizza is made with a homemade herb sauce, shredded mozzarella, Corey Lake Orchard asparagus, prosciutto and lemon zest.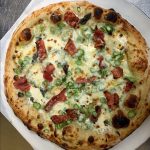 Time to Grill.  Or bake or fry some delicious and nutritious asparagus while it is in season.  Asparagus is versatile and can be prepared in many ways.  Check out our asparagus recipes for ideas and there are many more online.  We only post recipes we have made, look easy, or look like something we would like to make!
What about Strawberries?
We are so encouraged to see the many blooms and baby green strawberries!  Check back early June for an update on when they will be ready.  Barring any weather catastrophe, we plan to have fresh berries by the quart, and by the flat (8-quarts) when the season peaks.  We are taking orders for flats now.  Email or call us at 269-244-5690.  Once we have enough berries ripening daily, we will open for u-pick.  We will be using the same reservation system we did last year so watch the homepage of our website for updates and opening of the reservation system.  Pricing is still TBD.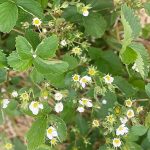 What is Available on the Market this Week    
Fresh produce from Bankson Lake Farms
Mushrooms
Lettuce blends
Arugula
Spinach
Fresh cilantro
Green onions
Kale
Radishes
Local grocery items – honey, maple syrup products, jams and jellies, eggs, and Jake's meats
Alcohol products – Wine (5 total with red, white, dry to sweet), Hard Ciders (9 total made onsite from dry to sweet), and Brandy (various fruits).  Join us this Saturday for informal tasting on the market to try these.
Making its spring debut – our rhubarb hard cider.  We just made a batch and it is ready for those who like a refreshingly tart and vibrant hard cider.  It is the tartness of rhubarb and sweetness of apples all on your tongue together.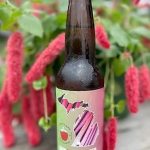 Items for your Home.  Start the summer season with items for your summer place or to get you into a summery mood.  We have several new items:
Windchimes to enhance your porch, sunroom, or kitchen window
Coordinated beach towels and bags for the start of summer
Perk up your porch with a Mad Mat and some hanging flower baskets
Instant patio garden with a Mad Mat and potted tomatoes
Greenhouse Produce
While we will have a few tomatoes and cucumbers from our greenhouse on the market this weekend, the supply is very limited due to weather-related issues that impacted their growing.  Patience please as we wait for improved production.  As you can see there's lots of green tomatoes, we just need some heat and sunshine for them to turn red.  And the cukes are growing nicely!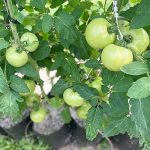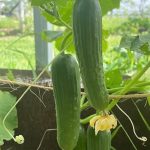 Baked Goods
There is a flurry of activity going on in the bakery to be ready for the holiday weekend!  Keep in mind that you can call ahead (269) 244-5690 to order any of your favorites and we will have them ready for you to pick up.
Our beloved, homemade cinnamon rolls
Yeast donut rings, Long Johns, Raspberry Bismarks
Muffins: Pistachio, Cherry Almond, Chocolate Chip, Lemon Poppyseed, Double Dutch, Banana Nut, and Blueberry
Cookies: our famous homemade Lemon cookies, along with Monster, Ginger Molasses, and S'mores
Artisan breads: various kinds
Bagels: various kinds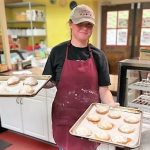 Ready to Eat' Fruit Pies.  Our fruit pies are a favorite here at our market so in the past few years we have made them available as 'take and bake' so we can have all the varieties available for you at any given time.  Many of you now prefer getting them this way, stashing a few extra in the freezer, and the delight of smelling a pie baking in your own oven.
However, some of you have asked if we could bake them as you are camping and have no oven, simply have no time, or a myriad of other reasons.  When we have the oven capacity, we will be happy to do that.  Just place your order in advance.
Orders received by COB on Thursday – available for pickup late Friday morning or anytime through the weekend
Orders received by COB on Saturday – available for pickup late Sunday morning or anytime Monday
Note: there is a $2 surcharge per pie to cover the additional labor, oven, and packaging.costs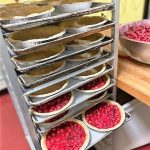 And of course, our bakery crew will be making donuts on Saturdays and Sundays.  We are currently in our summer flavors of Buttermilk, Blueberry and Cherry, either plain or sugared!
Our 'Onion Barn' is Open Again     
We have set up our 'Onion Barn', the covered pavilion on top of the hill, for our customers to enjoy!  It's the perfect open-air place to just sit and relax, talk with family or friends, and enjoy our baked goods and beverages.  Coffee and donuts?  Cookies?  Sip on a hard cider, nonalcoholic soda, or a slushie?  Just be respectful of other customers and please place any trash in the receptacles.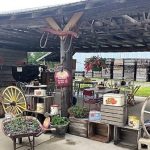 Happenings on the Farm    
Planting, Planting, and More Planting!
We have been busy trying to plant every opportunity we can get this week when it is not raining or blowing strong winds.  We finally have almost everything planted for the year except for planting our "successions" (planting the same crop several weeks apart) that we do to keep produce coming in all summer.
Below we are planting cauliflower.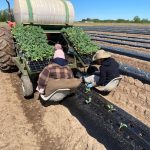 We also planted the pollinator and herb gardens by the market.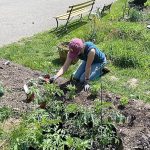 This is the field between showers.  We plant, watch it rain, wait for it to dry out, and repeat!
Asparagus Picking
While Tuesday was officially National Asparagus Day, we think during asparagus season every day should be so honored.  With labor in short supply this year, yours truly (Beth) ended up picking asparagus one day this past week.  It was a nice change to get away for a few hours with my phone off, away from the frenzy of activities going on elsewhere on the farm.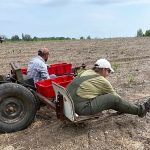 As a farmer, so dependent on the soil and Mother Nature's cooperation, it was a visual reminder of how the year has been with either rain or no rain.  When it is dry, the asparagus spear has a difficult time pushing up through the hard clots of soil to make it to the top.  Sometimes you can actually see the ground move in front of you as a piece of asparagus pushes through like the one in this picture below.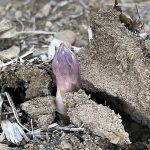 And when a piece of asparagus trying to come up gets between the hard ground and a rock, it actually grows flat like this one did!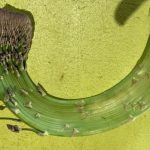 Blueberries
One of the prettiest blossoms are the blueberries, they look like small bells.  They are in full bloom now and it looks like a great crop.
We Love Seeing the Beauty of Nature on the Farm    
Our asparagus picking crew has been carefully working around the nest of a Killdeer bird couple, guarding their nest of eggs in the middle of an asparagus plant.  If you know these birds, they pretend to be injured to lure you away from the nest.  Their name comes from the loud calling they do when you are around them.  Their coloring is such that they are hard to see because they look like the ground, and even their eggs are camouflaged so you really don't notice them.  We give the Mom and Dad high marks for protecting that nest.  We hope to provide an update soon on the four new family members.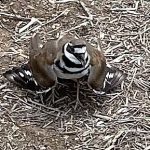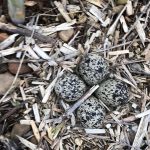 Thank you for your support and buying local.  Wishing you the best from all of us at Corey Lake Orchards!