Thanks to everyone who stopped by on Memorial Day weekend!  It was nice to see so many familiar faces again.  June is the month to shift into Summer though on some of these hot days, it seems like we are in the 'dog days of August'.  What a welcome relief for these current days of truly picture-perfect weather with cool mornings that lift everyone's spirits.
Reminder, our hours this year are 9 am to 6 pm daily, including holidays, closed on Tuesdays and Wednesdays.
National Donut Day, Friday, June 3
Did you know Friday, June 3, is National Doughnut Day?  According to the experts, the day was created in 1938 by the Salvation Army in Chicago to honor women who served doughnuts to soldiers during World War I.  They were known as Doughnut Lassies.
Donut Special.  We do not make donuts on Friday, but to celebrate the day, we are offering 50 cents off each half-dozen package of donuts this Saturday and Sunday.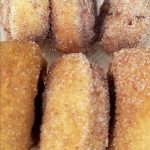 Garden and Bedding Plants
We are winding up plant sales for the year.  We have a few vegetable plants left, but no longer have any flowers.  You may want to call before you drive out if you are looking for something specific to see if we have it.  Don't feel bad if you still haven't got your garden in, we are still planting in our fields!
Asparagus and Rhubarb Update
Both are winding down for the year.  We have finished picking our asparagus for the year and will have it available until it sells out.  We anticipate having enough to get through part of next week.  Right now, we have plenty of asparagus and rhubarb available.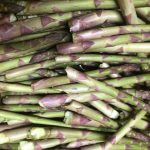 What about Strawberries?
It's that time of year when everyone is anxious to get some of the first strawberries.  Some of our early berries are turning red and we will have those soon on the market for sale by the quart only.  With the cooler nights in the forecast (lovely sleeping weather!) we anticipate that most of our strawberries will start sometime the week of June 12.
Why do other local farms have berries already?  Most likely their berries are planted on plastic or on sandy soil (our soil is a coarser clay) which make their berries ripen earlier.  Patience please, ours are coming!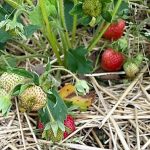 We are irrigating our strawberries to get them nice and large!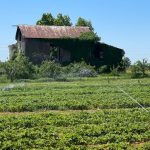 Barring any weather catastrophe, we plan to have fresh berries by the quart, and by the flat (8-quarts) when the season peaks.  We are taking orders for flats now.  Email or call us at 269-244-5690.  Once we have enough berries ripening daily, we will open for u-pick.  We will be using the same reservation system we did last year so watch the homepage of our website for updates and opening of the reservation system.  Pricing is still TBD.
And yes, our bakery will be making our homemade shortcakes again during berry season!
What is Available on the Market this Week    
Fresh produce from Bankson Lake Farms
Mushrooms
Lettuce blends
Arugula
Spinach
Fresh cilantro
Green onions
Kale
Radishes
Garlic scapes*
*Garlic scapes are the long green stem growing from the garlic bulb.  Just cut them up like a scallion or chives and add to what you are cooking or your favorite dish.  They are milder than bulb garlic.  A late spring, early summer treat only.
Local grocery items – honey, maple syrup products, jams and jellies, eggs, and Jake's meats
Alcohol products – Wine (5 total with red, white, dry to sweet), Hard Ciders (9 total made onsite from dry to sweet), and Brandy (made onsite from various fruits).  Don't forget our rhubarb hard cider as it is a seasonal product!  It is the tartness of rhubarb and sweetness of apples all on your tongue together.
Join us this Saturday for informal tasting on the market to try these products.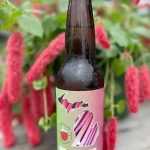 Greenhouse Produce
We are picking tomatoes and cucumbers from our greenhouse, but supply is limited at times due to their popularity and production from the greenhouse.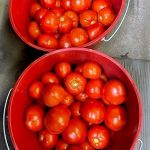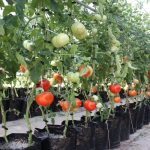 Baked Goods
Keep in mind that you can call ahead to order any of your favorites and we will have them ready for you to pick up.
Our beloved, homemade cinnamon rolls-
Yeast donut rings, Long Johns, Raspberry Bismarks
Muffins: Pistachio, Cherry Almond, Chocolate Chip, Lemon Poppyseed, Double Dutch, Banana Nut, and Blueberry
Cookies: our famous homemade Lemon cookies, along with Monster, Ginger Molasses, and Smores
Artisan breads: various kinds
Bagels: various kinds
Our bakery crew will be making donuts on Saturdays and Sundays.  We are currently in our summer flavors of Buttermilk, Blueberry and Cherry, either plain or sugared!
Below, we just finished a batch of cinnamon rolls, let them cool, and iced them.  So good!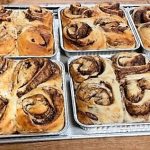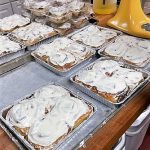 It's Time for Farmer's Markets! 
June is the kickoff month for many Farmer's Markets in the Midwest.  Two local ones are starting this week that have produce from Corey Lake Orchards.  On Saturdays from 9am to 1 pm, you can find our produce at the Huss Project Farmer's Market.  On Tuesdays from 4 to 7 pm, check out our booth with produce and more at the Texas Township Farmer's Market.  See our Farmer's Market web page for more information.
Our 'Onion Barn' is Open 
We have set up our 'Onion Barn', the covered pavilion on top of the hill, for our customers to enjoy!  It's the perfect open-air place to just sit and relax, talk with family or friends, and enjoy our baked goods and beverages.  Coffee and donuts?  Cookies?  Sip on a hard cider, nonalcoholic soda, or a slushie?  Do a "make-your-own happy hour" with one of our ciders and a bite from the bakery or our grocery area.  Just be respectful of other customers and please place any trash in the receptacles.
This space is also available to use for your own gatherings: graduation open house, birthdays, book club meetings, lake association meetings, etc.  For more information, contact us and someone will promptly get back with you.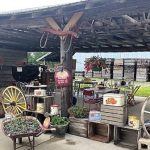 Happenings on the Farm    
We are still planting and the crops are growing!
Below are young plums, young apples, and squash in bloom.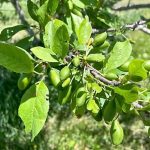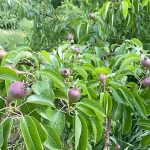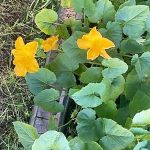 In the News    
In case you missed it, here's a Sturgis Journal article on the impact of our spring weather on local fruit orchards.  The great story here is that we have not had any frosts or freezes negatively impacting our fruit crop this year, for which we are most grateful.
'It was a good spring — no frosts or freezes' for local orchards by Rosalie Currier
Sturgis Journal, May 31, 2022
https://www.sturgisjournal.com/story/news/2022/05/31/it-good-spring-no-frosts-freezes-local-orchards/9961545002/
hank you for your support and buying local.  Wishing you the best from all of us at Corey Lake Orchards!