We are going "berry" crazy at the market now!  The strawberry season has started so don't delay, watch our updates on the homepage of our website for u-pick and strawberry availability in general.
Stop by for:
Fresh picked strawberries
Homemade strawberry shortcakes from our bakery
Our strawberry hard cider
Amish made strawberry-rhubarb jam
Our best pie seller – strawberry-rhubarb
Strawberry-rhubarb fry pies
Strawberry soda
Strawberry honey sticks
And many strawberry gift items
And of course, the old fire truck is decorated for strawberry season; plan to take a picture there as part of the experience.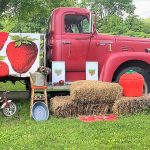 Reminder, our hours this year are 9 am to 6 pm daily, including holidays, closed on Tuesdays and Wednesdays.
Garden and Bedding Plants
Plant sales are done for the year, Hope your plants are thriving, probably along with weeds!
Asparagus and Rhubarb Update
We expect to have asparagus through the weekend and maybe into next week.  This is the last call!
Thanks to the cool nights, we still have fresh rhubarb available.  With strawberries AND rhubarb both being available at the same time, you know you need to make or bake something that uses both!  There are lots of recipes online for puddings, crisps, sauces, ice cream toppings, cookies, and more.  Here are several (also posted on our website) that caught our eye!
Strawberry Update
Thanks to berries ripening earlier on neighboring farms and being able to get their surplus for our market, many of you enjoyed that first taste of the season!  They certainly were delicious!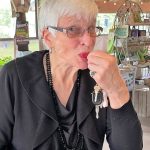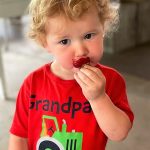 We are picking berries daily now, but most of our strawberries will start to come in next week.  They are a later variety and need more time to ripen.  We are starting to call those who have ordered 8-quart flats, but we also try to save enough strawberries to get through the day as during strawberry season we know folks like to stop and get a few quarts at a time when they are in season.  If you call us and we have picked berries at the market, we are happy to set them aside for you until we close at 6 pm.  With the price of gas, no one wants to drive out and find us sold out!
We are still taking orders for flats (8-quarts).  Email or call us at 269-244-5690.  We will not have extra flats to sell on the market until we fill all our orders.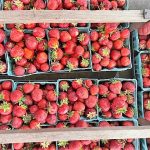 And yes, our bakery is making our homemade shortcakes again during berry season!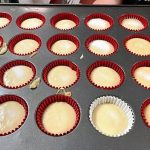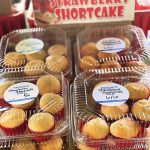 U-Pick Strawberries.  Once we have enough berries ripening daily, we will open for u-pick.  We anticipate being able to start sometime the week of June 12.  We will be using the same reservation system we did last year so watch the homepage of our website for updates and opening of the reservation system.  Note that we will only schedule several days at a time to allow us to monitor the quantity of berries available and adjust for the weather.
U-pick pricing is $4 a quart for 1 to 7 quarts and $3.50 a quart for 8 or more quarts.
What is Available on the Market this Week    
Fresh produce from Bankson Lake Farms
Mushrooms
Lettuce blends
Arugula
Spinach
Fresh cilantro
Green onions
Kale
Radishes
Garlic scapes*
*Garlic scapes are the long green stem growing from the garlic bulb.  Just cut them up like a scallion or chives and add to what you are cooking or your favorite dish.  They are milder than bulb garlic.  A late spring, early summer treat only.
Local grocery items – honey, maple syrup products, jams and jellies, eggs, and Jake's meats
Alcohol products – Wine (5 total with red, white, dry to sweet), Hard Ciders (8 total made onsite from dry to sweet), and Brandy (made onsite from various fruits).  Don't forget our rhubarb hard cider as it is a seasonal product!  It is the tartness of rhubarb and sweetness of apples all on your tongue together.  You will also enjoy our strawberry cider.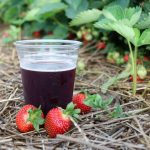 Greenhouse Produce
We are picking tomatoes and cucumbers from our greenhouse, but supply is limited at times due to their popularity and production from the greenhouse.
Baked Goods
Keep in mind that you can call ahead to order any of your favorites and we will have them ready for you to pick up.
Homemade strawberry shortcakes
Our beloved, homemade cinnamon rolls
Yeast donut rings, Long Johns, Raspberry Bismarks
Muffins: Pistachio, Cherry Almond, Chocolate Chip, Lemon Poppyseed, Double Dutch, Banana Nut, and Blueberry
Cookies: our famous homemade Lemon cookies, along with Monster, Ginger Molasses, and Smores
Artisan breads: various kinds
Bagels: various kinds
Our bakery crew will be making donuts on Saturdays and Sundays.  We are currently in our summer flavors of Buttermilk, Blueberry and Cherry, either plain or sugared!
Happenings on the Farm    
With everything finally planted and looking great (if you drive by on A.L. Jones Rd you will see row after row of vegetables and tomatoes planted in plastic).  It was a week to catch our breath and get back to other tasks.  We spent time training and trellising the tomato plants which grow the mini tomatoes.  We are circling back through some grape vineyards to do some follow up pruning.  And trying to keep the thriving weeds under control.  For the next few weeks our focus will be on picking berries.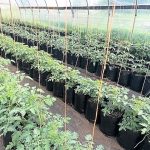 Visit Us at a Farmer's Market
June is the kickoff month for many Farmer's Markets in the Midwest.  Two local ones are starting this week that have produce from Corey Lake Orchards.  On Saturdays from 9 am to 1 pm, you can find our produce at the Huss Project Farmer's Market.  On Tuesdays from 4 to 7 pm, check out our booth with produce and more at the Texas Township Farmer's Market.  If you would like something brought to you at the Texas Township Farmer's Market, give us all call no later than Monday and let us know.  See our Farmer's Market web page for more information.
Our 'Onion Barn' is Open 
We have set up our 'Onion Barn', the covered pavilion on top of the hill, for our customers to enjoy!  It's the perfect open-air place to just sit and relax, talk with family or friends, and enjoy our baked goods and beverages.  Coffee and donuts?  Cookies?  Sip on a hard cider, nonalcoholic soda, or a slushie?  Do a "make-your-own happy hour" with one of our ciders and a bite from the bakery or our grocery area.  Just be respectful of other customers and please place any trash in the receptacles.
This space is also available to use for your own gatherings: graduation open house, birthdays, book club meetings, lake association meetings, etc.  For more information, contact us and someone will promptly get back with you.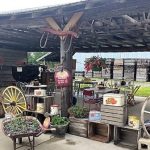 Congratulations to our Graduates!    
Congratulations to Henry and Seth, who just graduated from Three Rivers High School.  We have loved having them work here, we think they learned lots from the various jobs they have done on the farm which only add to their academic and athletic achievements.  We wish them both the best in their future endeavors.  They will be around most of the summer.  Every Tuesday, you can find them staffing our booth at the Texas Township Farmer's Market.
Each year we post the picture of the customer who gets the first quart of strawberries we pick from the field.  This year the honors go to Henry and Seth who are shown below receiving the first quarts from Beth.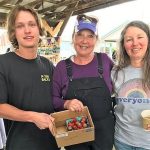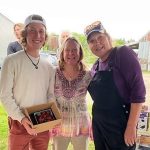 Native Milkweed Growing
Some of you may have noticed that we have milkweed growing in a variety of locations – fields, parking lot, garden area – that we have not cut down even though they are considered a weed.  We encourage their growth as they attract and support monarch butterflies and other pollinators.  They are hardy, need no maintenance, and contribute to the environment.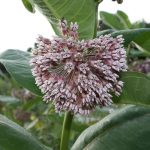 The genus, Asclepias tuberosa, is essential for the monarch butterfly and we leave them to help restore the monarch population.  Monarch butterflies are at risk of extinction.  Their numbers have declined by ninety percent in the last twenty years.  Milkweeds are the only plants on which monarch caterpillars feed.  It is also their habitat.  Female monarchs lay their eggs on these necessary plants.  If they lay eggs on anything other than a milkweed plant, the caterpillars will ultimately starve to death.
Normally, monarch butterflies migrate from North America and Canada to Mexico during the winter months.  Our native milkweed species dies back each fall which helps promote butterfly migration.  With no milkweed around to feed on, butterflies head south in search of a new food source.
Below are several migrating monarchs waking from their sleep near the Gulf of Mexico in Florida.  They rest and eat before migrating to Mexico for the winter.  Brenda and Amber enjoyed helping with monarch research by catching and tagging them at sunrise before they began their flight.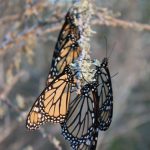 Thank you for your support and buying local.  Wishing you the best from all of us at Corey Lake Orchards!