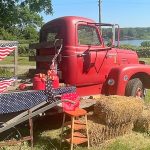 Join us in celebrating Summer and our Nation's birthday this 4th of July weekend.  Summer activities await you and your family at the farm.
Bring the kids and go blueberry picking – our field opens Thursday, 6-30-22 (see details below)
Join us Saturday morning at 9 am for "Yoga at the Orchard" (see details below)
Stop by Saturday or Sunday for just made donuts, an ice-cold slushie, and other sweet treats along with one of our new breakfast strombolis or vegetable quiches
Head to one of our seating areas to enjoy "brunch" on the farm, visiting with your family and friends
Enjoy the picture-perfect weather and get a photo of your group by the decorated antique fire truck
Escape from the food preparation this holiday weekend and pick up one of our new, "ready to bake" strombolis.
When you do cook, enhance your dishes with some fresh herbs from our u-pick herb garden.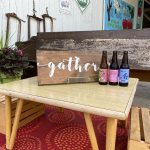 Reminder, our hours this year are 9 am to 6 pm daily, including holidays, closed on Tuesdays and Wednesdays.  You can reach us at (269) 244-5690.
Introducing
 our "Ready to Bake" Strombolis 
Our newest employee is Maureen Dvorak aka "Moe" who has been making and selling Stromboli's in the Chicago area for over 20 years and is now making them at the farm.  She has a line of pizza type Strombolis and a line of breakfast Molies, in assorted popular flavors.  The Stromboli's are hand made with only the best ingredients, partially cooked, and then flash frozen.  Similar to a frozen pizza, just stick them in the oven to cook until golden brown and enjoy!  They are approximately 4.5 x 18 inches and serve 4-6 people.
Find them in the freezer with the 'take and bake' pies.
Flavors include:
Pizzamoli – pizza sauce, mozzarella cheese
Sausage Pizzamoli – pizza sauce, mozzarella cheese, and sausage
Pepperoni Pizzamoli – pizza sauce, mozzarella cheese, and pepperoni
Moe's Specialty – garlic Italian sausage, mozzarella cheese, hint of oregano
Breakfastmoli – eggs, cheddar cheese
Sausage Breakfastmoli – eggs, cheddar cheese, sausage
Ham Breakfastmoli – eggs, cheddar cheese, shaved ham
We will have a few "breakfast molis" already baked on Saturday morning for those wanting to sit at the farm and enjoy them here.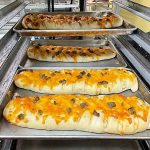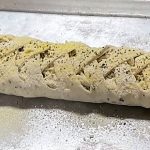 U-Pick Blueberry Field Now Open 
Our u-pick blueberry field opens this Thursday.  The field opens at 9 am and you must be out by 5 pm, Eastern time.  Blueberries are best picked in cooler weather or in the morning otherwise they become soft so try to come before it gets too warm to pick.  And, little berry pickers do not have the best experience picking in the heat either!  Check in at the market for directions.
Not all the blueberries are ripe, and we have a small field, so each group/family is limited to 5 pounds.  We will provide containers for you to pick in that you can take home.  If there are several of you picking, you may want to bring your own bowls or buckets so that everyone can have their own container, then combine them into our container.
There are two u-pick container sizes:
Large – $6.50 (approximately 2.5 lbs.) (picture below is the large tub)
Medium – $3.50 (approximately 1.25 lbs.)
See our webpage for more information.  Also check our website or call to make sure the field is open before you come out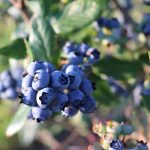 Already Picked Blueberries.  Starting Friday (and maybe later this afternoon), we will have already picked blueberries available in small containers as well as 5- and 10-pound boxes from Brookside Farms.  The variety is Bluetta, an early blueberry.
Celebrate the Holiday with Cherries and Raspberries! 
We just got sweet and tart cherries from the west side of the state; they will be available starting today and through the weekend until they sell out.  Cherries are available by the quart or a 20-lb box.
Sweet Cherries.  We have two colors of sweet cherries – dark and blush.  Both taste sweet.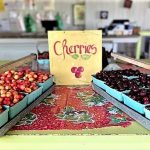 Tart Cherries.  What would America's birthday be without an American cherry pie.  We were delighted that we could get some of these for the weekend to keep your tradition of making a cherry pie, jam, or even eating fresh.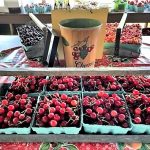 Check out our cherry pitters, which do work and keep kids engaged 'till every cherry is pitted!
Red Raspberries.  A treasured summer favorite!  We were lucky enough to get some from one of the cherry farms.  Mmmmm…red raspberries, blueberries, and locally made yogurt ….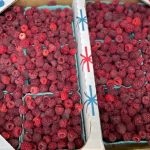 What is Available on the Market this Week    
Fresh Produce
Tomatoes – from our greenhouse
From Bankson Lake Farms
Mushrooms
Lettuce blends
Arugula
Spinach
Fresh cilantro
Green onions
Kale
Radishes
Garlic scapes
Salad turnips
Beets
Bok choy
Swiss Chard
We are working with farms in Indiana to have cauliflower, broccoli, kohlrabi, cabbage, zucchini, yellow squash, onions, red potatoes and more.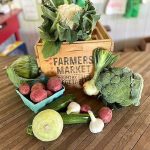 U-Pick Herbs
Some of the herbs in our herb garden are ready to pick!  Available now are: chives, lavender, marjoram, mint, oregano, parsley, rosemary, and thyme.  Price is $1.50 for a snack size bag.  Scissors and bags are on the market, see clerk for assistance.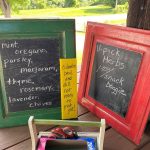 Below, a young customer smells a mint leaf and picks a mini tomato.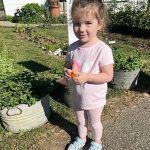 We have several types of mint and chamomile.  Feel free to break off a leaf and smell it!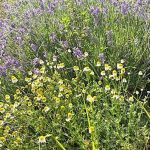 We have bunches of already picked lavender available for $3 a bunch.  The medicinal benefits of using lavender to treat anxiety, fungal infections, hair loss, and wounds have been demonstrated.  Plus, its lovely color and fragrance make it nice to just have around the house!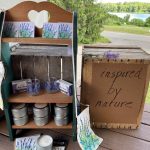 Local Grocery Items
Fresh products from our local suppliers – honey, maple syrup products, jams and jellies, eggs, and Jake's meats.  Try our recently added:  Blueberry Hibiscus Marmalade, Cherry Butter, Damson Plum Jam, Black Sweet Cherry Salsa, and everyone's favorite Peach Salsa!
In addition to their wonderful yogurt, Mattawan Creamery is now making a goat cheese, perfect for spreading on a cracker and snacking on its amazing creaminess.  Add a bit of Glowing Embers Strawberry Jam or Spicy Peach Jalapeno Jam for an enhanced flavor.  Try their yogurt with our fresh blueberries!  You will not be disappointed!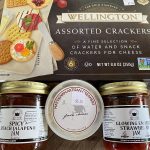 Alcohol Products
We have a nice selection of hard ciders, wine, and fruit brandy perfect for a holiday weekend of unwinding.  Wine (8 total with red, white, dry to sweet), Hard Ciders (8 total made onsite from dry to sweet), and Brandy (made onsite from various fruits).
Full House White.  A semi-dry white full-bodied wine that bursts with ripe apple and pear flavor; serve chilled alone, with sweet to spicy entrees. or with a fruit dessert
Unwinding Rose'.  A white zinfandel Rose' style that is semi-dry and fruity with berry character that brightens any occasion.  Chill a bottle, open. and let the unwinding begin.
Bramblin' Raspberry Rose.  A semi-sweet, full on fruit wine that will tickle your taste buds just like its ever-spreading brambles trickle over one's yard.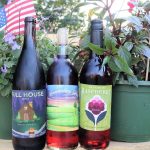 Stop by the market this Saturday and sample our three new wines, Blueberry and Peach Pear hard ciders, and apple brandy.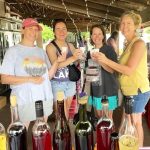 Baked Goods
Quiches.  New this weekend, we will have quiches made in our bakery using our own fresh vegetables.  Flavors are: Spinach, Broccoli, Asparagus, and Quiche Lorraine.  Find these in the fridge section.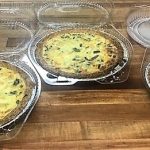 Baked Goods.
Our beloved, homemade cinnamon rolls
Yeast rolls: donut rings, long johns, Raspberry Bismarks, apple fritters, yeast twists
Muffins: Pistachio, Cherry Almond, Chocolate Chip, Lemon Poppyseed, Double Dutch, Banana Nut, Strawberry, and Blueberry
Cookies: our famous homemade Lemon cookies, along with Monster, and other varieties
Breads: Artisan and homemade, hot dog and hamburger buns
Bagels: various kinds
Keep in mind that you can call ahead to order any of your favorites and we will have them ready for you to pick up.
Our bakery crew will be making donuts on Saturdays and Sundays.  We are currently in our summer flavors of Buttermilk, Blueberry and Cherry, either plain or sugared!
Enjoy our Seating Areas
You are most welcome to sit and relax in our rural setting or buy goodies from the market to sit and enjoy.  We have several seating areas by the market – our "Onion Barn", the market breezeway, and the yard.
Our spaces are also available for rent, just leave us a message via the website and someone will promptly contact you.  We can provide wine, hard cider, baked goods, and other seasonal items for your event also.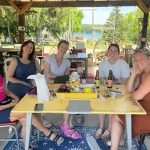 Happenings on the Farm    
We spent a lot of time on the weather apps on our phone, looking for any hope of rain, but there was none, so we start each day with moving irrigation to the neediest crop.
We always wonder why weeds continue to thrive!  So we spent a lot of time cultivating weeds out of vegetables – yes, with hoes and pulling them by hand!
Our Zucchini and summer squash are growing and close to being ready.  Isn't this small yellow squash cute?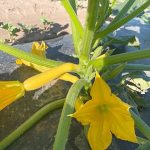 The green beans are blooming so maybe green beans in 10 days or so!  I think we're all ready for fresh green beans!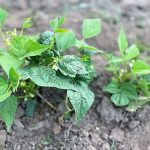 Milweed for Pollinators    
Here at the farm you will find all kinds of ways that we are protecting for pollinators and monarch butterflies.  We allow milkweed to grow freely around the farm, despite it being a "weed," just for this purpose.  It is in full bloom right now!  Below milkweed is growing next to the market.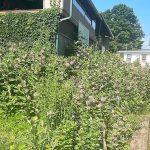 Learn more about pollinators and why they're important at https://bit.ly/38CkZWT
See the full story on our Facebook page.
Storm Damage
After the first spring in many years with no frosts or freezes, we had a great crop of everything.  On June 13 we had extreme weather – wind, rain, hail, and high temperatures – that damaged many of our crops.  We are still assessing the damage and do not know the total impact at this time.  We will keep you posted as we get closer to harvest periods.
Strawberries – Serious damage, unable to complete harvest.
Cherries – We no longer grow cherries, will be bringing in from other farms
Blueberries – Decent crop, will continue to get already picked blueberries from Brookside Farms who have a good crop.
Summer Vegetables and Tomatoes– Had to replant most, some will mature later than usual.  We are getting a variety of early vegetables from some of our partner farms in Indiana.
Onions – Damaged but coming back!
Peaches – We no longer grow peaches, will try to get some from other farms
Plums – Will not have any due to damage
Pears – Received some damage, will have less
Apples – Received serious damage, need time to see impact to early, mid, and late varieties
Grapes – Received some damage, need time to see how they continue to grow
Sunflowers – None planted this year
Pumpkins – Planted and hoping for a decent crop
Thank you for your continued support and for buying local.  Everyone at Corey Lake Orchards appreciates you!