Friday, July 8, is National Blueberry Day and July is National Blueberry Month, both are dedicated to spreading awareness about the health benefits of this fruit.  Blueberries are tasty, rich in antioxidants, low-cal with 80 calories per cup, and virtually no fat.  One serving contains almost 25% of the daily vitamin C requirements.  From lowering cholesterol to promoting a healthy heart, various studies claim that eating blueberries every day can make a positive change to one's lifestyle.
According to the Michigan Blueberry Commission
Michigan ranks third in growing blueberries, producing an average of 92 million pounds with more than 30 different varieties
Michigan blueberries are grown, harvested, and processed by 575 family farms
Michigan blueberry production contributes nearly $132 million to the state's economy
More than 50 percent of Michigan blueberries are shipped to the fresh market, with the rest frozen, pureed, concentrated, or canned for value-added products
Michigan has more than 20,000 acres devoted entirely to blueberries, located mainly in SW and west central Michigan
Modern-day blueberry farming began in Michigan in the early 1900s
They are easy to eat, easy to store, and easy to freeze.  Why not enjoy them all year long?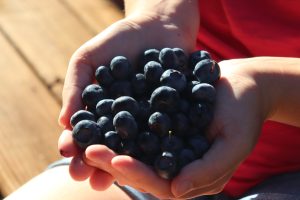 Reminder, our hours this year are 9 am to 6 pm daily, including holidays, closed on Tuesdays and Wednesdays.  You can reach us at (269) 244-5690.
Blueberries  
Already Picked.  We have already picked blueberries available on the market in small containers as well as 5- and 10-pound boxes.  They are from Brookside Farms, a family farm in Paw Paw that has supplied us with blueberries for years.
U-Pick Blueberries.  Bring the kids and go blueberry picking.  This Sunday is National U-Pick Blueberry Day.  Our u-pick blueberry field opens at 9 am and you must be out by 5 pm, Eastern time.  Blueberries are best picked in cooler weather or in the morning, otherwise they become soft so try to come before it gets too warm to pick.  And, little berry pickers do not have the best experience picking in the heat either!  Check in at the market for directions.
Brenda and daughter Amber picking blueberries in this throwback photo from 20 years ago.  Brenda hasn't aged any (ha!) but Amber grew up!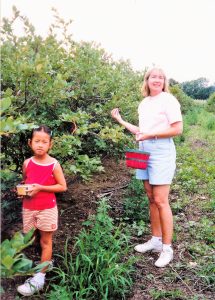 We usually have a picking limit, but since so many blueberries are currently ready thanks to the heat this week, your group may pick as many as they like.  Anything over 5 pounds will be weighed at $2/pound.  We will provide containers for you to pick in that you can take home.  If there are several of you picking, you may want to bring your own bowls or buckets so that everyone can have their own container, then combine them into our container.  Afterwards, head back to the market for an ice-cold slushie and sweet treat from the bakery!
There are two u-pick container sizes:
Large – $6.50 (approximately 2.5 lbs.) (picture below is the large tub)
Medium – $3.50 (approximately 1.25 lbs.)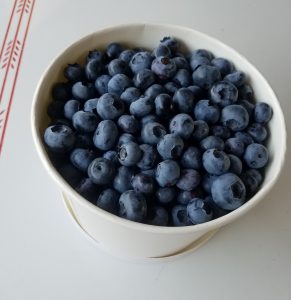 See our webpage for more information.  Also check our website or call to make sure the field is open before you come out.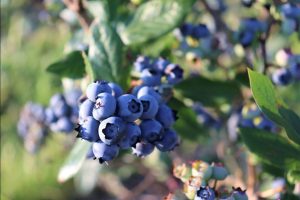 Cherries
Sweet Cherries.  We have a few sweet cherries left that we got from a farm in Coloma.  When they are gone, we will be finished with sweet cherries for the year.  It was nice to get a taste of them this past week.
Tart Cherries.  We no longer grow tart cherries, but if you are interested in picking some, we recommend you try Schultz Fruitridge Farm in Mattawan.  See their website or Facebook page for location, hours, and pricing.  Cherry season is short so don't delay!
What about Green Beans and Sweet Corn?
Two most frequently asked questions on the market are what about green beans and sweet corn.  Green beans are almost here, maybe several more days.  Sadly, the sweet corn is about two weeks out due to weather-delayed planting.  Both are growing!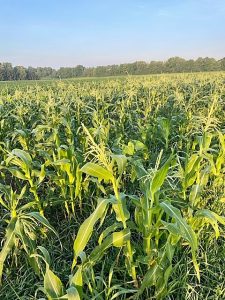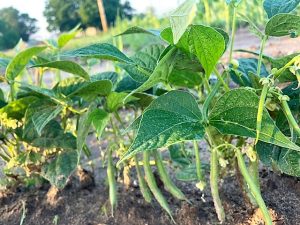 Join us this Saturday for Yoga!
Join us this weekend to do something fun and relaxing that also improves your health.  The class is from 9 to 10 am and the cost is $10.  All ages and yoga abilities are welcome.  Yoga instruction is by Cynthia Hoss.  See website for more details.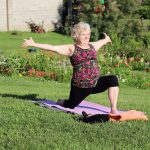 What is Available on the Market this Week    
Fresh Produce
From our fields
From our greenhouse
From Bankson Lake Farms
Mushrooms
Lettuce blends
Arugula
Spinach
Kale
Radishes
Salad turnips
Beets
Bok choy
Swiss Chard
We are working with farms in Indiana to have cauliflower, broccoli, kohlrabi, cabbage, onions, red potatoes and more.  Our own zucchini and summer squash are now ready.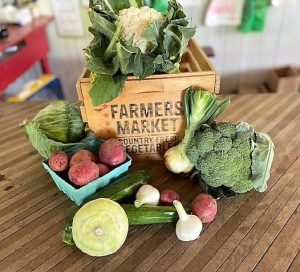 Butternut Sustainable Farms in Sturgis heard about the storm damage to our vegetables and came over today with extra produce from their farm to help us out.  What a gracious and kind thing to do, and we hope you will enjoy some of their bounty!  See their website for their farm story.
U-Pick Herbs
Some of the herbs in our herb garden are ready to pick!  Available now are: chives, lavender, marjoram, mint, oregano, parsley, rosemary, and thyme.  Price is $1.50 for a snack size bag.  Scissors and bags are on the market, see clerk for assistance.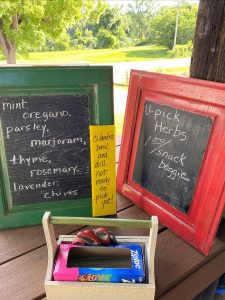 Local Grocery Items
Fresh products from our local suppliers – honey, maple syrup products, jams and jellies, eggs, and Jake's meats.
Alcohol Products
We have a nice selection of hard ciders, wine, and fruit brandy perfect for summer relaxing.
8 total wines from red, white, dry to sweet
8 total hard ciders from dry to sweet, made onsite
Various fruit brandies made onsite from various fruits
Stop by the market this Saturday and sample some of our great alcohol products!  If you haven't tried it yet, our semi-sweet Blueberry Hard Cider may become your favorite!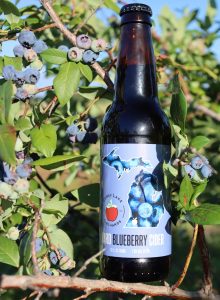 From the Bakery
Quiches.  Last week we started making quiches in our bakery using our own fresh vegetables.  They were quite popular!  Just look in the fridge section.
Strombolis.  We recently added strombolis to our bakery offerings and they, too, were quite popular as we sold out in 2 days!  Our employee, Moe, is making a line of pizza type Strombolis and a line of breakfast Molies, in assorted popular flavors.
Pizzamoli – pizza sauce, mozzarella cheese
Sausage Pizzamoli – pizza sauce, mozzarella cheese, and sausage
Pepperoni Pizzamoli – pizza sauce, mozzarella cheese, and pepperoni
Moe's Specialty – garlic Italian sausage, mozzarella cheese, hint of oregano
Breakfastmoli – eggs, cheddar cheese
Sausage Breakfastmoli – eggs, cheddar cheese, sausage
Ham Breakfastmoli – eggs, cheddar cheese, shaved ham
The Stromboli's are hand made with only the best ingredients, partially cooked, and then flash frozen.  Similar to a frozen pizza, just stick them in the oven to cook until golden brown and enjoy!  They serve 4-6 people.  Look for them in the freezer with the 'take and bake' pies.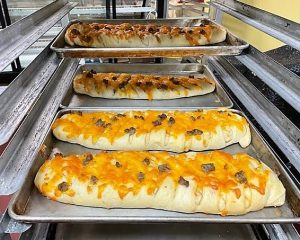 Baked Goods.
Our beloved, homemade cinnamon rolls
Yeast rolls: donut rings, long johns, Raspberry Bismarks, apple fritters, yeast twists
Muffins: Pistachio, Cherry Almond, Chocolate Chip, Lemon Poppyseed, Double Dutch, Banana Nut, Strawberry, and Blueberry
Cookies: our famous homemade Lemon cookies, along with Monster, and other varieties
Breads: Artisan and homemade, hot dog and hamburger buns
Bagels: various kinds
Keep in mind that you can call ahead to order any of your favorites and we will have them ready for you to pick up.
Our bakery crew will be making donuts on Saturdays and Sundays.  We are currently in our summer flavors of Buttermilk, Blueberry and Cherry, either plain or sugared!
Below a young customer enjoys a donut on the go at CLO!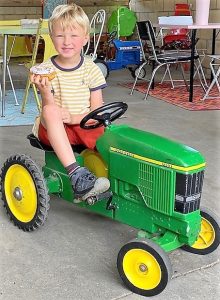 Enjoy our Seating Areas
You are most welcome to sit and relax in our rural setting or buy goodies from the market to sit and enjoy.  We have several seating areas by the market – our "Onion Barn", the market breezeway, and the yard.
Please enjoy the space we made adjacent to the market to sit with some snacks and drinks or allow your (supervised) children or maybe grown-up children to play!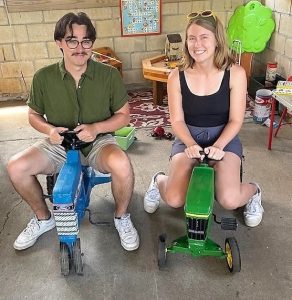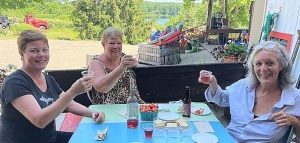 Our spaces are also available for rent, just leave us a message via the website and someone will promptly contact you.  We can provide wine, hard cider, baked goods, and other seasonal items for your event also.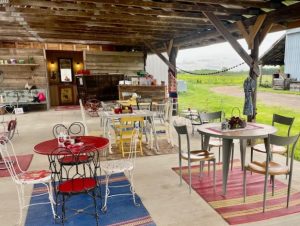 Happenings on the Farm    
We had 6.5 inches of rain this week here.  Rain itself was very needed, but sure would have been nice if it hadn't come all at once!  After the busy Fourth of July weekend, I promised my staff they could have time off to go to the beach.  They didn't realize that I meant on our own farm as they continue to work!  Trying to walk through fields with this much mud is difficult, and we thank them!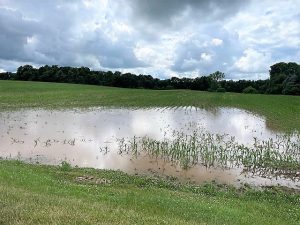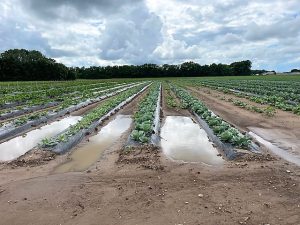 Thank you for your continued support and for buying local.
Everyone at Corey Lake Orchards appreciates you!