The sun is out, the temperatures are nice, and an abundance of fresh produce is in the market!  It is summertime and eating veggies this week couldn't be better!  We have about 20 different types of seasonal vegetables on our counters to choose from and we guarantee even the pickiest veggie eater in the family will find at least one thing they like.
Reminder, our hours this year are 9 am to 6 pm daily, including holidays, closed on Tuesdays and Wednesdays.  You can reach us at (269) 244-5690.
Join us this Saturday for Yoga!
Join us this weekend to do something fun and relaxing that also improves your health.  The class is from 9 to 10 am and the cost is $10.  All ages and yoga abilities are welcome.  Yoga instruction is by Cynthia Hoss.  See website for more details.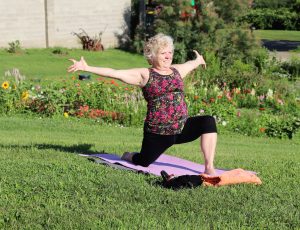 Sunday if National Ice Cream Day 
just in case you need an excuse to eat more ice cream! (Besides the excuse of putting it on top of one of our fruit pies!)  If you like high quality, exceptionally good ice cream, you must try Plainwell Ice Cream Company's vanilla ice cream.  This third-generation family business produces SW Michigan's finest ice cream.  They still make it in the back of their store and deliver it fresh to us!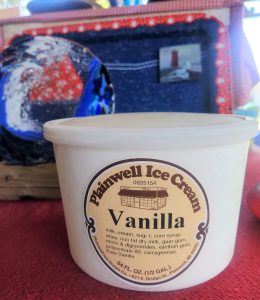 Blueberries  
Already Picked.  We have already picked blueberries available on the market in small containers as well as 5- and 10-pound boxes.  They are from Brookside Farms, a family farm in Paw Paw that has supplied us with blueberries for years.
U-Pick Blueberries.  Bring the kids and go blueberry picking.  Our u-pick blueberry field opens at 9 am and you must be out by 5 pm, Eastern time.  Blueberries are best picked in cooler weather or in the morning otherwise they become soft so try to come before it gets too warm to pick.  Check in at the market for directions.
We usually have a picking limit, but currently there are enough ripe blueberries to pick so your group may pick as many as they like.  Anything over 5 pounds will be weighed at $2/pound.  We will provide containers for you to pick in that you can take home.  If there are several of you picking, you may want to bring your own bowls or buckets so that everyone can have their own container, then combine them into our container.  Afterwards, head back to the market for an ice-cold slushie and sweet treat from the bakery!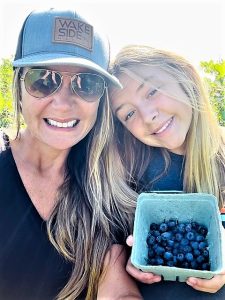 There are two u-pick container sizes:
Large – $6.50 (approximately 2.5 lbs.) (picture below is the large tub)
Medium – $3.50 (approximately 1.25 lbs.)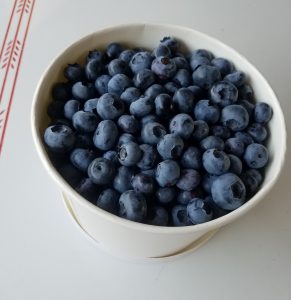 See our webpage for more information.  Also check our website or call to make sure the field is open before you come out.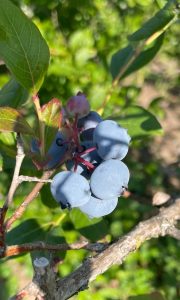 What about Green Beans and Sweet Corn?
Two most frequently asked questions on the market are what about green beans and sweet corn.  We have just started picking a few green beans and they are available in the market in 1- and 2-pound bags until production is higher.  Sweet corn is about a week away.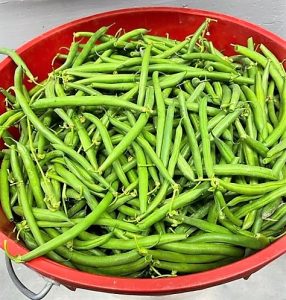 Bulk Quantities for Freezing and Canning 
If you are interested in large quantities of vegetables for canning or freezing, contact the market and get on our sign-up sheet.  We will contact you when they are available.  The growing conditions and production yields are outside our control, but we will try our best to fulfill your order.  Please realize that since we had to replant almost everything due to the hailstorm, things will be later than normal.
Green beans (half bushel minimum)
Sweet corn (bushel minimum, 5 doz.)
First quality tomatoes (half bushel minimum)
Second quality tomatoes (half bushel minimum)
Lodi Apples  
Lodi apples are typically the first apple to ripen kicking off the apple season in mid-July.  These tart apples have a smooth, semi-thin skin and are pale green.  Lodi apples have a short shelf life of 1-2 weeks and are best used for cooking and baking.  Its claim to fame is its absolutely, wonderful apple sauce!  If you don't mind a tart sauce (you can always add sugar at the end while the sauce is still warm) we encourage you to try making some while they are in season.
We will be picking Lodi apples next week.  If you would like some, please contact the market at (269) 244-5690 to get on our list; someone will call you when they are available.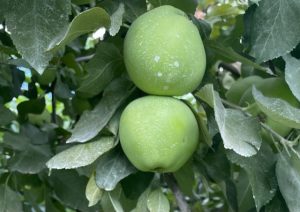 What is Available on the Market this Week    
Fresh Produce
From our fields
Cabbage
Cucumbers
Green beans
Kale
Kohlrabi
Summer squash
Zucchini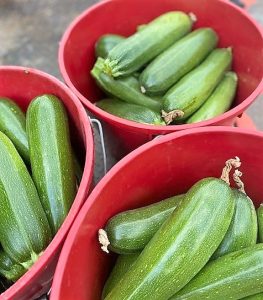 From our greenhouse
Cucumbers
Peppers
Tomatoes, regular and mini
The mini tomatoes are in vibrant colors; what a great accent to a salad or served alone!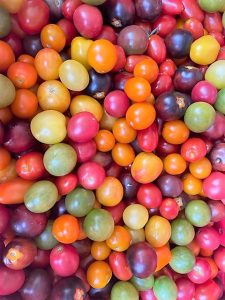 We are also picking peppers from the greenhouse.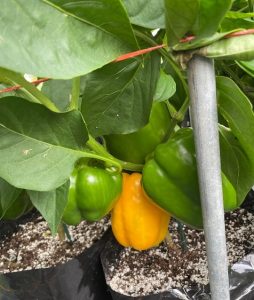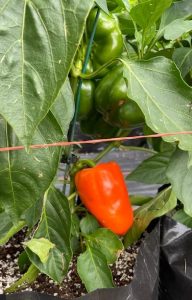 From Bankson Lake Farms
Arugula
Beets
Bok choy
Kale
Lettuce blends
Mushrooms
Radishes
Spinach
Swiss Chard
We are working with farms in Indiana to also have cauliflower, broccoli, kohlrabi, cabbage, onions, red potatoes and more.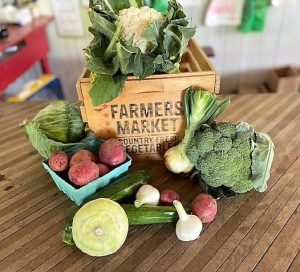 Kohlrabi
Ever wonder what this is and what to do with it?  Kohlrabi is a cool-weather crop that's in season during the fall, winter, and early spring.  We just started picking ours this week.
Kohlrabi is part of the mustard family and is related to cabbage, broccoli, and cauliflower.  It has long leafy stems and a round bulb that's usually purple, pale green, or white, with a white-yellow inside.
Kohlrabi's taste and texture are similar to those of broccoli stems and cabbage, although it's slightly sweeter.  The bulb is widely used in salads and soups but can also be boiled, sautéed, roasted, or grilled.  Enjoy kohlrabi raw or cooked.
To prepare kohlrabi, you'll need to peel the bulb and then cut into the desired shape and size for your recipe.  Its leaves can be chopped and cooked similarly to collard greens.
Hint – look online for "how to prepare kohlrabi" instructions, videos, and recipes.  Below, we have lots growing in our field!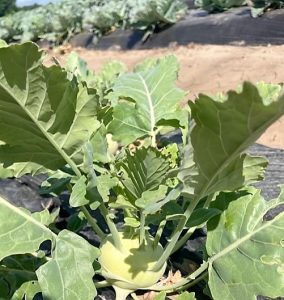 U-Pick Herbs
The herbs in our herb garden are ready to pick!  Available now are: chives, lavender, marjoram, mint, oregano, parsley, rosemary, basil, cilantro, some dill, and thyme.  Price is $1.50 for a snack size bag.  Scissors and bags are on the market, see clerk for assistance.
Below are basil and cilantro that you can pick.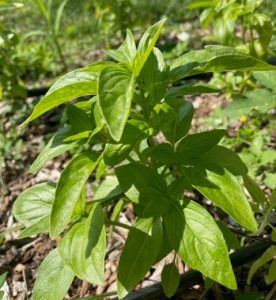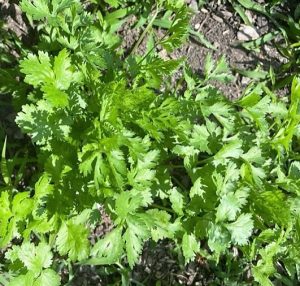 Local Grocery Items
Fresh products from our local suppliers – honey, maple syrup products, jams and jellies, eggs, and Jake's meats.
Alcohol Products
We have a nice selection of hard ciders, wine, and fruit brandy perfect for summer relaxing.
8 total wines from red, white, dry to sweet
8 total hard ciders from dry to sweet, made onsite
Various fruit brandies made onsite from various fruits
Stop by the market this Saturday and sample some of our great alcohol products!  If you haven't tried it yet, our semi-sweet Blueberry Hard Cider may become your favorite!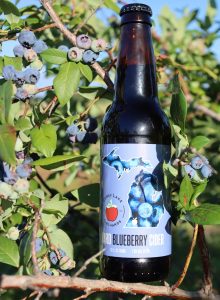 From the Bakery
New this weekend:  Try our Quiche muffins, a breakfast for one!  Loaded with all kinds of fresh vegetables!
Strombolis:  Take and bake from our freezer
Pizzamoli – pizza sauce, mozzarella cheese
Sausage Pizzamoli – pizza sauce, mozzarella cheese, and sausage
Pepperoni Pizzamoli – pizza sauce, mozzarella cheese, and pepperoni
Moe's Specialty – garlic Italian sausage, mozzarella cheese, hint of oregano
Breakfastmoli – eggs, cheddar cheese
Sausage Breakfastmoli – eggs, cheddar cheese, sausage
Ham Breakfastmoli – eggs, cheddar cheese, shaved ham
Below is a Sausage Breakfastmoli, ready to take home and bake!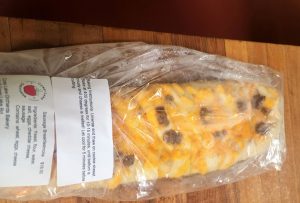 Baked Goods Available
Our beloved, homemade cinnamon rolls
Yeast rolls: donut rings, Long Johns, Raspberry Bismarks, apple fritters, yeast twists
Muffins: Pistachio, Cherry Almond, Chocolate Chip, Lemon Poppyseed, Double Dutch, Banana Nut, Strawberry, and Blueberry
Cookies: our famous homemade Lemon cookies, along with Monster, and other varieties
Breads: Artisan and homemade, hot dog and hamburger buns
Bagels: various kinds
Our famous blueberry-zucchini bread is back!  We cut the first one out of the oven to sample and make sure it met our expectations, it did!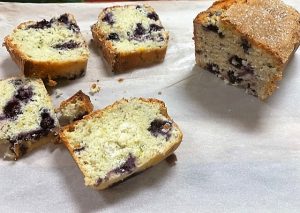 Keep in mind that you can call ahead to order any of your favorites and we will have them ready for you to pick up.
Our bakery crew will be making donuts on Saturdays and Sundays.  We are currently in our summer flavors of Buttermilk, Blueberry and Cherry, either plain or sugared!
Enjoy our Seating Areas 
You are most welcome to sit and relax in our rural setting or buy goodies from the market to sit and enjoy.  We have several seating areas by the market – our "Onion Barn", the market breezeway, and the yard.  Please enjoy the space we made adjacent to the market to sit with some snacks and drinks or allow your (supervised) children to play!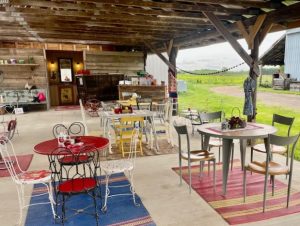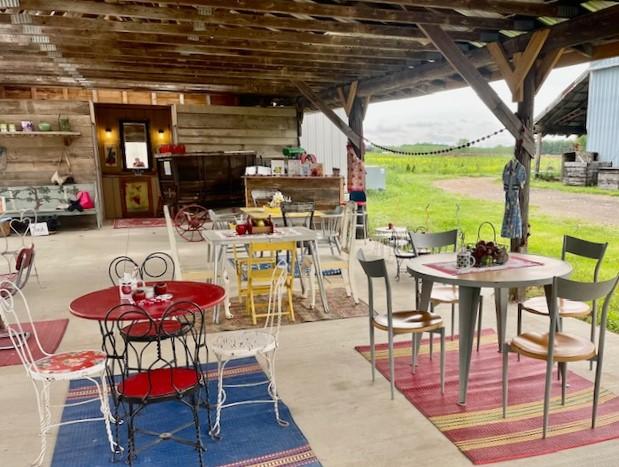 Our spaces are also available for rent, just leave us a message via the website and someone will promptly contact you.  We can provide wine, hard cider, baked goods, and other seasonal items for your event also.
Happenings on the Farm    
Many of you instantly recognize Beth by her trademark bib overalls, plus she grew up on the farm.  But her overalls didn't start when she gave up corporate life to return and manage the farm, she has donned them from early on in life.  Below big sister Brenda is helping her lick a bowl of something good!  Happy Birthday, Beth!  PS: It's a milestone; one that allows her to retire!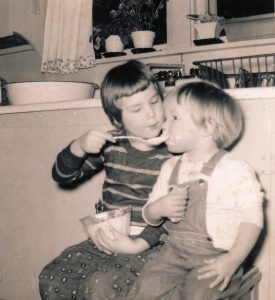 Thank you for your continued support and for buying local.  Everyone at Corey Lake Orchards appreciates you!