We like late July and August as it is full of glorious colors!  This is the time of year when flower gardens are in full bloom with flowering plants, flowering shrubs, and gorgeous blooming ground cover.  We also have vegetables still blooming such as this eggplant, probably the loveliest bloom in our field.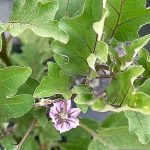 Reminder, our hours this year are 9 am to 6 pm daily, including holidays, closed on Tuesdays and Wednesdays.  You can reach us at (269) 244-5690.
If you love seeing our decorative floral arrangements around the market and buildings, thank our employee, Sue.  She does an outstanding job keeping our florals attractive and welcoming.  We thank her for her efforts as it is nice to see them each day when we come to work!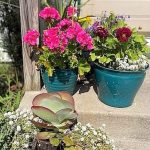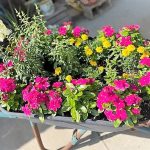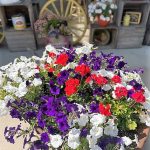 Fresh Cut Flowers
Floral Bouquets.  Each weekend we have floral bouquets made by Faye, from Faith in Flora.  These are a must get each weekend for a "pick me up" that lasts all week.  She grows her own flowers and makes gorgeous bouquets.  We love having her flowers on weekends and she has supplied us for years.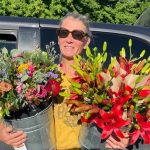 U-Pick Flowers.  This weekend we are opening our terrace garden by the parking lot for u-pick flowers.  Please see clerk for scissors and cutting instructions.  You might even see a butterfly or other pollinator hard at work!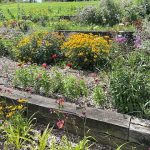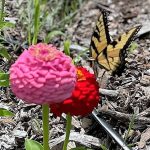 Already Picked Flowers.  New this week we have sunflowers and gladiolas from local farms for sale by the stalk on the market.  They will surely brighten your space and make someone "glad".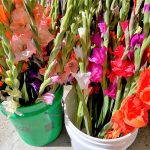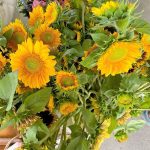 Join Us for Yoga Class this Saturday!
Take a break to do something relaxing, meet new people, and improve your health.  The class is from 9 to 10 am and the cost is $10.  All ages and yoga abilities are welcome.  Yoga instruction is by Cynthia Hoss. See website for more details.
Blueberries  
Already Picked.  We have already picked blueberries available on the market in small containers as well as 5- and 10-pound boxes.  They are from Brookside Farms, a family farm in Paw Paw that has supplied us with blueberries for years.  We will try to have them through August but no guarantees as it depends on the weather.
U-Pick Blueberries. We are at the end of our own blueberry season so there are only a few blueberries left to pick in our field.  Come if you are looking to get the family outside to enjoy the picking experience or just want a few fresh berries.  After picking, stop by the market for a cold slushy and a sweet treat from our bakery.  As always if you're looking to pick a lot we recommend going to Brookside.
See our webpage for picking hours, pricing, and more information.  Also check our website or call to make sure the field is open before you come out.
What About Peaches? 
Peaches has become the most frequently asked question at the market.  We no longer grow peaches and are waiting for area farms to have some available that we can get for our market.  We think this will be a week to 10 days away.  Meanwhile, we would recommend you might try getting some at Schultz's Fruitridge Farm market in Matawan.  They recommend you call before you come to make sure they have them.  (269-668-6109)
What is Available on the Market this Week    
Fresh Produce
From our fields
Broccoli
Cabbage
Cucumbers
Cauliflower
Green beans
Kale
Kohlrabi
Peppers
Sweet corn
Summer squash – all you can eat!
Zucchini
If you are looking for a way to use yellow squash, try this Southern Squash Casserole that Brenda loves and makes with a regular frying pan and casserole dish instead of a cast iron skillet.
From our greenhouse
Cucumbers
Peppers
Tomatoes, regular and mini
From Bankson Lake Farms
Arugula
Beets
Bok choy
Carrots
Kale
Lettuce blends
Mushrooms
Spinach
Swiss Chard
Bulk Quantities for Freezing and Canning
If you are interested in large quantities of vegetables for canning or freezing, contact the market and get on our sign-up sheet.  We will contact you when they are available.  The growing conditions and production yields are outside our control, but we will try our best to fulfill your order.  Please realize that since we had to replant almost everything due to the hailstorm, things will be later than normal.
Green beans (half bu. minimum)
Sweet corn (bushel minimum, 5 doz.)
First quality tomatoes (half bushel minimum)
Second quality tomatoes (half bushel minimum)
Roma tomatoes (peck minimum)
U-Pick Herbs
All the herbs in our herb garden are ready to pick!  Summer is the time to season salads and vegetable dishes with fresh herbs.  Price is $1.50 for a snack size bag.  Scissors and bags are on the market, see clerk for assistance.
Local Grocery Items
Fresh products from our local suppliers – honey, maple syrup products, jams and jellies, eggs, and Jake's meats.
Alcohol Products
We have a nice selection of hard ciders, wine, and fruit brandy perfect for summer relaxing.
8 total wines from red, white, dry to sweet
8 total hard ciders from dry to sweet, made onsite
Various fruit brandies made onsite from various fruits
Stop by the market this Saturday and sample some of our great alcohol products!  Below is our Unwinding Rose wine, a semi-dry and fruity white zinfandel Rose' style – perfect for summer relaxing.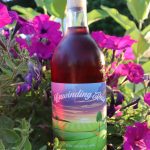 From the Bakery
Baked Goods Available
Our beloved, homemade cinnamon rolls and cinnamon bread
Yeast rolls: donut rings, Long Johns, Raspberry Bismarks, apple fritters, yeast twists
Muffins: many varieties to choose from
Cookies: our famous homemade Lemon cookies, along with Monster, and other varieties
Breads: Artisan and homemade, hot dog and hamburger buns.  This weekend we are making Italian bread.
Focaccia breads:  Olive and Rosemary, Tomato and Basil, and Sweet Pepper
Bagels: various kinds
Fruit pies: our signature fruit pies are a must have; find them in the freezer section
Our famous blueberry/zucchini bread is back
Quiches: homemade Zucchini quiche, Broccoli quiche, and Tomato Basil quiche
Strombolis:  Take and bake from our freezer
Pizzamoli – pizza sauce, mozzarella cheese
Sausage Pizzamoli – pizza sauce, mozzarella cheese, and sausage
Pepperoni Pizzamoli – pizza sauce, mozzarella cheese, and pepperoni
Moe's Specialty – garlic Italian sausage, mozzarella cheese, hint of oregano
Breakfastmoli – eggs, cheddar cheese
Sausage Breakfastmoli – eggs, cheddar cheese, sausage
Ham Breakfastmoli – eggs, cheddar cheese, shaved ham
Keep in mind that you can call ahead to order any of your favorites and we will have them ready for you to pick up.
Yoder's Fry Pies are back this week also!
Our bakery crew will be making donuts on Saturdays and Sundays.  We are currently in our summer flavors of Buttermilk, Blueberry and Cherry, either plain or sugared!
Enjoy our Seating Areas
You are most welcome to sit and relax in our rural setting or buy goodies from the market to sit and enjoy.  We have several seating areas by the market – our "Onion Barn", the market breezeway, and the yard.
Our spaces are also available for rent, just leave us a message via the website and someone will promptly contact you.  We can provide wine, hard cider, baked goods, and other seasonal items for your event also
Happenings on the Farm    
Story of our 2022 Onion Crop
This is the second in a series of stories we are sharing regarding the impacts of the damaging June 13 storm to our farm and how we are moving forward.  We feel it is important for you to see what goes on behind the scenes of our family farm, and the tough decisions we must make sometimes to sustain the business while satisfying our customers.  Our farm values itself as a provider of fresh, top-quality produce to the local community, your community as well.
The 70-mph winds from the storm on June 13 blew over our onion stalks and broke their tops off.  We nursed them back to health and were looking forward to harvesting them in August.
Then last weekend we had several storms with high winds which blew them over.  Once the onion stalk is bent, the onion ceases to grow.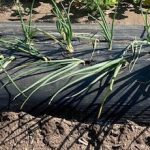 We were faced with no option but to harvest them early, which means they will not be their normal large size.  So, we will still have our great sweet onions that you have enjoyed for years, but they will be smaller.:(
These onions still have a green stalk which is good to eat also.  Cut it up for salads or to sauté.  By late August we hope to have them dried, cured and bundled.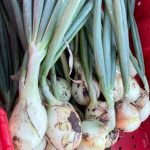 As you may know by now, literally everything we grow was damaged to some extent by the storm.  We will continue to share updates and the impacts to other crops in future newsletters.
Thank you for your continued support and for buying local.  Everyone at Corey Lake Orchards appreciates you!