Early August is prime time for fresh vegetables and fruits!  We have been proudly growing and providing fresh-picked produce to our customers for over 60 years.  We hope you enjoy the freshness as well as shopping at our picturesque market.  Right now there is an abundance of vegetables as well as summer and early fall fruits to enjoy.  There couldn't be a better time to "eat right and eat fresh"!
In our throwback photos below, our founders Dayton and Allene Hubbard prepare to move things on the market while the third generation (now grown up!) polish peppers.    Thank you for your business and supporting our family farm!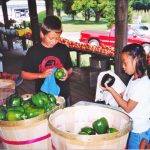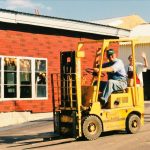 Reminder, our hours this year are 9 am to 6 pm daily, including holidays, closed on Tuesdays and Wednesdays.  You can reach us at (269) 244-5690.
Join Us for Yoga Class this Saturday!
Take a break to do something relaxing, meet new people, and improve your health.  The class is from 9 to 10 am and the cost is $10.  All ages and yoga abilities are welcome.  Yoga instruction is by Cynthia Hoss. See website for more details.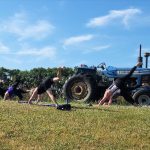 Blueberries  
Already Picked.  We have already picked blueberries available on the market in small containers as well as 5- and 10-pound boxes from Brookside Farms, a family farm in Paw Paw that has supplied us with blueberries for years.  We will try to have them through August but no guarantees as it depends on the weather.
U-Pick Blueberries. Sorry, they are gone for the year!
What About Peaches? 
We no longer grow peaches and are waiting for area farms to have some available to get for our market.  We think this will be another week away.  Meanwhile, we would recommend you might try getting some at Schultz's Fruitridge Farm in Mattawan.  Their Red Haven are ready now.  They recommend you call before you come to make sure they have them.  (269-668-6109)
What is Available on the Market this Week    
Fresh Produce
From our fields
Broccoli
Cabbage
Cucumbers
Cauliflower
Green beans
Kale
Kohlrabi
Peppers
Sweet corn
Summer squash
Zucchini
From our orchards
From our greenhouse
Cucumbers
Peppers
Tomatoes, regular and mini
From Bankson Lake Farms
Arugula
Bok choy
Carrots
Garlic
Kale
Lettuce blends
Mushrooms
Spinach
Swiss Chard
New on the Market This Week
Melons.  While you are waiting for our melons to ripen, enjoy these melons from Indiana.  We had them last year also and they are amazing!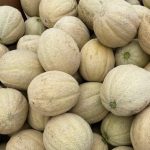 Jersey Mac apples.  These slightly tart apples have a smooth, semi-thin skin, with green and red blush.  They taste like a McIntosh apple but have a softer texture.  They make a nice apple sauce or apple crisp and can also be eaten fresh.  Remember that summer apples have a short shelf life of 1-2 weeks and should be refrigerated.
Our apples were severely damaged in the June hailstorm.  Because of that, we have both first and second quality Jersey Macs available.  If you are cooking with the apples, we have discounted "seconds" packages that have more hail marks but will be fine for processing.
If you don't have this handy tool in your kitchen already, you may want to get a food mill.  It is a hand-operated kitchen utensil for puréeing or straining food, having a rotating blade which pushes food through a perforated metal disc.  It is great for apple sauce if you want to separate the skin from the sauce and not have to peel the apples first (I make applesauce with the skin on) and a must-have if you need to make pureed food for someone. There is a variety of styles and prices available at retail stores or online marketplaces.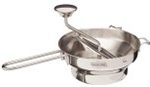 Bulk Quantities for Freezing and Canning
If you are interested in large quantities of vegetables for canning or freezing, contact the market and get on our sign-up sheet.  We will contact you when they are available.  The growing conditions and production yields are outside our control, but we will try our best to fulfill your order.  Please realize that since we had to replant almost everything due to the hailstorm, things will be later than normal.
Green beans (half bu. minimum), starting soon
Sweet corn (bushel minimum, 5 doz.), starting probably mid-August
First quality tomatoes (half bushel minimum), starting probably late August on all tomatoes
Second quality tomatoes (half bushel minimum)
Roma tomatoes (peck minimum)
Fresh Cut Flowers
This is a great week to have colorful flowers in your home or to give as a gift!  We have bouquets already made and ready to go.  Or you can customize a bouquet using flowers by the stem on the market or pick-your-own from our Terrace Garden.  Either way, August is a wonderful month for blooms!
Floral Bouquets.  On weekends we have floral bouquets made by Faye, from Faith in Flora.  She grows her own flowers and makes gorgeous ready to go bouquets.
U-Pick Flowers.  Our terrace garden by the parking lot for u-pick flowers.  Keep in mind that it is best to pick flowers when it is cool, like early in the morning if it is a hot day.  Please see clerk for scissors and cutting instructions.
Flowers by the Stem.  We also have gladiolus and sunflowers this weekend from a local farm.
U-Pick Herbs
All the herbs in our herb garden are ready to pick!  Summer is the time to season salads and vegetable dishes with fresh herbs.  Price is $1.50 for a snack size bag.  Scissors and bags are on the market, see clerk for assistance.
Local Grocery Items
Fresh products from our local suppliers – honey, maple syrup products, jams and jellies, salsa, eggs, and Jake's meats.
Alcohol Products
We have a nice selection of hard ciders, wine, and fruit brandy perfect for summer relaxing.
8 total wines from red, white, dry to sweet
8 total hard ciders from dry to sweet, made onsite
Various fruit brandies made onsite from various fruits
Stop by the market this Saturday and sample some of our great alcohol products!  Below is our Bramblin' Raspberry Rose semi-sweet, full on fruit wine that will tickle your taste buds just like its ever-spreading brambles trickle over one's yard.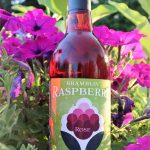 From the Bakery
Baked Goods Available
Our beloved, homemade cinnamon rolls and cinnamon bread
Yeast rolls: donut rings, Long Johns, Raspberry Bismarks, apple fritters, yeast twists
Muffins: many varieties to choose from
Cookies: our famous homemade Lemon cookies, along with Monster, and other varieties
Breads: Artisan and homemade, hot dog and hamburger buns.  This weekend we are making Italian bread.
Focaccia breads:  Olive and Rosemary, Tomato and Basil, and Sweet Pepper
Bagels: various kinds
Fruit pies our signature "take and bake" fruit pies are a must have; find them in the freezer section
Our famous blueberry/zucchini bread is back
Below our just baked, homemade cinnamon rolls are ready to be iced!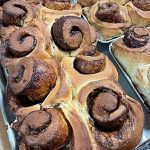 Strombolis:  Take and bake from our freezer
Pizzamoli – pizza sauce, mozzarella cheese
Sausage Pizzamoli – pizza sauce, mozzarella cheese, and sausage
Pepperoni Pizzamoli – pizza sauce, mozzarella cheese, and pepperoni
Moe's Specialty – garlic Italian sausage, mozzarella cheese, hint of oregano
Breakfastmoli – eggs, cheddar cheese
Sausage Breakfastmoli – eggs, cheddar cheese, sausage
Ham Breakfastmoli – eggs, cheddar cheese, shaved ham
Yoder's Fry Pies in assorted flavors
Keep in mind that you can call ahead to order any of your favorites and we will have them ready for you to pick up.
Our bakery crew will be making donuts on Saturdays and Sundays.  We are currently in our summer flavors of Buttermilk, Blueberry and Cherry, either plain or sugared!
Enjoy our Seating Areas
You are most welcome to sit and relax in our rural setting or buy goodies from the market to sit and enjoy.  We have several seating areas by the market – our "Onion Barn", the market breezeway, and the yard.
Our spaces are also available for rent, just leave us a message via the website and someone will promptly contact you.  We can provide wine, hard cider, baked goods, and other seasonal items for your event also
Happenings on the Farm    
August is a month of heavy harvesting, which translates into heavy lifting also.
Onions.  We started to pull our onion crop from the field and tie them into bunches.  These bunches are hung around the market and our outlying areas to "cure" for about 6 to 8 weeks.  Once they are cured, they can be stored for the winter.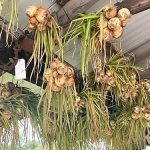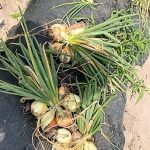 Sweet Corn.  We also pick our sweet corn so it is fresh.  This is our first job of the day, donning rainsuits and boots to make our way through heavy dew-covered stalks and of late, lots of mud.  This wakes one up much faster than a cup of coffee!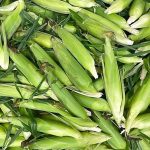 Below is a throwback picture of our father, Dayton, picking sweet corn along with his 7-year-old granddaughter.  The corn is still picked in a similar style today, but without grandchildren!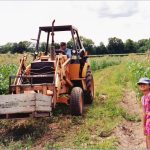 Green Beans are picked by hand so it is a tedious process, but so worth it for the enjoyment of fresh green beans.  Here's a load coming in just picked.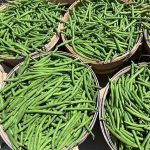 Thank you for your continued support and for buying local.  Everyone at Corey Lake Orchards appreciates you!