National Farmers Market Week, celebrated from August 7 to 13 this year, acknowledges local farmers who market the goods they grow.  Stopping by a farm market, like ours, gives you an easy way to shop for fresh, healthy, safe, locally sourced food.  Not only do we have fruits and vegetables, but we carry many grocery items made by local producers, freshly made sweet and savory treats from our bakery, and gifts from local artisans.
For over 60 years we have had the pleasure of not only feeding you, but also having you enjoy the farm experience: enjoying the scenes from the farm, learning about how we grow food, and taking it all in.  Behind the scenes we have a dedicated team of field and market staff as well as family owners that work to make our market thrive.  It would not be possible without their many talents, loyalty, and dedication to our business.  Last weekend, many of you saw the farm staff working through the very oppressive heat.  We really appreciate how many customers stop and tell our staff how much they appreciate them.  Hearing good things from our customers always lifts our spirits!
We also work to provide a sense of community to bring our diverse group of customers together and to support the broader community for their needs. We believe strongly that food should not be wasted, especially if there are community needs.  We supply several food banks with excess produce or baked goods weekly, supporting over 200 families.
Thank you for your business and supporting our family farm!
Reminder, our hours this year are 9 am to 6 pm daily, including holidays, closed on Tuesdays and Wednesdays.  You can reach us at (269) 244-5690.'
Join Us for Yoga Class this Saturday!
Take a break to do something relaxing, meet new people, and improve your health.  There are only three more sessions left!  The class is from 9 to 10 am and the cost is $10.  All ages and yoga abilities are welcome.  Yoga instruction is by Cynthia Hoss.  See website for more details.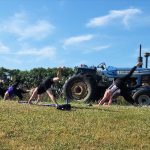 What about Grapes?  
The grape crop seems to be a question on many of your minds lately judging by the number of calls we are getting.  We will have a good crop of Niagara and Concord grapes this year, which are both juice grapes.  They received minor damage from the hailstorm in June.  As you can see from the picture below, they are growing nicely!
Typically, the grapes are not ready until mid to late September and the harvest season lasts 3 to 4 weeks, depending on the weather.  We will be offering them for U-pick.  Keep checking our weekly newsletter for updates or check back with us by mid-September for an update.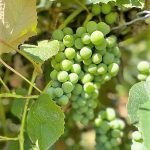 Peaches 
We no longer grow peaches but have obtained some from a local farm in Coloma.  We have Red Havens available in sizes from a quart to a half bushel.  These peaches are freestone (come off the pit) and incredibly sweet.  They are picked "firm" so they won't be damaged when handled.  Just lay them out on your kitchen counter in a single layer and they will soften and be ripe in a few days.  Red Havens will be ending soon and will be followed by Flamin' Fury, which is one of our favorite peaches.
Peaches smell great and taste great, but did you know that they are good for you also?  They're chock-full of vitamins, minerals and antioxidants.  Peaches boast lots of potential health benefits, including improved digestion, a healthy heart, a strong immune system, and improved allergy symptoms.
See this article from the Cleveland Clinic on health and nutrition benefits, how to cut a peach, and how to store peaches.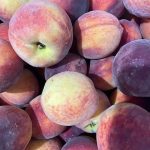 Tomatoes
We have very few tomatoes coming in from the greenhouse right now and the replanted field tomatoes are not ripening as fast as we hoped.  We will continue to supplement our supply with tomatoes from Indiana as we have been doing for the last several weeks.  No worries, we have taste tested the tomatoes and they have met our quality and taste standards!
Blueberries  
Already Picked.  We have already picked blueberries available on the market in small containers as well as 5- and 10-pound boxes from Brookside Farms, a family farm in Paw Paw.  We will try to have them through August but no guarantees as it depends on the weather.
Make sure you get your blueberries to freeze before they are gone for the season.  It is so easy – you can actually freeze them unwashed, right in the box they come in!  In the winter, simply get out a handful out of the box, rinse them off, and use for your yogurt or cereal, or to make blueberry muffins!
U-Pick Blueberries. Sorry, they are gone for the year!
What is Available on the Market this Week    
Fresh Produce
From our fields
Broccoli
Cabbage
Cucumbers
Cauliflower
Eggplant
Green beans
Kale
Kohlrabi
Melons
Peppers
Sweet corn
Summer squash
Zucchini
Laura Kurella shared two recipes – summer squash and zucchini nut bread – in an article this week in the Sturgis Journal.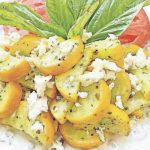 Our melons are finally ready!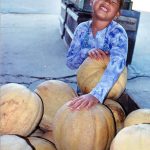 Yellow peppers, yellow and green tomatoes on the market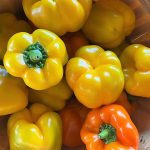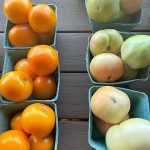 From our greenhouse
Peppers
Tomatoes, regular and mini
From Bankson Lake Farms
Arugula
Bok choy
Carrots
Garlic
Kale
Lettuce blends
Mushrooms
Spinach
Swiss Chard
Bulk Quantities for Freezing and Canning
If you are interested in large quantities of vegetables for canning or freezing, contact the market and get on our sign-up sheet.  We will contact you when they are available.  The growing conditions and production yields are outside our control, but we will try our best to fulfill your order.  Please realize that since we had to replant almost everything due to the hailstorm, things will be later than normal.
Green beans – we are harvesting our last planting and will try our best to fill the remaining orders but are no longer taking any more orders.
Sweet corn (bushel minimum, 5 doz.), available now.  We have tried to call everyone on the list who ordered.  If you did not get a call from us, please call to let us know when you would like to pick it up.
First quality tomatoes (half bushel minimum), starting probably late August or early September (for all tomatoes)
Second quality tomatoes (half bushel minimum)
Roma tomatoes (peck minimum)
Bartlett Pears (half bushel minimum), starting probably late August
Fresh Cut Flowers and Herbs
Floral Bouquets.  On weekends we have floral bouquets made by Faye, from Faith in Flora.  She grows her own flowers and makes gorgeous ready to go bouquets.
U-Pick Flowers.  Make your own bouquet using flowers from our terrace garden by the parking lot.  Keep in mind that it is best to pick flowers when it is cool, like early in the morning if it is a hot day.  Please see clerk for scissors and cutting instructions.
U-Pick Herbs
All the herbs in our herb garden are ready to pick!  Price is $1.50 for a snack size bag.  Scissors and bags are on the market, see clerk for assistance.
We have several types of mints – peppermint, mojito, chocolate – and encourage you to pick off a leaf and enjoy the smell.  It's part of the farm experience.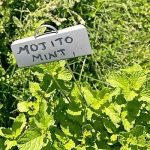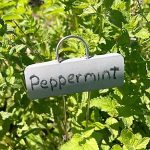 While in the herb garden, pick a mini tomato for a tasty, fresh bite!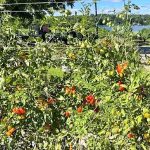 Local Grocery Items
Fresh products from our local suppliers – honey, maple syrup products, jams and jellies, salsa, eggs, and Jake's meats.
Alcohol Products
We have a nice selection of hard ciders, wine, and fruit brandy perfect for summer relaxing.
8 total wines from red, white, dry to sweet
8 total hard ciders from dry to sweet, made onsite
Various fruit brandies made onsite from various fruits
Stop by the market this Saturday and sample some of our great alcohol products!  During this prime vacation time of year, enjoy one of our wines.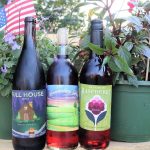 From the Bakery
Baked Goods Available
Our beloved, homemade cinnamon rolls and cinnamon bread
Yeast rolls: donut rings, Long Johns, Raspberry Bismarks, apple fritters, yeast twists
Muffins: many varieties to choose from
Cookies: our famous homemade Lemon cookies, along with Monster, and other varieties
Breads: Artisan and homemade, hot dog and hamburger buns.  This weekend we are making Italian bread.
Focaccia breads: Olive and Rosemary, Tomato and Basil, and Sweet Pepper
Bagels: various kinds
Fruit pies: our signature "take and bake" fruit pies are a must have; find them in the freezer section
Our famous Blueberry-Zucchini bread
Quiches – several types made with our vegetables
Strombolis:  Take and bake from our freezer
Pizzamoli – pizza sauce, mozzarella cheese
Sausage Pizzamoli – pizza sauce, mozzarella cheese, and sausage
Pepperoni Pizzamoli – pizza sauce, mozzarella cheese, and pepperoni
Moe's Specialty – garlic Italian sausage, mozzarella cheese, hint of oregano
Breakfastmoli – eggs, cheddar cheese
Sausage Breakfastmoli – eggs, cheddar cheese, sausage
Ham Breakfastmoli – eggs, cheddar cheese, shaved ham
Keep in mind that you can call ahead to order any of your favorites and we will have them ready for you to pick up.
Our bakery crew will be making donuts on Saturdays and Sundays.  We are currently in our summer flavors of Buttermilk, Blueberry and Cherry, either plain or sugared!
Happenings on the Farm    
In the News.  Damage our farm received from the June storm was mentioned in an article this week written by Laura Kurella.  See link to the Sturgis Journal.
Sweet Corn.  We pick our corn at daybreak to make sure it's fresh for you!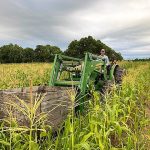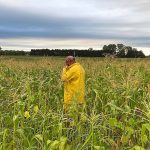 Onions.  We are continuing to harvest our onion crop.  Due to a recent storm with winds that knocked them over, we are harvesting them earlier than normal, so they are smaller than in past years.  However, they will taste just as good.
We pull and tie them in bunches while in the field.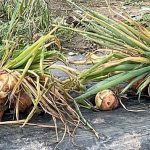 These bunches are hung around the market and in our famous "onion barn", which is the open air pavilion behind the play area.  We will allow these to "cure" for about 6 to 8 weeks.  Once they are cured, they can be stored for the winter.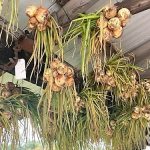 Thank you for your continued support and for buying local.  Everyone at Corey Lake Orchards appreciates you!