We are still in the "good ole Summertime", and some days we strive to stay cool though we are now starting to get some cooler nights.  Continue to enjoy Summer's bounty.  It is the peak time of year for summer fruits and vegetables, as well as a taste of fall fruits.
We are picking Bartlett pears and several late summer apple varieties – see below.  Also continue reading for information on our apple and grape crops this year.
All good things must come to an end.  While it may seem like just yesterday when we finally picked fresh green beans and that wonderful sweet corn for the year, they will both be ending this weekend.  Both were succession planted with the goal of having them available through Labor Day weekend.  But, with the extreme heat we had recently, that didn't work.  So, get your last taste of these from our farm this weekend.  You know sweet corn is finishing up and the seasons are changing when your crew puts orange pumpkins on top of what they brought in from the field!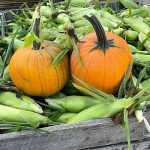 We have several fun activities this Saturday morning – Yoga at 9 am and a special flower picking experience from 9 to 10:30 am.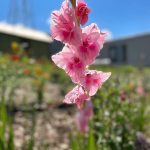 Below, a lovely sunrise over the market this morning.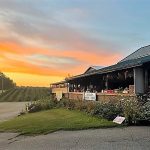 Reminder, our hours this year are 9 am to 6 pm daily, including holidays, closed on Tuesdays and Wednesdays.  You can reach us at (269) 244-5690.
Join Us for Yoga Class this Saturday!
Before summer slips away, take a yoga break.  There are only two more sessions left!  The class is from 9 to 10 am and the cost is $10.  All ages and yoga abilities are welcome.  Yoga instruction is by Cynthia Hoss.  See website for more details.
Join Us for a special U-Pick Flower Experience this Saturday!
Our terrace garden's flowers are at their peak right now with so many different kinds, from perennials to annuals.  Come join Sue at the Terrace Garden this Saturday anytime between 9 to 10:30 am to pick a bouquet of flowers.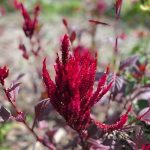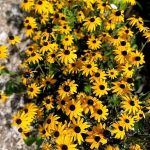 She will show you the proper way to pick a flower, how to care for them, provide suggestions on what to put in your bouquet that you may never have considered, and give you ideas on what you may want to plant yourself next year.  This is a great way to learn from our own flower enthusiast.  You are welcome to come explore and ask questions even if you don't want to pick.  There is no charge except for the flowers, which are 50 cents a stem.
Please bring a vase and scissors if you can.
Sue manages all our spring plant ordering, creates the flower arrangements planted in pots and antiques around the market areas, and is a member of the Three Rivers Garden Club.
What about Grapes?  
The grape crop seems to be a question on many of your minds lately judging by the number of calls we are getting.  We will have a good crop of Niagara and Concord grapes this year, which are both juice grapes.  They did receive some minor damage from the hailstorm in June.
Typically, the grapes are not ready until mid to late September and the harvest season lasts 3 to 4 weeks, depending on the weather.  Usually the Niagara (white) grapes will ripen a week ahead of the Concord (blue) grapes.  We will be offering them for U-pick.  Keep checking our weekly newsletter or check back with us after Labor Day for an update.
We will have a u-pick grape reservation system again this year and will have a u-pick minimum.  The online system will be open for booking as soon as we know when the grapes will be ready.  Prices are TBD.
Peaches 
We no longer grow peaches but have obtained some from a local farm in Coloma.  Currently we have Flamin' Fury, a freestone peach (comes off the pit).  They are one of our favorites and many of you may remember them from our own peach orchard.  They are available in sizes from quarts up to a half bushel.  The peaches were picked "firm" so they won't be damaged when handled.  Just lay them out on your kitchen counter in a single layer and they will soften and be ripe in a few days.
Tomatoes
We have a limited supply coming in from our greenhouse and are still waiting on the field tomatoes to ripen.  We will continue to supplement our supply with tomatoes from Indiana as we have been doing for the last several weeks.  Hopefully, our field tomatoes will be plentiful when they get ready.
By mid-August you are used to coming to our market and being surrounded by lots of tomatoes and getting your canning tomatoes from us.  Things are different this year.  For those of you who are waiting for us to call you back on your canning tomato orders, patience please!  Due to having to replant our tomato field which we lost in the June wind and hailstorm, they will be late.  We are anticipating late August to early September.  We understand if you don't want to wait that long.  If you find them somewhere else, please just drop us an email or call us so we can take your name off the pre-order list.
Blueberries  
Already Picked.  We have already picked blueberries available on the market in small containers as well as 5- and 10-pound boxes from Brookside Farms, a family farm in Paw Paw.  They are almost done for the season.
Freezing Blueberries.  It is so easy to freeze them!  Just put the entire cardboard box into your freezer, as is, no washing.  The blueberries freeze solid into "little marbles".  During the off season, just take out a handful and rinse them off before using.  Hint – when I'm down to about a third of a box, I transfer my "little marbles" into quart size freezer bags and remove the box from the freezer, freeing up some freezer space.  Just take handfuls from the quart bags.
Below, Kate is showing her heavy lifting abilities with a delivery of fresh blueberries!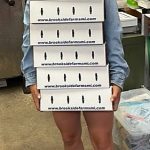 What is Available on the Market this Week    
Fresh Produce
From our fields
Broccoli
Cabbage
Cucumbers
Cauliflower
Green beans – hopefully through the weekend then done for the year
Kale
Kohlrabi
Melons
Peppers
Sweet corn – hopefully through the weekend then done for the year, no bushels
Spaghetti squash
Summer squash
Watermelon
Zucchini
Our watermelons are finally ready!  We have two varieties as shown below, both are seeded.  We have found that the flavor of the seeded is much better than the seedless.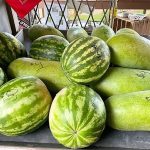 Below is the typical daily picking from our fields this time of year.  Many colors, much variety, and all good for you!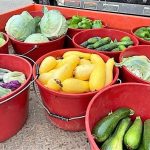 From our greenhouse
Peppers
Tomatoes, regular and mini
From our orchards
A variety of late summer apples
Bartlett Pears, a good pear for fresh eating or canning.  See below on how to ripen and use them
From Bankson Lake Farms
Arugula
Bok Choy
Carrots
Garlic
Kale
Lettuce blends
Mushrooms
Spinach
Swiss Chard
Bulk Quantities for Freezing and Canning
If you are interested in large quantities of vegetables for canning or freezing, contact the market and get on our sign-up sheet.  We will contact you when they are available.  The growing conditions and production yields are outside our control, but we will try our best to fulfill your order.  Please realize that since we had to replant almost everything due to the hailstorm, things will be later than normal.
Green beans – almost gone for the year, no longer taking any orders.
Sweet corn (bushel minimum, 5 doz.)  We have tried to call everyone on the list who ordered.  If you did not get a call from us, please call us quickly regarding pickup as sweet corn is almost done for the year.
Roma tomatoes (peck minimum)
Canning tomatoes (half bushel minimum), starting late August or early September
Bartlett Pears (half bushel minimum), now available
What to Do with Bartlett Pears
We are nearly finished picking our Bartlett Pear crop for the year.  There are only several orchards in Michigan than grow pears, ours is one of them.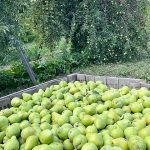 Like with our other crops, the June hailstorm and summer drought took its toll on this year's pear crop.  The pears are running smaller in size than last year and many of them have hail damage.  They will still taste fantastic but will have "eat around" or "cut around" spots this year that can't be helped.  Because of the damage, we have lowered our pear prices this year for half peck and larger quantities.
How to Ripen.  Pears are picked green and ripen from the inside out in about 7 to 10 days.  Just lay them out in a single layer preferably in a cool, dark place (at least get them out of direct sunshine).  They will turn from green to yellow and get juicier as they get riper.
Ways to Use Pears.  There are many, many ways to use pears and probably none or few suggest you use pears perfect in appearance!  Many pears are just eaten fresh for snacks, lunches, smoothies, and more.  Another common way to use pears is to can them and enjoy a great taste during the off-season.  If you can other produce but haven't tried pears, this might be a good year to try it.  If you like pears, you won't regret it!
There are many ways to use fresh pears such as cut up and added to a fresh salad, Fresh Pear Crisp, Pear Pie, Pear Butter, or dehydrate some pears if you have an air fryer or dehydrator.  We have compiled some pear recipes for you on our website.
Cut Flowers and Herbs
Floral Bouquets.  On weekends we have floral bouquets made by Faye, from Faith in Flora.  She grows her own flowers and makes gorgeous ready to go bouquets.
U-Pick Flowers.  Make your own bouquet using flowers from our terrace garden by the parking lot.  Keep in mind that it is best to pick flowers when it is cool, like early in the morning if it is a hot day.  Please see clerk for scissors and cutting instructions.
U-Pick Herbs
All the herbs in our herb garden are ready to pick!  Price is $1.50 for a snack size bag.  Scissors and bags are on the market, see clerk for assistance.
Local Grocery Items
Fresh products from our local suppliers – honey, maple syrup products, jams and jellies, salsa, eggs, and Jake's meats.
Alcohol Products 
We have a nice selection of hard ciders, wine, and fruit brandy perfect for summer relaxing.
8 total wines from red, white, dry to sweet
8 total hard ciders from dry to sweet, made onsite
Various fruit brandies made onsite from various fruits
Stop by the market this Saturday and sample some of our great alcohol products!  Below are five of our hard ciders!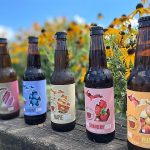 Sampling hours this Saturday are 9 am to 2 pm.
From the Bakery
Baked Goods Available
Yeast rolls: donut rings
Muffins, Bagels, and Cookies: many varieties to choose from
Breads: Italian, Cinnamon, hot dog and hamburger buns.
Focaccia breads: Olive and Rosemary, Tomato and Basil, and Summer Delight
Fruit pies: our signature "take and bake" fruit pies are a must have; find them in the freezer section
Below are several of our Focaccia breads which have become works of art!.  They look and taste good, even the pickiest eaters in your household will get excited about eating them.  They are fully baked, just pull them apart, share with others, and enjoy with a good beverage (may we suggest one of our hard ciders or wine?)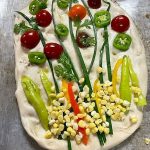 Strombolis:  Take and bake from our freezer
Pizzamoli – pizza sauce, mozzarella cheese
Sausage Pizzamoli – pizza sauce, mozzarella cheese, and sausage
Pepperoni Pizzamoli – pizza sauce, mozzarella cheese, and pepperoni
Moe's Specialty – garlic Italian sausage, mozzarella cheese, hint of oregano
Breakfastmoli – eggs, cheddar cheese
Sausage Breakfastmoli – eggs, cheddar cheese, sausage
Ham Breakfastmoli – eggs, cheddar cheese, shaved ham
Keep in mind that you can call ahead to order any of your favorites and we will have them ready for you to pick up.
Happenings on the Farm    
We finally got a few minutes to do one more pruning and training of the mini tomatoes that we grow in our hoop house.  As you may know from an earlier report, the roof blew off in the June storm, so we've been moving on without it.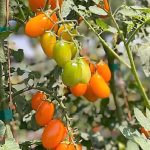 Without the roof, they are growing quite tall, at least 12 feet now.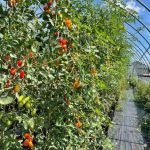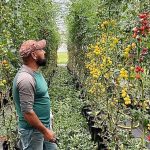 These tomatoes are at their peak now so make sure to grab some.  There are also several recipes for mini tomatoes on our website worth checking out for that last taste of summer – Pasta with Fresh Tomatoes and Goat Cheese and Chopped Cucumber and Tomato Salad.
Thank you for your continued support and for buying local.  Everyone at Corey Lake Orchards appreciates you!