Labor Day is the time to honor and recognize the American labor movement and the work and contributions of the American worker.  On the farm, we see (and feel!) the "fruits of our labor" daily.  We are also extremely grateful for our staff who work in the fields, vineyards, and orchards, and in our bakery, alcohol facility, and market.  None of what we do for you would be possible without them!
Though Labor Day is called the "unofficial end of summer" we still have plenty of summer fruits and vegetables for you to enjoy.  We know that for many of you, this is your last return for the long weekend, as school, sports and life in general has changed your daily schedule.  We hope that you will take a little piece of us home and stock up on your favorites: a pie for the freezer, a hard cider to enjoy later this year, shallots and onions that keep well, or your favorite jam.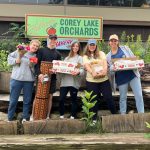 We will be open on Labor Day!
Reminder, our hours this year are 9 am to 6 pm daily, including holidays, closed on Tuesdays and Wednesdays.  You can reach us at (269) 244-5690.
Transitioning to Fall 
For 62 years, fall has always been about apples at our farm.  Our roots began as an apple orchard and new orchards followed.  We must be honest; this is a very difficult year for us with the significant amount of hail damage to all our apples, something we have never experienced before.  As we begin our fall harvest, we are continuing to assess the damage and determine the best way to bring apples to you this season.
One thing we do know, there is more than one way to enjoy and appreciate apples.  So we have put together several apple-themed experiences this weekend including:
Apple cider donuts have returned for the season (Saturdays and Sundays)
An apple cider slushie—our pure apple cider frozen in a delightful way
Two kinds of apple brandy
Eight flavors of hard apple cider
Two apple pies – double crust and Dutch topping
Apple fry pies
Family photos with the antique fire truck decorated with apple décor
Educational displays of vintage apple items from our family's extensive collection ranging from apple harvesting to processing to growing to 'just for kids' items.  Seems like just yesterday we were using some of those items on the farm!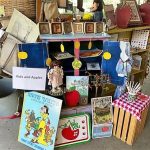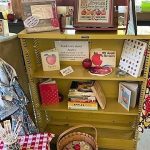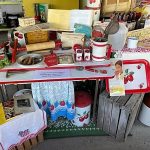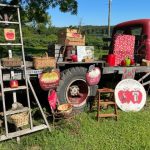 Join Us for a special U-Pick Flower Experience this Saturday!
When:  Saturday, Sept. 3
Time:  Anytime between 9 and 10 am (walk in)
Cost:  No admission – cut flowers are 50 cents a stem
Our terrace garden's flowers are at their peak right now with so many different kinds, from perennials to annuals.  Join Sue at the Terrace Garden to learn:
The proper way to pick a flower
How to care for fresh cut flowers
Ideas for choosing flowers for a bouquet
Ideas for types of flowers to plant in your own garden
Answers to your flower gardening questions
Please bring a vase and scissors if you can.
Sue is a flower enthusiast, manages all our spring plant ordering, creates the flower arrangements planted in pots and antiques around the market areas, and is a member of the Three Rivers Garden Club.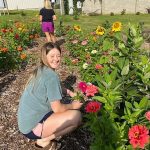 What about Grapes?  
We anticipate having a good crop of Niagara and Concord grapes this year, which are both juice grapes.  They did receive some minor damage from the hailstorm in June.
Typically, the grapes are not ready until mid to late September and the harvest season lasts 3 to 4 weeks, depending on the weather.  Usually the Niagara (white) grapes will ripen a week ahead of the Concord (blue) grapes.
We will be offering them for U-pick.  Keep checking our weekly newsletter or check back with us mid-September for an update.
We will have a u-pick grape reservation system again this year and will open it for booking as soon as we know when the grapes will be ready.  Prices are TBD.
The cooler nights are giving them color.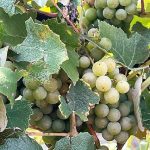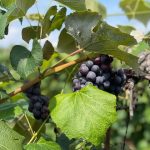 Fall Apples 2022
On the market now:
EarliBlaze: A small to medium apple, tolerably crisp and juicy, slightly tart.  Great for eating, apple sauce or especially apple pie.
Gala: A great eating and cooking apple.  It has a crisp snappy bite over a mellow sweetness.  Very versatile, great for eating or cooking.
Molly's Delicious: A crisp, sweet, and juicy apple with white flesh, originated from Golden Delicious.  Great for fresh eating and cooking
These will be available in quarter pecks and half pecks only, due to how few there are that are not damaged.
If you are interested in processing apples into apple sauce, pie filling or the like, please ask us about our processing/apple seconds that we have at reduced prices.
Animal Apples.  We will have lesser quality apples for sale as animal feed and will have them throughout the apple season.
U-Pick Apples.  Normally we open our orchard for u-pick apples starting Labor Day weekend.  We are sorry but there will be no u-pick apples this year.
As many of you know, our farm experienced a severe hailstorm in June which damaged all our crops.  Because of that, there are very few first quality apples on our trees, most of the apples have hail marks.  Due to the extent of the damage, we feel we cannot provide the quality apple picking experience that you want and expect.  Despite not having U-Pick apples, we still welcome you to the farm this fall for many other great farm experiences.
Peaches 
We no longer grow peaches but are getting them from local farms.  Currently we have several varieties of sweet, freestone peaches (comes off the pit).  They are available in sizes from quarts up to a half bushel.  The peaches were picked "firm" so they won't be damaged when handled.  Just lay them out on your kitchen counter in a single layer and they will soften and be ripe in a few days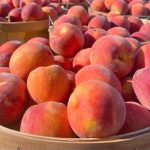 Tomatoes
Our field tomatoes are just beginning and are for sale by the quart only at this time.
We are just starting to pick canning tomatoes.  They are a month behind due to having to replant our tomato field after storm damage.  We attempted to contact everyone who signed up earlier on our tomato list to update you on the situation.  We understand if you don't want to wait that long.  If you find them somewhere else, please just drop us an email or call us so we can take your name off the pre-order list.
What is Available on the Market this Week    
Fresh Produce
From our fields
Cabbage
Cucumbers
Cauliflower
Kohlrabi
Melons
Onions
Peppers
Shallots
Spaghetti squash
Summer squash
Butternut squash
Tomatoes
Watermelon
Zucchini
From our orchards
Several late summer and early fall apples
Bartlett Pears
From Bankson Lake Farms
Arugula
Beets
Garlic
Kale
Lettuce blends
Mushrooms
Spinach
Swiss Chard
The Fall ornamentals are staring to arrive!  Get a head start on your fall decorating with mums, small pumpkin gourds, pie pumpkins, and specialty pumpkins.
Bartlett Pears 
Pears on the Market.  We have pears for sale in various sizes from quart boxes to bushels.  We also have samples if you would like to try one.  They are very sweet once ripe.
How to Ripen.  Pears are picked green and ripen from the inside out in about 7 to 10 days.  Just lay them out in a single layer preferably in a cool, dark place (at least get them out of direct sunshine).  They will turn from green to yellow and get juicier as they get riper.
Ways to Use Pears.  There are many ways to use pears.  Many pears are just eaten fresh for snacks, lunches, smoothies, and more.  Try using fresh pears for other ways such as cutting up and adding to a fresh salad, Fresh Pear Crisp, Pear Pie, or Pear Butter.  We have compiled some pear recipes for you on our website.
Also think about preserving pears to enjoy during the off-season.  You can dehydrate pears using an air fryer, food dehydrator, or your oven on a low temp.  Another common way to preserve pears is to can them.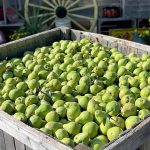 Cut Flowers and Herbs
Floral Bouquets.  On weekends we have floral bouquets made by Faye, from Faith in Flora.  She grows her own flowers and makes gorgeous ready to go bouquets.
U-Pick Flowers.  Make your own bouquet using flowers from our terrace garden by the parking lot.  Keep in mind that it is best to pick flowers when it is cool, like early in the morning if it is a hot day.  Please see clerk for scissors and cutting instructions.
U-Pick Herbs
All the herbs in our herb garden are ready to pick!  Price is $1.50 for a snack size bag.  Scissors and bags are on the market, see clerk for assistance.
Local Grocery Items
Fresh products from our local suppliers – honey, maple syrup products, jams and jellies, salsa, eggs, and Jake's meats.
Alcohol Products 
We have a nice selection of hard ciders, wine, and fruit brandy perfect for summer relaxing.
8 total wines from red, white, dry to sweet
8 total hard ciders from dry to sweet, made onsite
Various fruit brandies made onsite from various fruits
Stop by the market this Saturday and sample some of our great alcohol products!
Sampling hours this Saturday are 9 am to 2 pm.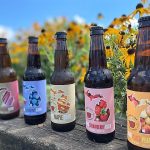 From the Bakery
Baked Goods 
Yeast donut rings
Muffins: many varieties to choose from
Cookies: Monster and other varieties
Homemade Cinnamon bread
Breads: Italian, hot dog and hamburger buns
Focaccia breads: Olive and Rosemary and Tomato and Basil
Bagels: various kinds
Fruit pies: our signature "take and bake" fruit pies are a must have; find them in the freezer section
Below we are making more peach pies. Get one for the weekend!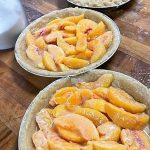 Our wonderful hot donuts are available on Saturdays and Sundays. We are transitioning to Fall flavors and will roll out our Apple Cider donuts this weekend!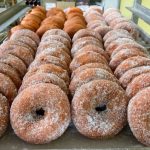 Strombolis:  Take and bake from our freezer, plus find Marinara sauce in the grocery section.  We have the pizza type and a quiche type for breakfast eating.
Pizzamoli – pizza sauce, mozzarella cheese
Sausage Pizzamoli – pizza sauce, mozzarella cheese, and sausage
Pepperoni Pizzamoli – pizza sauce, mozzarella cheese, and pepperoni
Moe's Specialty – garlic Italian sausage, mozzarella cheese, hint of oregano
Breakfastmoli – eggs, cheddar cheese
Sausage Breakfastmoli – eggs, cheddar cheese, sausage
Ham Breakfastmoli – eggs, cheddar cheese, shaved ham
Veggie Breakfastmoli – eggs, cheddar cheese, and either kale or spinach added
Keep in mind that you can call ahead to order any of your favorites and we will have them ready for you to pick up.
We look forward to seeing you at the farm this weekend!
Thank you for your continued support and for buying local.  Everyone at Corey Lake Orchards appreciates you!