We can see, hear and smell Fall knocking at the door as we enjoy our last slice of summer.  We are transitioning into Fall produce – fall apple varieties, fall squash, and pears along with other seasonal produce.  Our field tomatoes are starting to ripen at last!  When you drive by the vineyards, open the window and smell the sweet aroma of the white grapes.  They will be ripe enough to pick soon.  Gone are cucumbers, yellow squash, zucchini, greenhouse tomatoes, mini-tomatoes, peaches, corn, melons, and more.
Thanks to many of you who came out over Labor Day weekend for produce, pies, donuts, hard ciders, and other products.  We appreciated your business and loved having you here.
Reminder, our hours this year are 9 am to 6 pm daily, including holidays, closed on Tuesdays and Wednesdays.  You can reach us at (269) 244-5690.
Apple Store and Educational Display   
The next time you visit, check out our educational displays of vintage apple items from our family's extensive collection ranging from apple harvesting to processing to growing to 'just for kids' items.  Seems like just yesterday we were using some of those items on the farm!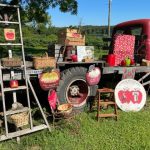 We also have a nice selection of apple themed artwork from our local artists decorating the market.  And new this year, an apple store filled with apple themed items from toys, books and such.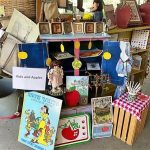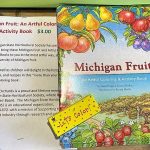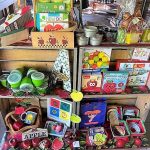 Grape Update  
We anticipate having a good crop of our juice grapes, Niagara (white) and Concord (blue) this year.  They did receive some minor damage from the hailstorm in June.
We anticipate that they Niagara may be ready the third week of September and the Concords the last week of September.  Please realize a start date for opening the vineyards for u-pick has not been set yet. 
Keep checking our weekly newsletter or check back with us mid-September for an update.  Once we have a start date, we will open the u-pick grape reservation system for booking.  Grape season typically lasts three weeks.  Prices are TBD.
Fall Apple Update
As we mentioned in our newsletter last week, we received a significant amount of hail damage to all our apples, something we never experienced before.  This is causing a very difficult year for an apple farm like ours.  We are continuing to assess the damage and working to find the best way to bring apples to you this season.
U-Pick Apples.  We are sorry but there will be no u-pick apples this year.
Due to the extent of hail damage, we feel we cannot provide the quality apple picking experience that you want and expect.  Despite not having u-pick apples, we still welcome you to the farm this fall for many other great farm experiences.  If you want to pick apples, there are many other orchards in Michigan that offer u-pick.  Check Michigan Farm Fun, an online directory of Michigan farm markets to find an orchard near you. This is going to be a great year for Michigan apples, there will be so many!!
Already Picked Apples.  Because we have so few first quality apples this year, please note the changes to the way we are selling them.  Keep in mind that future changes may occur based on yields of specific varieties.
First quality — quarter peck and half peck size bags only
Second quality or Processing apples — pecks and half bushel bags only, sold at reduced prices
We will not be taking any advance apple orders.  If we have what you want on hand, we will hold them for you upon request.
It is taking us much longer to sort and bag the apples this year, so if you are driving from a distance, feel free to call ahead to make sure we have what you would like or can get it ready before you come.
Animal Apples — We will have a bin of animal apples in our breezeway next to the market that will be available all season long.   You may bag your own 1/2 bushel for $4.50, or if you bring your own 1/2 bushel basket or 5 gallon pail to put them into, the price is $4.00.
Below, an adorable little shopper has her bag of apples!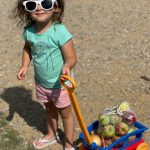 On the market now:
EarliBlaze: A small to medium apple, tolerably crisp and juicy, slightly tart.  Great for eating, apple sauce or especially apple pie.
Gala: A great eating and cooking apple.  It has a crisp snappy bite over a mellow sweetness.  Very versatile, great for eating or cooking.
Honeycrisp: This seems to be many people's favorite.  It is crisp with an excellent sweet flavor and a "bite" to it.  Great for eating fresh or using in salads.
Molly's Delicious: A crisp, sweet, and juicy apple with white flesh, originated from Golden Delicious.  Great for fresh eating.
Jonamac:  Medium to large fruit with 90% red color over a greenish background. Firm, crisp flesh with flavor similar to a Macintosh.  Superior eating quality, also can be used for baking.
When will Certain Apple Varieties be Ready?  
This apple chart estimates the approximate week we believe our various apple varieties will ripen.  It is only our best guess – the weather can ripen them earlier of cause delays.  We will update this chart throughout the season so keep checking the link or visit our website.
Below are just picked Gala apples.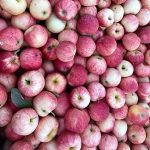 What is the Difference between First and Second Quality Apples?
First quality apple bags will contain apples that are medium to large size, have few (1-2 minor hail marks or indentations) or no blemishes, and may have full or partial color.  More apples than normal will lack full color this year because we picked them from the inside of the tree, where they were protected from the hail, but then were also shaded. Those lacking color will still taste the same, they just look different.
Second quality or Processing apples will be medium to large size and have multiple hail marks.  The marks will not be deep and can be easily cut out or eaten around.  If you are making applesauce or pies, cooking, freezing, canning, or baking these apples are perfect for your use.  They have the same flavor and are discounted – a much more economical way to get useable apples.  This is the first time we have sold processing apples as in the past we used all of them for our cider.
If you are new to processing apples (or any produce), you may want to check out the resources on our Food Preservation page on our website.
Tomatoes
We have started to pick our field tomatoes and have started calling people with pre-orders for canning tomatoes.  Once the orders are filled, we will sell any remaining tomatoes direct on the market.  We are no longer taking orders for canning tomatoes.  We still have tomatoes already picked for sale by the quart on the market for those wishing to have BLT sandwiches as long as possible.
Bartlett Pears 
Pears on the Market.  We have pears for sale in various sizes from quart boxes to bushels.  We also have samples if you would like to try one.  They are very sweet once ripe.
How to Ripen.  Pears are picked green and ripen from the inside out in about 7 to 10 days.  Just lay them out in a single layer preferably in a cool, dark place (at least get them out of direct sunshine).  They will turn from green to yellow and get juicier as they get riper.
Ways to Use Pears.  There are many ways to use pears.  Many pears are just eaten fresh for snacks, lunches, smoothies, and more.  Try using fresh pears for other ways such as cutting up and adding to a fresh salad, Fresh Pear Crisp, Pear Pie, or Pear Butter.  We have compiled some pear recipes for you on our website.
Also think about preserving pears to enjoy during the off-season.  Canned pears are quite tasty and popular, or you can dehydrate pears using an air fryer, food dehydrator, or your oven on a low temp.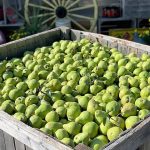 What is Available on the Market this Week    
Fresh Produce
From our fields
Brussel Sprouts
Cabbage
Eggplant
Onions
Peppers
Shallots
Squash – Butternut and fall varieties
Tomatoes
From our orchards
From Bankson Lake Farms
Arugula
Beets
Garlic
Kale
Lettuce blends
Mushrooms
Potatoes – mixed varieties
Spinach
Swiss Chard
Fall Ornamentals.  We have a variety of ornamental pumpkins, gourds and squash if you are ready to add Fall decor to your home.
In this throwback photo from 1980, founders Dayton and Allene Hubbard stand near their recently harvested fall squash.
Cut Flowers and Herbs
Floral Bouquets.  On weekends we have floral bouquets made by Faye, from Faith in Flora.  She grows her own flowers and makes gorgeous ready to go bouquets.
U-Pick Flowers.  Make your own bouquet using flowers from our terrace garden by the parking lot.  Keep in mind that it is best to pick flowers when it is cool, like early in the morning if it is a hot day.  Please see clerk for scissors and cutting instructions.
U-Pick Herbs
All the herbs in our herb garden are ready to pick!  Price is $1.50 for a snack size bag.  Scissors and bags are on the market, see clerk for assistance.
Local Grocery Items
Fresh products from our local suppliers – honey, maple syrup products, jams and jellies, salsa, eggs, and Jake's meats.
Alcohol Products 
We are proud to introduce our new whiskey – Rufus Rye.  It has been 2.5 years in the making but is ready to make its debut this weekend!
It is a small batch Michigan, straight rye whiskey.  It was distilled, aged in American oak barrels with a medium char, and bottled here on the farm.  The drink is smooth and easy.  Pick one up today for yourself and another for a gift!
We have a nice selection of hard ciders, wine, and fruit brandy perfect for relaxing.
8 total wines from red, white, dry to sweet
8 total hard ciders from dry to sweet, made onsite
Various fruit brandies made onsite from various fruits
We sell hard cider in singles, 4-packs, and 6-packs.  You may mix and match to make your very own "party pack".  We will not be having a tasting/sampling this weekend, but you are welcome to make up your own party pack and enjoy them in our onion barn.  Just be aware that we have freshly harvested red onions in there that will be joining you!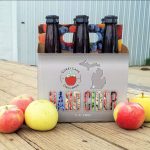 From the Bakery
Baked Goods.
Yeast donut rings
Muffins: many varieties to choose from
Cookies: Monster and other varieties
Homemade Cinnamon bread
Breads: Italian, hot dog and hamburger buns
Fruit pies: our signature "take and bake" fruit pies are a must have; find them in the freezer section
Homemade Apple Crisp
We are making homemade Apple Crisp from our apples.  They are baked, and ready to eat as is or warmed up.  They are even more delicious when topped with our Plainwell Vanilla ice cream!
Our wonderful hot donuts are available on Saturdays and Sundays.  We are into our Fall flavors of Apple Cider, Pumpkin, and Buttermilk donuts!
Strombolis:  Take and bake from our freezer, plus find Marinara sauce in the grocery section.  We have the pizza type and a quiche type for breakfast eating.
Pizzamoli – pizza sauce, mozzarella cheese
Sausage Pizzamoli – pizza sauce, mozzarella cheese, and sausage
Pepperoni Pizzamoli – pizza sauce, mozzarella cheese, and pepperoni
Moe's Specialty – garlic Italian sausage, mozzarella cheese, hint of oregano
Breakfastmoli – eggs, cheddar cheese
Sausage Breakfastmoli – eggs, cheddar cheese, sausage
Ham Breakfastmoli – eggs, cheddar cheese, shaved ham
Veggie Breakfastmoli – eggs, cheddar cheese, and either kale or spinach added
Keep in mind that you can call ahead to order any of your favorites and we will have them ready for you to pick up.
Part Time Seasonal Job Opening  
We are looking for seasonal, part-time help starting now through mid-October to help sort and bag apples.  If you are interested, please respond back by email to coreylakeorchards@gmail.com.  Tell us a little bit about yourself, any relevant experience, how many hours a day/week you would be willing to work, and provide us your contact information.
We need someone willing to work 4-6 hours per day, for 5 to 7 days per week.  Must be able to lift 25 pounds and stand for long periods of time.  You get to eat a lot of fresh produce and baked goods, and we are a fun place to work with an incredibly friendly and dedicated staff!  Perfect job for stay at home parents or retirees looking for a little extra cash.
Happenings on the Farm 
Everything we are doing right now revolves around apples – picking, sorting, bagging, moving, selling, stocking, restocking.…It's taken us a week of experimenting to find the best way to do accomplish these tasks with hail damaged apples, but we're finding our way through it.  We're determined to finish the harvest and get our customers some wonderful tasting apples that we are known for here at the orchard.
We appreciate everyone's support of our farm, especially during this difficult apple season.
Thank you for your continued support and for buying local.  Everyone at Corey Lake Orchards appreciates you!