Shop our "Hail of a Sale" on Apples!
Thanks to all of you who have been accepting of and buying our Processing apples!  Sadly, most of our apple crop was damaged and we appreciate you buying them and supporting our farm.  We are glad to offer our apples (except for Honeycrisp) to you at a discount. $19 Bushel; $11 half bushel; $7 peck.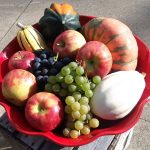 Reminder, our hours this year are 9 am to 6 pm daily, including holidays, closed on Tuesdays and Wednesdays.  You can reach us at (269) 244-5690
Grape Update  
We have a decent but not our best crop of Concord (blue) this year.  After picking Concords for several days with a number of customers in various vineyards, we have some observations to share with you.  This year's crop has smaller bunches, and the erratic weather has caused some bunches to not be as ripe as needed.  In addition, the off and on rains we have had for the past week are making the grapes split open, causing further damage to the bunches.  Therefore, it is taking longer to pick the grapes and customers are having to go further down the rows than in other years, to get the quantity they want.
We want each customer to realize what the Concord (blue) grape situation is this year and make their own choice about whether they want to make the drive here this year knowing this.  We are certainly disappointed that the weather has caused this.
The white Niagara grapes are still plentiful, we have lots of them, and they are easy to pick.
The season should last until early October, depending on the weather.
As always, we want our customers to have a good experience when they come here, which is why we wanted to share this with you.
Pricing for 2022 is:
$7 per 5-gallon bucket for 5 buckets or more (100 pounds, 35 cents per pound)
$14 per 5-gallon bucket for 2 to 4 buckets (70 cents per pound)
$18 per 5-gallon bucket for 1 bucket (90 cents per pound)
A 5-gallon bucket of grapes weighs approximately 20 pounds, and is also considered a half bushel
Reservations.  You will need to make a reservation to pick grapes.  Click here to make a reservation online and click here to get information on our grape u-pick before driving out.  Please call us if you need assistance with making a reservation.
If you are interested in already picked grapes, please call us at 269-244-5690 for pricing and information.  You will need to pre-order them.
We saw a beautiful rainbow over the grape vineyard!  We looked, but could not find the pot of gold, just lots of white grapes in the golden sunlight.
Fresh Cider
We now have freshly squeezed cider available in gallons, half gallons, and quarts!  Get some to heat up on Friday for National Hot Mulled Cider Day!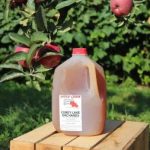 Onions
Our farm favorite sweet onions are cured and bagged in 3 pound bags.  They are ready for you to pick up to use now or store for the winter.  The onions are yellow and red.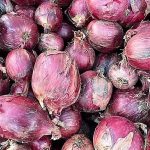 Shop our "Hail of a Sale" on Apples!   
Already Picked Apples
Due to the significant amount of hail damage to our apple crop this year we will have very few first quality apples.  Please note how we are selling them this year.  Keep in mind that future changes may occur based on yields of specific varieties.
First quality — quarter peck and half peck size bags only
Second quality or Processing apples — pecks and half bushel bags only, sold at reduced prices.
We will not be taking any orders for apples in advance.  If we have what you want on hand, we will hold them for you upon request.
It is taking us much longer to sort and bag the apples this year, so if you are driving from a distance, feel free to call ahead to make sure we have what you would like or can get it ready before you come.
Animal Apples — lesser quality apples available as animal feed, available at the market for $4.50 a half bu.  Bring your own 5-gallon bucket or half bushel basket to put them in and get them for $4.  These are bag your own.
Our Hail of a Sale
Thanks to all of you who have been accepting of and buying our Processing apples!  Sadly, most of our apple crop was damaged and we appreciate you buying them.  There are very few recipes that call for "perfect" apples.  We are glad to offer our apples (except for Honeycrisp) to you at a discount. $19 Bushel; $11 half bushel; $7 peck.
What is the Difference between First and Second Quality Apples? 
First quality apple bags will contain apples that are medium to large size, have few (1-2 minor hail marks or indents) or no blemishes, and may have full or partial color.  More apples than normal will lack full color this year because we picked them from the inside of the tree, where they were protected from the hail, but then were also shaded.  Those lacking color will still taste the same, they just look different.
Second quality or Processing apples will be medium to large size and have multiple hail marks.  The marks will not be deep and can be easily cut out or eaten around.  If you are making applesauce or pies, cooking, freezing, canning, or baking these apples are perfect for your use.  They have the same flavor and are discounted – a much more economical way to get useable apples.  This is the first time we have sold processing apples as in the past we used all of them for our cider.
If you are new to processing apples (or any produce), you may want to check out the resources on our Food Preservation page on our website.
We are also selling food mills on the market; everyone must have one of these!  They are best way to make applesauce ever, without peeling!   Here is a great article from the Sturgis Journal this week on making applesauce!  Kurella's Kitchen: September is perfect for applesauce. 
U-Pick Apples.  We are sorry but there will be no u-pick apples this year.
Due to the extent of hail damage, we feel we cannot provide the quality apple picking experience that you want and expect.  Despite not having u-pick apples, we still welcome you to the farm this fall for many other great farm experiences.  If you want to pick apples, there are many other orchards in Michigan that offer u-pick.  Check Michigan Farm Fun, an online directory of Michigan farm markets to find an orchard near you. This is going to be a great year for Michigan apples, there will be so many!!
More on Apples  
When will Certain Apple Varieties be Ready?  
This apple chart estimates the approximate week we believe our various apple varieties will ripen.  It is only our best guess – the weather can ripen them earlier of cause delays.  We will update this chart throughout the season so keep checking the link or visit our website.
On the market now:
Cortland: A hint of tartness makes this a great baking variety, a descendent of the McIntosh.  This variety is a bit sweeter than its ancestor and juices really well.
Gala: A great eating and cooking apple.  It has a crisp snappy bite over a mellow sweetness.  Very versatile, great for eating or cooking.
Golden Delicious:  A gingery-smooth, sweet taste under a thin skin.  It is the most popular yellow apple, good eaten fresh, baked or sliced in salads.  Makes a nice apple sauce and many people use for canning pie filling.
Honeycrisp: This seems to be many people's favorite.  It is crisp with an excellent sweet flavor and a "bite" to it.  Great for eating fresh or using in salads.
JonaGold: Superbly crisp and juicy with shades of tart and sweet in each apple, very large and aromatic.  Cross between a Jonathan and Golden Delicious.
Jonamac:  Medium to large fruit with 90% red color over a greenish background. Firm, crisp flesh with flavor similar to a Macintosh.  Superior eating quality, also can be used for baking.
Jonathan:  Pretty and popular, used for fresh eating and cooking, a favorite for apple butter and taffy apples.
Nu-Red: A crisp, tart, hard, crunchy apple.  An improved version of a Red Rome.  Good for fresh eating, applesauce, pies, and baking. This year these are the best ever for flavor, come try one, it might be your new favorite apple.
Coming next:  Ida Red, Northern Spy, and Red Delicious
Pears 
Bosc pears have a russet skin, and are a nice, sweet pear.  Pears are picked green and ripen from the inside out in about 7 to 10 days.  You will know they are ripe when the neck starts to soften.  They are "keepers" and will store for several months in a cool, dark place.  The Bosc are available in various sizes from quart boxes to bushels.  We also have samples if you would like to try one.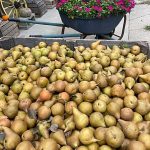 What is Available on the Market this Week    
From our fields
Onions
Shallots
Squash – butternut, buttercup, acorn and other fall varieties
From our orchards and vineyards
Apples
Pears – Bosc
Niagara (white) juice grapes
Concord (blue) juice grapes
Both grapes are available in small sizes by the quart, larger quantities must be pre-ordered
From Bankson Lake Farms
Arugula
Garlic
Kale
Lettuce blends
Mushrooms
Spinach
Swiss Chard
Other Items
Fall Ornamentals.  We have a nice variety of fall ornamentals for your fall decorating!  Choose from colorful corn, gourds, and decorative squash and pumpkins.
Dried and Fresh Floral Arrangements.  We will have dried floral arrangements this weekend from Flowerfield Farmstead.  We will also have fresh flower bouquets from Faith in Flora.
U-Pick Flowers.  Make your own bouquet using flowers from our terrace garden by the parking lot.  Keep in mind that it is best to pick flowers when it is cool, like early in the morning if it is a hot day.  Please see clerk for scissors and cutting instructions.
U-Pick Herbs
All the herbs in our herb garden are ready to pick!  Price is $1.50 for a snack size bag.  Scissors and bags are on the market, see clerk for assistance.  With the cooler nights, some herbs may not be available.
Local Grocery Items
Fresh products from our local suppliers – honey, maple syrup products, jams and jellies, salsa, eggs, and Jake's meats.
Alcohol Products 
We have a nice selection of hard ciders, wine, and fruit brandy perfect for relaxing.
8 total wines from red, white, dry to sweet
8 total hard ciders from dry to sweet, made onsite
Various fruit brandies made onsite from various fruits
Rufus Rye, our new straight rye whiskey
We sell hard cider in singles, 4-packs, and 6-packs.  You may mix and match to make your own unique pack.  A great cider for fall is our Maple – apple hard cider with maple syrup and a bit of vanilla.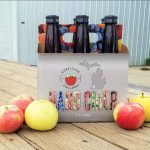 From the Bakery
Baked Goods.
Yeast donut rings
Muffins: Apple Spice, Pumpkin, and other varieties
Cookies: Monster, Caramel Apple, and other varieties
Homemade Cinnamon bread
Breads: Italian, hot dog and hamburger buns
Fruit pies: our signature "take and bake" fruit pies are a must have; find them in the freezer section
Our wonderful hot donuts are available on Saturdays and Sundays.We are into our Fall flavors of Apple Cider, Pumpkin, and Buttermilk donuts!
Strombolis:  Take and bake from our freezer, plus find Marinara sauce in the grocery section.  We have the pizza type and a quiche type for breakfast eating.
Happenings on the Farm 
Save the Date!  Make plans to join us for the Fall Color Tour on Sunday, Oct. 9, from 11 am to 4 pm.  We will have arts, crafts, and specialty vendors, live music, food trucks, happy hour, and other activities.  See our website for more information.
Spookley is back!  Take a moment to read the Spookley pumpkin story with its important anti-bullying message with your family.  The story boards are near the large pumpkin.
And the big pumpkin is here!!  Once again, Keith Whitford of Three Rivers, grows large pumpkins and has given us a 359-pound beauty to display here at our farm for your enjoyment, awe, and a get a photo.
We appreciate everyone's support of our farm, especially during this difficult apple season.
Thank you for your continued support and for buying local.  Everyone at Corey Lake Orchards appreciates you!