October is Michigan Apple Month 
Michigan is the nation's third largest producer of apples; which is one of the many reasons why Governor Gretchen Whitmer proclaimed October as Michigan Apple Month!  Let's celebrate Michigan apples this month by crunching into everyone's favorite fruit!  Check out the Governor's proclamation at https://bit.ly/3CtU9MV
Thanks to all of you who braved the crowds and long lines to visit us this past Sunday for the Fall Color Tour.  The weather was the best we have remembered in years, though there was not much "color" in the trees yet.  Thank you for supporting our specialty, art, and craft vendors, food providers, and enjoying the music, activities, and ambiance.  Here is the link to the recap of the event published in the Three Rivers Commercial.
Below are adorable apple eaters, Brenda and Beth with the Michigan Apple Queen, several clerks ready to serve you, and a very googly-eyed festival donut!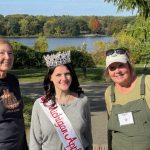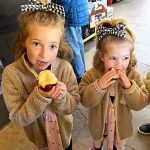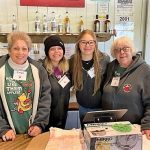 Reminder, our hours this year are 9 am to 6 pm daily, including holidays, closed on Tuesdays and Wednesdays.
The most FAQ is when are we closing for the year and how long can you get apples?  Since we are late finishing the apple harvest, we expect to have a good supply of apples through this month and into November.
We will be open our regular days and hours through Sunday, October 30.  Starting November 5 will be open on Saturdays only, 9 am to 3 pm.  You can also shop by appointment – call: 269-244-5690.  More to come on the annual Holiday market.
Grape Update  
The harvest continues on our grapes!  We expect to have grapes until the first hard frost or other weather event.  Check the home page of our website for picking updates, and please make a reservation.
Pricing for 2022 is:
$7 per 5-gallon bucket for 5 buckets or more (100 pounds, 35 cents per pound)
$14 per 5-gallon bucket for 2 to 4 buckets (70 cents per pound)
$18 per 5-gallon bucket for 1 bucket (90 cents per pound)
A 5-gallon bucket of grapes weighs approximately 20 pounds, and is also considered a half bushel
Reservations.  Click here to make a reservation online and click here to get information on our grape u-pick before driving out.  Please call us if you need assistance with making a reservation.  Please call us if you need assistance with making a reservation.
Check the home page of our website for picking updates, and to make a reservation.
If you are interested in already picked grapes, please call us at 269-244-5690 for pricing and information.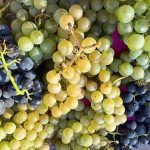 Shop our "Hail of a Deal" on Apples!   
Apple Harvest update:  Patience please as we are finishing the apple harvest with limited staff plus the extra time it takes this year to pick the apples due to the hail damage.  We are working hard to get them off the trees and into bags for you.
How long will we have apples for sale?  We still have a lot of apples to pick and to sell, and will be open Saturdays only starting November 5 (see hours above).
Already Picked Apples
Due to the significant amount of hail damage to our apple crop this year we will have very few first quality apples.  Please note how we are selling them this year.  Keep in mind that future changes may occur based on yields of specific varieties.  See descriptions of first and second quality below.
First quality — quarter peck and half peck size bags only
Second quality or Processing apples — pecks and half bushel bags only, sold at reduced prices:  $19 Bushel; $11 half bushel; $7 peck.  Note Honeycrisp is priced differently.
We will not be taking any orders for apples in advance.  If we have what you want on hand, we will hold them for you upon request.
Animal Apples — lesser quality apples available as animal feed, available at the market for $4.50 a half bu.  Bring your own 5-gallon bucket or half bushel basket and get them for $4 a half bu.  These apples are bag your own.
Thanks to all of you who have been accepting of and buying our Processing apples!  Sadly, most of our apple crop was damaged and we appreciate you buying them and supporting our farm.
Apple Gleaning
We will be having apple gleaning once we have finished the harvest this year.  With our hail damage this year, It will be an "orchard cleanup" where you can pick the hail damaged apples that are left on the trees or the ground.
If you are interested in picking 10 or more bushel, please contact us by phone (269-244-5690) or by email at coreylakeorchards@gmail.com.
Check back for more information on when we might open, pricing, and other details.
U-Pick Apples
We are sorry but there will be no u-pick apples this year.  Due to the extent of hail damage, we feel we cannot provide the quality apple picking experience that you want and expect.  Despite not having u-pick apples, we still welcome you to the farm this fall for many other great farm experiences.  If you want to pick apples, there are many other orchards in Michigan that offer u-pick.  Check Michigan Farm Fun, an online directory of Michigan farm markets to find an orchard near you. This is going to be a great year for Michigan apples, there will be so many!!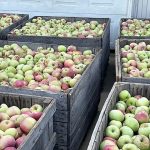 More on Apples  
When will Certain Apple Varieties be Ready?  
This apple chart estimates the approximate week we believe our various apple varieties will ripen.  It is only our best guess – the weather can ripen them earlier of cause delays.  We will update this chart throughout the season so keep checking the link or visit our website.
On the market now:
Braeburn:  Sweet with a hint of tart, and a firmness that stores well.  These traits plus the fact that they bake well have made them a very versatile apple.
Cameo:  A firm, crisp, and sweet apple that resists browning.  Great for fresh eating, applesauce, or baking.  Stores well in your refrigerator.
Cortland: A hint of tartness makes this a great baking variety, a descendent of the McIntosh.  This variety is a bit sweeter than its ancestor and juices really well.
Fuji: Has a fantastic sweet flavor with a low acid content.  An incredibly good keeper, it stays crisp for several weeks without even being refrigerated.  Excellent all purpose use like snacking, baking, and cooking.
Gala: A great eating and cooking apple.  It has a crisp snappy bite over a mellow sweetness.  Very versatile, great for eating or cooking.
Golden Delicious:  A gingery-smooth, sweet taste under a thin skin.  It is the most popular yellow apple, good eaten fresh, baked or sliced in salads.  Makes a nice apple sauce and many people use for canning pie filling.
Honeycrisp: This seems to be many people's favorite.  It is crisp with an excellent sweet flavor and a "bite" to it.  Great for eating fresh or using in salads.
Ida Red:  Suits your every use!  Eat fresh or for cooking.  Taste is both tangy and tart.  Flesh is white, crisp and juicy.  Favored for sauces, pies and desserts.  Texture holds up well when baked.
Jonathan:  Pretty and popular, used for fresh eating and cooking, a favorite for apple butter and taffy apples.
Mutsu:  Also called Crispin, it is a cross between Golden Delicious and the Japanese Indo apple.  It has a sweet-honeyed flavor mixed with sharp, tangy, and acidic notes.  They can be stored until spring.
Northern Spy: The professional baker's dream, cooks up well in applesauce, pie and other dishes. Stores well, easy to remember by saying "Spies for pies".  We should have them on the market starting Saturday.
Nu-Red: A crisp, tart, hard, crunchy apple.  An improved version of a Red Rome.  Good for fresh eating, applesauce, pies, and baking. This year these are the best ever for flavor, come try one, it might be your new favorite apple.
Red Delicious:  America's most popular apple, known for the "five little bumps" on the bottom. Best for fresh eating and snacks.  Full-flavored sweet taste, yellowish flesh, and crisp texture.
Starting this weekend:   Mutsu, Cameo, Fuji
What is the Difference between First and Second Quality Apples?
What is the Difference between First and Second Quality Apples? 
First quality apple bags will contain apples that are medium to large size, have few (1-2 minor hail marks or indents) or no blemishes, and may have full or partial color.  More apples than normal will lack full color this year because we picked them from the inside of the tree, where they were protected from the hail, but then were also shaded.  Those lacking color will still taste the same, they just look different.
Second quality or Processing apples will be medium to large size and have multiple hail marks.  The marks will not be deep and can be easily cut out or eaten around.  If you are making applesauce or pies, cooking, freezing, canning, or baking these apples are perfect for your use.  They have the same flavor and are discounted – a much more economical way to get useable apples.  This is the first time we have sold processing apples as in the past we used all of them for our cider.
If you are new to processing apples (or any produce), you may want to check out the resources on our Food Preservation page on our website.
We are also selling food mills on the market; everyone must have one of these!  They are best way to make applesauce ever, without peeling!
What is Available on the Market this Week    
Onions
Shallots
Squash – butternut, buttercup, acorn and other fall varieties
Apples
Pears – Bosc
Niagara (white) juice grapes
Concord (blue) juice grapes
From Bankson Lake Farms
Arugula
Garlic
Kale
Lettuce blends
Mushrooms
Potatoes
Spinach
Swiss Chard
Fresh Cider
We now have freshly squeezed cider available in gallons, half gallons, and quarts!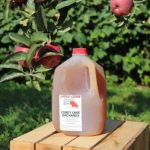 Sweet Onions
Our sweet onions are cured and bagged in 3 pound bags.  They are ready for you to pick up to use now or store for the winter.  The onions are yellow and red.
Pears 
Bosc pears have a russet skin, and are a nice, sweet pear.  Pears are picked green and ripen from the inside out in about 7 to 10 days.  You will know they are ripe when the neck starts to soften.  They are "keepers" and will store for several months in a cool, dark place.  The Bosc are available in various sizes from quart boxes to bushels.  We also have samples if you would like to try one.
Other Items
Fall Ornamentals.  We have a nice variety of fall ornamentals for your fall decorating!  Choose from colorful corn, gourds, decorative squash, and pumpkins.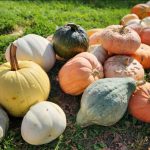 Jack O' Lantern Pumpkins.  We are bringing these in now and should have a good selection for you this weekend.  Find them by the parking lot in 3 sizes – small, medium, and large.  Here they are in transition from the field.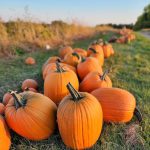 Fresh Floral Arrangements.  We will have fresh flower bouquets from Faith in Flora in nice Fall colors.
U-Pick Flowers.  Make your own bouquet using flowers from our terrace garden by the parking lot.  Keep in mind that it is best to pick flowers when it is cool, like early in the morning if it is a hot day.  Please see clerk for scissors and cutting instructions.
U-Pick Herbs
All the herbs in our herb garden are ready to pick!  Price is $1.50 for a snack size bag.  Scissors and bags are on the market, see clerk for assistance.
Local Grocery Items
Fresh products from our local suppliers – honey, maple syrup products, jams and jellies, salsa, eggs, and Jake's meats.
Alcohol Products 
We have a nice selection of hard ciders, wine, and fruit brandy perfect for relaxing.
8 total wines from red, white, dry to sweet
8 total hard ciders from dry to sweet, made onsite
Various fruit brandies made onsite from various fruits
Rufus Rye, our new straight rye whiskey
We sell hard cider in singles, 4-packs, and 6-packs.  You may mix and match to make your own unique pack.
Below is a bottle of our Hubbard's Red, a dry red blend wine.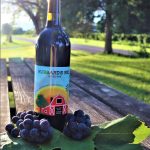 From the Bakery
Baked Goods.
Yeast donut rings
Muffins: Apple Spice, Pumpkin, and others
Cookies: Monster, Caramel Apple, and other varieties
Homemade Cinnamon bread
Breads: Italian, garlic, focaccia
Fruit pies: our signature "take and bake" fruit pies are a must have; find them in the freezer section
Donuts:  Our wonderful hot donuts are available on Saturdays and Sundays in Fall flavors of Apple Cider, Pumpkin, and Buttermilk!
Strombolis:  Take and bake from our freezer, plus find Marinara sauce in the grocery section.  We have the pizza type and a quiche type for breakfast eating.
Happenings on the Farm 
This past Wednesday was National Farmers Day.  This special day in the midst of harvest season marks the culmination of the hard labor put in by farmers across America, to ensure we have food on our tables.
National Farmer's Day has been in existence since the early 1800's.  From early on, a farmer's hard work and dedication has benefited our nation in terms of commodities for our livelihood along with their immense contributions to the national and local economies.  We at Corey Lake Orchards are proud to be a food source that helps feed our local community.  Throughout the year many of you have thanked us for our hard work and dedication to what we do, and we thank you for recognizing our efforts.
Thank you for your continued support and for buying local.  Everyone at Corey Lake Orchards appreciates you!