Remember, we are an open air market, so bundle up before you come over!  We'll have a pot of mulled cider going.
Below, the snow started within days of our 70-degree spree.  It finally started to cover the fields and everything else, and got us more in the mood to get ready for our Holiday Market.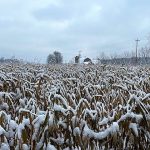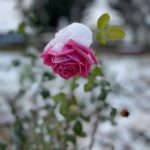 Our Days and Hours  
We are now open on Saturdays, 9 am to 3 pm, through Dec. 17.  You can also shop by appointment – call: 269-244-5690.
We Can Help You with Your Thanksgiving!  
Thanksgiving is just a week away, and many of you, including us, are not ready yet for the long weekend!  As you start your planning and shopping, let us help.
Pumpkin Pie.  It's not really Thanksgiving unless you have a pumpkin pie!  Here are 2 options – buy one of our already made "take and bake" frozen pies or make your own using a fresh pie pumpkin.  Pumpkins are easy to roast plus you get the delicious seeds to eat!
All you need for a pie is one of our $2 pie pumpkins, a crust from scratch or store bought, spices, and milk/cream.  Make it ahead of time.  If you opt to buy a pie, why stop at pumpkin?  Check out our other great fruit pies, flavors listed in the Bakery section below.
Feeling pie challenged?  Try a Pumpkin Dump Cake using one of our fresh pie pumpkins in place of canned pumpkin.  Dump cakes have become all the rage lately since their simplicity and great taste make them easy desserts anyone can love.  The Pumpkin Dump Cake is a layer of creamy, spiced pumpkin puree beneath a buttery, golden brown cake layer with maybe a dollop of whipped cream!  All you need to do is mix, dump, bake, and voila!
Apple Pie.  Make an apple pie or an apple spice cake.  And applesauce is another great side, easy to make, to have with leftovers.  And we have lots of apples to choose from!  We also have frozen apple pies ready to bake – 2-crust and crumb topped.
Pumpkin Bread or Dip.  Why roast just one pumpkin?  Roast another and have pumpkin puree for pumpkin bread or dip or muffins or other great treats over the weekend.
Squash.  Bake a fall squash as a side dish to enjoy over the weekend with leftovers.  And don't forget to roast the seeds also!  Or make butternut squash soup or butternut with pasta. There are many great recipes online for using butternut and other fall squash.  Here is a recipe that sounds great!  Butternut Squash Mac and Cheese with Bacon  All our squash are on sale – individually and in bulk.
Sweet Onions.  You know you need onions for stuffing and other side dishes, maybe even some shallots.  We have red and yellow onions in 3- and 9-pound bags.
Deviled Eggs.  Make some using our local Brown eggs.
Relishes.  See the list of produce we carry (below) from Bankson Lake Farms and find great items for your relish tray or to include in a recipe.
Green Salad.  Ate too much?  Take a break and enjoy a side salad with spinach or lettuce.  Top it off with fresh, sliced apples and cheese.
Jams and Jellies.  Pick up several flavors to have with toast over the weekend.
Gift Giving.  Get a jump on your gift giving by shopping our Holiday Market.  We have a variety of vintage decorations and gifts from local artisans.
Our Holiday Market
Our Holiday Market opens Saturday, Nov. 19.  Stop by and see our decorated market and barn, as well as an expanded line of gifts made by local artisans.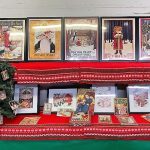 Many of you have wanted to buy our vintage holiday decorations.  We have added to our collection and have some for sale.  Just look for those with a special sale tag.  We will be adding to these as the weeks go on.
Below we are braving the cold to decorate the market area and have started transitioning the inner barn to our holiday market.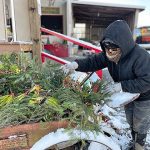 Community Events 
The Norton Elementary Craft Fair is this Saturday, Nov. 19.  Make time to visit our market and their show – the school is just around the corner.  While at Norton, visit our table and pick up a special CLO business card to show for a $2 discount on each bag of apples purchased now through Dec. 17.
Visits with Santa
Our "Old-Fashioned Visit with Santa" event starts Saturday, Nov. 26.  Santa and Mrs. Claus enjoy taking a break from the frenzy of the North Pole to enjoy the peacefulness of our farm in winter.  See our Santa website page for more information and the link to the reservation system.
Dates and Times:
Nov. 26 (9:30-11:30 am)
Dec. 3, 10, and 17 (9:30 am to 1:30 pm)
Reservations Recommended
Cost:  $20 per family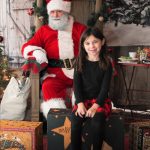 Feed Your Animals all Winter  
We have plenty of animal apples to sell in bulk this year.
We have "bag your own" animal apples on the market for $4.50 a half bushel.  Bring your own half bushel basket or 5-gallon bucket and save 50 cents.
You can purchase an 18-bushel bin and take out what you need on a weekly basis.  We will keep them in the cold storage for you.  Call (269) 244-5690 for pricing and more information.
Shop our "Hail of a Deal" on Apples!   
We have a decent selection of apples still available in first and second quality.  Smaller bags (quarter and half pecks) are sold as first quality.  Pecks, half bushels, and bushels are available in second quality only.  The second quality apples are discounted and perfect for your processing needs.  If you are new to processing apples (or any produce), you may want to check out the resources on our Food Preservation page on our website.
We are also selling food mills on the market; everyone must have one of these!  They are the best way to make applesauce ever, without peeling!  We have a special on these, buy one and get a peck of apples free (a great gift idea).
Apple Varieties Available Now
Braeburn
Cameo
Fuji
Golden Delicious
Goldrush
Ida Red
Mutsu
Northern Spy
Pink Lady
Red Delicious
Red Rome
Back by Popular Demand.  We've bagged 1/2 pecks of Golden and Red Delicious apples for you starting this Saturday.  These are great to give away to a helpful neighbor, a teacher, or yourself!
What is Available on the Market this Week    
Apples
Cabbage
Kohlrabi
Onions
Shallots
Squash – butternut, buttercup, acorn, and carnival
Tomatoes (greenhouse) – green
From Bankson Lake Farms
Arugula
Celery
Fennel
Ginger
Greens
Kale
Lettuce – heads
Mushrooms
Radishes
Spinach
Sweet potatoes
Swiss chard
Turmeric
Other Items
Apple Cider.  We stopped making fresh cider at Halloween, but we did freeze some this year if you wish to purchase frozen cider.
Local Grocery Items.  Fresh products from our local suppliers – honey, maple syrup products, jams and jellies, salsa, eggs, and Jake's meats.  It's time to stock up!
U-Pick Herbs.  Despite the snow, we still have some beautiful herbs you can pick for $1.50 for a snack size bag.  Scissors and bags are on the market, see clerk for assistance.  Time to pick your sage for use in fall recipes.  We will also have bundles already picked.
Alcohol Products 
We have a nice selection of hard ciders, wine, and fruit brandy perfect for relaxing.
8 total wines from red to white, dry to sweet
8 total hard ciders from dry to sweet, made onsite
Various fruit brandies made onsite from various fruits
Rufus Rye, our new straight rye whiskey
We sell hard cider in singles, 4-packs, and 6-packs.  You may mix and match to make your own unique pack.  We have finished transitioning to our new labels.  Same great recipe, just a new, consistent look!
From the Bakery
The bakery is closed for the year so the only baked goods available will be frozen pies and strombolis. 
Strombolis.  We have frozen strombolis in assorted breakfast and pizza flavors.
Holiday Pies.  Pick up your "take and bake" pies to have ready for the Holidays or any occasion!  All our pies are made onsite and are 9-inch, frozen, and ready to bake.  Flavors include: Apple-2 crust, Apple-Dutch, Blueberry, Cherry, Cherry Berry, Peach, Pumpkin, and Strawberry Rhubarb.
Thank you for your continued support and for buying local.  Everyone at Corey Lake Orchards wishes you a Happy Thanksgiving!