Small Business Saturday
Help kick off the season in a meaningful way!  Shop with us and other local businesses this Saturday to support small businesses in your community.  Come visit our Holiday Market where you will find vintage decorations and unique gifts along with seasonal produce, alcohol products and grocery items from Corey Lake Orchards.  We can simplify your shopping for gifts!
Thanks to all of you who braved the weather these past two weeks and stopped to shop!  We appreciated your business.  We are hoping for improved weather going forward!  Please remember that we are an outdoor market so dress warmly.  Also feel free to drop off/ pick up passengers close to the market before parking.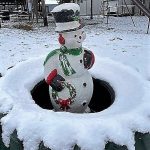 Our Days and Hours  
We are open on Saturdays, 9 am to 3 pm, through Dec. 17.  You can also shop by appointment – call: 269-244-5690.
Visits with Santa
We are so excited!  Santa and Mrs. Claus are taking a break from the frenzy of the North Pole and stopping by this Saturday for two hours only.  They really enjoy the peacefulness of our farm in winter.  There are only a few slots left!  This is a great time to get photos of the family for your holiday cards!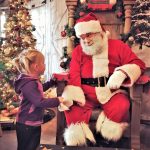 If you can't make it this Saturday, no worries!  Santa and Mrs. Claus will be returning for the next three Saturdays. See our Santa website page for more information and the link to the reservation system.  Time slots are limited so make your reservation soon!
Dates and Times:
Nov. 26 (9:30-11:30 am)
Dec. 3, 10, and 17 (9:30 am to 1:30 pm)
Reservations Recommended
Cost:  $20 per family
What makes Santa's visit to Corey Lake Orchards different from his other stops?
He brings Mrs. Claus who also engages in conversation with your child, assists with photo taking, and looks great in photos also.
He has firsthand knowledge of your children and their holiday wishes (thanks to your help of course!)  This only strengthens the magical mystique.
Our tastefully decorated setting is a throwback to yesteryear and simpler times.
We have more photo opportunities.  In addition to the immediate area by Santa and Mrs. Claus, we have several photo spots with vintage and farm-type decorations that you won't find anywhere else.  Areas include our red antique fire truck, antique tractors, horse trough snowman, garland decorated apple bin, large tire wreath, John Deere tractors under the tree, a vintage sleigh, and more unique spots.
Our location is sensory-friendly (little noise from other shoppers and families), and Santa is quiet (not loud and scary) – a much better setting for children who are already intimidated by the overall Santa experience or have special needs or sensory issues.
Family dogs are welcome, too!  Undoubtedly, they will be on their best behavior!
Shop Our Holiday Market
Stop by and see our decorated market and barn and enjoy a cup of warm mulled cider or hot chocolate while you shop.  The inner working area of the 100-year-old barn has been festively decorated with the quaintness of yesteryear.  Many of you have wanted to buy our vintage holiday decorations.  We have added to our collection and have some for sale.  Just look for those with a special sale tag.
We have also expanded our line of gifts.  You will find many unique items made by local artisans in a range of prices.  This is the place to come for stocking stuffers as well as finding special gifts for those individuals hard to shop for.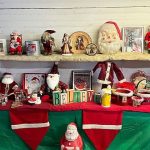 Feed Your Animals all Winter  
We have plenty of animal apples to sell in bulk this year.
We have "bag your own" animal apples on the market for $4.50 a half bushel.  Bring your own half bushel basket or 5-gallon bucket and save 50 cents.
You can purchase an 18-bushel bin and take out what you need on a weekly basis.  We will keep them in the cold storage for you.  Call (269) 244-5690 for pricing and more information.
Shop our "Hail of a Deal" on Apples!   
We have a decent selection of apples still available in first and second quality.  Smaller bags (quarter and half pecks) are sold as first quality.  Pecks, half bushels, and bushels are available in second quality only.  The second quality apples are discounted and perfect for your processing needs.
We are also selling food mills on the market; everyone must have one of these!  They are the best way to make applesauce ever, without peeling!  We have a special on these, buy one and get a peck of apples free (a great gift idea).
Apple Varieties Available Now
Braeburn
Cameo
Fuji
Golden Delicious
Goldrush
Ida Red
Mutsu
Northern Spy
Pink Lady
Red Delicious
Red Rome
What is Available on the Market this Week    
Onions
Shallots
Squash – butternut, buttercup, acorn, and carnival
Apples
Tomatoes (greenhouse, green only)
From Bankson Lake Farms
Arugula
Celery
Fennel
Ginger
Greens
Kale
Lettuce – heads
Mushrooms
Radishes
Spinach
Sweet potatoes
Swiss chard
Tomatoes
Turmeric
Other Items
Apple Cider
We have frozen apple cider from this past fall available.  Just defrost and shake well before serving.
U-Pick Herbs
We still have some beautiful herbs available despite the cold and snow.  You can pick your own for $1.50 for a snack size bag.  Scissors and bags are on the market, see clerk for assistance.  We will have sage bundles to use in holiday recipes available for sale.
Local Grocery Items
Fresh products from our local suppliers – honey, maple syrup products, jams and jellies, salsa, eggs, and Jake's meats.  It's time to stock up!
Alcohol Products 
Governor Gretchen Whitmer proclaimed November as Michigan Craft Beverage Month, recognizing Michigan's robust craft beverage industry's vital economic development and social benefits.
We have a nice selection of hard ciders, wine, and fruit brandy perfect for relaxing.
8 total wines from red to white, dry to sweet
8 total hard ciders from dry to sweet, made onsite
Various fruit brandies made onsite from various fruits
Rufus Rye, our new straight rye whiskey
We sell hard cider in singles, 4-packs, and 6-packs.  You may mix and match to make your own unique pack.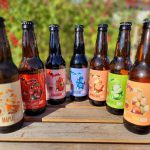 From the Bakery
Holiday Pies.  Pick up your "take and bake" pies to have ready for the Holidays or any occasion!  All our pies are made onsite and are 9-inch, frozen, and ready to bake.  Flavors include: Apple-2 crust, Apple-Dutch, Blueberry, Cherry, Cherry Berry, Peach, Pumpkin, and Strawberry Rhubarb.
Breakfast Strombolis.  We have frozen strombolis in assorted breakfast flavors.
Cookies.  We have been busy making iced holiday sugar cookies along with our popular Monster cookies.  If you need cookies for the holidays (or just some for yourself!), we have frozen Lemon, Monster, and Sugar cookies available.  We also have our homemade frozen cinnamon rolls.  Just keep in the freezer until needed, defrost, and enjoy!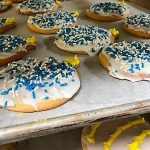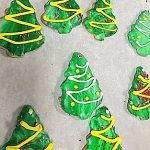 Thank you for your continued support and for buying local.  Everyone at Corey Lake Orchards wishes you a Happy Thanksgiving!