Our winter hiatus is over, and we are ready to greet spring and begin a new cycle of farming for 2023.  Even though we have still experienced the signs of Winter lately, Spring is trying to emerge and show its dominance, especially since it is officially Springtime!
We have been busy planning, cleaning, planting, learning, and preparing for a new season with you.
We are starting our year with a new event – our Easter Egg Hunt and Spring Fun!  If you have young children or grandchildren, consider coming to this unique event.  The market will also be open during the event for non-Easter Egg Hunt customers.  We will even be turning on our slushy and donut making machines for the afternoon!
WE CAN HELP YOU WITH YOUR EASTER DINNER!
The market will be open on Saturday, April 1 from Noon to 4 pm.
Stop by and shop at our vintage decorated Spring market.  We will have the items listed below to enhance your Easter dinner and to have handy for visiting guests.
Apples – Yes, we have some apples remaining in cold storage.  They are perfect for fresh salads, applesauce, apple pie, apple crisp.
Onions – These are dried, cured, and ready to use from our Fall crop.
Fruit pies – frozen, ready to bake, in assorted fruit flavors.
Pizza and Breakfast Strombolis – frozen, ready to bake, in assorted flavors.
Donuts – pick up some fresh, just-made donuts to take home (or sit and enjoy while shopping)
Get a cold slushy!
Hard ciders –available in 8 different flavors.
Brandy and Spirits – try one of our fruit brandies.
Wines – Pick up some of our wines for your dinner.  Try Corey Lake Crisp (dry white) or Full House (semi-dry white) to pair with your turkey or ham.
Honey – made locally by bees living several miles away.
Maple syrup and maple products – made locally, various size bottles.
Easter and spring gifts including "The Legend of JellyBean and the Unbreakable Egg" books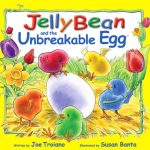 EASTER EGG HUNT AND SPRING FUN ON THE FARM!
Come join us for our first ever Easter Egg Hunt and Spring Fun on the Farm!  We will be hiding plastic Easter eggs in our vineyard and surrounding area close to the market.  The vineyard will be divided by age/grade level.  Children will turn in their eggs for small prizes.  We will also have other activities for the family to enjoy and several fun and unique spots for photos.
Since we are preparing for this event with snow still on the ground, please realize our farm will not be totally opened for the year yet.  We will have a portajon and as much outdoor seating and play areas available as is possible.
Saturday, April 1 from 1 to 3 pm
The first age group starts at 1:15 with the remaining groups starting about every 5 to 10 minutes after each group is finished.
Ages:  Babies to age 11 (5th grade)
Cost:  $5 per child, children under the age of 2 are free
Reservations are required.  Make a reservation online at https://www.signupgenius.com/go/10C0C44AAA82FA0FDCE9-easter or call the market at (269) 244-5690 and leave a message.  Someone will contact you for your registration information.  We need reservations should we have to contact you regarding the event or the weather.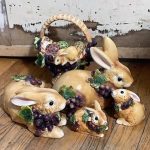 Grapes and bunnies from our vintage collection.
Age groups:
Babies and toddlers (and their parents), photos highly encouraged.  Note:  This age group is FREE.  There are no prizes for turning in eggs, but your child may take home up to 6 of the regular sized plastic eggs in any color.
Ages 2-4 (Preschool)
Ages 5-7 (Grades K-2)
Ages 8-11 (Grades 3-5)
Special needs/Handicap accessible area (optional)
If your child has an easter basket that they would like to use to collect eggs and put their prizes into, feel free to bring it.  Otherwise, each child will receive a bag to use upon check in.
Each participating child will receive various (non-candy) small prize items for each of the 6 colored eggs they turn in.  Our staff will be present to help children as needed.
Directions for the Egg Hunt:
Dress accordingly for Michigan's unpredictable weather.
Wear shoes and socks as there are naturally occurring hazards and uneven terrain in the vineyard.
Check in at the market for directions and information.  Bags to collect eggs will be provided if needed.
Parents or guardians, head to parking lot and grape vineyard at kick off time with your children.
Each child will pick up only one egg of each color (6 colors total) to ensure there are enough eggs for all children.
When your children are finished, return to the market to turn in their eggs for small prizes, and pay for the event ($5 per child) and any other items you purchase.  We accept cash, checks, credit cards.
Be sure to browse our decorated vintage spring market!
The market will be open that day to both egg hunt and non-egg hunt customers with produce, frozen pies and strombolis, our alcohol line of hard cider, wines and brandies, local honey and maple syrup products, and some gift items.
Take time to enjoy the special activities and family photo ops (see below).
Family-oriented activities for your child to enjoy:
Color an Easter rabbit or placemat at the coloring station
Design your own artwork using sidewalk chalk (loading zone behind the market)
Plant a mini sunflower to take home
Play in the play area by the market
Touch and grab a photo with a tractor (loading zone behind the market)
Read "The Legend of JellyBean and the Unbreakable Egg" story located in the Terrace Garden by the parking lot—perfect thing to do while waiting for the hunt to start.
Capture family photos in our special photo spots:
Collecting eggs during the hunt
Posing alongside or inside the Giant Easter basket
Posing alongside the decorated fire truck
Posing with the Easter Bunny or walking carrot
Sitting on or standing by a tractor
Playing in the play yard
Enjoying being on the farm and having the first donuts of the year!
Thank you for your continued support and for buying local.  Everyone at Corey Lake Orchards wishes you a joyous Easter and Happy Spring!