On any farm, Spring is a time for rebirth, reawakening, renewal, and resetting.  The winter pruning is behind us just as buds begin to emerge and the farm is waking up.  Winter allowed not only the land, orchards, and vineyards a time of rest, but also us as we reflected on 2022 and began our 2023 planning.
We will be making several changes in 2023 and would like to use this newsletter to update you on the challenges of 2022, what we learned from those, and how this will change our operations to serve you in 2023.  This may be a longer newsletter than usual, but we hope it offers insight into our decisions.  You can skip to the bottom if you want to see the operations changes only.
A Reflection on the Challenges of 2022
2022 was one of the most challenging years in the 60-plus year history of the farm because:
1)  What we needed to run the farm came with:
Cost increases: We all see this when we go to the grocery store or put fuel in our vehicles, and it was the same for farmers.  Nearly all our costs rose significantly, including labor, fuel, fertilizer, chemicals, raw bakery goods, shipping costs, packaging, and much more.  Farms are already low-margin businesses, and this had an impact on our financial stability, forcing us to reexamine the operations for 2023.
Material availability: We had trouble getting what we needed, when we needed it, and scrambling to find substitutes which were often more expensive.
2)  A June hailstorm:  Weather related farm disasters are the risk all farmers accept when they choose this way of life, but when they occur, accepting is not easy.  This destructive storm caused significant damage to nearly all our crops and destroyed some.  It forced us to build relationships with other farms to bring you the high-quality produce you come to expect from Corey Lake Orchards.  It broke our hearts to see our land and the surrounding lake community ravaged by the storm's intensity.  Sadly, due to crop insurance constraints, the payout was insufficient to cover the losses.
3)  These factors resulted in stress, fatigue, and burnout for us and our farm team.  We pride ourselves on our strength and resilience, but 2022 took its toll on us physically and emotionally.  For those of you who visited the farm, especially our "regulars," you saw this.  We truly appreciated how many of you empathized and supported us in so many ways.
Insights from 2022 Gave us Direction for 2023
Life is about adapting to change, and we took what we learned in 2022, both the good and the bad, to reset our operations for 2023.  Our focus will be on:
Providing great produce: When our parents started this farm, their motto was "We grow what we sell."  More so than any other year, 2022 forced us to broker partnerships with other local farms to continue to bring you great fruits and vegetables.  We realized that we do not have to grow "everything" for the market and will continue to support and use local farms. which supports the community.
Providing a great farm experience: You, our amazing customers, often saw the difficulties of 2022 while they were happening and were loyal, understanding, and supportive.  We will focus on bringing you the best produce and a delightful farm experience; we will strive to keep your loyalty and business.
Taking care of our farm family: We have realized the importance of taking care of ourselves, our family, and our farm team, so that we can be the very best for our customers, ensure the farm's sustainability and be a vibrant part of our local community.  When you don't see us, we are hopefully enjoying our time away!
Already, we are seeing some of last year's realities return with supply shortages and cost increases.  We have lost some key employees but are bringing on new ones.  The recent summer-like weather is anything but normal!  We are taking a deep breath, tackling problems to the best of our team's abilities, and looking forward to seeing all of you when we reopen in May!
Days Open
Change:  Open only Thursday through Sunday; closed Monday through Wednesday.  Additional days may be added around U-pick produce.  Check our website, Facebook page, or call us to make sure we are open before you come.
Continuing:  Our goal to have the best products and staff to provide you with the very best quality farm experience.
Bedding Plants
Change:  Sorry, we will not have vegetable or flower bedding plants this year.  We encourage you to visit Schram's Greenhouse (a long-time supplier of ours) in Portage (269-327-5347) for your plant needs.
Continuing:  Hanging flower baskets available on the market
Bakery
Change:  Adding some new muffins, cookies, breads, and other items as we staff the bakery
Continuing:  Signature frozen fruit pies, Moe's frozen breakfast and pizza stromboli's, donuts on Saturdays and Sundays.  And slushies, of course!
Alcohol
Change:  New spirits like bourbon and white whiskey under development, planning wine tastings for Saturday mornings and some Happy Hour events
Continuing:  Our current offerings of hard ciders, wine, and spirits
Groceries
Change:  Fresh local milk!
Continuing:  Local groceries like meat, yogurt, eggs, maple syrup products, and honey.
Fruits and Vegetables
Change:  Expanding partnerships with local farms to grow some fruits and vegetables for the market to reduce complexity in the diversity of what we grow.
Continuing:  Weather permitting, all the normal seasonal fruits and vegetables, along with U-Pick opportunities
Gifts
Change:  Adding new local artisans with different items
Continuing:  To offer artwork and gift items made locally, and assistance with gift baskets
Images of Spring on the Farm
The farm is awakening from its Winter sleep!  Below are: Macintosh apples starting to leaf, early sweet cherry blossoms, a newly plowed field, and emerging pear buds.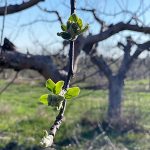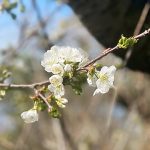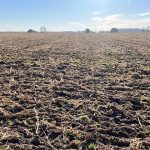 Thank you for taking the time to read this and for your ongoing support and understanding.  We are looking forward to serving you for another year.
Watch for next week's newsletter on our opening date and answering "when will asparagus be ready?!"
Beth and Brenda