We are now in "Sprinter" Season!  These are the days when you never know whether to wear your winter or spring coat, or if the blossoms will be covered in snow or busy with pollinating bees, and sometimes within a 24-hour period!  Our fruits can take down to 28 degrees with no major damage, so we are hoping this next cold spell will have temperatures above that.  We are rushing (sprinting!) to finish some last-minute pruning and trying to get our fields ready for planting as soon as the weather cooperates.  Below we are finishing the pear pruning.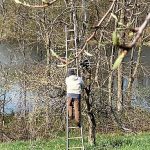 Opening Day — Thursday, May 4
In less than two weeks, we will be opening the market for the season.  Opening day is Thursday, May 4, from 9 am to 6 pm.
Our hours will remain the same, but we will only be open Thursdays through Sundays this year.  One other key change is that we will not be carrying bedding plants this year, we would encourage you to go visit Schram's Greenhouse (a long-time supplier of ours) in Portage (269-327-5347) for your plant needs.  These and other changes to our operations for 2023 are listed on our website. Please take a moment to review them.
Thank you for shopping at the market and supporting our first ever Easter Egg Hunt and Fun on the Farm Day on April 2.  Enjoy some of the photos from that event.
What will be on the Market starting in May
Produce:  If the weather cooperates, we will have fresh asparagus and rhubarb.  We also have a few apples and onions from our 2022 season.  Look for fresh greens and spring vegetables from Bankson Lake Farms.  Watch for details in our next newsletter.
We are finding an occasional spear of asparagus, trying to push through the ground, but with more cold weather coming, growth will slow.  We need at least one week of nice spring temperatures.  We promise to keep you updated as we know everyone is eager for the first taste of spring!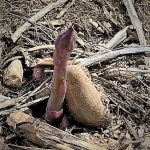 Baked goods:  frozen pies, frozen pizza and breakfast stromboli's, cookies, and muffins.  Donuts on Saturday and Sunday.
Good news, the equipment problems we had when making donuts for our Easter Egg Hunt are behind us!  We made a small batch yesterday to test out the machine, and everything looked great.  We had no trouble finding employees who were willing to sample them!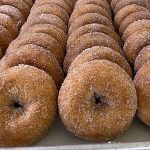 Grocery:  Maple syrup, honey, slushies
Alcohol:  Various wines, hard ciders, and brandies
Gifts:  We are working with our local artists and will have a nice selection of Mother's Day gift items that Moms everywhere will love!  Items will include general giftware, artwork, customized gift baskets, and of course, gift certificates.  We will also have beautiful hanging flower baskets for Mom or just for you!  Watch for details in our next newsletter.
Earth Day is Saturday, April 22
Earth Day is Every Day on the Farm.  As a farm, we understand the importance of taking care of our planet and preserving it for future generations. Today, we want to take a moment to reflect on the ways we contribute to a healthier planet by what we do here on our own farm.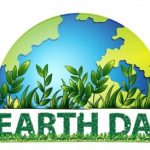 Here are a few ways our farm is working towards sustainability:
Implementing sustainable agriculture practices
We use sustainable agriculture practices to minimize the impact of farming on the environment.  This includes using cover crops, crop rotation, and reduced tillage to help maintain soil health and fertility. We also practice integrated pest management to reduce the use of pesticides and chemicals.
Supporting local ecosystems
Our farm is located in an area rich in natural resources, including wetlands, woodlands, lakes and ponds.  We work to support these ecosystems by leaving buffer strips around waterways, keeping native species, and maintaining natural habitats for wildlife.  We also support our pollinators such as bees which we need to produce fruit and vegetables and leave milkweed growing throughout the farm to help restore the monarch butterfly population.
Below a butterfly and bee are enjoying the blossoms!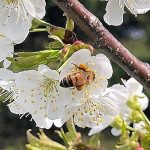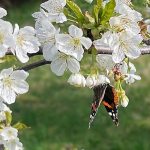 Reducing waste
We strive to reduce waste by composting and recycling as much as possible.  We try to reduce our use of plastics and other non-biodegradable materials.
These are just a few of the ways we are working towards a more sustainable future.  We know that there is always more we can do, and we are committed to continuously improving our practices to reduce our impact on the environment.
With our family being stewards of this land for 62 years now, we love walking through some of our older, heirloom, apple orchards, and admiring the native violets in many colors that bloom each spring in the orchard floor.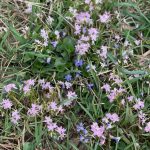 On this Earth Day, we encourage everyone to take a moment to reflect on how they can make small changes in their lives to protect our planet.  Together, we can create a more sustainable future for all.
Happenings on the Farm
We just finished planting our vine crops – cucumbers, cantaloupe, and squash – in the greenhouse.  Since these are such tender plants, we won't be transplanting them into the field until later in May.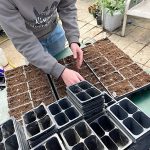 Like many of you, we were not very happy to find snow on everything this past Monday morning.  Fortunately, our "cold" crops didn't mind the snow, so our broccoli, cauliflower, cabbage, and brussels sprouts just kept growing!  Below plants in snow and then enjoying the sun!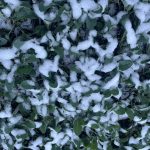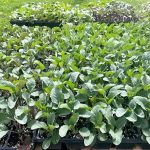 Blossoms and new spring growth are beginning to emerge on the farm and in the orchards.  This is definitely the prettiest time of the year, even if we have to peek around snowflakes to enjoy spring.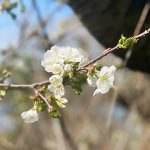 The strawberries are coming out and greening up nicely.  They look great on their straw bed, which the crew laid about two weeks ago.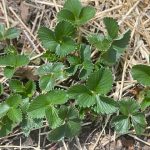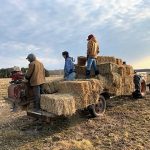 Everyone's favorite Honeycrisp apples show off their buds and will bloom soon.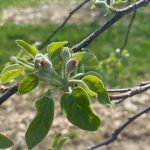 Thank you for your continued support and for buying local.  Everyone at Corey Lake Orchards wishes you a Happy Spring!