Mother's Day is on Sunday.  If you are still looking for that special gift, we have it!  Just think Green, Good, and Gorgeous – and stop by the market.  We have good and healthy "green" stuff in asparagus, lettuces, and plants as well as gorgeous gifts, some made by local artisans.  We can fix you up with goodies for someone special.
We pause to recognize and thank all the mothers and mother-like figures in our life that have meant so much to us!  And a special thanks to all the mothers who work for us!  We could not do it without your care, concern, and thoughtfulness for others.
Market Update
We have several updates and reminders to share with you.
Starting Sunday, May 14, we will be closing the market at 4 pm, EST, every Sunday during our Spring season.  We will reevaluate it for the Summer and Fall seasons.
The market is open Thursday through Sunday, and closed Monday, Tuesday, and Wednesday.
Did you know you are welcome to park close to the market on the edge of the driveway, if you find walking up our steep hill challenging, or if shopping during one of our slower sales periods, or for sure when it is pouring down rain!
We are not selling any bedding plants this year.  We encourage you to contact Schram's Greenhouse (a long-time supplier of ours) in Portage (269-327-5347) for your plant needs.
These and other changes to our operations for 2023 are listed on our website. Please take a moment to review them.
Thank you for Supporting Blake through Donuts
Thank you so much for supporting our employee, Blake!  Thanks to your generosity, kindness, donut purchases, and donations, he and his mother and tuba are headed to Arizona in a few weeks where he will compete in an international tuba competition.  Overall, we raised $3,000 for his trip and some donations are still trickling in!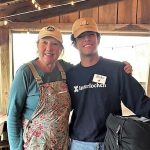 I just want to say a HUGE thank you to everyone who had the heart to donate to my trip to Arizona.  I have been overwhelmed with the immense support and it makes me feel so proud to be a part of a community such as this one.  Even the littlest of donations have helped so much, and this competition is going to be a huge part of my professional and musical career.
Each and every one of you now has a part in my story and I am so grateful for that.  Again, I cannot ever say this enough, THANK YOU!!!             –Blake 
Asparagus and Rhubarb
Thanks to the warmer weather, asparagus and rhubarb are in season!  We have it freshly picked on the market.  If you are interested in bulk quantities for freezing, please let us know or call us to place an order.  It is readily available, so you only need to order in advance if you are looking for 25 lbs. or more which helps us to get it ready.
How to Store:  Refrigerate asparagus for up to 5 to 7 days by wrapping ends of stalks in wet paper towel and placing in a plastic bag.
Watch the homepage of our website for updates or call us.  (269-244-5690)
Using it in your meal planning.  Eating freshly picked produce while it is in season is economical and good for your health.
Air Fryer Asparagus
This lovely side dish is ready in just a few minutes to enhance a weeknight dinner.  It is lightly oiled and coated with Parmesan and bread crumbs.
These and more are on our online recipe pages.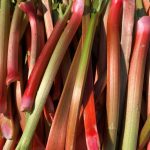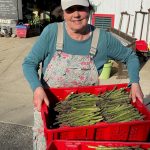 Make Mom Brunch!
Thinking of making Mom a special brunch?  We have you covered!  Here are some ideas to choose from.
Bacon (frozen) from Jake's Meats
Scrambled eggs (farm fresh, brown) with cheese
Grilled asparagus (see an easy recipe below)
Muffins in assorted flavors
Donuts in Buttermilk, Cherry, or Blueberry
Yogurt (Mattawan Creamy Greek-style) with one of our new granolas
Fresh side salad with Mixed Lettuces from Bankson Farms, onions, mushrooms radishes, and one of our salad dressings
Crackers topped with some of our cheeses or assorted jams
Fruit pie (frozen, like cherry, peach, strawberry-rhubarb, rhubarb)
Hard cider or wine
Mother's Day Gift Guide
It's not too late to shop for Mother's Day gifts.  We have a nice selection of Mother's Day gift items that Moms everywhere will love!
Artistic Gifts: We have an assortment of gifts made by local artisans from several studios: High View Studio, Barb's Bowls, Dawn's Milkhouse Creations, Lake Designs, Anna Barnhart, Lynn Johnson, and Elaine's Art Glass.  Below are a few representative photos of their gifts.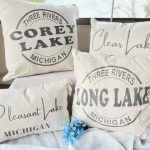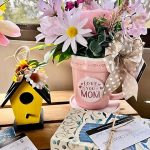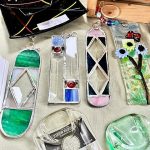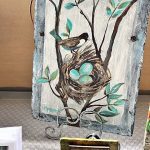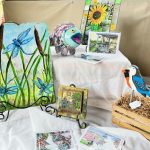 Greeting cards. Write Mom a thoughtful Mother's Day message to let her know how much she means to you on one of our locally made note cards.
Flowers: Check out our hanging flower baskets or potted flowers.  Sue has been busy in our greenhouse making specialty pots of both herbs and flowers using unique containers.  We will also have some striking, indoor plants available this weekend.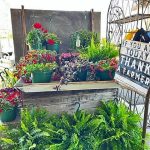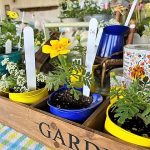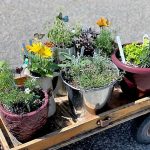 Edible and Drinkable Treats: Give Mom assorted gift items she can eat!  We have jams, jellies, salsa, honey, maple syrup, granola, frozen pies and strombolis, assorted baked goods, fresh vegetables, apples, plus wines and hard ciders.
Gift Certificates: Not sure what to get?  A Corey Lake Orchard gift certificate lets Mom or your recipient select a gift(s) of their choosing.  Gift certificates can be made in any amount, $10 or more.  We can also process these over the phone and mail it if needed.
Gift Baskets: If you are looking for something unique, our staffer Maria will help you design a gift basket in various dollar amounts with Mom's favorite items.  It could include artwork, pottery, wine, a fruit pie, selected vegetables, jams, and more.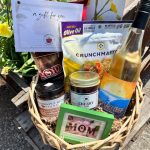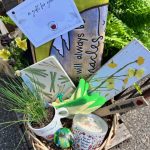 What you will find on the Market
Produce:
Asparagus
Rhubarb
Fresh greens and spring vegetables from Bankson Lake Farms: lettuce mixes, Swiss chard, kale, arugula, radishes, mushrooms
Baked goods: From our bakery, enjoy:
Pizza and breakfast stromboli's (frozen) – in various flavors
Cookies – Chaos, Ginger, Salted Caramel, S'mores, Reese's Peanut Butter Cup, and Triple Chocolate Chunk
Muffins – Blueberry, Chocolate Chip, Double Dutch, Lemon Poppyseed, and Pistachio
Donuts – Buttermilk, Blueberry, and Cherry – only available Saturdays and Sundays
Fruit pies (frozen) – Apple, Dutch Apple, Blueberry, Cherry, Peach, Pumpkin, and Strawberry Rhubarb.  We also have Rhubarb pies, available for a limited time.
Please contact us if you want to preorder any of our baked goods.
Grocery: Maple syrup products, honey, jams and jellies, salsas, yogurt, and Jake's meats.  We have also added mustard, cheeses, granola, granola bites, crackers, and pretzels to the market.
Alcohol: Various wines, hard ciders, and fruit brandies.  We just bottled our Rhubarb cider for those liking a dry, tart hard cider, available seasonally for a limited time.
Flowers: Hanging baskets in a variety of colors and flowers, specialty pots, and potted plants.
Mini Tomato Plants: While we are not doing bedding plants this year, we will have a limited supply of the large "mini" tomato plants for sale starting this weekend.  We planted them for our own production and planted a few extras.  Many of you have come to rely on us to get these for your patios.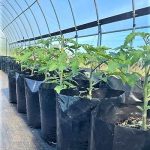 There are many varieties of cherry and grape, in many colors.  Perfect for snacking (later of course!) and a great Mother's Day gift!
New Slushy Flavor: This year we have added in a new, healthy tart cherry option.  Warning: It is tart, but so good for you!  Beth is an avid tart cherry drinker, and she has decided the rest of you should at least try it!
It is made from Michigan tart cherries, and no sugar is added.  Health benefits include: increases overall sleep efficiency, eases post workout soreness, reduces risk of heart disease, and powerful anti-inflammatory benefits.
Happenings on the Farm
This warmer weather has kept us picking asparagus each day!  Below is Wednesday's picking.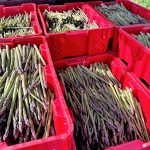 We planted tomatoes in the field this week, the plants were happy to be in the ground and out of the greenhouse.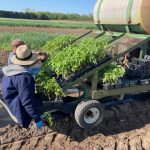 The tomato plants and tomatoes in the greenhouse are growing quickly, too.
Thank you for your continued support and for buying local.  Everyone at Corey Lake Orchards wishes you a Happy Spring!