The end of the month is getting busier!  Today is National Asparagus Day, a day near and dear to us growers.  Tomorrow is National Wine Day, a day worthy of celebration any time of year!  (Our wines are $1 off a bottle that day only).  And Friday is the start of the long Memorial Day weekend.
Memorial Day is the last Monday of the month and is a federal holiday for honoring and mourning the US military personnel who have died while serving in the US Armed Forces.  We salute our heroes who fought for our freedoms and graciously thank those serving our country today.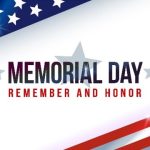 Note: We will be CLOSED on Monday, Memorial Day.  This is a change from our 60-year tradition of being open on holidays, and we and the staff look forward to observing the holiday.  Please be sure to pick up everything you need for Monday (or your return home if visiting) no later than 4 pm on Sunday!
Market Update
We have several updates and reminders to share with you.
New Sunday Hours: Open from 9 am to 4 pm (versus 6 pm).
The market is open Thursday through Sunday, and closed Monday, Tuesday, and Wednesday.
We are now a drop off location for Jake's Country Meats orders (see below).
Starting this weekend, we will carry fresh dairy milk.
Yeast donuts with sprinkles and "eyes" and vanilla ice cream are back!
These and other changes to our operations for 2023 are listed on our website. Please take a moment to review them.
It's Time to Grill!
Memorial Day weekend is the unofficial start of the summer season and that means grilling!  Here are some suggestions for rounding out your menus.
Start with a meat.  We carry locally raised meats from Jake's Country Meats including pork chops, brats, hot dogs, sausages, and more.
Pick up hamburger and hot dog buns from our bakery area.
Our fresh asparagus is great grilled along with fresh mushrooms from Bankson's.
Side salads made with Bankson's assorted lettuces topped off with one of our salad dressings from Drench.
We carry several types of crackers, chips, and cheeses for appetizers.
Add strombolis as a side – try our veggie one made with our asparagus.
Dessert is a given with one of our signature fruit pies ala mode with Plainwell's vanilla ice cream.
Asparagus 
We are at the peak of asparagus season!  Take advantage of it being in season and readily available.  This is also a good time to get it for freezing or canning – just call us to preorder for 20 pounds or more so we can have it ready for you.  We have price breaks at 10- and 20-pound quantities so buy in bulk!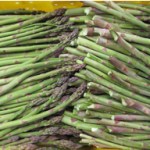 How to Store: Refrigerate asparagus for up to 5 to 7 days by wrapping ends of stalks in wet paper towel and placing in a plastic bag.
See the top 10 ways for using asparagus at the end of this newsletter.
Watch the homepage of our website for updates or call us.  (269-244-5690)
Strawberry Update
We are still anticipating strawberries to start by mid-June.  It all depends on the weather.  Please watch these newsletters, check the homepage of our website, call, or talk with one of our staff for updates.
We plan to have them for sale on the market in quantities from quarts to flats and also offer u-pick, if Mother Nature cooperates!  Prices are TBD.  We will begin taking orders for flats in early June.
Please watch these newsletters, check the homepage of our website, call, or talk with one of our staff for updates.
We are testing being a Meat Drop Location for Jake's 
After years of collaboration between our two farms, we are trying the launch of weekly Meat Drops.  Get ready for the convenience of ordering your favorite locally raised meats directly from our friends at Jake's Country Meats and be able to pick up your order at the market!
With this partnership, you'll gain access to a wider range of products and quantities – fill your grill for the weekend or stock your freezer.  Placing orders is a breeze—simply visit jakescountrymeats.com/store and set up a free account to order directly from their website.  Plus, all payments for Meat Drops will be processed through their secure online platform.  Important – orders must be placed by midnight on Mondays.  Pickup is from Thursday to Sunday during our regular business hours.  To ensure smooth operations and accommodate future orders, we kindly request that you pick up your order by Sunday at 4 pm when we close.
We look forward to launching this test site with them and hope it will work well to get a great local product to you.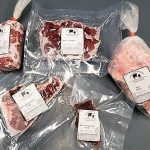 Sample Wine and Hard Cider this Saturday – All Day!
This Saturday, we will be offering samples of hard ciders and wines starting at 10 am through our closing at 6 pm!  We can help you find a flavor that is perfect for you and answer your questions about our alcohol processing operations here on the farm.  Tastings will be set up in our "breezeway," the area adjacent to the market with tables and a small children's play area.
We will also offer wine pours and bottled hard ciders for purchase if you want to sit for a while, grab some snacks and enjoy the farm setting.  We also have non-alcoholic drinks (sodas and cherry juice) and slushies available.  And there are many easy to grab food items on the market to enjoy with a beverage: donuts (weekends), cookies, fry pies, cheese, meat sticks, crackers, pretzels, mustard, chips and more.  We have disposable table service available for your convenience.
Bring your friends, family, weekend visitors, and come on over!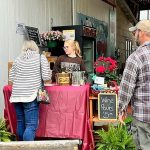 Enjoy live music by Steve Veldman from 10:30 am to 12:30 pm.  While shopping or sipping this Saturday, enjoy the sounds of live music.  Steve plays an eclectic mix of genres and styles on acoustic guitar, but specializes in traditional blues, bluegrass, old-time and folk music.  He spent nearly every summer weekend of his childhood at his grandparents' nearby cabin and has fond memories of picking strawberries at Corey Lake Orchards with his grandfather.  Steve's family has been a part of the surrounding lake community for four generations, a tradition he is grateful to now share with his own children.  Note: To comply with copyright regulations, all songs performed will be works from the public domain.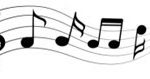 Gift Guide for that Favorite Teacher
School is nearly over for the year and now is the time to thank your favorite teacher(s) with a thoughtful gift.  Are you looking for ways to show your appreciation for these amazing teachers?  Our gift ideas will earn you an A+ on gift giving!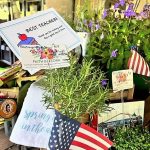 hank you for helping us GROW!
— potted plant, hanging flower basket
Thank you for BEEing such a great teacher!
— jar of honey, bottle of Peach and Honey wine
Thank you for helping us GROW!   
— potted plant, hanging flower basket
Thank you for BEEing such a great teacher!
— jar of honey, bottle of Peach and Honey wine
Any way you SLICE it, you are awesome!
— one of our signature fruit pies
You are awesome to the CORE!
— an apple pie
Thank you for making us such smart COOKIES!
— a package of our fresh baked cookies
How SWEET it is to be taught by you!
— donuts, muffins, cookies
There's MUFFIN like a great teacher!
— muffins
Thanks for being a BERRY good teacher!
— a jar of our Strawberry, Strawberry Rhubarb, Strawberry Lemonade
Marmalade, Triple Berry, Blueberry, or Blueberry Hibiscus jam or jelly
Forget the apples, you deserve GRAPES!
— a bottle of wine
After School Supplies!
— wine or hard cider
What you will find on the Market
Produce:
Asparagus
Rhubarb
Cucumbers from our greenhouse (sigh, tomatoes are still not ready….)
Fresh greens and spring vegetables from Bankson Lake Farms: lettuce mixes, spinach, Swiss chard, kale, arugula, mushrooms, radishes, Bok choy.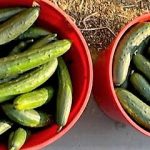 Baked goods: From our bakery, enjoy:
Pizza and breakfast stromboli's (frozen, take and bake) – in various flavors.  Our kitchen had the most wonderful aroma on Sunday as Moe roasted peppers, asparagus, garlic, and sweet onions to make a vegetable breakfast Stromboli.  Here she's assembling the last of them. They are available this weekend.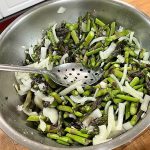 Cookies – Assorted flavors you will surely enjoy!
Muffins – A nice selection of flavors perfect for any time of the day
Donuts – Buttermilk, Blueberry, and Cherry – only available Saturdays and Sundays
Yeast Ring donuts – with red, white, and blue sprinkles and googly eyes are back this weekend!!
Fruit pies (frozen) – Apple, Dutch Apple, Blueberry, Cherry, Peach, Pumpkin, and Strawberry Rhubarb.  Plus, we just cut up more fresh rhubarb yesterday and made another batch of rhubarb pies!
Please contact us if you want to preorder any of our baked goods.
Grocery: Maple syrup products, honey, jams and jellies, salsas, yogurt, and Jake's meats.  New products: mustard, cheeses, granola, granola bites, crackers, and pretzels.
New this week: Smoked bratwurst with bacon and Swiss cheese
Fresh Dairy Milk.  We are excited to start carrying fresh milk from Amish Country Dairy, a local dairy farm.  This milk is pasteurized at a lower temperature, but not homogenized.  It is easily consumed by those individuals who are lactose intolerant.  It is completely natural and has cream on top so shake it up!  We plan to carry it by the gallon and half gallon as well as 16 oz. bottles of chocolate, coffee, caramel, and strawberry flavors.
Yoder's fry pies are back in your favorite flavors: Apple, Black Raspberry, Blueberry, Cherry, Peach, Red Raspberry, and Strawberry Rhubarb.
Alcohol: Various wines, hard ciders, and fruit brandies.  We have Rhubarb cider (tart, dry), available seasonally for a limited time.
Thursday, May 25 is National Wine Day.  To celebrate, all our wines will be $1 off a bottle that day only.
Introducing our B&B Bourbon!  This weekend our inaugural, small batch bourbon whiskey will finally be available for sale!  It was started four years ago by Bruce Ruesink, our now retired master distiller, and has been aging in an oak barrel.
It is now bottled and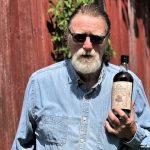 ready for you, and there are a limited number of bottles in this small batch run.  Bruce received honorary bottle number 1 in a show of appreciation to him for this great spirit to add to our alcohol line.
Product info:  750 ml bottle, 45% alcohol by volume, 90 proof
Flowers: Hanging baskets in a variety of colors and flowers, specialty pots, and potted plants.  Faith in Flora will also be here with potted plants.
Mini Tomato Plants: While we are not doing bedding plants this year, we have a limited supply of large "mini" tomato plants (cherry and grape) for sale.  We planted them for our own production and planted a few extras.  Many of you have come to rely on us to get these for your patios.  Limited supply available.
Lettuce Bowls: They are back and are a convenient way to have a salad.  Just pick the larger leaves, more leaves will grow back.  Keep the lettuce bowl watered, and out of direct, hot sun.  Limited supply available.
Happenings on the Farm
Everyone has a to do list before a holiday weekend.  We are checking things off our list as the staff scurries around to make our farm and market areas pleasing and welcoming for you.  Behind various doors of our buildings, you will find us baking or bottling another small batch of hard ciders (we just finished a new Maple batch!).  And we are still planting and working in our orchards and vineyards for fruits and vegetables yet to come.
Fresh pea gravel was added to the play area for softer landings.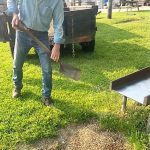 Several staff planted flowers.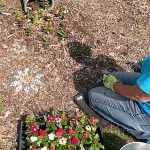 Kate and South getting the onion barn ready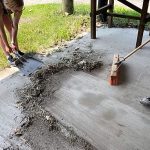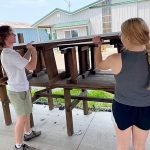 Wagons getting rounded up for repairs.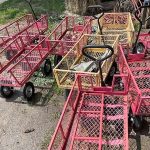 Top 10 Ways to Enjoy Asparagus 
10   Egg-cellent Asparagus.  Add steamed pieces of asparagus to an egg white and feta cheese omelet.  Finish with halved cherry tomatoes.
9    Grilled.  Place asparagus spears on a medium-high heat grill coated with olive oil spray and cook for about 5-8 minutes until tender, turning occasionally.
8    Cheese, Crackers & Asparagus.  Spread a soft cheese (goat cheese, brie, etc.) on whole wheat crackers and top with a crisp asparagus head.  Serve as an appetizer or an afternoon snack.  Try it with our assorted crackers.
7    Hearty Soup.  Purée cooked leeks, onions, russet potatoes, asparagus, low-sodium chicken broth, lemon juice, and low-fat sour cream until smooth.  Garnish soup with asparagus tips.
6    Drizzle a Little Dressing.  Dress up your traditional steamed or boiled asparagus with a mustard vinaigrette or with one of our Drench dressings – Mediterranean Lemon, Southwest, or Citrus Honey.
5    Steamed.  Place fresh or frozen asparagus in a microwave-safe container or in a sauté pan with a small amount of water, low-sodium seasonings, and garlic.  Enjoy as a side dish or snack.
4   Stock Up. Save the woody ends of asparagus for making asparagus soup later. Simply place in a zip lock bag and freeze until ready to use.
3    Easy Appetizer.  Serve asparagus spears with a vibrant dipping sauce for an easy appetizer.  Using nonfat Greek yogurt as a base, add in lemon juice, minced garlic, roasted red bell pepper … be creative and get dipping!  Try it with our yogurt from Mattawan Creamery.
2    Veggie Fettuccine.  Toss cooked asparagus and bell pepper with cooked fettuccine.  Finish with lemon juice and cheese.
1    Shake & Bake!  Place fresh asparagus in a plastic zip lock bag, drizzle with olive oil, and add salt, pepper and other seasonings.  Shake until asparagus is coated, then bake in oven or air fryer at 400°F until crisp!
See more Asparagus recipes on our website
Also, lots of fresh asparagus recipes from Michigan Asparagus.
Did you know?  Asparagus is one of the most nutritionally well-balanced vegetables in existence.  It leads nearly all produce items in the wide array of vitamins and nutrients it supplies.  Its wealth of nutrients, fiber, and very low sodium and calorie content make asparagus a nutritionally wise choice for today's health-conscious consumer.
Thank you for your continued support and for buying local.  Everyone at Corey Lake Orchards wishes you a safe and thoughtful Memorial Day Weekend!