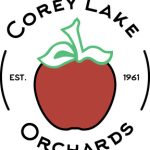 "In early June, the world of leaf and blade and flowers explodes, and every sunset is different." – John Steinbeck
June Is Bustin' Out All Over…. Yes, it is June, June, June.  We can hear the refrain from the Broadway show 'Carousel' across the fields though the carousel closest to us right now is the constant rotation of irrigation lines as we work to keep our crops alive in this heat!
We welcome June.  It is one of the shorter months with just 30 days and is the month with the longest daylight hours of the year (in the Northern Hemisphere).  Mother Nature is in full swing with a typically sunny and bright month.  Our crops do a lot of growing in June.  We can feel the energy in the air, especially the youthful joy of children looking forward to their summer break from school.  And, June brings strawberries!  The season for Michigan strawberries (which we think are the best flavored!) is always too short.
Thanks to everyone who stopped by on Memorial Day weekend!  It was nice to see so many familiar faces again.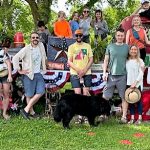 We have several updates and reminders to share with you.
New Sunday Hours: Open from 9 am to 4 pm (versus 6 pm).
The market is open Thursday through Sunday, and closed Monday, Tuesday, and Wednesday.
We are now a drop off location for Jake's Country Meats orders (see below).
Introducing our new White Whiskey this week
These and other changes to our operations for 2023 are listed on our website. Please take a moment to review them.
The season is ending faster than we'd like, but with the high temperatures and no rain, we have now stopped picking for the year.  We have enough on hand to probably get us through this weekend.  If you are looking for large quantities, like 20 pounds or more, you should call us to order it and we can hold it for you.
How to Store: Refrigerate asparagus for up to 5 to 7 days by wrapping ends of stalks in wet paper towel and placing in a plastic bag.
Watch the homepage of our website for updates or call us.  (269-244-5690)
We are still anticipating the main strawberry crop will be mid-June.  This coming week, we hope to pick some early berries and when we do, they will be available by the quart.  Pricing is $6 a quart.  We will post on Facebook as soon as they are in the market.  If you aren't a Facebook person, you can call us!
Preorders.  We will start taking preorders for flats (8 quarts).  Pricing is still TBD.  If you'd like, call (269) 244-5690 or stop by the market to get on our strawberry list.  We will call you when strawberries are available.  Being on the list does not obligate you to take any, though we will be happy if you do!
U-pick.  We know some of you are feeling "picky" about berries!  Patience please – we will open the field for u-pick as soon as there are enough available for picking.  Keep in mind that you will need to make a reservation for a day and time.  The sign-up link will be in these newsletters and the homepage of our website.  We will also have a special u-pick information page on the website with the pricing, hours, what to bring, what to expect, and more.
Please watch these newsletters, check the homepage of our website, call, or talk with one of our staff for updates.
This Saturday, we will be offering samples of hard ciders and wines from 10 am until 2 pm.  We can help you find a flavor that is perfect for you and answer your questions about our alcohol processing operations here on the farm.  Tastings will be set up in our "breezeway," the area adjacent to the market with tables and a small children's play area.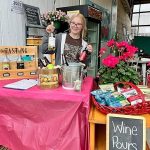 We will also offer wine pours and bottled hard ciders for purchase if you want to sit for a while, grab some snacks and enjoy the farm setting.  We also have non-alcoholic drinks (sodas and cherry juice) and slushies available.  And there are many easy to grab food items on the market to enjoy with a beverage: donuts (weekends), cookies, fry pies, cheese, meat sticks, crackers, pretzels, mustard, chips and more.  We have disposable table service available for your convenience.
By the way, you can always get a nonalcoholic drink or hard cider, some of our snacks, and sit and enjoy them in our seating areas during our business hours.  You can make your own "tasting" experience!
Bring your friends, family, weekend visitors, and come on over!
'Yoga at the Orchard' is back and hotter than ever!  Through a partnership with the So Flexy Yoga instructors in Three Rivers, we will offer classes on Saturday mornings starting at 10:30 am throughout the summer.  Improve your health and body while making new friends and enjoying the views at the farm!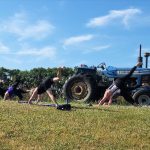 Cost: $15 per person, all ages and yoga abilities are welcome
Time:  10:30 to 11:30 am
Check in with your instructor at the Terrace Garden next to the market.  You will receive a check-out slip to take to the market to pay afterwards.  It has a coupon good for $2 off your total purchase of produce or items from the market (excluding the cost of the class).
We have two inviting spaces for you to relax in afterwards with a bakery treat, a healthy slushie or even a hard cider or wine!
Bring: bottled water, a beach-size towel, sunscreen, yoga mat, and shoes for walking to the class.  Insect repellant as necessary.
After years of collaboration between our two farms, we are trying the launch of weekly Meat Drops.  Get ready for the convenience of ordering your favorite locally raised meats directly from our friends at Jake's Country Meats and be able to pick up your order at the market!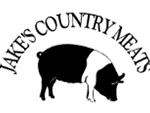 With this partnership, you'll gain access to a wider range of products and quantities – fill your grill for the weekend or stock your freezer.  Placing orders is a breeze—simply visit jakescountrymeats.com/store and set up a free account to order directly from their website.  Plus, all payments for Meat Drops will be processed through their secure online platform.  Important – orders must be placed by midnight on Mondays.  Pickup is from Thursday to Sunday during our regular business hours.  To ensure smooth operations and accommodate future orders, we kindly request that you pick up your order by Sunday at 4 pm when we close.
We look forward to launching this test site with them and hope it will work well to get a great local product to you.
School is nearly over for the year and now is the time to thank your favorite teacher(s) with a thoughtful gift.  Are you looking for ways to show your appreciation for these amazing teachers?  Our gift ideas will earn you an A+ on gift giving!
Produce
Asparagus (almost done for the season)
Rhubarb (almost done for the season)
Cucumbers from our greenhouse
Fresh greens and spring vegetables from Bankson Lake Farms: lettuce mixes, spinach, Swiss chard, kale, arugula, mushrooms, radishes
U-pick herbs – we have some herbs available now
Where are the Ripe Tomatoes?  We are as disappointed as you, that the tomatoes in our greenhouse are simply not turning red.  All we can tell you is to stay tuned.  We have lots of green tomatoes and hopefully they will change colors soon for that first BLT of the year.  Our mini tomatoes are beginning to ripen!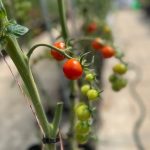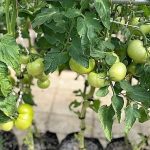 Baked Goods
Enjoy these treats from our bakery (and the smell when we are baking!):
Pizza, breakfast, and traditional strombolis (frozen, ready to bake) – several varieties to choose from
Cookies – Assorted flavors you will surely enjoy!
Muffins – A nice selection of flavors perfect for any time of the day
Donuts – Buttermilk, Blueberry, and Cherry – only available Saturdays and Sundays
Yeast Ring donuts – assorted sprinkles and googly eyes – only available Saturdays and Sundays
Fruit pies (frozen, ready to bake) – Apple, Dutch Apple, Blueberry, Cherry, Peach, Pumpkin, and Strawberry Rhubarb.
Please contact us if you want to preorder any of our baked goods.
Grocery
Maple syrup products, honey, jams and jellies, salsas, yogurt, and Jake's meats.
New product: Mattawan Artisan Creamery goat cheese is back!  Now available in two sizes and it freezes well.
Yoder's fry pies in your favorite flavors: Apple, Black Raspberry, Blueberry, Cherry, Peach, Red Raspberry, and Strawberry Rhubarb.
Milk from Amish Country Diary.  This milk is completely natural and has cream on top so shake it up before drinking!  It is easily consumed by those individuals who are lactose intolerant.  We carry gallons and half gallons in plain white milk as well as 16-ounce bottles in chocolate, coffee, caramel, and strawberry flavors.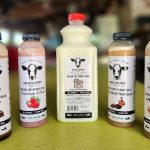 Saturday, June 3 is National Egg Day.  We carry locally sourced, large brown eggs.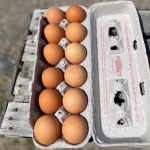 Try our new granola and granola bites made in Michigan by Teffola!  This granola is made with ancient grains – teff and buckwheat – which are regeneratively grown on a 7th generation Michigan family farm.  This high-quality granola has been intentionally crafted to fuel your body.  Now that we have discovered it (and we really like it), we will not be switching to anything else!  It goes very nicely with our Mattawan Creamery Yogurt.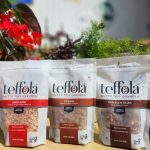 Loose Granola: Original, Berry Burst, Chocolate Charm
Granola Bites: Original and Triple Chocolate
Alcohol
We have various wines, hard ciders, and fruit brandies.  We have Rhubarb cider (tart, dry) is available seasonally for a limited time.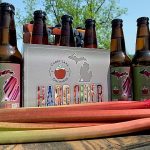 Whiskey and Bourbon 
This past week we introduced both of these new spirits and were extremely pleased with the positive comments we received during our sampling of them on Saturday morning.
We will be offering samples of this again on Saturday from 10am until 2pm.
Watch for upcoming news regarding the reopening of our "Brandy House" for tastings on our spirits and information on how we make our products.
Bourbon.  This is the first ever bourbon made in the 60-plus year history of Corey Lake Orchards.  We're especially proud of this bourbon because our master distiller incorporated some changes to bring out more flavor.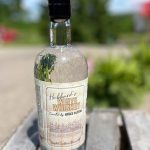 To call something bourbon, it needs two things: to be made from at least 51% corn and to have been aged for at least 2 years.  We wanted to have a slightly sweeter, more caramel hint to our bourbon and so we used a much higher percentage of corn, around 75%, and aged it for 4 years.
The corn for these batches was mashed right here on the farm by hand, a very manual process to give this bourbon the human touch.  We hope you enjoy it!
Product info:  750 ml bottle, 45% alcohol by volume, 90 proof
White Whiskey.  As stated above, to call something bourbon it needs to be aged at least two years in a barrel.  If you don't age it, you are able to call it White Whiskey.
The barrel is what gives liquors their color, and so that's why this spirit is clear.  Others might refer to this as "White Lightning" or something more like a moonshine.  This product is an homage to the founder of this farm, who grew up in the hills of Virginia where moonshine was abundant.
This whiskey has a much higher percentage of corn, again around 75%, to give some more notes of sweetness.
Product info:  750 ml bottle, 45% alcohol by volume, 90 proof
HAPPENINGS ON THE FARM
Which is the cutest?  Baby apples or baby grapes?  We love seeing both of these looking so abundant and healthy.  Now if we could only get them a drink of water, sigh, we really need rain.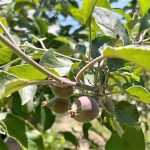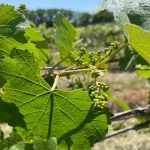 Thank you for your continued support and for buying local.  Everyone at Corey Lake Orchards wishes you a happy Spring!