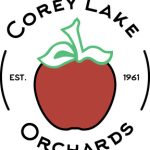 Last Saturday's full moon, appropriately called the "Strawberry Moon", sweetened up the sky for us and we picked the first strawberries of the season.  The season is just starting and typically lasts several weeks.  There is nothing quite as good as a Strawberry Shortcake made with those first fresh strawberries!  Stop by as we have berries, our special homemade shortcakes, whipped cream, and vanilla ice cream.
We are decorating the market for strawberry season and are into our "Strawberry Crazy Days" with plenty of fresh berries and fun strawberry products and gifts.  Speaking of gifts, it's not too early to start thinking about a special gift for Father's Day.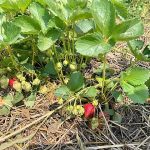 Our partners.  As you know, we also sell produce and other products (like honey and maple syrup) from local farms.  These small farm partnerships are key to our operations.  It not only provides these farms with an additional sales outlet, but it gives you a wider range of produce and products to choose from and the convenience of one-stop shopping.
Watch future newsletters for insights into these valued businesses.  Today we are featuring Bankson Lake Farm (see end of newsletter).  We encourage you to read their story and Beth's visit to their farm.
Market Update
We have several updates and reminders to share with you.
New Sunday Hours: Open from 9 am to 4 pm (versus 6 pm).
The market is open Thursday through Sunday, and closed Monday, Tuesday, and Wednesday.
We are now a drop off location for Jake's Country Meats orders (see below).
Watch our website homepage for updates or call us.  (269) 244-5690.
Strawberries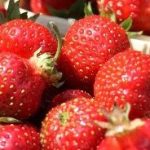 We have started to pick our earlier variety and plan to have them available on the market for $6 a quart unless we experience delays from rain or cooler weather.  It is best to call before you come to make sure we have them as until we are in peak production, we usually sell out.  If we have berries here, we will hold them for you for pick up later in the day.
The bulk of our strawberry crop is a later variety, and we expect it to start mid-June.  As you can see from the picture below, these strawberries still have a way to go before being ready for ample picking.
Last Saturday we picked the first of the strawberries and sold them in quarts.  That first taste of the season was enjoyed by all – especially a young customer and Kate's bunny!
Preorders.  We are taking preorders for flats (8 quarts); price is $43 a flat.  If you are interested in being on our strawberry list, please call (269) 244-5690 or stop by the market.  We will call you when strawberries are available and finalize your order at that time.  Keep in mind that it will take us a while to get through our order list as it is getting longer by the day.
U-pick.  We know some of you are feeling "picky" about berries!  Patience please – we will open the field for u-pick as soon as there are enough available for picking.  Keep in mind that you will need to make a reservation for a day and time.  The sign-up link will be in these newsletters and the homepage of our website.  Please note that we will only roll out several days of picking at a time while we monitor the picking conditions.  Check our special u-pick information page on the website with the pricing, hours, what to bring, what to expect, and more.
The u-pick will be open (weather permitting) on Thursdays through Sundays from 8 am to Noon and late Tuesdays from 4 to 7 pm.  We are trying something new with the late Tuesday picking opportunity.  The berries don't know that we are normally closed on Tuesdays – they want to be picked!  Please keep in mind that we will limit days and hours if needed due to how many berries are ripe.  And the strawberry season only lasts a few weeks.
Please watch these newsletters, check the homepage of our website, call, or talk with one of our staff for updates.
Sample Wine and Hard Cider this Saturday
This Saturday, we will be offering samples of hard ciders and wines from 10 am until 2 pm.  We can help you find a flavor that is perfect for you and answer your questions about our alcohol processing operations here on the farm.  Tastings will be set up in our "breezeway," the area adjacent to the market with tables and a small children's play area.
We will also offer wine pours and bottled hard ciders for purchase if you want to sit for a while, grab some snacks and enjoy the farm setting.  We also have non-alcoholic drinks (sodas and cherry juice) and slushies available.  And there are many easy to grab food items on the market to enjoy with a beverage: donuts (weekends), cookies, fry pies, cheese, meat sticks, crackers, pretzels, mustard, chips and more.  We have disposable table service available for your convenience.
By the way, you can always get a nonalcoholic drink or hard cider, some of our snacks, and sit and enjoy them in our seating areas during our business hours.  You can make your own "tasting" experience!
Bring your friends, family, weekend visitors, and come on over!
Enjoy live music by Steve Veldman from 10:30 am to 12:30 pm.  While shopping or sipping this Saturday, enjoy the sounds of live music.  Steve is back and plays an eclectic mix of genres and styles on acoustic guitar, but specializes in traditional blues, bluegrass, old-time and folk music.  He spent nearly every summer weekend of his childhood at his grandparents' nearby cabin and has fond memories of picking strawberries at Corey Lake Orchards with his grandfather.  Steve's family has been a part of the surrounding lake community for four generations, a tradition he is grateful to now share with his own children.  Note: To comply with copyright regulations, all songs performed will be works from the public domain.
Yoga Classes are Back for the Summer
Yoga at the Orchard – is back!  We will offer classes on Saturday mornings starting at 10:30 am throughout the summer   $15 per person, all ages and yoga abilities welcome.  For those of you who don't know, Three Rivers is home to So Flexy Yoga and some of their instructors will be visiting us to teach on these weekends.  Improve your health and body while making new friends and enjoying the views at the farm!
Check in with your instructor at the yard in front of the main farmhouse.  We are moving the location to have shade and a nice view of the lake and vineyard.  This week Lucas King will be the instructor and you will leave feeling good!  You will be given a check-out slip to take to the market at the end of class that is also good for a free small slushy ($3 value).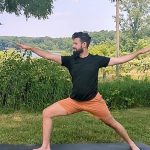 We have two inviting spaces for you to relax in afterwards while you enjoy your slushie.  Grab a bakery treat or even a hard cider or wine!
Bring bottled water, a beach-size towel, sunscreen, yoga mat, and shoes for walking to the class.  Insect repellant as necessary.
Produce
Asparagus (very little left)
Rhubarb (almost done for the season)
Cucumbers from our greenhouse
Strawberries (quarts only)
Fresh greens and spring vegetables from Bankson Lake Farms: lettuce mixes, spinach, Swiss chard, kale, arugula, mushrooms, radishes
U-pick herbs
Faith in Flora will be here with potted plants.
Baked Goods
Enjoy these treats from our bakery (and the smell when we are baking!):
Shortcakes – Grab a 6 count package to go with your strawberries!
Cinnamon Rolls – are back, find them on Saturdays and Sundays
Pizza, breakfast, and traditional strombolis (frozen, ready to bake) – several varieties to choose from
Cookies – Assorted flavors you will surely enjoy!
Muffins – A nice selection of flavors perfect for any time of the day
Breads – assorted types plus hamburger and hotdog buns
Donuts – Buttermilk, Blueberry, and Cherry – only available Saturdays and Sundays
Yeast Ring donuts – assorted sprinkles and googly eyes – only available Saturdays and Sundays
Fruit pies (frozen, ready to bake) – Apple, Dutch Apple, Blueberry, Cherry, Peach, Pumpkin, and Strawberry Rhubarb.
Thursday, June 9, is National Strawberry Rhubarb Pie Day.  Celebrate the day with us and get $1 off one of our signature Strawberry Rhubarb pies, Thursday only. 
Please contact us if you want to preorder any of our baked goods.  Last weekend, our googly eyed donuts were busy keeping an eye on things at the market!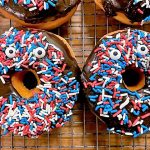 Making strawberry shortcakes in the bakery.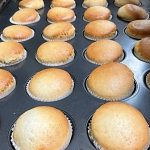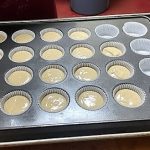 Grocery
Maple syrup products, honey, jams and jellies, salsas, yogurt, and Jake's meats. We also have assorted cheeses, crackers, chips, mustard, eggs, milk, granola, and more.
We are testing being a Meat Drop location for Jake's Country Meats.  If you would like more meat products or larger quantities than what we offer, preorder at Jakes online.  They will drop off your order at the market for pick-up.  See our Meat Drop information page on our website for details.
Yoder's fry pies in your favorite flavors: Apple, Black Raspberry, Blueberry, Cherry, Peach, Red Raspberry, and Strawberry Rhubarb.
Alcohol
We have various wines, hard ciders, and fruit brandies.  We have Rhubarb cider (tart, dry) is available seasonally for a limited time.  Our alcohol products make great Father's Day gifts also!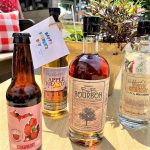 Whiskey and Bourbon 
This recently introduced these new spirits and were extremely pleased with the positive comments we received during our Saturday samplings.  We will be offering samples again on Saturday from 10am until 2pm.
Watch for upcoming news regarding the reopening of our "Brandy House" for tastings on our spirits and information on how we make our products.
B&B Bourbon.  This is the first ever bourbon made in the farm's history.  We wanted to have a slightly sweeter, more caramel hint to our bourbon and so we used a much higher percentage of corn, around 75%, and aged it for 4 years.   The corn for these small batches was mashed right here on the farm by hand, a very manual process to give this bourbon the human touch.  We hope you enjoy it!
Product info:  750 ml bottle, 45% alcohol by volume, 90 proof
White Whiskey.  This whiskey was aged for two years in a barrel.  The barrel is what gives liquors their color, and so that's why this spirit is clear.  This product is an homage to the founder of this farm, who grew up in the hills of Virginia where moonshine was abundant.
This whiskey has a much higher percentage of corn, again around 75%, to give some more notes of sweetness.
Product info:  750 ml bottle, 45% alcohol by volume, 90 proof
Happenings on the Farm
Our baby purple kohlrabi is growing nicely.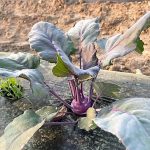 Here's a before and after picture of Alicia removing the suckers from a tomato plant prior to tying the plant up to start the trellising system.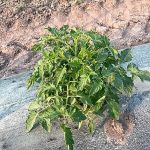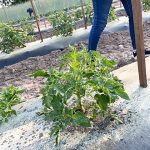 One of the highlights of our herb garden is stopping to pick off a leaf of the various mints that week grow and smelling it.  Especially the chocolate mint that is simply amazing.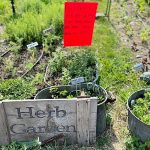 We are staking our field tomatoes and they are beautiful this year!  Staking them keeps them off the ground and they produce more by being trellised.  It also allows more air to go through them to prevent disease.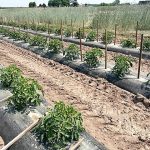 What is this lovely yellow flower growing in your stone bed? It is yellow loosestrife.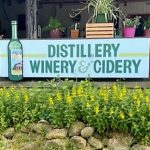 Learn More About Bankson Lake Farms from Beth's Visit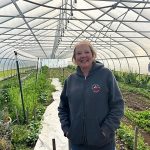 n April 24th, I "escaped" from the farm and took a long overdue tour of Bankson Lake Farm, LLC.  This small farm located in Lawton, Mich. is owned and operated by Dan Owens.  He has a passion for growing high quality, fresh produce which he sells at his own market, our market, restaurants, and farm markets in his area. The operation was mind blowing.  I loved finding every tool and every picking container neatly in place and ready for use.  He was still in "spring" mode with many trays of plants awaiting growth and their final destination into one of his large hoophouses or fields.  His "starts" or plants were all healthy and beautiful, and you already knew they would be successful once in production.  A peek inside each of these large hoophouses showed me how he had planned for and used every inch of space.  Here are some things I learned while there:
Yes, there really is a Bankson Lake and it is beautiful!
Yes, Dan really does all of this on only a couple of acres of land without the use of a tractor
Yes, he really grows beautiful mushrooms that he brings us every week
He somehow finds time to be a beekeeper, bottle maple syrup, has started a small orchard, makes pizza and ice cream, and wood charcoal for your grill
This farm grows a variety of vegetables, mushrooms, salad greens, flowers and herbs grown using non-GMO seeds and plants, using only all-natural growing practices without the use of chemical pesticides and herbicides.  Dan supplies us with seasonal vegetables that we do not grow such as salad blends, head lettuce, garlic, garlic scapes, carrots, radishes, celery, arugula, kale, spinach, and various types of mushrooms.
Below are his beautiful lettuces, hoop house, lavender plants, and view of their farm.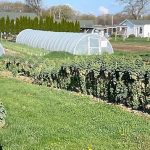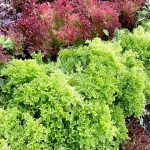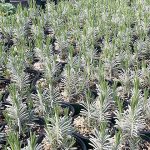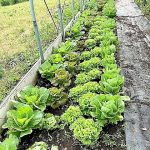 Look for his produce while shopping with us!  It is amazing!
We are grateful for the continued partnership we have with Bankson Lake Farms, which has developed into a valued friendship over the years.
Thank you for your continued support and for buying local.  Everyone at Corey Lake Orchards wishes you a happy Spring!