Our market is looking berry beautiful right now – and smells just as lovely!  You can smell the scent of light, fresh strawberries in the air as soon as you enter the market.  It's too bad the season is so short.
Sunday is Father's Day – a time to recognize the father figures in our life.  Some of us are blessed with more than one as we have fathers, grandfathers, uncles, and friends that are part of our lives.  These are the men we look up to who set solid examples for us and give us guidance throughout our lives.  If you are looking for a gift, we have some nice alcohol products that are sure to please!  We also have baked goods, meats, fresh produce, and more to make Dad a special meal.
Our Days and Hours
Our Days and Hours
–Open Thursdays, Fridays, and Saturdays from 9 am to 6 pm
–Open Sundays from 9 am to 4 pm
–Closed Mondays, Tuesdays, and Wednesdays
Watch our website homepage for updates or call us.  (269) 244-5690.
Strawberries 
The strawberry season is underway and we are trying to have them readily available on the market.  Keep in mind that the current cooler nights are holding back ripening.  We sell them by the quart, 5-quart boxes, and 8-quart flats (if available).  Please call if you would like more than a few quarts set aside for you.  The berries are picked fresh each morning so please give us until 11 am to have them available on the market.
We are in the process of filling our orders for those who are were on our strawberry wait list.  If you have not received a call from us yet, please call us at 269-244-5690 so we can schedule a day for pickup.
U-Pick Strawberries
We are finding ourselves needing to make some changes for our 2023 U-Pick strawberry season.  As the season has progressed, our production yield is less than in past years.  Numerous factors are causing this, including this year's weather, and the hailstorm we experienced last year and the stress it put on the strawberry plants.  Thus, we are going to make this a "Strawberry Shortcake" patch this year.
We will open the field beginning Thursday, June 15, but are limiting the picking hours and the quantity of strawberries you can pick (up to 4 quarts per party).
This will allow those families who want to bring their kids out for the "experience" to be in a strawberry field and see how they grow, and to pick just enough for a "strawberry shortcake" or fresh eating.
Pricing.  Strawberries are $4 a quart.
You will need to make a reservation to pick.  To make a reservation, click the link to the reservation system below.  There is no fee to get into the field.  You only pay for the strawberries that you pick.  We will be adding more days (and possibly times) as we evaluate the weather and picking conditions.
The link to the reservation system is at: https://www.signupgenius.com/go/10C0C44AAA82FA0FDCE9-strawberry
For those wanting more than 4 quarts, there are several options.
Pick a few quarts for the "experience," and buy the remaining amount you want from our market.  Preordering these will help us.
 Consider other farms that offer U-pick.  You can locate other farms by going to www.MichiganfarmFun.com and searching this online directory for u-pick strawberries that are closest to where you live.  The closest farm to us is River Valley Farms, located at 64506 US 131, Constantine, MI.  They are open 8 until noon daily for U-pick, weather permitting.  They supplied us berries last year when we lost ours in a hailstorm and are providing us picked berries again this year due to our low yields.
For more details and the latest information, please visit our U-Pick Strawberry page online.
Strawberry Gifts and Vintage Displays
In our breezeway, check out the largest and best collection of vintage strawberry items around, plus strawberry shortcake doll items from years ago.  On the main market, check out the vintage display from what most of us probably saw in our grandmother's kitchen.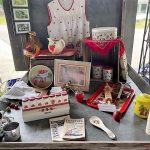 We also have strawberry gift items for sale.  And strawberry muffins!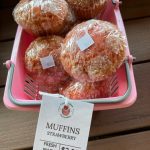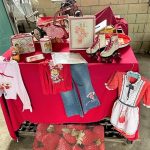 Our Happy Hours and Brandy House Tours are Back!
Sample Wine and Hard Cider, Saturday, 10 am to 2 pm
Sample our alcohol products or enjoy a wine pour or bottle of hard cider.  Each Saturday, we feature several of our products to give you an opportunity to find the one that is perfect for you.  Tastings are set up in our "breezeway," the area adjacent to the market with tables and a small children's play area.
Happy Hours, Saturdays, 4 to 6pm
Our Happy Hours have returned for the summer.  Stop by and enjoy our bottled hard ciders and wine pours.  Bring your family and friends and relax in our farm setting.  If you have a large group, call us and we can reserve a table for you.  We have lots of items you can purchase for snacks from cheese and meat sticks with crackers, pretzels and mustard, or dig into a fresh quart of strawberries.
Brandy House Tours, Saturday, June 17 from 4 to 5 pm
We are bringing back our popular Brandy House Tours!  Meet Sean, our head distiller and hard cider maker, and learn about how our fruit transforms into alcoholic beverages.  Of course, there will be samples, a great time to try our new bourbon and white whiskey.  These will be held once a month, watch the newsletter or website for future dates.
Below, the Ladies of the Lake recently enjoyed a private tour of the Brandy House.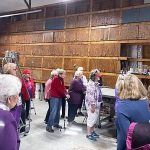 Non-Alcoholic Drinks and Food Items
Anytime you are here shopping you will find non-alcoholic drinks (sodas and cherry juice) and slushies.  And there are many easy-grab food items on the market to enjoy with a beverage such as: donuts (weekends), cookies, fry pies, cheese, meat sticks, crackers, pretzels, mustard, chips and more.  We have disposable table service available for your convenience.  Seating is available in several areas close to the market.
Bring your friends, family, weekend visitors, and come on over!
Join us for 'Yoga at the Orchard'
We offer classes on Saturday mornings starting at 10:30 am throughout the summer   $15 per person, all ages and yoga abilities welcome.  For those of you who don't know, Three Rivers is home to So Flexy Yoga and some of their instructors will be visiting us to teach on these weekends.  Improve your health and body while making new friends and enjoying the views at the farm!
Check in with your instructor at the yard in front of the main farmhouse.  We are moving the location to have shade and a nice view of the lake and vineyard.  This week Lucas King will be the instructor and you will leave feeling good!  You will be given a check-out slip to take to the market at the end of class that is also good for a free small slushy ($3 value).
We have two inviting spaces for you to relax in afterwards while you enjoy your slushie.  Grab a bakery treat or even a hard cider or wine!
Bring bottled water, a beach-size towel, sunscreen, yoga mat, and shoes for walking to the class.  Insect repellant as necessary.  See webpage for details.
What is on the Market this Week
Produce
Strawberries
Cucumbers from our greenhouse
Tomatoes from our greenhouse and a greenhouse in Indiana
Mini tomatoes from our greenhouse
Broccoli, zucchini, cauliflower, and yellow squash (hopefully!)
Fresh greens and spring vegetables from Bankson Lake Farms: lettuce mixes, spinach, Swiss chard, kale, arugula, mushrooms, radishes, garlic scapes
U-pick herbs
Faith in Flora will be here with fresh floral bouquets.
We are hoping to harvest the first broccoli, zucchini, and yellow squash this weekend.  It is coming along!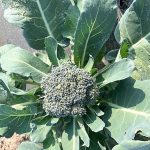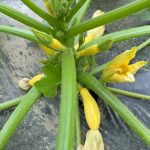 Baked Goods
Enjoy these treats from our bakery (and the smell when we are baking!):
Shortcakes – Grab a 6-count package to go with your strawberries!
Cinnamon Rolls – are back, find them on Saturdays and Sundays
Cookies – Assorted flavors you will surely enjoy!
Muffins – A nice selection of flavors perfect for any time of the day
Breads – assorted types plus hamburger and hotdog buns
Donuts – Buttermilk, Blueberry, and Cherry – only available Saturdays and Sundays
Yeast Ring donuts – assorted sprinkles and googly eyes – only available Saturdays and Sundays
Fruit pies (frozen, ready to bake) – Apple, Dutch Apple, Blueberry, Cherry, Peach, Pumpkin, and Strawberry Rhubarb.
Please contact us if you want to preorder any of our baked goods.
We are busy making cinnamon rolls in the bakery.  Try one – it is a meal in itself!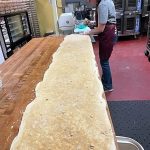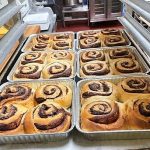 We have also started carrying assorted breads for the summer.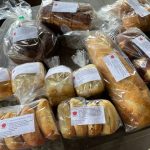 Grocery
Maple syrup products, honey, jams and jellies, salsas, yogurt, and Jake's meats. We also have assorted cheeses, crackers, chips, mustard, eggs, milk, granola, and more.
We are testing being a Meat Drop location for Jake's Country Meats.  If you would like more meat products or larger quantities than what we offer, preorder at Jakes online.  They will drop off your order at the market for pick-up.  See our Meat Drop information page on our website for details.
Yoder's fry pies in your favorite flavors: Apple, Black Raspberry, Blueberry, Cherry, Peach, Red Raspberry, and Strawberry Rhubarb.
Alcohol
We have various wines, hard ciders, and fruit brandies.  We have Rhubarb cider (tart, dry) is available seasonally for a limited time.  Our alcohol products make great Father's Day gifts also!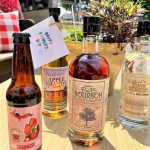 A Special Thank You from Blake
As many of you know, our high school staffer Blake recently competed in an international tuba competition in Arizona.  Many of you graciously donated to help defray the cost of his trip.  Blake recently returned, see his note of thanks below.
Although I did not make the final cut, my time in Arizona was one of the most educational trips I have been on.  The organization selected 2 tubas and 1 euphonium for finals, all extremely talented musicians from across the world that I had the pleasure to meet and get acquainted with.  I learned so much from the biggest names in the industry, got to try out tubas, and connected with people who share my passion.
I am extremely grateful for everyone who donated, and this trip has and will play, a huge role in the development of my musical career.  I was so glad to be supported by such a loving community like this one!
Visit by the Ladies of the Lake
This past week we enjoyed hosting a brunch for the Ladies of the Lake.  In addition to socializing and enjoying our baked goods and strawberries, they also toured the market and greenhouse, and visited the Brandy House to meet Sean and learn more about our distilling process.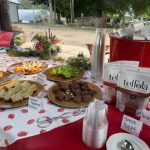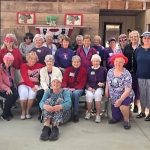 Happenings on the Farm
Finally.  Color in the greenhouse!  We are seeing a few regular tomatoes turning red, and red and orange mini-tomatoes.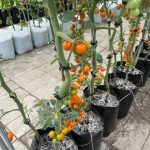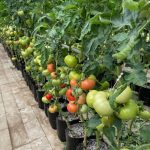 Well, Nature sent us a special gift to make up for how long it is taking for the greenhouse tomatoes to turn red.  Red cardinals have decided to make a home in one of our tomato plants!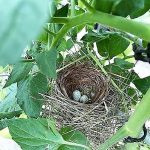 Thank you for your continued support and for buying local.  Everyone at Corey Lake Orchards wishes you a berry nice day!