With the Fourth of July falling on a Tuesday this year, we will be open on Monday, July 3 during our regular hours of 9 am to 6 pm.  This will give you a chance to pick up any last-minute items for your family celebration and cookout!  We will be closed on July 4-5, and reopen on Thursday, July 6.
It's a red, white, and blue holiday with cherries, a few strawberries, and blueberries making their debut this holiday weekend.  If you look around the market, you'll find even more red, white, and blue items for sale!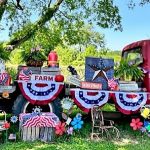 Our Days and Hours
Our Days and Hours
–Open Thursdays, Fridays, and Saturdays from 9 am to 6 pm
–Open Sundays from 9 am to 4 pm
–Open Monday, July 3, from 9 am to 6 pm
–Closed Tuesdays, and Wednesdays
Watch our website homepage for updates or call us.  (269) 244-5690.
Cherries and Blueberries
Cherries
We no longer grow any sweet or tart cherries on our farm.  We are getting Black sweet cherries from Coloma (same farm that supplied us last year) and are available by the quart or bulk box.
If you are interested in u-pick tart cherries, we recommend you try Shultz's Fruitridge Farms in Mattawan (269-668-6109) who have them both already picked and u-pick or try another farm closer to you.
Plus check out Beth's vintage cherry collection on display.
By the way, you'll find cherry items all over the market like cherry salsa, cherry potato chips, chocolate covered cherries, dried cherries, tart cherry slushies, and more.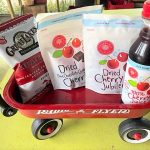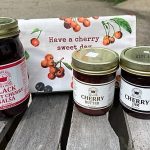 Blueberries
We plan to open our U-pick blueberry field starting Saturday, July 1.  We have a small field and is really for the "experience"; we have a 5 pound per group picking limit.  The field will be open during our regular hours Thursday through Sunday as long as there are blueberries.  When they get picked out, we will close the field until more ripen.  It is best to call before you come to pick blueberries to make sure we are open for picking.  If you want to pick a lot of blueberries, we recommend going to Brookside Farms in Paw Paw.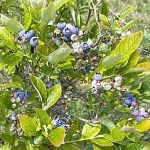 Check in at the market first for containers and directions to the field.  Pricing is $2.25 per pound. 
We also have already picked blueberries coming from Brookside farms (our long-term blueberry supplier) around July 4.  Please check the home page of our website or give us a call to check that they are in season.
Alcohol Sampling and Live Music this Saturday
Sample Wine and Hard Cider, Saturdays, 10 am to 2 pm
Sample our alcohol products or enjoy a wine pour or bottle of hard cider.  Each Saturday, we feature several of our products to give you an opportunity to find the one that is perfect for you.  Tastings are set up in our "breezeway," the area adjacent to the market with tables and a small children's play area.
While here, enjoy the live music by Steve Veldman from 10:30 am to 12:30 pm.
Steve plays an eclectic mix of genres and styles on acoustic guitar, but specializes in traditional blues, bluegrass, old-time and folk music.  Steve spent time nearly every summer with his grandparents at the lake, and his family has been a part of the surrounding lake community for four generations.  He is now grateful to share that tradition with his own children.  Note: To comply with copyright regulations, all songs performed will be works from the public domain.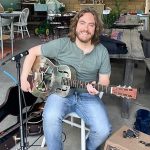 Alcohol Products
We have 8 different wines, 8 different hard ciders, and assorted fruit brandies.  Our products are made on-site in small batches.  We distill the brandies on the farm and use our fresh apple cider as the basis for fermenting our hard ciders.
It's cherry season!  And if you like sweet wine, you will like our Double Cherry!  Serve chilled.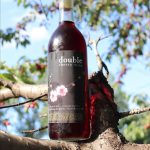 Enjoy our Spaces!
If you've stopped by the market, you will have noticed that we have several areas where you can sit and relax.  The spaces may vary at times depending on our space needs around produce harvest.  For years, people have been stopping by with friends and family to enjoy hanging out together at our vintage tables and chairs or picnic tables.
We invite you to use the space during business hours.  It is ideal for a cup of coffee, hard cider, slushie, cold milk, or one of our other beverages.  And there are many easy-to grab food items on the market to enjoy with a beverage such as: donuts (weekends), cookies, fry pies, cheese, meat sticks, crackers, pretzels, mustard, chips and more.  We have disposable table service available for your convenience.  Seating is available in several areas close to the market.
We can reserve table space for you upon request – just contact us.  If you are coming with a group, letting us know in advance is helpful.  And if it is a special occasion, like someone's birthday, or family or friend reunion – that is helpful also.
Bring your friends, family, weekend visitors, and come on over!
Meet and Greet with Local Author – Save the Date
Saturday, July 15, 10:30 am to 1:30 pm
The Michigan Writers Cooperative Press (MWCP) recently announced the 4 winners of their annual chapbook contest, representing 3 different genres.   Sharon Bippus is the winner in fiction for her story collection, This Blue Earth.  We are very excited to have a local winner, and especially one who lives across the lake from the market.
Sharon will be at the market from 10:30 am to 1:30 pm to sign copies of her book, and to answer your questions.
Mark your calendar and join us to celebrate the work of this fine writer!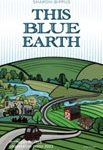 What a delight to explore the worlds and characters of these stories! I found myself wanting to read sentences aloud as I came across them, wondrous turns of phrase, perfectly pitched captures of voice, tiny little jokes that made me snort with laughter, followed by lines that just broke my heart in their plainspoken truth and wisdom. This earth is a blue earth — in its oceans and its heartbreak and cloudy nostalgia, and in the blues Callie's singing for those old River Junction days.  I'd follow Callie's voice across all the red-line interstate miles of the map and beyond!  Sharon Bippus is a writer of extraordinary talent and self-possession.  – excerpt from Google Books
Join us for 'Yoga at the Orchard'
We offer classes on Saturday mornings starting at 10:30 am throughout the summer   $15 per person, all ages and yoga abilities welcome.  For those of you who don't know, Three Rivers is home to So Flexy Yoga and some of their instructors will be visiting us to teach on these weekends.  Improve your health and body while making new friends and enjoying the views at the farm!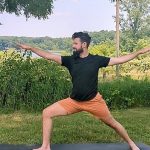 Check in with your instructor at the yard in front of the main farmhouse.  You will receive a check-out slip to take to the market at the end of class that is also good for a free small slushie ($3 value).
We have two inviting spaces for you to relax in afterwards while you enjoy your slushie.  Grab a bakery treat or even a hard cider or wine!
Bring bottled water, a beach-size towel, sunscreen, yoga mat, and shoes for walking to the class.  Insect repellant as necessary.  See webpage for details.
What is on the Market this Week
Produce
Sweet cherries
Cucumbers and tomatoes from our greenhouse
Mini tomatoes from our greenhouse
Broccoli, zucchini, cauliflower, yellow squash, kohlrabi and other summer vegetables from our fields
Beets and fresh dug potatoes
Fresh greens and spring vegetables from Bankson Lake Farms: lettuce mixes, spinach, kale, arugula, mushrooms, radishes, Chinese cabbage, garlic scapes
U-pick herbs
Faith in Flora will be here with fresh floral bouquets.
Baked Goods
Enjoy these treats from our bakery (and the smell when we are baking!)
Saturdays and Sundays only:
Cinnamon Rolls
Donuts – Buttermilk, Blueberry, and Cherry
Yeast Ring donuts – assorted sprinkles and googly eyes
Anytime we are open:
Strombolis (frozen, ready to bake) – assorted flavors in breakfast, traditional, and pizza styles
Cookies – Assorted flavors you will surely enjoy!
Muffins – A nice selection of flavors perfect for any time of the day
Breads – assorted types plus hamburger and hotdog buns
Fruit pies (frozen, ready to bake) – Apple, Dutch Apple, Blueberry, Cherry, Peach, Pumpkin, and Strawberry Rhubarb.
Please contact us if you want to preorder any of our baked goods.
Moe made an assortment of fresh vegetable Strombolis this week, and will be making her famous focaccia bread from our fresh tomatoes and vegetables!  Try one of her delicious creations this weekend!
Grocery
Maple syrup products, honey, jams and jellies, salsas, yogurt, and Jake's meats. We also have assorted cheeses, crackers, chips, mustard, eggs, milk, granola, and more.
New this week – try our Blueberry fresh milk!
Yoder's fry pies in your favorite flavors: Apple, Black Raspberry, Blueberry, Cherry, Peach, Red Raspberry, and Strawberry Rhubarb.
Below is our new line of mustards from Terrapin Ridge Farms, perfect with pretzels.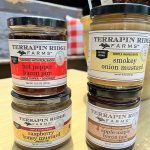 Happenings on the Farm
The cauliflower and broccoli are looking good!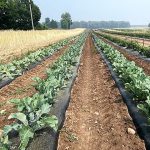 We will be pulling some green onions this weekend.  Make sure to use the green tops in your cooking—they are the best part to stir fry!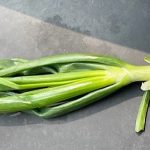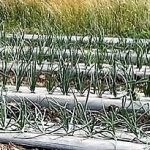 The bell peppers are getting closer to harvesting.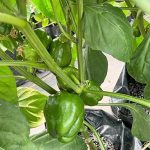 The greenhouse cukes are thriving.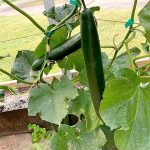 The greenhouse tomatoes look exceptional this year and taste every bit as good!  Make a delicious BLT – you'll find bacon in the freezer and bread in the bakery!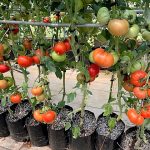 And the field tomatoes are racing to keep up!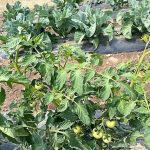 It's National Pollinator Week!
Supporting the food supply is a quiet, swarming army of bees, birds, bats, and butterflies pollinating plants that will mature into the fruits, nuts, vegetables and even grains enjoyed daily.  You might not notice them at first, but these tiny insects are powerful pollinating powerhouses underpinning productive yields across the U.S.
While honeybees are America's primary commercial pollinator — with more than 100 domestic crops relying on their services — the USDA estimates that pollinators add more than $18 billion in revenue to U.S. crop production every year.
Below, a bee visits the parsley in our herb garden.
During the week of June 19-25, 2023, the USDA along with advocacy groups are giving these tiny, but mighty pollinators center stage, showcasing the importance of these insects and small mammals during National Pollinator Week.
When you think of pollinators, think of the flower-loving insects and small mammals seen loitering in flower beds and spring garden. Birds, bats, butterflies, moths, flies, beetles, wasps, small mammals and — most importantly — bees are all pollinators. They are experts at moving from flower to flower, drinking nectar or ingesting pollen, while transporting pollen grains as they move from spot to spot.
his week, try these fun activities!
Buggy Word Problems
https://www.pollinator.org/pollinator.org/assets/generalFiles/Buggy-Word-Problems.pdf
Word Search Game
https://www.pollinator.org/pollinator.org/assets/generalFiles/Crossword-Puzzle.pdf
Pollinator Related Vocabulary
https://www.pollinator.org/pollinator.org/assets/generalFiles/Pollinator-Related-Vocabulary.pdf
Project Wingspan: Landscape Enhancement for Imperiled Pollinators of the Midwest and Great Lakes Region 
Looking for a hands-on project where teens and adults can help monarchs and other pollinators?  Become part of Project Wingspan!  This effort is active across AR, IL, IN, MI, MN, OH, PA, and WI and you can learn more about Pollinator.Org's project and become a trained volunteer by visiting the website.
Eco-regional Planting Guides
Stuck inside? This is the perfect time to plan how you can enhance your garden or landscaping for monarchs in 2023 and beyond! These guides provide not only regional plant recommendations, but also information and best management practices on planning, preparing, and maintaining your pollinator habitat.
https://www.pollinator.org/guides
Thank you for your continued support and for buying local.  Everyone at Corey Lake Orchards wishes you a safe and happy Fourth of July!