Want to know a simple, delicious way to get your four servings of vegetables per day?  According to the Cleveland Clinic, it's simple.  Just put together a nice, big salad.  And if you're not a big salad eater, start with 1-2 a week.  After you add salads into your diet regularly, you'll be surprised at how you'll begin to feel good about what you're eating, and you'll soon have more energy and feel better than ever.
They suggest, and we agree, you begin with local, seasonal produce, then add protein and a healthy dressing.  Look towards the end of this newsletter for their "8 Steps to Make the Healthiest, Most Delicious Salads Ever!"
We have everything you need to make a salad today – salad greens, a variety of veggies for salads, blueberries and other fruits, mushrooms, feta cheese crumbles, eggs, salad dressings, olive oil, and balsamic vinegar.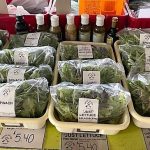 Our Days and Hours
–Open Thursdays, Fridays, and Saturdays from 9 am to 6 pm
–Open Sundays from 9 am to 4 pm
–Closed Mondays, Tuesdays, and Wednesdays
Watch our website homepage for updates or call us.  (269) 244-5690.
BLUEBERRIES
Already Picked.  We have already picked blueberries from Brookside Farms (our long-term blueberry supplier).  We sell them in pints and quarts as well as 5- and 10-pound bulk boxes.  Blueberry season typically lasts through mid-August.
U-Pick.  Our small blueberry field is open for U-pick, keep in mind that it is really for the "experience".  There is a 5-pound picking limit per group.  The field will be open during our regular hours Thursday through Sunday and closes 30 minutes prior to the market. You do not need a reservation to pick.
If you want to pick more than 5 pounds of blueberries, we recommend going to Brookside Farms in Paw Paw, (269) 657-3500.
Current picking conditions: Call or check the website for the latest picking conditions and to make sure the field is open for picking.  The field will be open as long as there are ripe blueberries.  We may close the field some days to let them ripen.
Check in at the market first for containers and directions to the field.  Pricing is $2.25 per pound. See our u-pick blueberry page for more information on our u-pick blueberries.
Sweet Corn and Green Beans are hopefully within a week, patience please.
Kohlrobi.  We have grown Kohlrabi for several years and this year's crop is one of our best!  If you've not tried it yet, you should.
Kohlrabi is a firm, round vegetable that is light green or purple in color.  It tastes like a mix between cucumber and broccoli.  Both the stem and the root can be eaten raw or cooked.  Kohlrabi is a great source of potassium, vitamin C, and fiber.
To prepare kohlrabi, you'll need to peel the bulb and then cut it into the desired shape and size for your recipe.  (Hint – look online for "how to prepare kohlrabi" instructions and videos).  Its leaves can be chopped and cooked similarly to collard greens.   especially for peeling the bulb.
Below is a kohlrabi growing in our field.  You can see the edible bulb.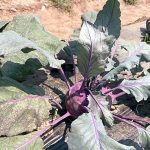 Sample Wine and Hard Cider, Saturdays, 10 am to 2 pm
Sample our alcohol products or enjoy a wine pour or bottle of hard cider.  Each Saturday, we feature several of our products to give you an opportunity to find the one that is perfect for you.  Tastings are set up in our "breezeway," the area adjacent to the market with tables and a small children's play area.
Alcohol Products
We have 8 different wines, 8 different hard ciders, and assorted fruit brandies.  Our products are made on-site in small batches.  We distill the brandies on the farm and use our fresh apple cider as the basis for fermenting our hard ciders.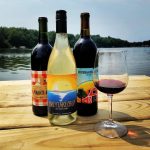 Enjoy our Spaces!
It's time for summer sipping!
If you've stopped by the market, you will have noticed that we have several areas where you can sit and relax.  The spaces may vary at times depending on our space needs around produce harvest.  For years, people have been stopping by with friends and family to enjoy hanging out together at our vintage tables and chairs or picnic tables.
We invite you to use the space during business hours.  It is an ideal spot to enjoy a beverage or our many easy-to grab food items on the market.  We have disposable table service available for your convenience.
We can reserve table space for you upon request – just contact us.  If you are coming with a group, letting us know in advance is helpful.  Bring your friends, family, weekend visitors, and come on over!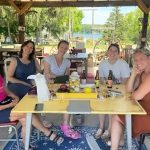 Join us for 'Yoga at the Orchard'
We offer classes on Saturday mornings starting at 10:30 am throughout the summer   $15 per person, all ages and yoga abilities welcome.  You will receive a check-out slip to take to the market at the end of class that is also good for a free small slushie ($3 value).
Bring bottled water, a beach-size towel, sunscreen, yoga mat, and shoes for walking to the class.  Insect repellant as necessary.  See webpage for details.
What is on the Market this Week
Produce
Blueberries
Cucumbers and tomatoes from our greenhouse
Mini tomatoes from our greenhouse
Peppers from our fields – jalapeno, sweet banana, hot Hungarian, Bell
Broccoli, zucchini, cauliflower, yellow squash, kohlrabi, and other summer vegetables from our fields
Fresh dug potatoes
Fresh greens and summer vegetables from Bankson Lake Farms: lettuce mixes, spinach, kale, arugula, mushrooms, radishes, garlic scapes, and garlic bulbs
U-pick herbs
Faith in Flora will be here with fresh floral bouquets.
Grocery
Maple syrup products, honey, jams and jellies, salsas, yogurt, and Jake's meats.  We also have assorted cheeses, crackers, chips, mustard, eggs, milk, granola, and more.
Yoder's fry pies in your favorite flavors: Apple, Black Raspberry, Blueberry, Cherry, Peach, Red Raspberry, and Strawberry Rhubarb.
New this week are blue cheese crumbles and 3 varieties of hummus – Black Bean, Sriracha Carrot, and Avocado.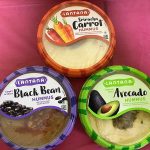 Drench Salad Dressings
We added these Michigan-based dressings to our products this year.  We carry three flavors – Citrus Honey, Southwest, and Mediterranean Lemon.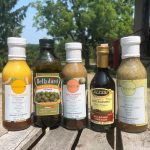 We selected them because they use all natural, clean ingredients just like you would at home, and only use the finest oils including olive and avocado oil.  They are free from the most common allergens – gluten free, dairy free, nut free, egg free, fish free & certified non-GMO.  There are no artificial thickeners or emulsifiers which is why the dressings separate and need a quick shake before using.  And there are no artificial sugars, preservatives, or colors.  For flavors that have a touch of sweetness, they use a bit of honey and fruit.  We hope you will enjoy them as much as we do!
Our Drench dressings along with Olive Oil and Balsamic Vinegar – perfect for your salads!
Happenings on the Farm
Our heat loving crops are growing and enjoying their summer!  Below are sweet banana peppers.  The eggplant are blooming and cauliflower heads are growing.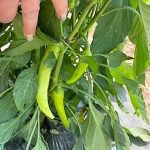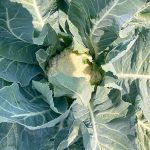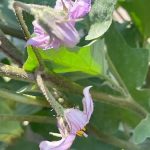 We have a nice "wall" of cukes in the greenhouse, and some nice looking bell peppers.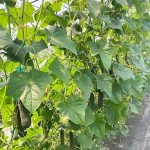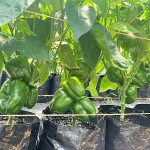 We are blessed so far with an abundant apple crop, and we are trying to keep up with thinning some of the varieties so that the tree can have enough energy to grow the apple into a good size with color.  This is a tedious and difficult job and can only be done by hand.  You can thank us later in the fall when you see nice apples!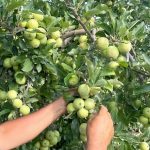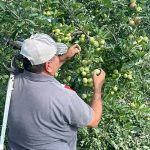 Meet and Greet with Local Author this Saturday
Saturday, July 15, 10:30 am to 1:30 pm
The Michigan Writers Cooperative Press (MWCP) recently announced the 4 winners of their annual chapbook contest, representing 3 different genres.   Sharon Bippus is the winner in fiction for her story collection, This Blue Earth.  We are very excited to have a local winner, and especially one who lives across the lake from the market.
Sharon will be at the market from 10:30 am to 1:30 pm to sign copies of her book, and to answer your questions.  If you can't make that time, she has copies of her book at the market for sale now.
Come join us to celebrate the work of this fine writer!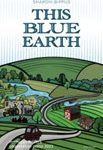 Special Exhibit at the Local Library
Check out "Spark! Places of Innovation", a Smithsonian exhibit at the Three Rivers Public Library, located at 88 N Main Street, Three Rivers.  It runs from July 8 to Aug. 19.
On the heels of National Pollinator Week, we thought this was a perfect time to talk about honey and honeybees with Corky Babcock from Babcock's Apiary, our honey supplier.
How long have you provided honey to CLO to sell on the market?
Babcock's Apiary began in 1993 as a family hobby with two beehives.  Approximately ten years later we approached Dayton Hubbard to supply the market with honey for sale.  He kindly supported our family.
Tell us about your honey operation. 
Over the years we expanded to 20 hives yielding around 70 gallons a year.  Our bees are located on our hobby farm, on the hills of Fabius township, two miles from Corey Lake Orchards.
What do you do in the winter months when the bees are hibernating?
The bees are dormant in winter, so this is the opportunity to repair & maintain equipment and purchase supplies.  We have hive loss every year due to numerous factors and reestablish our hives in early spring from a commercial beekeeper.  If spring weather is unseasonably cold, we supplement them with a sugar syrup until early blooms like dandelions are available.
During the summer months, hives are inspected weekly and additional supers (boxes) are added as needed.  If the bees feel crowded, they will create a swarming queen and leave the hive taking a mass of workers with them to establish their own colony.
How do you extract honey from the bees and get it into jars for sale?
Ideally extraction is done in late July or early August, hopefully when our weather is not extremely hot and the humidity is low.  With our family grown, the hobby has become a two-person passion.  It takes about five days to remove the heavy honey supers and extract the honey.  The honey is stored in food grade pails & poured into a stainless steel tank for bottling as needed.
What is the difference between processed and raw honey?
My honey is raw.  Processed honey is heated, filtered and sometimes the pollen is removed.  With my honey I let gravity allow bees wax and other non-honey particles to rise to the top of my honey tank.  The tank has a gate valve in the bottom that allows me to drain clean honey from the tank.
How should people store honey?
When you purchase honey from Corey Lake Orchards, store it at room temperature; never in the refrigerator.  It keeps indefinitely.  If your honey crystalizes (a natural occurrence), just place it in a warm place or place the container in hot water.  Do not cook.
Do you make house calls to people with bee issues?
I'm happy to help people with bee problems.  I don't collect bees from unknown sources for my Apiary.  If bees come from an unknown source, they may have pests or disease.
Sometimes we see you in a beautiful older truck.  What is it?
We often make deliveries in our old 1950 Chevy pickup truck, another fun family hobby.
Below, the Babcock family in the early days of the business.  Maintaining the hives in winter.  Extracting honey.  Various honey products.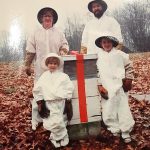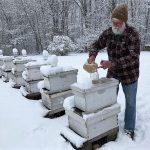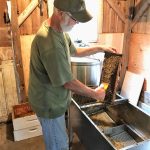 8 Steps to Make the Healthiest, Most Delicious Salads! 
1.  Get your Greens on
Lettuce* – leaf and head lettuces
Leafy Greens* – Jazz things up with mixed, spinach, kale, or arugula
2.  Add some crunch (vitamins A and C, iron, protein, fiber)
Celery
Cucumbers*
Pea pods
Broccoli*
Sunflower or chia seeds
Walnuts or almonds
Bell or other peppers*
Summer squash*
Mushrooms*
3.  Create some color
Peppers* – red, orange, yellow, or green
Onion* – green tops and white bulbs
Cabbage* – green or purple
Cauliflower* – green, white, or purple
Colored tomatoes* – regular or mini
Avocado slices
Beets
Radishes*
Yellow squash*
Zucchini*
Assorted fresh herbs*
4.  Punch up the Protein
Black beans, garbanzo beans or lentils
Chicken or lean beef
Salmon or water-packed tuna
Hard boiled eggs*
Cheese – feta*, blue cheese*, parmesan, mozzarella
5.  Freshen it up with Fruit
Apple, peach, or pear slices
Strawberries, raspberries, blueberries*, blackberries
6.  Add some Leftovers
Brussels sprouts
Asparagus
Sweet potatoes
7.  Check your Cupboard
Black or green olives
Artichoke hearts
Hearts of palm
8.  Dress it up, wisely
Lemon or lime juice
Red wine or balsamic vinegar*
Olive oil*
Salad dressings*
* Items carried by Corey Lake Orchards