This is the last week of July, and we are more than halfway through 2023!  This is a month of grilling, hamburgers, hotdogs, vacations, spending time outside, enjoying friends and family, and more high temperatures.  We haven't even gotten to the Dogs Days of Summer yet!  It is a GREAT month to enjoy seasonal fruits and vegetables, too!  We strive to offer you the freshest and best quality around.  And thanks for stopping by – rain or shine!
Our Days and Hours
Our Days and Hours
–Open Thursdays, Fridays, and Saturdays from 9 am to 6 pm
–Open Sundays from 9 am to 4 pm
–Closed Mondays, Tuesdays, and Wednesdays
Watch our website homepage for updates or call us.  (269) 244-5690.
Blueberries
Already Picked.  We have already picked blueberries from Brookside Farms (our long-term blueberry supplier).  We sell them in pints and quarts as well as 5- and 10-pound bulk boxes.  Blueberry season typically lasts through mid-August.
This weekend we will have a variety called "Draper".  This is one of our favorites and a great one to freeze.  Freezing blueberries is very easy – just put the entire box of blueberries into the freezer as is, or put them into zip lock bags (do not wash).  To use, reach in and get a handful out for your breakfast and rinse them.
U-Pick.  Our small blueberry field is open for U-pick, keep in mind that it is really for the "experience".  There is a 5-pound picking limit per group.  The field will be open during our regular hours Thursday through Sunday and closes 30 minutes prior to the market. You do not need a reservation to pick.
If you want to pick more than 5 pounds of blueberries, we recommend going to Brookside Farms in Paw Paw, (269) 657-3500.
Current picking conditions: Call or check the website for the latest picking conditions and to make sure the field is open for picking.  The field will be open as long as there are ripe blueberries.  We may close the field some days to let them ripen.
Check in at the market first for containers and directions to the field.  Pricing is $2.25 per pound. See our u-pick blueberry page for more information.
Sweet Corn
Sweet corn season is starting.  Weather permitting, we will try to have an ample supply each day.  We will be selling it by the ear, half dozen (white bags), and dozen (clear bags).  Bulk quantities should be available in a few weeks; we are happy to take your order for bushels (5 dozen) and call you when it is ready.
Below, Kate brings in a load of freshly picked corn from the field.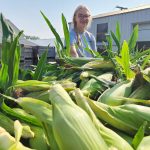 Summer Produce
Summer Apples
Lodi apples are our first apple of the season.  They are green and tart and make a fantastic tart applesauce!  They are for sale on the market in quarter pecks through bushels.  If you are interested in a half bushel or more, please call us at 269-244-5690 so we can prepare your order.
We are also picking Jersey Macs.  These slightly tart apples have a smooth, semi-thin skin, with green and red blush.  They taste like a McIntosh apple but have a softer texture.  They make a nice apple sauce or apple crisp and can also be eaten fresh.   Keep in mind that all summer apples must be refrigerated and will only keep for 1-2 weeks.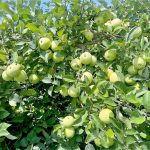 Peaches
We are working with several local farms to offer peaches.  Beth went to Coloma yesterday and got a new peach from one of our partner farms called Glen Glo.  It is a nice sized, sweet peach, and tends to cling to the pit unless it is nice and ripe.  Please realize all peaches are picked firm in order to not damage them and need to ripen up by laying out on your counter until they are soft.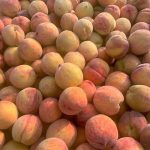 As more peach varieties ripen, we hope to have them available in half pecks, and possible pecks and half bushels.  Call or check our website for updates.  We are not taking orders for bulk quantities at this time.
Summer Berries
When Beth went to Coloma, their raspberry field is right next to their peach orchard.  Beth could not resist bringing back just-picked red and black raspberries and blackberries!  You'll find those on the market until we sell out.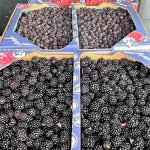 Bulk Quantities for Canning and Freezing
If you are interested in large quantities of vegetables for canning or freezing, contact the market (call 269-244-5690) and get on our sign-up sheet.  We will contact you when they are available.  The growing conditions and production yields are outside our control, but we will try our best to fulfill your order.  Sorry, but there are no pickling cukes at this time.
Green beans (half bu. minimum)
Sweet corn (bushel minimum, 5 doz.)
First quality tomatoes (half bushel minimum)
Second quality tomatoes (half bushel minimum)
Roma tomatoes (half bushel minimum)
Bell peppers (half bushel minimum)
Specialty peppers (quarter bushel minimum)
U-Pick Flowers
Flowers from our terrace garden are ready to be picked and taken to brighten up a room!  There are lots of lovely ones to choose from to make up your own bouquet.
Check in at the market for a container and directions.  U-pick bouquets are $10 each and includes flowers and fillers (greenery).  We recommend that you pick your flowers in the morning when it is cooler, they will keep longer.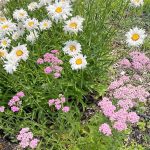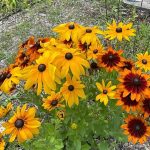 Alcohol Sampling this Saturday
Sample Wine and Hard Cider, Saturdays, 10 am to 2 pm
Sample our alcohol products or enjoy a wine pour or bottle of hard cider.  Each Saturday, we feature several of our products to give you an opportunity to find the one that is perfect for you.  Tastings are set up in our "breezeway," the area adjacent to the market with tables and a small children's play area.
Alcohol Products
We have 8 different wines, 8 different hard ciders, and assorted fruit brandies.  Our products are made on-site in small batches.  We distill the brandies on the farm and use our fresh apple cider as the basis for fermenting our hard ciders.
Summer is at its peak and lakefront living couldn't be any better!  With the warm temps this week, try a chilled bottle of our Corey Lake Crisp.  It is a dry white blend with a finish not unlike biting into a perfectly crisp apple.
Enjoy our Spaces!
We invite you to sit and relax during our business hours at one of our areas by the market.  The spaces may vary at times depending on our space needs around produce harvest.  For years, people have been stopping by with friends and family to enjoy hanging out together at our vintage tables and chairs or picnic tables.  It is an ideal spot to enjoy a beverage or our many easy-to-grab food items on the market.  We have disposable table service available for your convenience.
We can reserve table space for you upon request – just contact us.  If you are coming with a group, letting us know in advance is helpful.  Bring your friends, family, weekend visitors, and come on over!
Below, you're never too old to color!  Colored pencils, crayons, and coloring sheets are available in our breezeway next to the market where you can sit and relax with a donut or something to drink.  We'd love to hang your finished products on our wall; these three folks really set the bar high!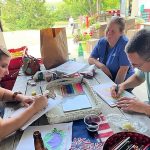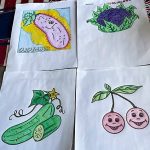 Save the Date for "Paint and Sip"
Make plans to join us on Friday, August 11 from 4 to 6 pm.  Cost is $37 per person, leave with a tote and a zip bag.
Start your summer weekend with a fun, relaxing, canvas painting class at the Orchard!  Kalamazoo artist Anna Barnhart will guide you through painting a canvas tote bag AND a personal canvas "pencil" zip bag of vibrant dancing sunflowers.  The tote bag and zip bag are perfect for back-to-school use, carrying work items, stowing project materials, or filling with books to read during those last days of summer vacation.
Open to adults and students over the age of 16.  Younger students aged 12 to 15 may participate when accompanied by a registered adult.
Hard ciders, wine, and non-alcoholic drinks will be available as well as snack items while you work!  All supplies are included for this painting workshop (wear a shirt you can paint in).
Explore your creativity and have some fun!  Register by calling the market at 269-244-5690 or online through the link on the homepage of our website.  Class size is limited to 13 people.
Join us for 'Yoga at the Orchard'
We offer classes on Saturday mornings starting at 10:30 am throughout the summer   $15 per person, all ages and yoga abilities welcome.  You will receive a check-out slip to take to the market at the end of class that is also good for a free small slushie ($3 value).
Bring bottled water, a beach-size towel, sunscreen, yoga mat, and shoes for walking to the class.  Insect repellant as necessary.  See webpage for details.
What is on the Market this Week
Produce
Fruit: apples, blueberries, red and black raspberries, blackberries, cantaloupe, early peaches
Tomatoes, red and green, from our greenhouse and field
Mini tomatoes from our greenhouse
Broccoli, zucchini, cucumbers, cauliflower, yellow squash, kohlrabi, and onions
Peppers: various types, hot and mild
Sweet corn
Potatoes
From Bankson Lake Farms: lettuce mixes, spinach, kale, arugula, mushrooms, carrots, herbs, and garlic bulbs
U-pick herbs
Yesterday's picking from the field.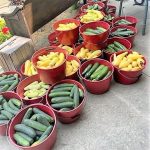 Faith in Flora will be here with fresh floral bouquets.  We also have already picked gladiolas in many beautiful shades of summer colors for sale by the stem.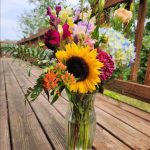 Baked Goods
Enjoy these treats from our bakery!
Saturdays and Sundays only:
Cinnamon Rolls
Donuts – Buttermilk, Blueberry, and Cherry
Yeast Ring donuts – assorted sprinkles and googly eyes
Anytime we are open:
Blueberry-Zucchini bread – one of our signature items, seasonal, and very popular!
Strombolis (frozen, ready to bake) – assorted flavors in breakfast, traditional, and pizza styles
Cookies – Assorted flavors you will surely enjoy!
Muffins – A nice selection of flavors perfect for any time of the day
Breads – assorted types plus hamburger and hotdog buns
Focaccia breads – assorted types
Fruit pies (frozen, ready to bake) – Apple, Dutch Apple, Blueberry, Cherry, Peach, Pumpkin, and Strawberry Rhubarb.
Please contact us if you want to preorder any of our baked goods.
Moe is making a new cheesy tomato with basil bread and two new strombolis this week.  Her new Bacon Breakfastmoli (second below) is made with bacon, and Hot Jack Stromboli, made with hot jack pepper, will debut later in the weekend.  The strombolis are partially baked and frozen, you complete the baking at home and serve them hot!
Below, Moe is busy making Veggie Strombolis with onion, zucchini, peppers, tomato, and cheese.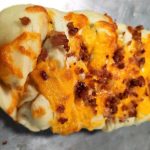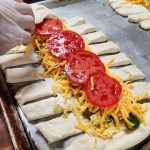 Grocery
Maple syrup products, honey, jams and jellies, salsas, yogurt, and Jake's meats.  We also have assorted cheeses, cheese crumbles, crackers, chips, hummus, mustard, eggs, milk, granola, salad dressings, and more.
Yoder's fry pies in your favorite flavors: Apple, Black Raspberry, Blueberry, Cherry, Peach, Red Raspberry, and Strawberry Rhubarb.
Happenings on the Farm
The heat is bringing on the vegetables in more quantity than we can sell.  We have all kinds of specials going on to get them from our farm to your plate.  We also pack the extras and send them to local food banks weekly.  Below, the yellow squash are producing non-stop.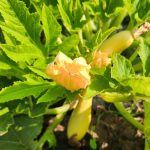 The field tomatoes are almost ready.  The plants are loaded this year and the tomatoes are looking great.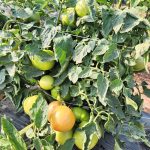 The onions are gaining size and getting closer to their late August harvest.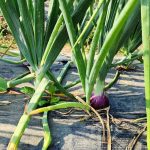 Special Exhibit at the Local Library
Check out "Spark! Places of Innovation", a Smithsonian exhibit at the Three Rivers Public Library, located at 88 N Main Street, Three Rivers.  It runs from July 8 to Aug. 19.
Thank you for your continued support and for buying local.  Everyone at Corey Lake Orchards wishes you a safe and happy summer!